The contents
Wild cabbage, which later became decorative, cultivated in Ancient Greece as forage, but her bright beautiful leaves, resembling flower petals, attracted the attention of gardeners, and cabbage has gradually become a decoration of gardens, courtyards and gardens.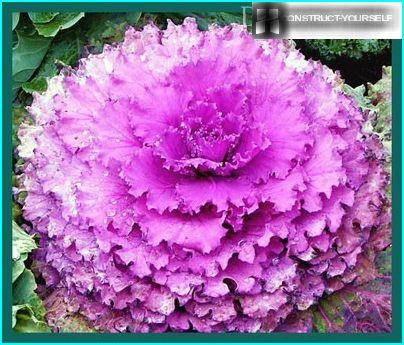 Its beauty ornamental Kale can match with Rosa, and the resemblance is obvious, but the time of prosperity — the end of summer. When roses wither, your garden can be as beautiful, if you like this plant
Your bed will gain their beauty by the end of summer, when the cabbage leaves zapestret bright colors – pink, pale yellow, purple, Burgundy. Even one such plant is able to decorate a small tub or pot, and if to create the flowerbed to admire it endlessly.
Light frosts, which occur in September, this plant is not a hindrance, its colors become more saturated and only its charm cabbage holds up to the first frost.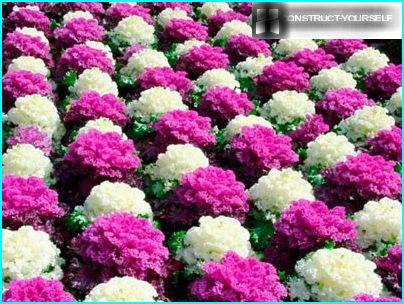 To create the flower beds, plant two rows of flowers planted in a checkerboard pattern. Cabbage planting is easy — the seedlings are sturdy, large, usually taken well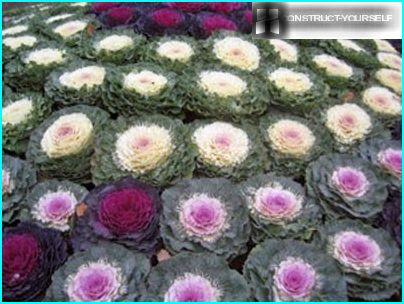 Create beautiful flowerbeds with decorative cabbage you can, dropping off her in waves, rows of round — either way you'll have a beautiful and unusual flower bed
Varieties of this crop is conventionally divided into two groups: plants with a loose head similar to exotic flowers and plants, which do not form a head. Plant breeding the first group has a lot of Japanese growers, therefore, and the names of the varieties are mostly Japanese «Tokyo», «Osaka», «Nagoya». Plants of the second group can reach 120 cm in height, there are low-growing varieties, with the height 20-30 cm Leaves graceful shape they have grow along the entire length of the stem you wish to delete, and sprouts will remind you a rose on the stem. Buying a certain sort, consider the fact that with it, you want to create.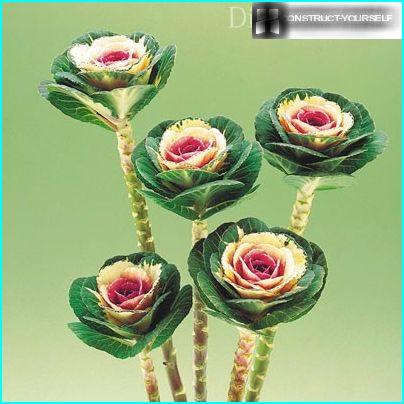 Srezochnyh grade type is very interesting, if you remove the lower leaves, they turn into beautiful flowers on sturdy stems, from which you can create a composition in the flower bed or put in a vase at home
Retopology «flower» cabbage in a pot, a wooden tub or large ceramic pot to decorate the place, the barbecue place two vases symmetrically at the track, and it will look elegant and solemn.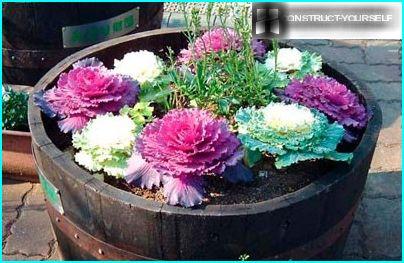 The original garden design — ornamental Kale in a wooden barrel. You can place this anywhere, as long as the plant has enough sun
Depending on the size of the container, you can plant one or more plants as a single color or multiple colors. You can combine cabbage with other plants – it goes well with ivy, begonia with small flowers and leaves.
Along the track, the benches can be placed containers for paved areas, planting in them the ornamental cabbage. Plants in pots and pots need a good watering and feeding, ideally they need to be watered in a day, and such care can be provided only if you live in the house or in the country.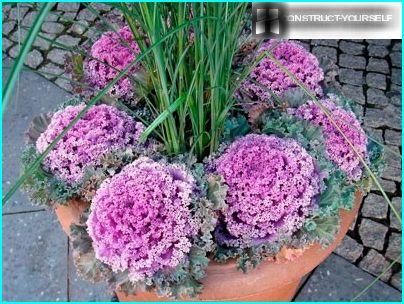 Plants of the same color, planted in ceramic pot combine well with ornamental grass. After the onset of cold weather, the pot can be put in the house, where the cabbage will be blooming long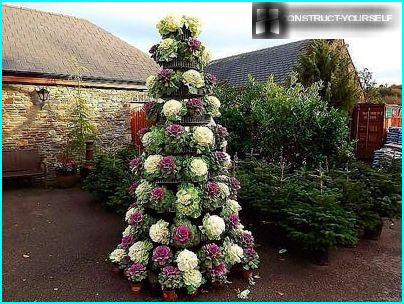 Ornamental Kale can even be used to create a vertical flower beds. You need to buy a special container in several layers and small containers for planting, although such a bed to create difficult
As mentioned, the cabbage looks especially luxurious to the late summer and autumn so that seedlings can be immediately and not to land on the bed, and to grow it elsewhere. But by the end of summer you can plant this beauty in my front flower bed, sit her on the pots and tubs. This plant is fairly well tolerated transplant, be careful only that the roots were wrapped a solid lump of earth that will protect them from damage, and after the transplant well-watered him.
For the season, cabbage can be transplanted a few times. To plant cabbage is recommended at some distance from each other, because over time it grows. Cabbage grows well in sun, although partial shade will suit her too.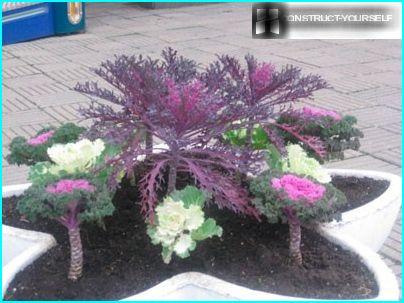 Cute arrangement in a vase original form, so you can arrange and flowerbed using no varieties of head to form the stem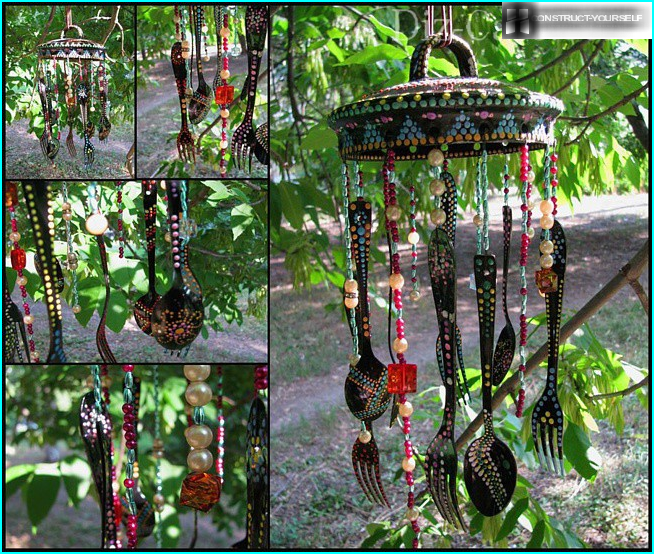 Example of creating a beautiful flower bed of cabbage and white begonias and pink flowers. You can use different garden flowers, cabbage grows well with many plants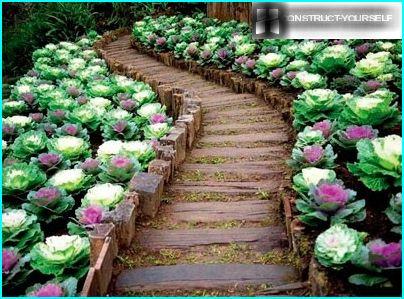 Ornamental Kale planted at the track, repeating its bends, transforms the garden into a magical area. Use plants to border, frames for flower beds, creating amazing examples of garden design
Since the time when cabbage is particularly good autumn, it can be combined with the autumn colors. Will look beautiful flowerbed with colorful asters framed by cabbage «colors». In the autumn, when the summer flowers have finished, you can plant a border of ornamental cabbage in their place, it will make you happy before the cold weather, and when it becomes really cold, the cabbage can be cut and put in a vase at home, she can stand for about another month, keeping its beauty and freshness.
Content related