The contents
Leaves mesembryanthemum succulent – fleshy, thick, thickened. In the spread they are much branched and are laying on the ground, so that the plant can be used as a groundcover. People call it a glass (ice crystal) grass – and not without reason. Thick leaves are covered with growths that look like water droplets, ice crystals or tiny glass pieces. Complex the name of the plant means the midday flower – beautiful bright blossoms of many types of mesembryanthemum open only on a Sunny day. In a gloomy day and by evening, the buds are closed.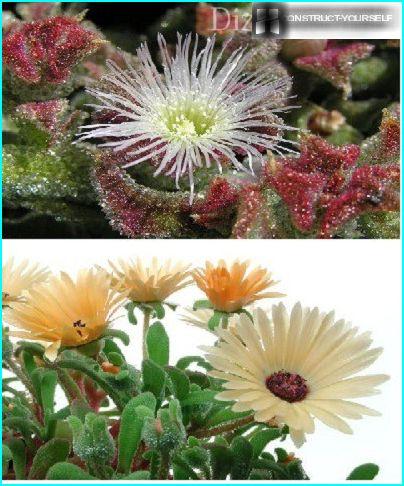 Each owner wants his garden to something was extraordinary. This can be achieved using living decor. Agree that the unusual appearance and beauty of the flower, you can create amazing compositions
Dorotheanthus – the name of one of their varieties of flower, translated as «God flower». Probably because it called for exceptional beauty and uniqueness. It dorotheanthus we have most often used in landscaping. Dorotheanthus bellidiformis Margaritaville universal, elegant, bright flowers will enhance the curb line of the garden path, with monoposte you can create a beautiful flowerbed, colored spots of dorotheanthus on the carpeted landing, will delight you, starting with July. Dorotheanthus good and in combination with other, taller flowers, for example, bells, roses.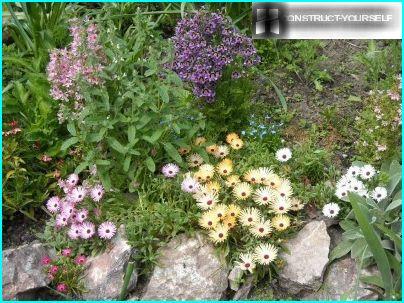 Dorotheanthus in combination with tall flowers — delicate pink and purple bells. Although this is the African guest, the composition looks natural and naturally
Alpine hill, dominated by the flower, could become the Central composition on the site. Colors are fantastically bright colors on a background of stones of every shape and size (large pebbles, boulders, granite slabs) simply catch the eye. Not only the rock garden, any rocky garden, where growing dorotheanthus will be the center of attention. You can use on the Alpine slide only dorotheanthus different colors, you can create combinations with other plants.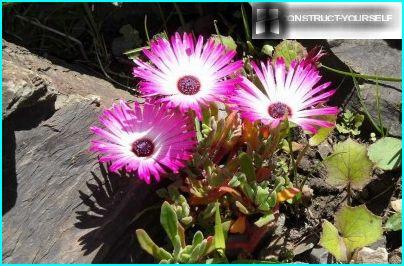 Fragile, delicate and colorful glass Daisy in the rock looks very impressive on the background of stones. The plant is unpretentious — just need to place the rock garden in the sun, and rich gravy does not like dorotheanthus
If you put the leaves of the plant gravel, crushed stone or pebbles, it will feel better, because the layer of stones to protect the leaves from damp earth. Leaves with droplets of bright flowers on a background of stone, form a striking composition. Dorotheanthus blooms from mid-July to the frosts, but even when there are no flowers, decorative function is performed by the leaves. If you like quirky shoots of the plant, it can be used as povorotny in shaded plantings.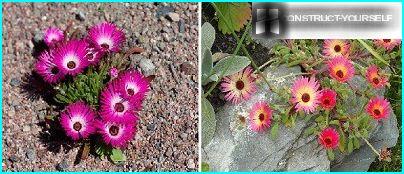 Bright clumps of dorotheanthus on the background of rubble and stones. The plant can be planted groups in the gravel garden, with interesting color accents in rock gardens, you can use it with any stones
Glass grass suitable for planting in pots and vases. To the composition in the pot or the pot was gorgeous, lush, you need to plant in a container, a few plants.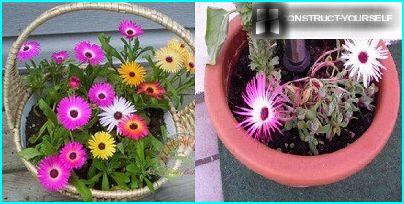 Bright, Sunny composition forms dorotheanthus in pots, hanging pots and planters, the plant is also well suited to design raised flower beds
Flowers from dorotheanthus quite large – up to 4 cm in diameter, their color is different, orange, purple, white, Burgundy, red, pink. A particularly interesting two-tone flowers and the flowers with stamens of a different color. It is a miracle of nature, a God-given flower that you want to admire. Planters and vases with dorotheanthus can be hung or placed on the veranda, the terrace, at the entrance to the gazebo.
The most popular varieties:
Lunette – lemon-yellow flowers and flowers with red at the center;
Lemon soda is an interesting variety, the flowers of Lemonade may be colored – all shades of yellow to orange;
ApricotTutu pink dorotheanthus;
Magic Carpet Mixed , Sparkles – plants with colorful flowers, forming a beautiful carpet landing.
Varieties developed by modern plant breeders have a distinct advantage — their flowers are not closed and gloomy day.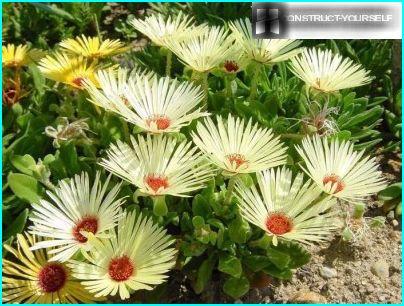 Crystal daisies many varieties — this variety resembles and chamomile, and a delicate chrysanthemum. Heat-loving flowers open the petals towards a bright sun
Dorotheanthus is a plant from South Africa, so he loves the sun and loves abundant watering. From shaded plantations do not expect a beautiful flowering. Flowers with delicate petals, reminiscent of daisies adorn the southern slopes, the dry retaining wall. Excess moisture African guest harmful, you don't need to worry about frequent watering. At home the most beautiful, exotic varieties of mesembryanthemum grow and bloom in dry sandy soil.
Dorotheanthus forms a gorgeous carpet of planting – shoots growing near plants intertwine, forming a carpet, decorated with numerous colorful flowers. If you have a plot of withered bulbs and bulbotuberiferous, it will be decorated with flowered before the cold weather mesembryanthemum. To carpet landing you can choose any flowers – equally good flowerbed of colorful and monochrome plants.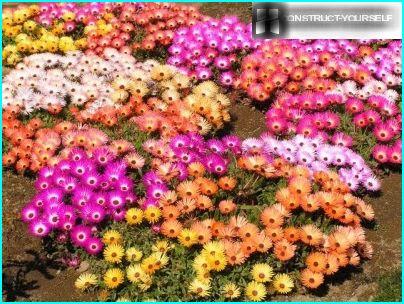 Carpeted landing glass daisies in a clay soil. At that time, like other plants, more familiar to us, prefer moist soil and partial shading, dorotheanthus living forms a beautiful carpet on a dry sandy and clayey soil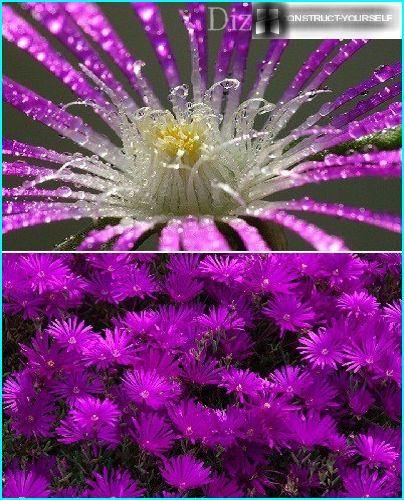 Elegant monoposto purple mesembryanthemum — land harbour luxury living carpet, which also does not require complex care, each flower is decorated with drops of hardened glass
As glass Daisy grows well in sandy soil in the sun, you can create conditions close to natural – on the Sunny sandy spot this flower is the most bright and showy annual.
The versatility of the plant allows using it as decorative element of any garden area. Its brightness and elegance of mesembryanthemum adorn the shore of an artificial pond, an unsightly fence netting becomes invisible against the background of its rich hues, but if you plant this flower at the track, walking on it will be very nice.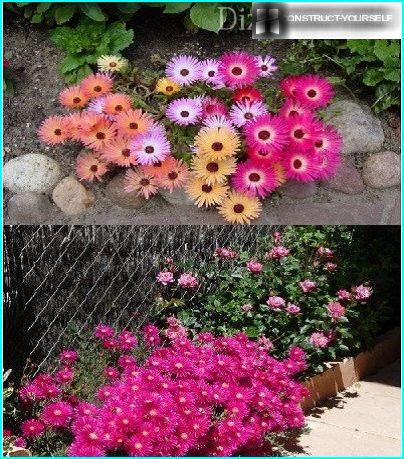 Glass pot — a bright lively decor at the track and fence netting in combination with roses. Thanks to the excellent decorative qualities, the plant can hide unsightly fence, decorate with a simple pot or vase
Some types of mesembryanthemum, like other flowers from warmer countries, we are grown as annuals and as perennials. Dorotheanthus – annual, low maintenance, growing well, not afraid cold.
Beautiful crystal Daisy can be an exotic addition to your garden, if you stop your choice on this visitor from Africa.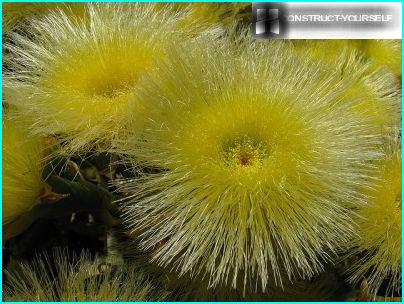 Such exotic varieties of mesembryanthemum grow at home plant, in South Africa, and they grow practically on dry sand. We plant mostly annual, but grows well by following simple rules
You can combine colors of different shades to make monoposte, combinations with other colors, decorate garden pots and planters. Flowers with his positive energy always makes for a good, and unusual for us mesembryanthemum will delight you with its beauty, even when all the usual summer flowers will wither or suffer from frosts.
Content related