The contents
Marvelous plants with large leaves, painted in various shades of green, often occupy a Central place in floral arrangements. Landscaping with hosts is of particular elegance and refinement: the elegant floral arrangements, complemented dekorativnolistvennye hosts look amazing.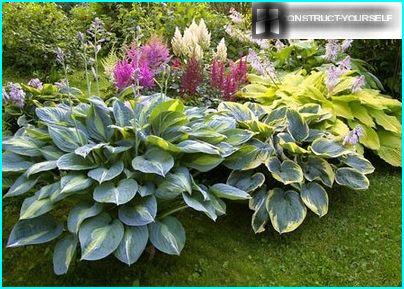 Hosts, forming air green «pillow», visually softening the transitions between the elements of a blossoming flower garden, able to bring in song harmony
The main advantage of these favorite by many plant growers is the ability to grow in any conditions. A great host is near to many plantations, which is an important factor in the regeneration of landscape design. Absolutely unpretentious plant safely tolerate partial shade as small, and so dense shading. But still most comfortable at a plant feels on a slightly shaded area, hidden from direct sunlight and strong winds.
When choosing a place to host hosts many gardeners use a little trick. Initially purchasing two copies of the plants they plant them in different areas of the site, and a year after landing on the appearance of plants, saturation of colors and the number narushennoi green mass, determine the most suitable place for hosts.
«Queen of shadows» is very popular among gardeners because not only simplicity, but also durability. Long-lived perennials are able to maintain ornamental for 20-25 years. Hosts are very popular and arrangers: the leaves are used in floral arrangements and bouquets.
Depending on the height of plants dekorativnolistvennye hosts can act as components of greening various elements of landscape design:
Povorotnyi, the height of which does not exceed 20 cm, great for rockeries, stony slopes and half-shady parts of the garden.
Low grade up to 30 cm will serve as the elements of container gardening. They are perfectly suitable for the decoration of borders and mixborders.
Samples of height 30-45 cm will serve as the background of flower arrangements natural landscape designs. They look great as a solid carpet acts as a backdrop to medium garden flowers: gladioli, lilies, delphiniums.
Plant height of 45-60 cm will be worthy of framing ponds and garden paths. Planted next to each other, they create elegant and beautiful background for flowering plantings.
The tallest specimens that exceed the height of 60-80 cm, the most impressive look as single plantings in areas with large areas.
Depending on the plant variety, the leaves may be rounded, heart-shaped or narrow. The texture of the leaves can also be quite varied: smooth and fluted, crinkled and wrinkled, glossy and matte, with metallic sheen and wax coating.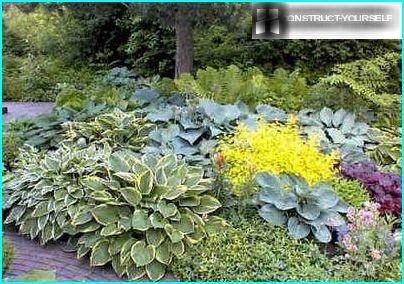 Hosts, a variety of which includes about 50 species, are unusually beautiful foliage and ability to retain decorative, not only during flowering, but during the whole season
A plant capable of forming dense «caps» foliage often used as a carpet planting through the dense foliage where weeds just can't get.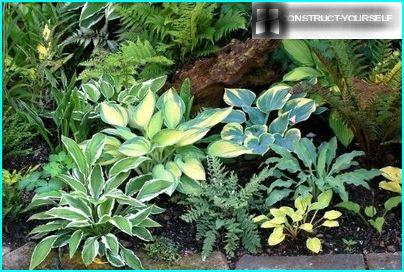 The main decoration of the hosts – the basal foliage of different textures and colors, which grows throughout the season in a spherical openwork «pillow» with a diameter of about a meter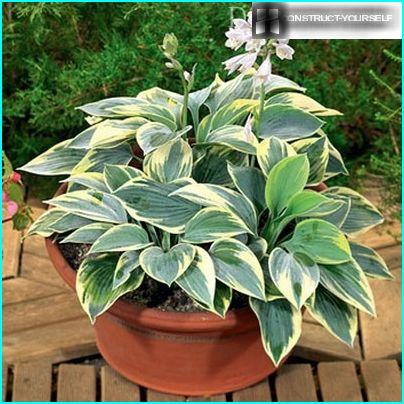 In the flowering period of the host with white, pinkish, or purple bell-shaped flowers. Perched on a high flower stems above the green foliage, they create a stunning picturesque scene
In addition to traditional green colors of the foliage, the shades of plants is also extremely diverse, starting with pale yellow and cream and finishing with deep green and blue leaves that can create incredibly beautiful background. In landscape design most often used varieties of plants forming shrubs with a height of from 40 to 100 cm, decorated with leaves in length from 6 to 35 cm.
Lush «pillow», woven from grey, blue and gold leaf, able to bring unusual colors to the palette of the garden.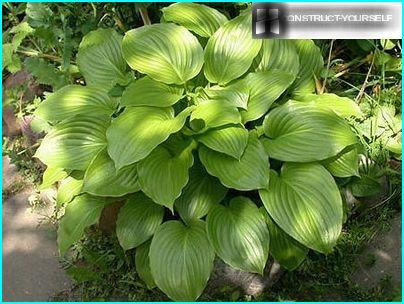 Perhaps the most common variety, has long taken root in the suburban areas host plantain. The plant is decorated with large light green leaves that can form «pillow» height of 60-80 cm
Breeders never cease to amaze, creating new varieties, the striking contrast of colors and texture of foliage. The greatest decorative different two and even tri-colored Hosta.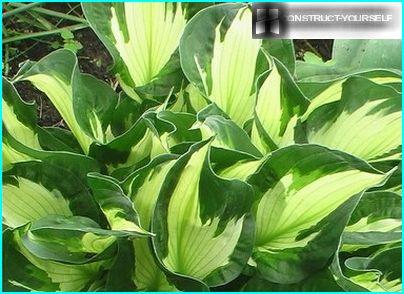 'Whirlwind' with white leaves, bordered with Apple-green loop – a bright representative of three colored varieties of perennial beauties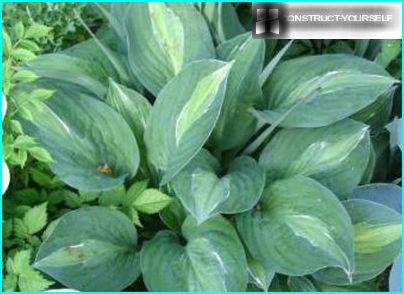 No less impressive looks and variety 'Striptease', decorated with an elegant white strip that cuts the center of the sheet through the rich wide dark green border
One of the latest trends in the selection of host plant varieties with wavy edge of the leaf blade.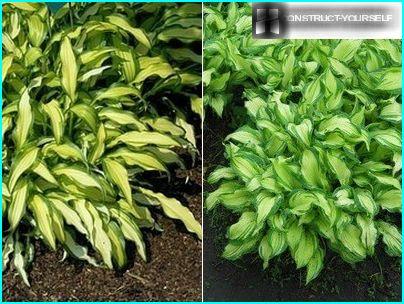 Special charm have variety 'Medusa', cortinas decorated with green and yellow foliage and 'Hadspen Heron' with bright green leaves viennoiserie
Feature variety of plants is a slow mass increase. Enough decorative such hosts show for 4-5 years, and to show the beauty of the full capacity at the age of 8-10 years. Gradually from year to year, forming more and larger leaves, which are characteristic of the variety the color and shape of a small nondescript bushes become real «Queens flower garden».
To create a bright contrasting flower garden, elements of which are harmoniously supplementing each other, form a complete pictorial representation, you should consider several points.
Lush bushes, the host leaves in a tonal color in landscape design to perform more background role. They go well with outdoor plants: astilbe, peonies, ferns dicentra.
Decorative single landing more withdrawn large varieties and samples with two or three-colored leaves. These colorful bushes resemble placed in the corners of the large garden vases filled with huge bouquets.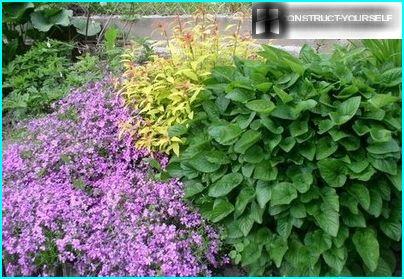 A good partner for the host will be plants with small foliage: purple, periwinkle, Phlox subulate, blue forget-me-not, poppy and rhododendron
Effectively to emphasize residentsthe and hosts help the beauty of ornamental varieties of conifers.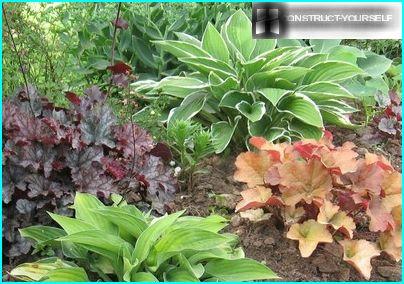 Vivid contrasts of the composition can be obtained, having landed not far from the herbaceous host plants with other shade leaves, for example: gaharu with purple foliage or a mountain girl with purple leaves
Vertical accent plant composition give: Phlox, Solomon's seal, and daylilies. The completeness of the composition help to give grains: miscanthus and reed grasses.
To create beautiful and durable design of the garden should consider the cycle dekorativnolistvennye plants. When choosing plants, one should focus not only lighting area, but also on the composition, moisture level and acidity of the soil.
For growing the host best suited areas shaded in the afternoon, with a neutral slightly acidic soils. It is important to know that the hosts do not like stagnant water, which negatively affected their root system.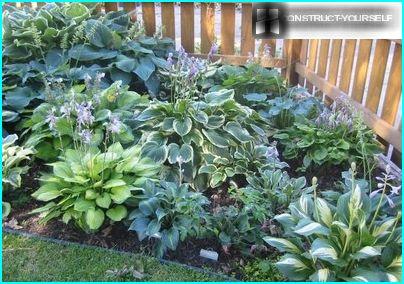 Ideal for planting plants — cultivated, fertile and well-drained soil with lots of earthworms and microorganisms, saturating it with oxygen
As for light, that not all varieties prefer shaded areas. In the shade of prefer to grow Hosta with blue leaves and blue-gray shades. And in well-lit areas, the largest decorative show two and three-color varieties with white, yellow and Golden leaves.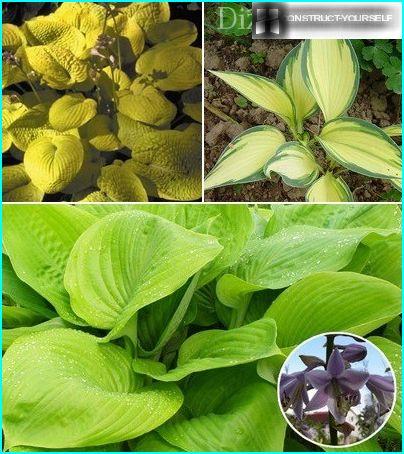 Sun-loving varieties host: Sum and Substance with heart-shaped leaves, Zounds with bright yellow foliage and Great Expectations with leaves and cream, framed by the bluish braid
Hosts resistant to frost and therefore do not require additional shelter in the winter. After dropping off the plant to a permanent location in the spring or early autumn, sufficient in the future to periodically feed it with organic fertilizers. In one place to grow the host for more than 10 years.
Content related