When choosing kitchen fronts, which is, in fact, face furniture, it is necessary to pay attention not only to the material from which they are made, but also the texture, colors, decor, handles and opening mechanisms. From the front panel depends largely on the unique design and style of the kitchen. For the manufacture of furniture doors, manufacturers offer a variety of materials – chipboard, solid wood, glass, aluminum profile, MDF and plastic.
When choosing kitchen cabinets you can save on the material from which the furniture is made, but in no case can save on the furniture doors. Because the kitchen is a place of constant humidity and temperature changes, the facades should be easy to wash, to withstand various thermal effects and subject to deformation from moisture and steam.
Consider the basic materials used for the manufacture of furniture doors, their advantages and disadvantages.
The front panel of laminated chipboard are the most simple and affordable option. Typically, this material is the basis for the manufacture of shells and a kitchen. Furniture doors of chipboard look very simple and are used for kitchens in bars, restaurants, in ordinary apartments and so on.
The advantages of laminate include:
fairly low cost;
the opportunity to manufacture facades of any size.
Disadvantages much more than the pros:
too simple appearance;
afraid of water;
laminate may easily come off;
fragility;
over time, stains can appear fat, sauce and the like that will be impossible to remove.
Products made of natural wood always looks natural, rich and beautiful. However, their cost has always been high. This is because to work with wood, you must adhere to certain rules. Material before treatment should be dried well. Variations in the preparation of the wood may lead to the creation of defective products, so the products are treated with special impregnation, varnish and protective equipment. This allows the kitchen facades of wood do not deteriorate under the influence of various temperature and moisture.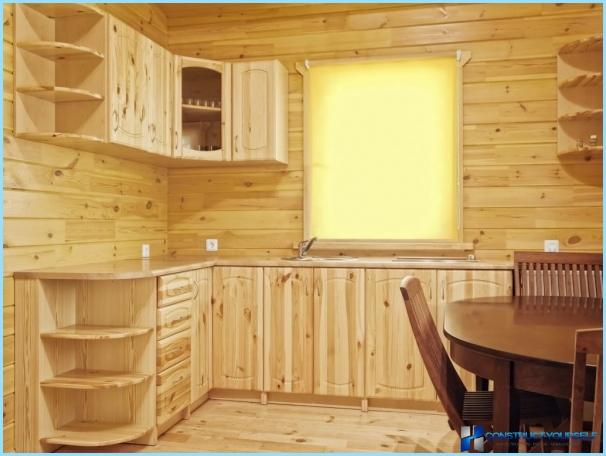 For the manufacture of furniture door use oak, beech, maple, birch, cherry or pine. The appearance of the product will differ depending on the type of wood. For instance, facades made of cherry, have a reddish tinge, and to create decorative elements, wizards often use maple due to its durability and high density.
The use of natural wood has many advantages:
noble and expensive appearance;
long life;
the opportunity to create a unique design;
environmental safety;
resistance to moisture and high temperatures.
However, before ordering the facades from natural wood, it is necessary to consider some nuances:
over time, the wood product may fade under the influence of sunlight;
the high price of wood and its processing has a big impact on the final cost of the kitchen;
during the adaptation of products made of natural wood can slightly shrink or swell.
Products made of natural wood are a beautiful addition to the interior in a classic or country style. Wooden facades appropriate look, as in a private house and a modern apartment.
Wood, like any natural material that needs special treatment and care. There is nothing complicated here, however, requires regularity.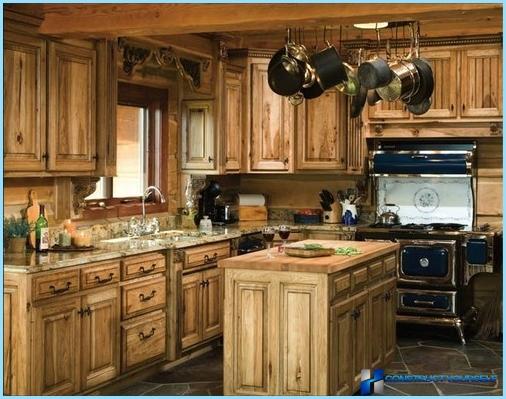 Since wood is sensitive to humidity, dust and sunlight, the care of woodwork you need to start with them cleaning the dust from the dry method. Dust removal can be done with a vacuum cleaner or a dry soft cloth, but the rubbing, even lightly with a damp sponge is not recommended.
You can also cover front panel of solid wood with a special wax, that has water-repellent characteristics and does not allow dust to accumulate on the surface. To perform the wax treatment should be regularly.
In order for the protective coating lasts as long as possible, you should avoid using hard sponges, aggressive cleaning products and detergents, and polishes.
MDF panels made from tiny wood chips by hot pressing. MDF gives designers a great opportunity to create a pretty original furniture. There are a variety of types of decorative coating of the panels: enamel, plastic, PVC or regular veneer. MDF facades can have very different texture.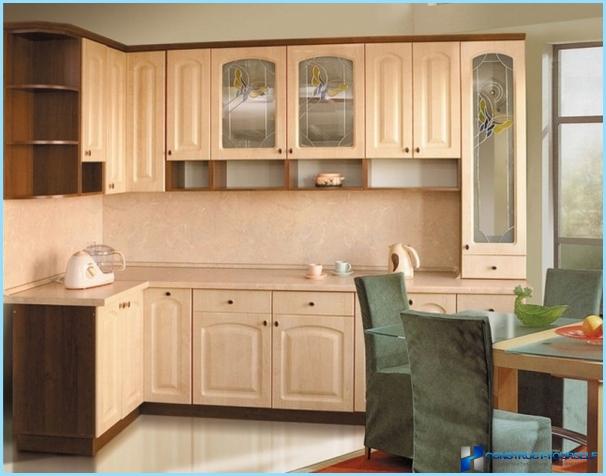 MDF panels have the following advantages:
rich colors;
a variety of coatings;
various shapes;
resistance to thermal impact.
Before you give preference to the facades from MDF, should be aware of some shortcomings. First, complex care, because if the surface stains appear, they are quite difficult to remove. Can also be seen various chips and scratches. Second, MDF panels, and wood may fade under sunlight.
Deciding to set the fronts from MDF, you need to decide the type of coverage, which not only can significantly improve performance, but also allows to diversify the design space, and to give furniture a unique look.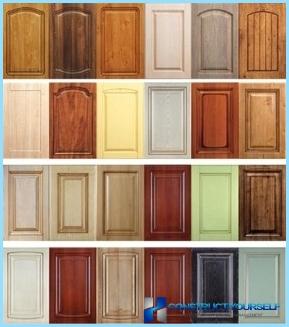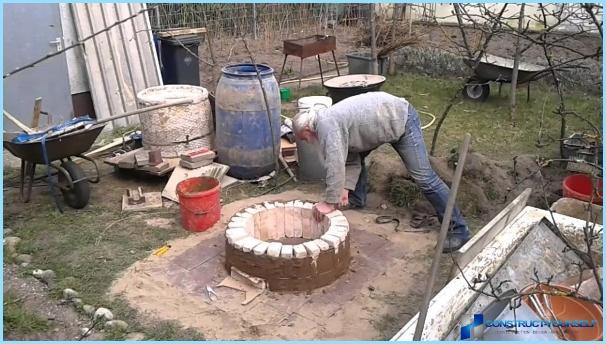 Front of MDF panels covered with PVC film, are one of the cheap and affordable options, however, they have several disadvantages. Such facades have a simple and a bit old-fashioned in appearance but they are perfect as a temporary or budget-friendly option kitchen.
These facades are made quite simple. MDF panel covered with glue, which is applied to PVC film and is laminated with a special press. The better the quality of the glue, the longer lifetime of such products.
Advantages of PVC coating:
affordable cost;
opportunity to use any household chemicals when caring;
a wide selection of colors and textures;
the ability to manufacture custom crates and modules;
good resistance to abrasion.
Among the disadvantages the following should be noted:
over time, the delamination of the film from MDF panels;
imitation cheap wood furniture;
fades under sunlight;
these facades are mostly the back side is white, and can appear pale-yellow spots.
Also, these facades do not tolerate temperatures over 100?C, so be careful to use the oven and stovetop, strictly adhering to the instructions for their use.
This type of facades is made by gluing a slab of chipboard or MDF with a decorative layer of plastic. In some cases, the ends of the facade are processed by profile of aluminum or plastic edge.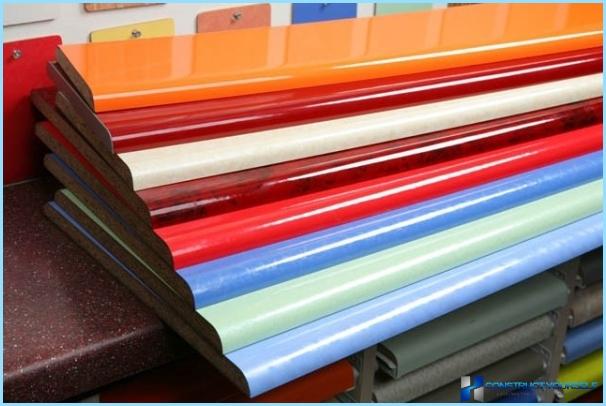 Fronts made of MDF panels, plastic-coated have the following advantages:
resistance to moisture;
almost not exposed to sunlight;
rich color palette;
portability any household chemicals;
long life.
The disadvantages of plastic facades include:
visible different fingerprints and traces of fat, which significantly spoils the look of the kitchen;
matte plastic facades bad to clean, and may eventually lose presentable appearance;
possible deformation, especially if the facades are made by means of cold pressing;
the back side is white color, which can appear pale-yellow spots.
Usually the ends of the plastic fronts are processed PVC edge. The surface of such facades is very resistant to abrasion and durable, but for cleaning, you cannot use tools with abrasives.
A large number of people leaning in favor of MDF, covered with enamel and this is largely due to the rich palette of colors. Thanks to the painted facades there is an opportunity to reach a large number of color combinations, contributing to the diversity of interior and still so the kitchen will look quite simple. To correct the situation will help convex and concave drawers and sections, as well as a smooth curvature.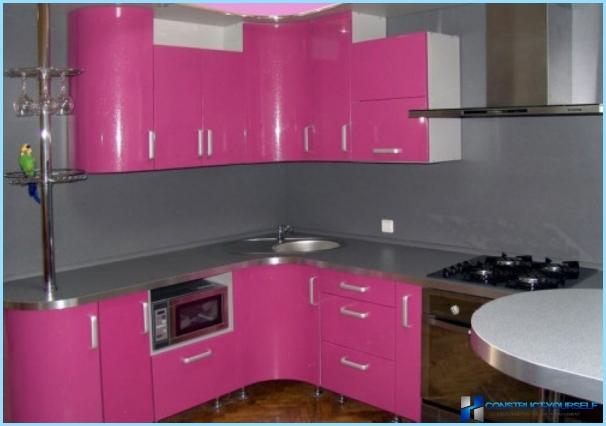 The advantages of MDF facades with enamel coating:
rich color palette that allows you to make different combinations at their discretion. Quite often a choice of colors according to RAL catalogue;
the ease and simplicity of maintenance;
the possibility of creating a unique shape of facades, because modern technologies allow us to round out and bending the material;
resistance to odor and moisture;
the richness of textures.
Disadvantages of enameled MDF panels:
more expensive than the fronts covered with PVC film or plastic;
the need for constant wiping of the surface, since it is easy to remain clearly visible fingerprints and traces of fat and water;
over time, paint loses its saturation;
not withstand mechanical impact;
the back side is usually white in color and with time on the surface appear pale-yellow spots.
One of the types that will make the kitchen more interesting and at quite attractive price, is the framework of facade-MDF profile. Despite a few shortcomings, such facades in style, texture and appearance very similar to natural wood pattern. MDF framework profile can be used in combination with rattan, MDF, glass, mirrors and other materials.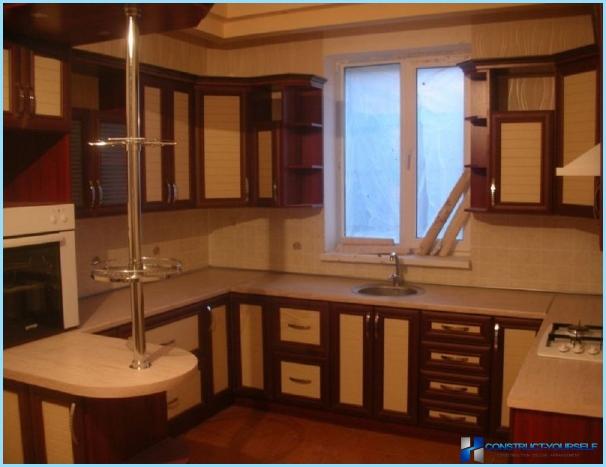 Among the undoubted advantages of the MDF profile to create facades is worth noting:
affordability;
the opportunity to manufacture facades of almost any size;
lighter weight than solid wood;
the possibility of combining in a single facade with different kinds of materials.
Among the disadvantages noted:
intolerance to moisture;
not withstand high temperatures;
if you care to make efforts;
the quality of the connection between a profile depends on the integrity of the manufacturer and the equipment;
suture connection.
Facades from aluminium profiles are increasingly used in the creation of simple and at the same time stylish kitchens in the high-tech style and minimalism. As a rule, these food picks today's young people, because older people prefer the classic style.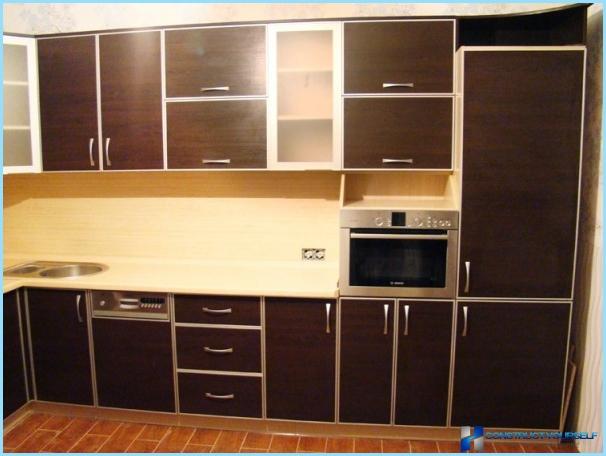 Such facades give designers the opportunity to show imagination by combining a variety of materials – MDF, chipboard, glass, rattan, plastic and more.
Advantages of fronts from aluminum profile are as follows:
durability;
excellent resistance to high temperatures and humidity;
the ability to combine in a single facade various materials.
The disadvantages include:
aluminum profile after a while begins to darken;
higher cost compared to other materials;
the profile still scratches easily, making it lose its attractive appearance;
do not use aggressive cleaning products.
Also for the manufacture of facades can be used toughened glass, framed in aluminium profile. The glass can be glued film with different pictures or the same image, applied with sandblaster. Even the decor is painted with special colors, frosting, tinting and so on.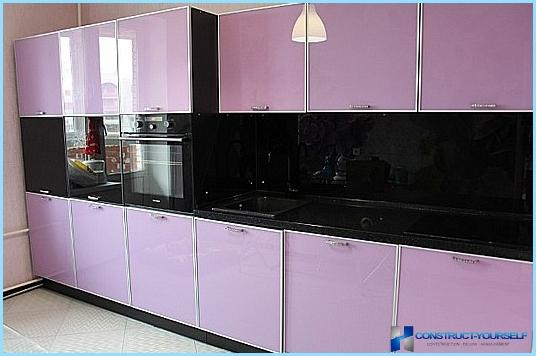 Despite the fact that glass is not considered a cheap material, however, it provides an opportunity for imagination when decorating.
Glass compared to other materials has several advantages:
hygienic because it is easy to clean and the surface does not accumulate dirt and dust;
moisture and thermal resistance;
elegant appearance of glass facades.
Among the disadvantages – high price and fragility.
To argue about which is better and more practical facades is endless. Shown the video will help you better focus on this issue.
Selecting the material for the facades of the kitchen, you also have to decide what color they will be because color plays a big role in creating the future appearance of the premises.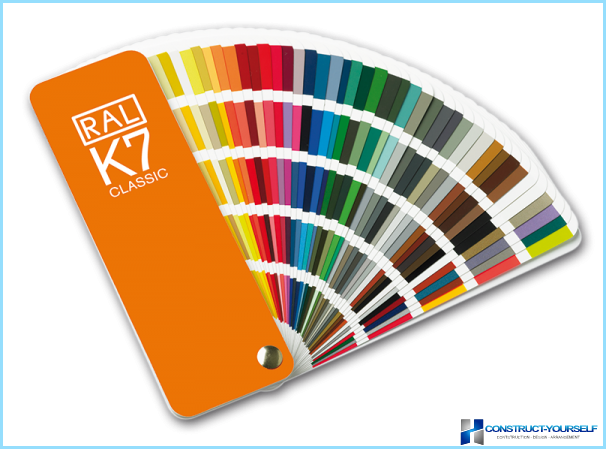 When deciding on the color scheme of furniture, the first thing to take into account the dimensions of the kitchen. In kitchens with a small area it is necessary to exclude dark and too bright and saturated colors because they very quickly tired eyes. But in the spacious kitchens of such tones, on the contrary, create an atmosphere of warmth and coziness. And if in a large, bright room to add spots of color, it will look completely faceless.
Leader the color palette is brown and its shades. This color is not tiring, and besides, it is easy to jog a variety of bright accessories.
If, however, the preference for colored kitchens, it is necessary to carefully analyze the situation:
how often are cooking and how intensely;
gently did you treat things;
how soon are you planning to change old kitchen into a new headset.
By answering these questions easier to choose colours for kitchen fronts. You should also adhere to one rule – the color should be chosen either in tone or in contrast.
As an example, take the classic kitchen with wood veneer. If the facades are painted in «bleached oak», it is unlikely that someone will do the body of an aluminum color. However, the case headset with color, close to natural wood, will look quite harmoniously.
The second example is taken for cases of color material «walnut», which is much richer and darker «bleached oak». Due to this contrasting combination kitchen will become more bold and modern look. In addition, the case of dark shades can be perfectly combined with the color of the walls, countertops or floors.
Color kitchens are also needed to support the color corps. In this case, the best option will be box aluminum color, which duplicates the color of the chrome handles and appliances.
Similar in tone facades, but different color boxes look pretty tacky and give the impression of cheap furniture.
In the presented video demonstrates the successful combination of colors for kitchen cabinets.
In conclusion, it is worth noting that all people have color preferences are quite different, and in this respect there are no hard and fast rules. Therefore, choosing a color for your kitchen, don't be afraid to dream and create the kitchen of your dreams.
Also, no matter what facades you choose, the most important thing that they liked you for a long time and was pleased with their appearance. You must properly and regularly take care of furniture and then it is a very long time will last, retaining its beautiful original appearance.
Content related