You wish to create in your kitchen a beautiful and original interior, and thus for reasonable money? In this case please note the plastic aprons for the finish of the working area. Modern plastics in strength, performance and durability is a worthy competitor to glass and ceramic tile when creating a kitchen apron. And the use of printing allows you to make the kitchen more comfortable and beautiful.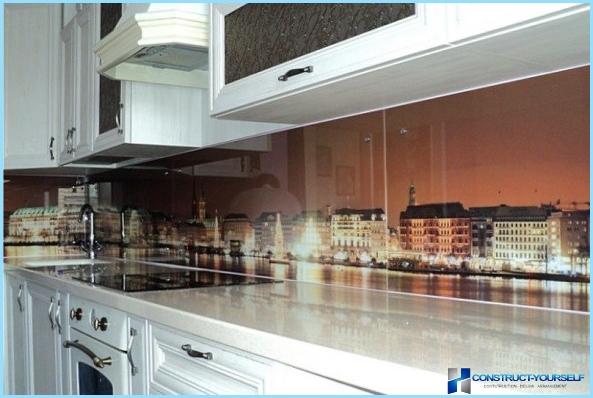 To enhance the indoor color balance, the designers recommend the use of kitchen aprons, contrasting with the furniture. Combining different shades from narrative drawings can be quite an original design and allocate work area.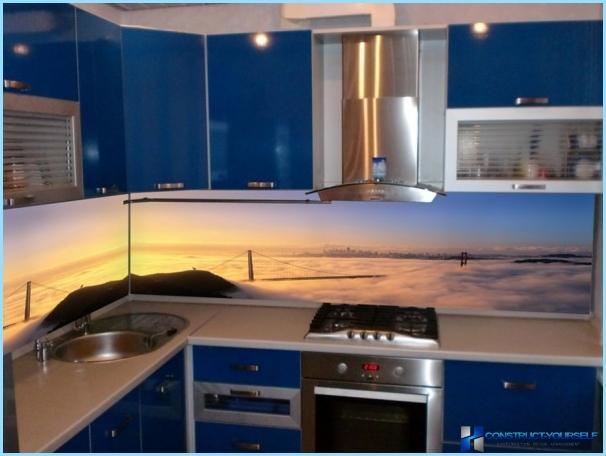 If bright colors do not match with the overall interior, then you can install the transparent plastic, making for the apron lights, which will allow you to add depth to visually expand the space and create a festive mood.
Plastic kitchen apron with photo printing is a wonderful solution in terms of the ratio price-quality and ease of installation. It is necessary to understand what plastic is inferior to glass, ceramic tile and other facing materials, and what can compete with.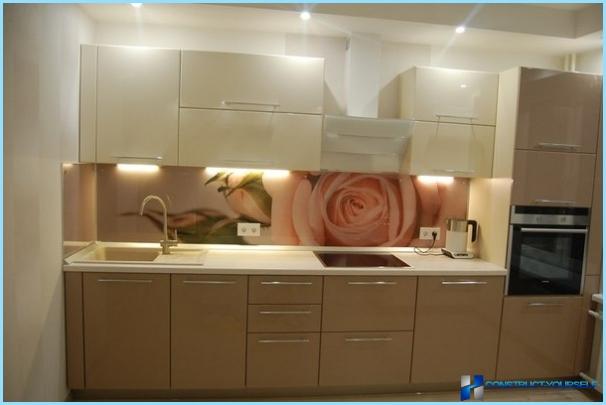 There are numerous plastic panels to create a kitchen apron, there are three main types:
PVC panels are produced with a width of 100-500 mm, a length of 2 600, 2 700 and 3 000 mm and thickness 5-10 mm. When mounting the formed seams and if the installation is made unprofessional, there may be gaps, which subsequently will get fat, water, and this can create an environment for microbial growth. To avoid problems, better plastic apron with photo printing made to order and to entrust its installation professionals.
Plastic sheet. Allows to obtain a smooth and seamless surface, which the whole fabric panel is cut to an appropriate size, which after is mounted on the wall.
The most durable is another type of plastic – carbonate glass. This material is transparent and has a refractory and similar metal characteristics. It is very difficult to break and it is practically not formed dents. And besides, in addition to their functional purpose of a kitchen apron and even pleasing to the eye is to order the panels with the application of printing.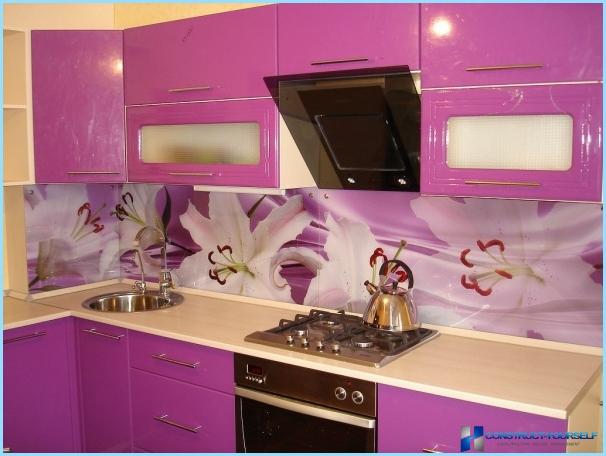 Use kitchen plastic aprons with photo printing has many advantages, namely:
low cost compared to other materials;
high moisture resistance;
resistance to high temperatures;
resistance to household chemicals and food acids and fats;
on the surface does not breed bacteria, mold and other microorganisms;
the ease and simplicity of maintenance;
minor weight;
the possibility of self-installation.
However, the main advantage of using kitchen plastic apron is that it can at any time replace, if the color or pattern has become boring. And it won't even have to move furniture.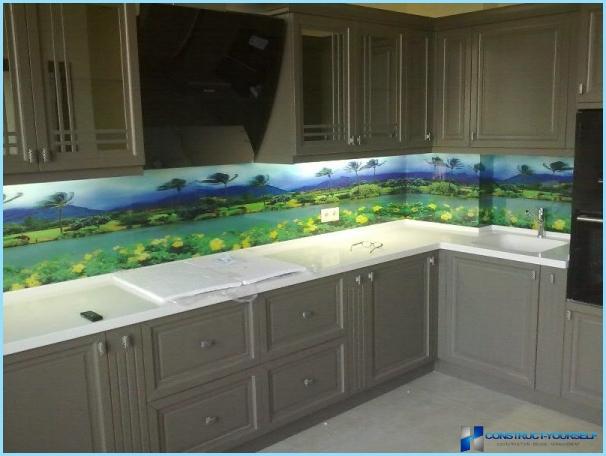 However, there are certain disadvantages:
the probability of plastic deformation in close proximity to the burners of the gas stove and for this reason experts advise to mount the apron of plastic, only in the presence of induction or electric cookers;
high wearability, especially when applied during the care of rough brushes and cleaning products with abrasives. However, if the apron print with a small figure, bright coloring and imitation of natural materials, some slight scuffs and scratches will not be noticeable.
Plastic is a durable material that is cheaper than other materials. So that now you can buy kitchen apron made of plastic at quite a reasonable price, to use the budget option. However, the cost of plastic apron with photo printing, and even more custom-made much higher than usual, but worth it.
Not everyone knows where you can purchase a plastic apron for the kitchen. It can be bought in specialized shops of building materials or furniture fittings and accessories. The consultants can give expert advice about how to install an apron on the wall, how many panels, what kind of panel you should choose.
Most consultants recommend to buy finishing material famous manufacturers, as it is considered higher quality. Buying a plastic panel you need to check from the seller hygiene certificate for the material, to exclude the purchase of counterfeits made plastics emit when heated, toxic substances.
To install plastic apron with photo printing there is nothing complicated and can every man at least once, held in his hands a screwdriver.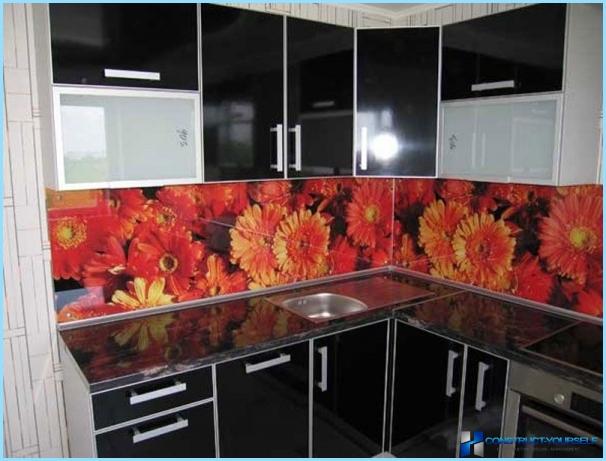 Dimensions kitchen size plastic apron which completely covers the working area of the wall. For this reason, you first need to determine the size of the panel. Height plastic apron should be one inch below the countertop and walk to the bottom edge of the wall cabinets. Typically, the distance between the countertop and wall sections is 60 centimeters.
Cutting plastic panels for kitchen apron it is desirable to perform manual sharp hacksaw with fine teeth. Electric jig saw will do the job much faster, however, without proper skills and skills it will be difficult to make a smooth and quality grub.
Mount kitchen apron with photo printing can be done in three different ways:
If the kitchen walls are smooth, then covered panels made of plastic can be clipped to liquid nails, good plastic panels weigh a bit. If the walls are in need of alignment, you need to make the sheathing of wooden planks and by her to produce adhesion of an apron or fasten it with a construction stapler.

The joints can be closed with a plastic bead and special furniture plinth. This method is the fastest, but, then, if necessary, a plastic apron with photo printing will be very difficult to dismantle without damaging it.

Mounting screws through the panel directly on the wall. After the installation of plastic panels cap screws can be closed with special caps in the color of the apron or skirting. Joints and cracks should be filled with silicone sealant.

Installation of kitchen plastic panels on a base made of wooden slats or a metal profile mounted on the wall. In this case, if necessary, the plastic panels of the apron can be easily and quickly disassembled.
Care of kitchen apron made of plastic are very easy and simple. It should be periodically wiped with a soft sponge dipped in warm water using liquids to wash dishes. Next, the surface of the plastic panel should be wiped dry with a dry soft cloth to avoid marks and stains from water. It is also worth remembering that the specialists do not recommend to use for cleaning a plastic surface tools with abrasive substances, to avoid scratching and do not erase the drawing, if available.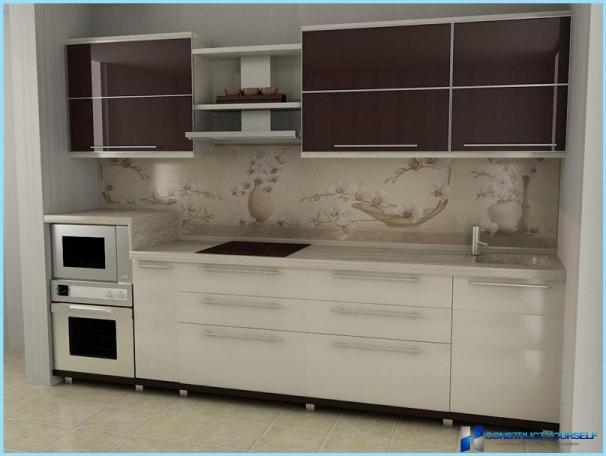 It is not recommended to install plastic panel near gas stoves with open flame, since the high temperatures they can deform and even melt.
You also need to follow children who all love to test the strength, and the plastic panel of the kitchen apron is easy to break or scratch from any sharp object. However, this is rather a cheap plastic low quality, while more expensive and high-quality panels from the best manufacturers all this trouble will not get any.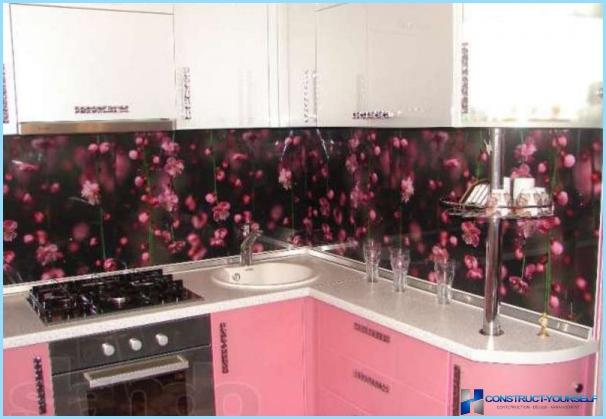 As can be seen from the foregoing, one of the most problematic areas of the kitchen, which daily is exposed to moisture, steam and grease, you can make a rather attractive appearance just set plastic apron with photo printing. The installation of the kitchen in the working area of plastic panels not only give the room a special individuality, but also allow the hosts to save a lot of time and effort spent on cleaning.
Content related