The walls in the kitchen open up huge scope for the imagination. It's not a living room and not a bathroom, you can unleash the imagination and create a unique design suitable for my personal preferences. However, there are some requirements to be applied to repair.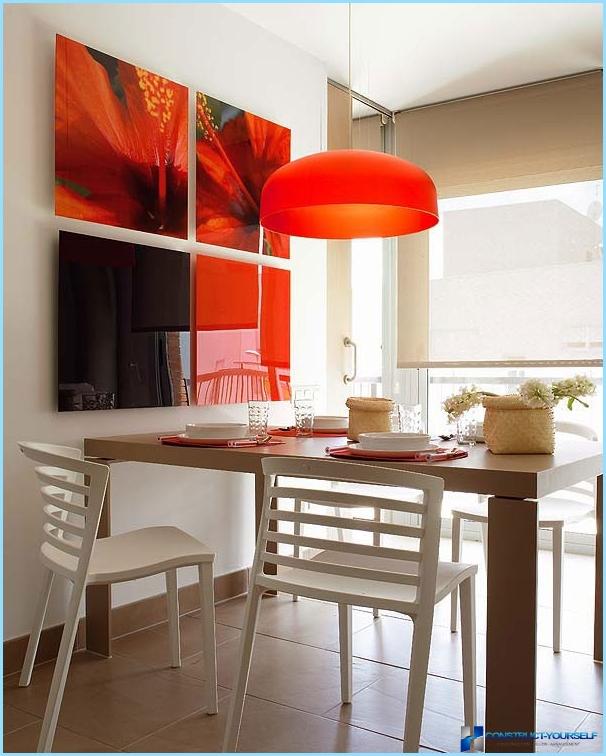 Kitchen design has a few basic requirements. Their implementation will significantly increase the efficiency of the kitchen, and will allow you to avoid further problems with the operation. It needs to fulfill the following conditions:
To be simple and practical
Easy and quick to clean
Not contain too dark or sharp eye shades
Having a moderate amount of accessories
This will allow you to achieve the optimum situation in the kitchen, avoiding the various problems with cleaning, spaciousness, efficiency in use of space and other nuances. It is necessary to consider when creating and choosing design.
Wall — the core of the design of the kitchen as any other room. They set the overall tone of the room, determining its appearance and allowing it to interact with other objects. This allows you to create a unique layout that combines the wall and the kitchen.
Variety of materials for the walls in the kitchen noted:
Paint for the walls
Ceramic tile
Wallpaper
Textured plaster
They are all quite practical, but each of them has its advantages. The first of them is painting the walls. This is the most common, inexpensive and practical method of finishing. It provides an easy cleaning surface, solid and uniform tone, and also allows you to use the surface for decoration. Another advantage of this coating is that it can be applied without the participation of specialists.
It is important
! Use in the kitchen is only washable paint is easy to remove dirt and grease from the walls.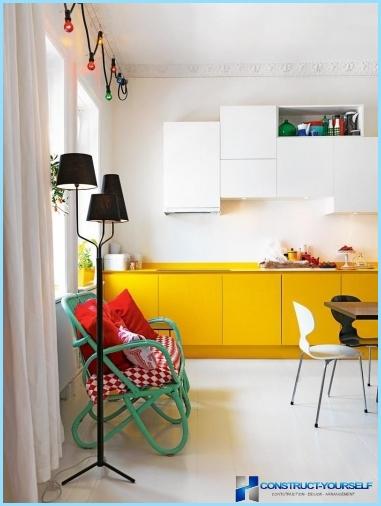 However, to paint you first need to make the walls smooth, as surface defects will be visible after painting.
Despite these flaws, the paint is the best option for the kitchen. It is simple and practical, and a great choice for this cover opens up great opportunities for design.
Ceramic tiles — no less convenient and practical method of finishing for the kitchen. Among the advantages noted for the durability, practicality, easy cleaning and nice appearance. A large selection of patterns for ceramic tile opens up great opportunities for design, complementing many design options.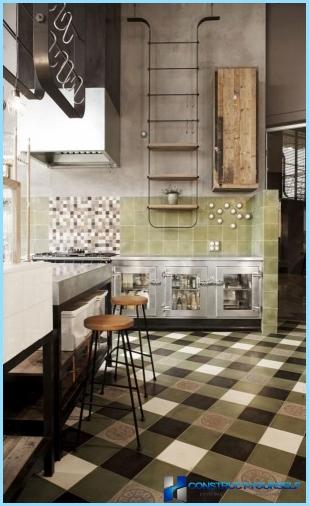 For practicality and ease of care ceramic tile prefers most owners and householders. Often it is a combined solution, complementing the kitchen in a plate and washbasin. However, the disadvantage is the complexity of installation and the relatively high costs of such coverage.
The Council
! Combining multiple types of tiles in the room, you can achieve the combination of design and practicality.
Also for tile important smooth surface of the wall that was mentioned in the paint. Without it, the coating will not be able to go smoothly.
Another option is Wallpaper. Although the classic choice in the form of conventional paper Wallpaper is not suitable for modern kitchens, now there are enough practical and relevant coverage that can replace the tile and paint.
Kitchen Wallpaper — a modern direction, which includes a variety of varieties of this kind of coatings. Often there are applied vinyl and non-woven Wallpaper. They are easy to care for and able to withstand various loads, including regular changes in temperature, moisture, heat, and more. In addition, their color does not disappear with age.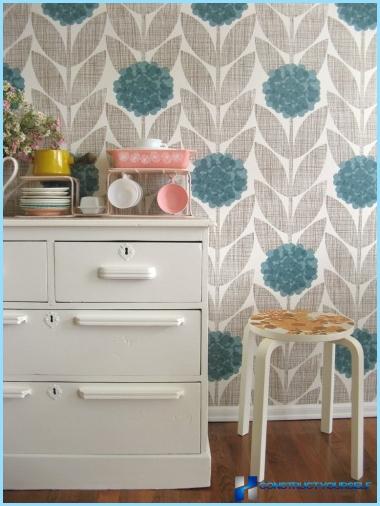 Vinyl Wallpaper is quite practical, with a high moisture resistance and protection from sunlight. They are also coated with a special coating, protected from contamination. Non-woven is even better, because they are not afraid of brush, securely fastened to the wall and hiding their flaws.
The last option is textured plaster. This is a practical and reliable option for finishing, characterized by high resistance to moisture, heat and physical stress. A mixture of plaster consists of natural stone chips and small pieces of marble, from-for what that is capable of withstanding high temperatures without changing the physical properties.
Feature textured plaster is that she is indifferent basis. She is able to go on most solid materials, creating unique effects based on their topography. So it is used as complex or as basic material for finishing dishes.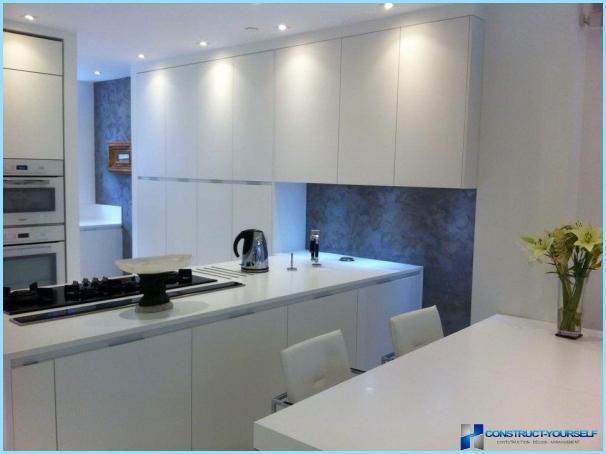 The Council
! Textured plaster can cover parts of the walls exposed between the furniture as shown above. This solution can be supplemented by lighting that create a unique effect.
However, it is not so important walls as their design. Interesting view of the kitchen can be achieved by combination of different materials and design solutions. Now particularly popular solution is the natural stone used in the decoration.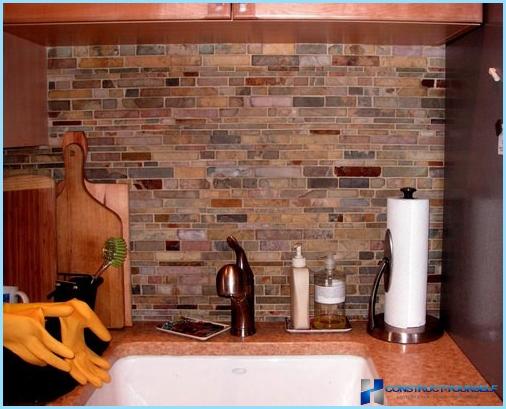 This is a simple and durable solution which will not have long to worry. Is only choose the beautiful shades and textures, combining them.
Among other interesting solutions worth noting:
Wallpapers
Designer plaster
Decoration plastic panels
Wood trim
Classic style kitchen
The Council
! The mural can be placed not only on the walls. To cover the various kitchen accessories can go in interesting and unique design solution.
The last method of execution is particularly interesting, allowing you to keep the classic look of the room by updating it with new elements. An interesting example of such solution can be seen below.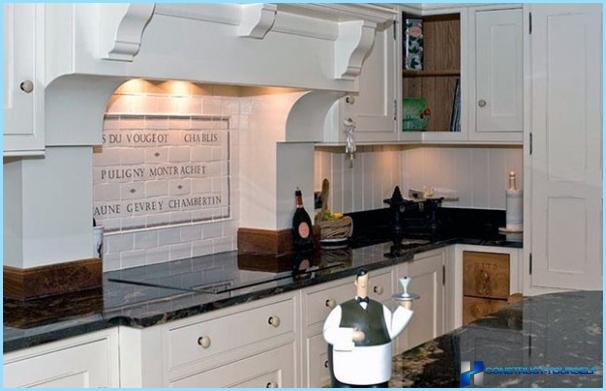 Plastic panels are often used as a modern solution to presenting the kitchen to high-tech style. But they are used rarely because of their low strength and low resistance to temperature. So plastic often used for decoration of ceilings, not walls.
Wood is also a popular solution for design. Using classic materials like wood and stone, you can achieve very good results.
However, there are many other design decisions that should be considered when planning space. Checked styles, their own ideas and experiments — this will make the kitchen a pleasure to stay in.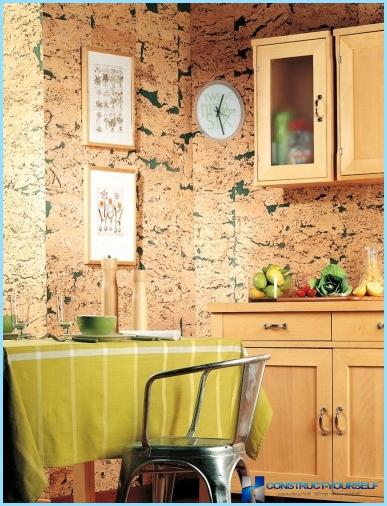 Don't forget that the room can be extended with a variety of elements. This also applies to food. Various designs include a lot of optional accessories, creating a unique look of the room.
Among them, worth noting:
Watch
Pictures
Photos
Artificial vegetables and fruits
Wooden elements
Traditional kitchen utensils
And many other options that complement the room. It is not necessary to aspire to minimalism, it does not always work. Sometimes it is much nicer to be in the room, consisting of a mass of inconspicuous parts, combined into the overall kitchen setting.
This is only the basics and nuances of design of the walls in the kitchen. They will allow you to determine the direction and make the suitable choice for your home. And this video will allow you to view the many options of kitchens, given their strengths and advantages.
Content related