The spacious kitchen is the dream of every housewife. When it comes to the kitchen in a small apartment on the spaciousness can not speak – the area of kitchens in such apartments varies from 4.8 to 6.1 sq. m.
The most common ways to make a small kitchen larger:
The number of furniture minimum;
Kitchen furniture should be light. Better white.
Decorate the room neat, small accessories;
Paint the walls in bright colors.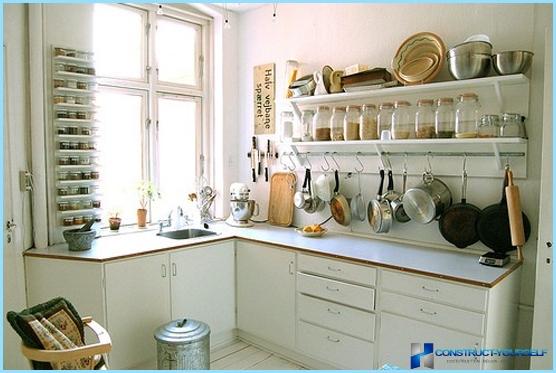 This is the basic advice. Modern designers offer more than 20 ways of design to make a small kitchen a spacious, stylish and functional. Consider some of them.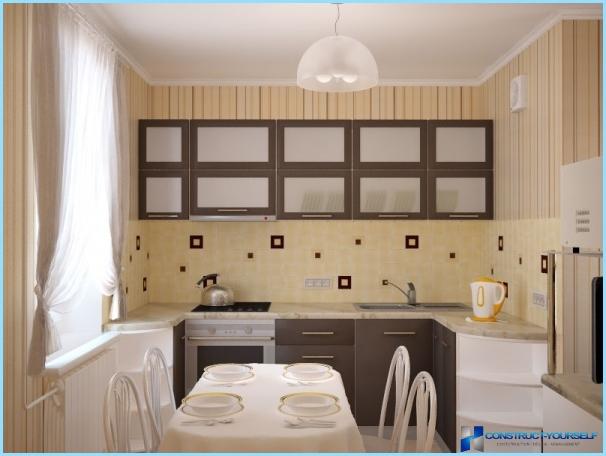 More light. Lighting creates a feeling of spaciousness, so it is recommended to use artificial and natural lighting.
Use soothing colors. Application in the design of the kitchen the same color is boring. Designers recommend to make any light color is the base, and to add a few bright or dark accents.
Please note!
More than two colors – it is undesirable to design a small kitchen in the apartment.
Patterns and ornaments in the design of a small kitchen is not forbidden, but they should not be much. Ornament should be used as an accent – it needs to emphasize a certain detail.
Please note!
Simplicity, a small number of colors and patterns – one of the main secrets "expand" the space of a small kitchen.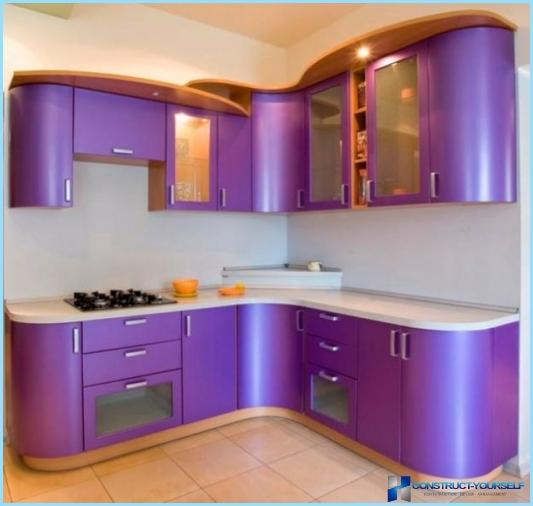 Kitchen textiles select according to the principles of practicality and functionality. Desirable light color. Bright curtains, tablecloths – are undesirable. They create the impression of compressed space, attracting all attention to himself.
Please note!
Choosing furniture for a small kitchen, avoid dark colors. The kitchen, which does not have enough space will look larger if the furniture will blend in with the walls.
Great outlet design for kitchen in small apartment – transparent glass elements. Glass fitting in furniture and wall finishes. The working wall cuisine can be panelled-skinali – they are durable, aesthetic, lend themselves perfectly to cleaning, create a volume effect.

"Stretch" the space in height. Ceilings in a small apartment low, so you will need a few tricks:
Cornice to hang immediately above the window opening, and a little higher.
It is better not to use coarse, massive curtains – fit vertical fabric blinds or roller blinds.
Any object of kitchen interior needs to be pulled up.
Place accessories on the wall one above the other.
If you plan to decorate the wall of a picture – hang it higher than it is, not the center of the wall.
Do not use chandeliers. Visually "lift" the ceiling chandelier of glass or crystal.
Kitchen accessories will also help to visually expand the space – use glass, transparent or glass decor items.
Decorate a wall mirror or mirrored panel. It is unusual for a modern kitchen design, but the use of mirrors – an ancient secret, which helps to create the impression of space.
Refrain from the abundance of plants, a massive vegetation visually compresses space. Can restrict bowl of fruit or restrained bouquet in a vase.
Select furniture with "secrets" with lots of shelves and boxes – and then a lot of furniture is not required.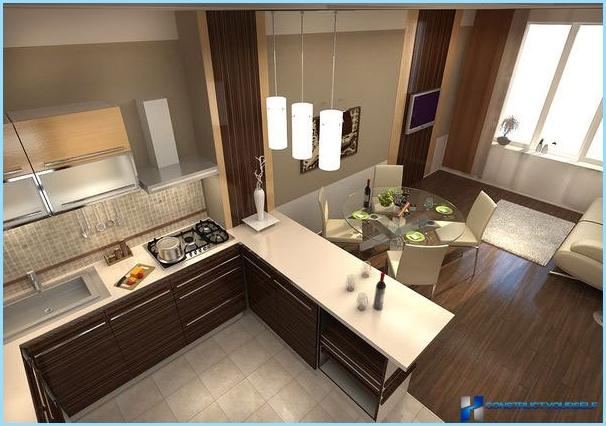 The desire to create a certain style binding – color, furniture, textures should conform to the standard.
Which styles to use to create the image of the kitchen in a small apartment?
Minimalism – the laconic, understated style for those who renounced the pomp, luxury in favor of modernity, freedom of space:
Furniture – little that gives more.
A minimum of accessories.
Simple shapes and lines.
Zoning of color and light.
Materials – plastic, metal, glass, aluminium. The surface should be smooth.
Colors – black, white, beige, gray. Sometimes there are bright accents. Patterns and prints not used.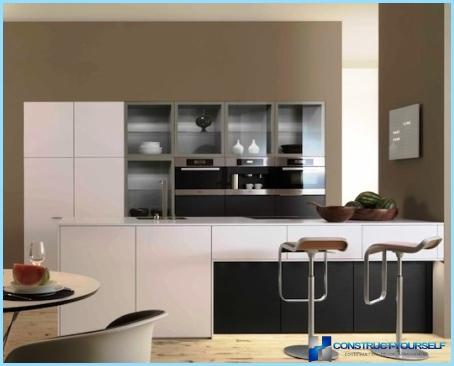 Constructivism – clear and functional style:
Functional furniture.
Smooth surface.
A minimum of accessories.
Materials – plastic, wood, metal. The main material is glass and interior elements from it.
Colors – black, red, white. These colors – the base of constructivism. Valid bright colors – yellow, orange.
Better curtains to replace blinds, roller blinds.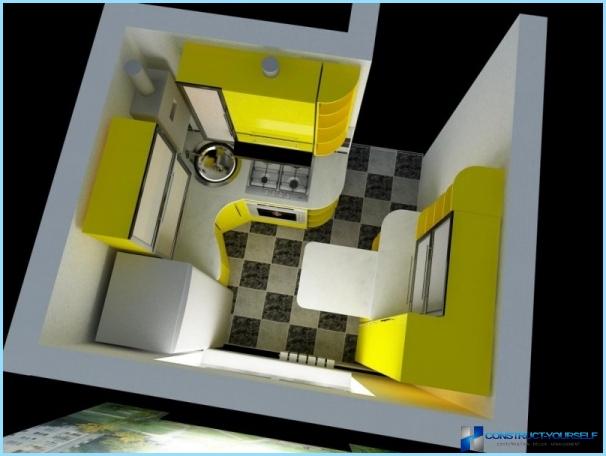 Modern edgy kitchen of any size:
Style allows many of the materials – stone, wood, wrought iron items, glass, plastic, metal. They can be combined. Welcome natural materials.
Decor – mosaics, stained glass, moldings, but in moderation.
Valid any floor covering and method of wall decoration.
Creating this style, you can experiment: combining vintage furniture with modern appliances.
One of the main rules of modernism – asymmetry. Distinctive flowing lines, niches, each of which needs to be functional.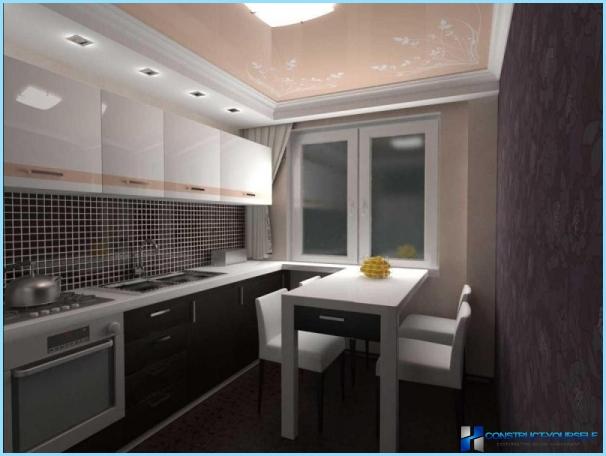 Classics never go out of fashion. Small kitchen in classic style is:
Natural materials for furniture, decor, flooring.
Soothing colors: brown, green, beige.
Welcome symmetry.
Accessories – lamps, paintings.
The Windows can be light curtains or blinds, fabric blinds.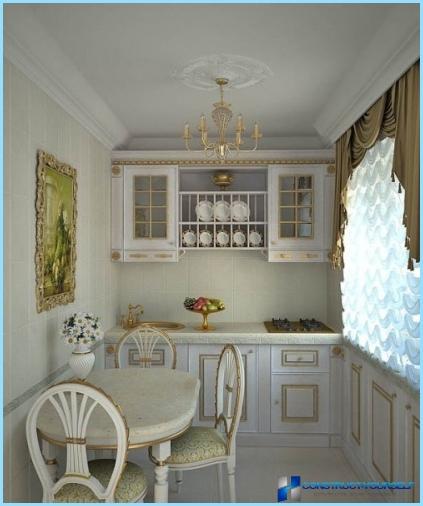 Please note!
Creating an image for a small kitchen, refrain from Baroque, Empire. These styles involve a great field for creativity.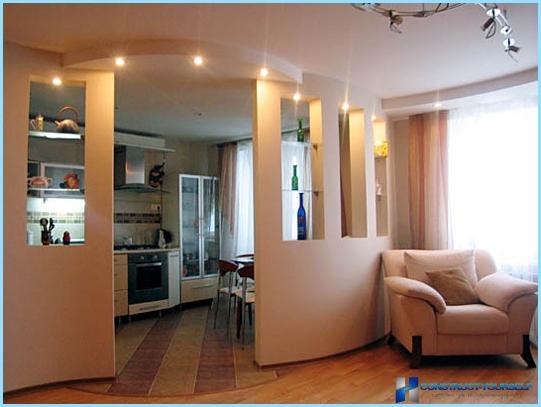 Kitchen in a small apartment – a chance to create current kitchen. Small kitchen is combined with adjacent room. In this case, it is required to redesign and legitimation of the new technical plan of your apartment.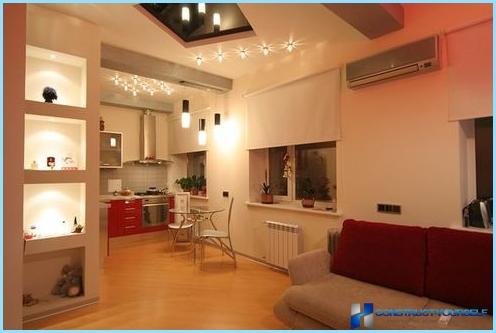 Why choose a remodeling as the main way of dealing with a small kitchen?
It is fashionable! The combination kitchen and bathrooms for several years does not lose relevance.
More opportunities in choosing decor, style, furniture.
A sense of space without unnecessary walls and partitions.
A small kitchen is not a punishment. You can always find many ways to create a cozy, functional space.
Content related