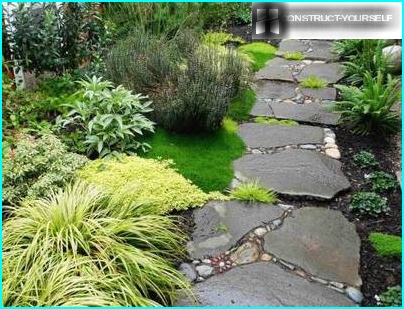 Any free surface at their summer cottagecan benefit. We have repeatedly talked about vertical gardening, gave examples of the creation of flower beds and flower beds. It is time to talk about the roofs. After all, they too can plant trees and gardens. This idea in the modern landscape design was used not so long ago, but it is not new. About wonderful gardens that are planted in the same way thousands of years ago, tells us the story. trendsetter in this case can be considered as Babylon. Famous Gardens of Babylon - one of the wonders of the world. Later, in Rome, Greece, and this tradition in western Europe not only supported, but also developed. And now this technique gardening is back in vogue.
Content
Roofs covered with greenery entwined with flowers - it is very beautiful. But, as it turned out, beauty is not the only advantage of this unusual garden.
You can not miss the slightest opportunity to decorate their lives with flowers. With the vegetation on the roof of this building looks like a fabulous gingerbread house
Here are the main advantages that it gives us the landscaping.
Improved insulation. Additional coverage can be regarded as an excellent thermal insulator. The owner of such a kind of clearing can save on heating or air-conditioning facilities. If we are talking about the unheated facilities, which include chicken coops, kennels, garages and some shops, then they formed the most favorable climate for the occupants.
It changes the qualitative composition of the air. Increase in the number of live plants in the area has a positive effect on the general state of the air, because as a result of photosynthesis produced more oxygen.
Reduced air dust. Green areas hold a large amount of dust.
Absorption of excess water during the rainy period. The soil reduces the rate of flow from the surface of the roof rainwater.
Grunt like a natural filter that cleans rainwater. As a result, there is no any soil contamination at the site, nor its erosion.
Green areas increase the sound insulation of the room.
Green roof will serve their owners for longer than usual, because easier to tolerate any exposure: UV radiation, high temperature fluctuations, heavy rains, hail, etc.
A large number of plants in the garden invites bees, butterflies and birds.
The vegetation on the roof - it is always unusual. All non-standard not only draws attention to the site, but increases the value of your property.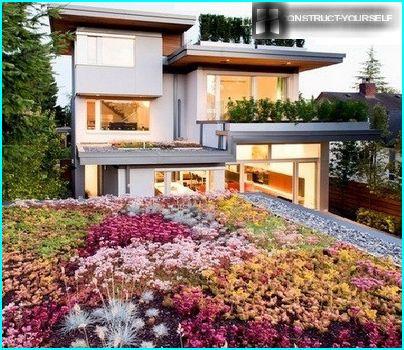 "Flower carpet" roof covered with utility room, from which the picture was taken. The very same house is literally lined with pots of ornamental plants
There are only two ways this landscaping: extensive and intensive. They differ in volume used planting material and the level of care that you will need later.
To planting procedure was available, we needstable roof construction. This is especially important in intensive method of work. It is characterized by the use of a large soil volume (up to a meter), planting a variety of plants from flowers to trees and shrubs. Such a roof can not only admire, but also rest on it. All that usually adorn the site can be re-established on her.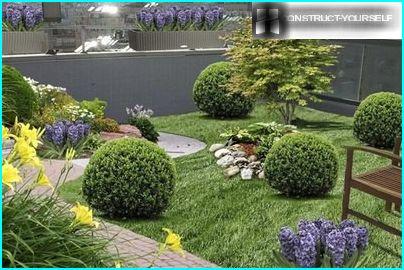 Intensive gardening method involves substantial load on the roof structure, but a great result justifies all costs incurred by you
It is so often adorn office buildings,restaurants, fitness and shopping centers, expensive houses. All in a makeshift garden, broken in an unusual place, has to rest. It can be equipped in a country house a spacious terrace or summer living room. If the house is on a slope, for example, the rise in the recreation area could be both below and directly from the slope. It looks all this quite attractive.

This is the cottage located on a hillside in question in the text. "Green Carpet" on the roof was very appropriate
Much less care requires extensive plantingmethod. This is the main advantage of it. If it is only a small layer of compost or soil needs, but fertilizing one - two times a year. Fertilizer is only needed for succulents or flowers, turf can do without them. Choosing the right fertilizer, remember that it should not be washed away by rain streams, to avoid pollution of wastewater.
If we want to plant, such as sedum, weIt will need just a few centimeters nutrient substrate. This significantly reduces the load on the roof surface. But increases its service life. Sometimes plants may be placed in containers. Planted extensive way, they require little maintenance. However, weed them at least once a year, still have.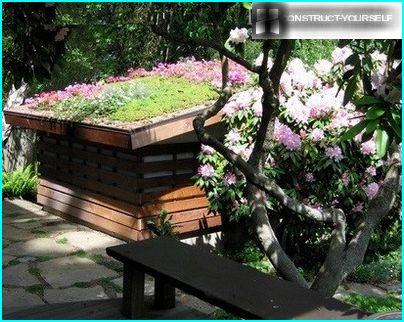 Lower costs do not always mean a worse outcome. This corner of the garden, which is literally immersed in greenery, just great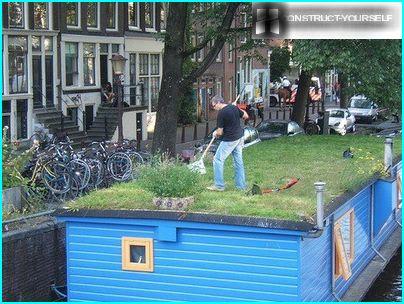 For extensive landscaping need a roof that would withstand not only the multi-layered "cake", required for landing, but the stresses of caring for a lawn
This option landings widely used for decoration of warehouse and industrial premises. In summer conditions, so vegetation cover sheds, garages, saunas, and other sheds and buildings.
Green coating can be applied on flat,pitched or hipped designs. If the ramps can be called cool, then they make better use of the extensive method. In the case of a flat surface is necessary to create an artificial slope for the drainage system to avoid stagnation of water. In the absence of natural drains you need to consider the drainage system, which increases costs on greening process. At low speed sinks too has its advantages: increased degree of filtration of storm flows.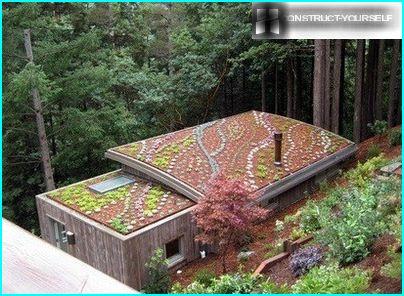 Less problems with the care of a lawn arises when the roof is slightly convex design. This facilitates the draining of soil
It does not matter whether the construction of the attic, it did not significantly affect the planting process. But the presence of the loft provides additional advantages. With him:
easier to monitor the condition of the roof and drainage system;
if applicable intensive method, it can be equipped with special shaft, increasing the safety of winter root systems of large perennials.
Basic requirements for the roof - its strengthstructure. After all, it will have to bear not only the total weight of the produced multi-layer "cake", but also the operational load. In extensive landscaping design should withstand 170 kg / m2Under vigorous - to 350 kg / m2. It is necessary to provide enhanced waterproofing and protection against root penetration, which can damage the lower layers of the roof.
At work, try to balance theload, distribute them as uniformly as possible. Particular attention should be paid to irrigation and drainage system. Immediately check their reliability, because then carry out repair work will be much harder. It is better to spend money initially, but to do well, and then just to maintain everything in the active state, enjoying the result.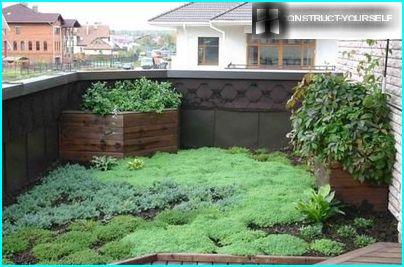 It is important that the surface on the roof load is distributed uniformly. Massive elements should be installed where there is supporting pillars
When choosing plants for planting in the arearoof, it must be remembered that they have to get along well together. In addition, the development process of seedlings and sprouts on a hill is different from the land. Not all flowers, shrubs and trees are ready to adapt to new conditions of survival.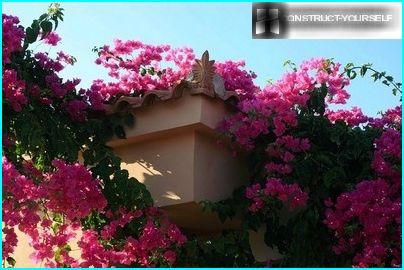 Choose a roof must be such plants, which certainly can be called unpretentious. It is important that they get along well with each other
Choosing the seedlings will be guided by the following criteria:
a small root system;
great drought and frost;
the ability to resist wind attacks;
total simplicity.
Construction, covered with green, should attractattention for its beauty and grooming. Perfectly suited ground cover of grass, creepers, creeping and dwarf shrubs and trees. In the spring of preferred muscari, Scylla, crocuses, daffodils. Green plants can be grouped on the basis of visual appeal that is so important, because the landing would be seen from afar. Watch a video on this topic.
You can build a colorful Moorish lawn. Excellent proven stonecrops, sedum, saxifrage, creeping phlox, allisumy, cloves, oregano, lavender, baby's breath, bells. The total height of cover in extensive form should not exceed 30 cm. Yes, at the initial stage of work is necessary, but in the future, is home decoration, and buildings will bring you so much joy that you will forget about their costs.
If the plants are planted directly on the surface of buildings and not in containers, must be consistent unit following layers, which we list for you from the bottom up.
Base. This can be used as a solid crate of grooved boards.
Waterproofing. On the flat roofs of the reliability of this layer ispay special attention to. Material and insulation technology must be chosen in accordance with design features of buildings. Do not skimp on waterproofing, or subsequent repair will cost much more.
Protivokornevaya protection. It is necessary to prevent root penetration into the underlying layers. For this purpose, suitable foil insulating, evalon, glass, foil.
Drainage. This layer should be durable, lightweight andhave low weight even in a state of saturation with moisture. Suit granular or foam materials: expanded polystyrene foam, impregnated with bitumen, nylon or polystyrene granules. When laying drainage pipes along the edges of a ramp.
The filtration layer. It is designed to prevent contact with the drain layer of the soil particles. Geotextile perfectly cope with this task.
The soil substrate. The problem is that this layer wasas light as possible. Therefore, we must add a synthetic baking powder, sand and peat. For flowers and succulents in soil fertilized. The thickness of the soil is calculated as 1 / 3-1 / 4 of the height of the adult plant, which will grow here.
Plants. The fact that it is here to grow better, we talked about above.
If the roof has a slope of more than 18 degrees,necessary to provide for lawn protection against slipping. To do this, from the wooden slats can put together the frame, use a grid of wires or special grille, made of PVC. If plantings need regular watering, need more irrigation system. It is better to use the automatic option, which will not be paid to the problem of too much attention. The ideal is considered to drip irrigation, because excess moisture roof to anything.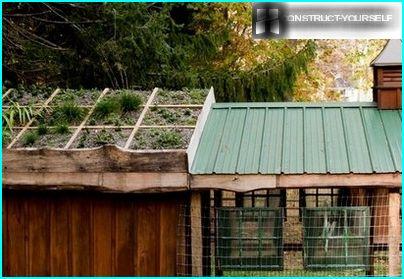 On the roof with a slope is necessary to build a framework fence that will keep the whole planting material at the site designated for it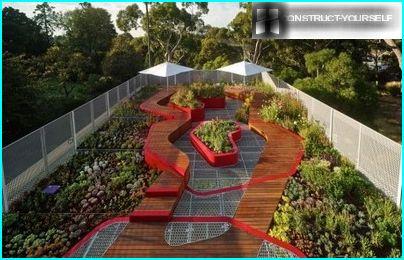 The use of containers allows the plants to change the design of landing at your discretion, facilitates care of the plants on the roof
For those who are not yet ready to turn your roof intoemerald lawn, suitable variant with planting flowers in special containers. See if you like this idea at all. If you are at all in doubt, that they are able to translate his idea into practice, try your hand at a little square. Let it be even doghouse or canopy over the well. Watch the video and make sure that nothing difficult in this embodiment, no ideas.