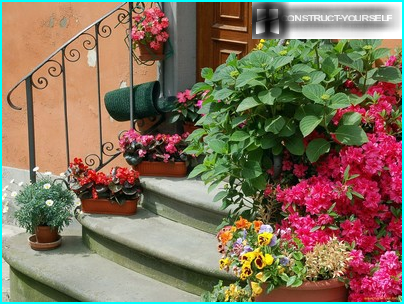 The last peep of landscape mode - and monotsvetnikimonochrome flower beds. They are decorated with a very respectable place: at the main entrance of the presidential palace, the city's main squares and parks, the territory of luxury hotels and resorts. And what of our cottages and country homes is worse? Create a design fashioned beds and flower beds is simple. But the site immediately acquire a festive appearance. The main thing - the right combination of plants and make sure that after flowering flowerbed not emptied and kept attractive look. Let us try to understand all the intricacies of creating monochrome flower "decoration."
Content
Foreign prefix "mono" indicates thatsitting on a bed is only one plant variety. Those. you create a sort of continuous carpet of tulips, hyacinths, salvia, etc. Flowers do not have to be all in one color, but the appearance, height and flowering time must be the same.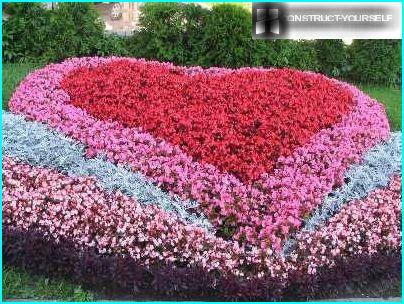 Three species of petunia used in a bed, a broken silver stripe cineraria, which serves as a transition from dark pink to light plant varieties
One-color flower bed - another design option. In this case, the plants are planted in different but selected only those that are the same color of leaves and buds.
Since monotsvetnik has front, even slightlyroyal look, it is not suitable for so-called natural landscape style, where all the plants look natural, as if in the wild. This holiday design flowerbeds shows only the regular style with a clear geometry.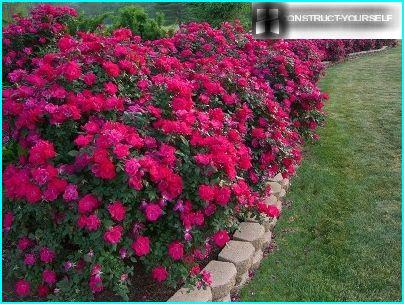 Flower bed of roses twine stretches the entire length of the site, creating a kind of a fence, and well contrasted with the close-cropped lawn
The most beneficial look at the main monoklumbythe entrance to the site, near the front door in a recreation area. It is advisable to look through a flower garden from all sides section, because a single color bright blossom spot will certainly attract the glances of curious passers-by.
To enhance the solemnity of flower decoration,decorate a flower bed in clear geometric shapes: square, oval, round, diamond. Be sure to use some kind of fencing to separate the flower bed border. This can be a decorative fence, bark mulch, gravel vystilanija color, etc. This gravel must not repeat the coloring of inflorescences, and have a cold. It will emphasize the solidity of the flower garden, and make the color brighter.
It seems that monoklumbu create easier thancombined, where you have to take into account the compatibility of plants, their different requirements for soil, etc. And then -. dropped the same throughout the area - and ready. But in this lies the main difficulty: the combined decorative flower always, because while some grow flowers, they cover perennials and ornamental shrubs. In monoklumbe cover will be no one, because all the plants sprout at the same time, begin to bloom ... and disappear. Therefore the main task summer resident - to consider the selection of plants so that the bed was not empty until the autumn. Those. as soon wither alone should already be ready for planting seedlings other. Either pick the flowers are to be decorative throughout the season due to the leaves.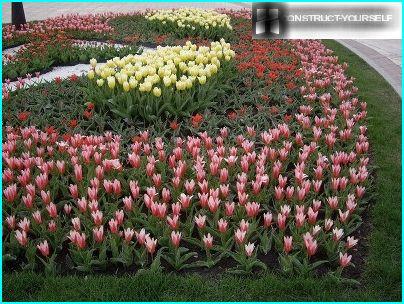 Flower bed of tulips creates a nice clear picture, giving the whole landscape organized and strict kind, and in perfect harmony with paving slabs
The easiest way to make a flower from the "long-playing"plants. For example, from Cannes. In the center are planted tall varieties, and is closer to the edges of a canna little smaller. By varying the height of a flower bed will look pyramid, and when to start flowering, the inflorescence, tiered create interesting far prominent effect.
An example of a continuous decorative carpet canbecome monoklumba of lilies of the valley. Low plants have a glossy textured leaves that lose their attractiveness until the end of autumn. A white bluebells in May and red berries in August created the likeness of forest glade, strewn with small flowers or fruits.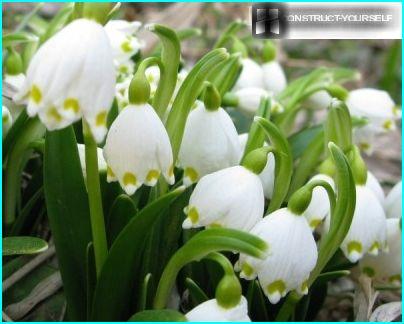 Monoklumbu of lily of the valley create beneficial in areas with constant shadow, where other plants will not have enough sunlight
In urban design are often used monotsvetnikiremovable type in which ornamentation is supported by timely planting new plants. So, use bulbs that are planted in the autumn, so that already in the beginning of May have a luxurious flowering carpet for spring flowering. Most smart, of course, tulips. If their height does not fit into your design in the country, use the flower garden hyacinths. While flowerbed flowers on a window sill or in the greenhouse should have to grow seedlings for the second planting cycle. It can be a pansy, petunia, ageratum. Then comes the turn of salvia, marigolds and asters autumn, which will decorate the flowering portion up to the frost.
To accelerate the development of marigold and get them quickly to bloom, it is necessary to grow seedlings in the greenhouse, as soon as the days of April will come
When complement monochrome flower bed, hereget in one tone is quite difficult. Usually they pick a monochrome palette. For example, if you select the basic tone of pink, the color may be light pink, dark pink, fuzzy, red and so on. From a distance, this bed will play shimmering colors, and it looks beautiful.
Depending on the location and sizeflower garden, it makes the same height or tiered. Small beds looks advantageous to stunted flowers, large - with a multi-stage compositions.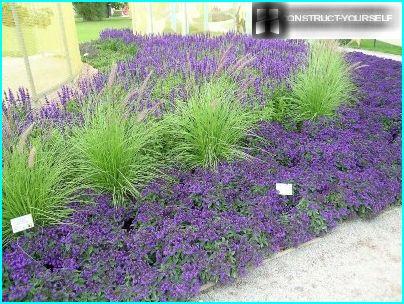 To divide the plant into tiers using transitional links like grasses or tall grasses, which are added to the green pattern and lightly break up monotony beds
Be sure to take into account the period of flowering of all landings to bed blooming all season, keeping a predetermined coloring.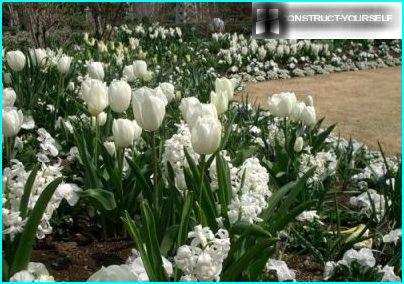 If the house is planned wedding in the summer, the white flower gardens become a beautiful natural setting for this celebration, giving ceremonial mood throughout the site
For blue flower beds you can collect the following types of plants:
early-flowering: some varieties anemones, hyacinths, Scylla;
May flowering: muscari, muscari, iris, flax;
June: phlox, speedwell Austrian, Nigella Damascus;
July-August: Gladiolus, geranium meadow;
blooming all summer: LOBELIA ERINUS, Felicia amelloidnaya (in other words - blue daisy);
autumn: asters.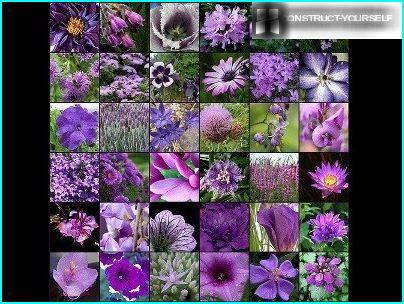 From this purple plant diversity, you can choose the ones that succeed better in your climate and are inexpensive
For flowerbeds yellow shades are best suited:
early-flowering: primrose, Forsythia (ornamental shrub), daffodils, crocuses;
May flowering tulips, irises, Aquilegia;
June: doronicum, roses twine;
July-August: HELIOPSIS, decorative sunflower, rudbeckia;
blooming all summer and autumn: helenium, marigold, yarrow tavolgovy cannes.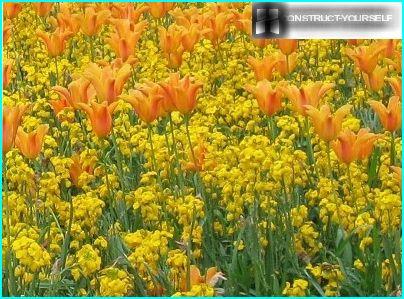 A flower bed in monochrome yellow and orange tones set up only two species of plants, mixed with each other. And the lower tier serves as a backdrop for tall tulips
To use the device the red beds:
early-flowering: primroses, anemones;
May flowering tulips, red periwinkle (vinca);
June: geranium, twine roses, peonies, poppies;
July-August: China aster, dahlias, hollyhock;
blooming all summer and autumn: red daisy, salvia, begonias, cannas.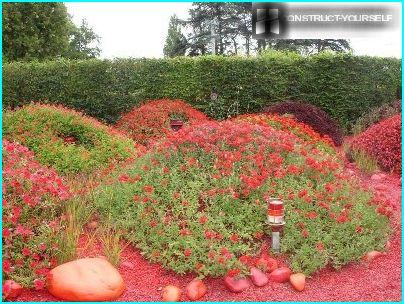 Red amplified the effect of the beds of the same colored gravel and stones that distinguishes this area and concentrates on her views of all site visitors
When you create a monochrome design flower bed with his hands, he will become the central focus in your area, because this color enhanced concentration involuntarily looker.