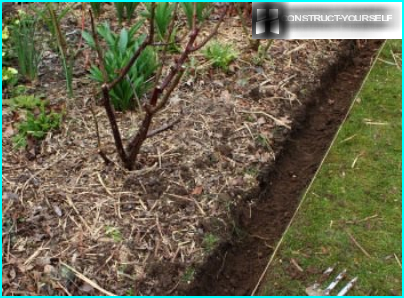 Originally decorated flower beds always lookinteresting. Wanting to decorate your site with floral compositions, many gardeners are equipped with beds, using ready-made barriers and containers for plants. But to create an unusual element of landscape design is possible and cost-effectively, showing little imagination everything for beds from scrap materials. Such unusual design will highlight suburban area.
Content
Installation of decorative fences can solve several problems:
using the beds and walling it easy to visually divide the territory into functional zones;
flower beds, decorated in the same style, pretend site more presentable and neat;
bumpers and tanks walling warn "spread" of plants on the territory;
fences serve a protective function, saved the delicate plants from the encroachments of pets.
Old things, has long served their time, but carefully kept in the pantry or garage, can get a second life, becoming a functional element of the original landscape design.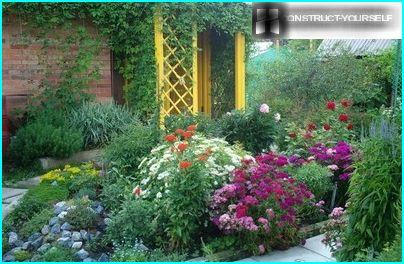 Fences and beds allow the territory to give a complete and more harmonious appearance
Revising its reserves the "right things" we find an old set of tires.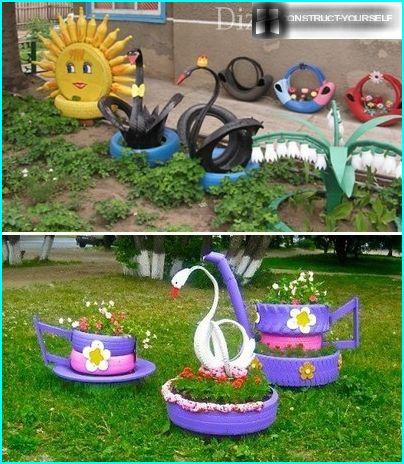 A flower bed of tires, decorated with incised sculptured edges and painted in an interesting color combination, despite the ease of manufacture of ready-made looks very impressive
By decorating the flower garden, you can take a ready-made options flowerbeds device using old tires, but much more interesting to come up with unusual design elements yourself.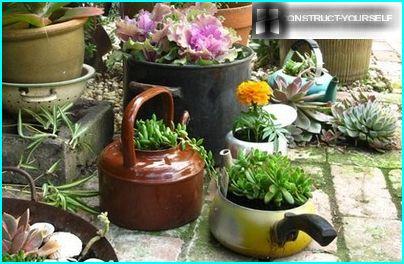 In the role of an unusual flower beds can also perform old kitchen utensils: outlived its maker, smoked pot, a leaky pot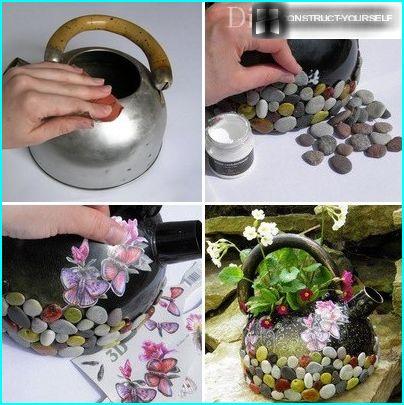 To transform an old kettle in miniatureklumbochku under primroses, enough to paint the product in the right color and pasted colored pebbles, using hot melt glue. Harmonious looks combination of applications of stones with decoupage technique
Original flower beds with their hands can also be created from old shoes and boots. In every family there are several pairs of old shoes, which for a long time no one is, but to throw out the hand does not rise.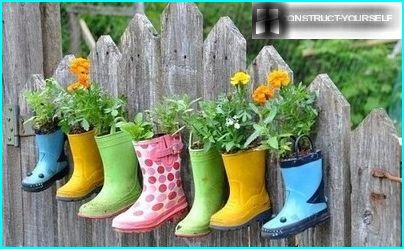 Place in the makeshift planters, turned the skillful hands of the old leaky rubber boots, there is anywhere in the area
Fun flower pots, Attached tofence, steps or porch, revive the interior and will give a good mood for owners and guests. The main advantage of such miniklumby of old shoes - mobility: it is easy to move around the site, thereby reviving the most dull corners of the garden.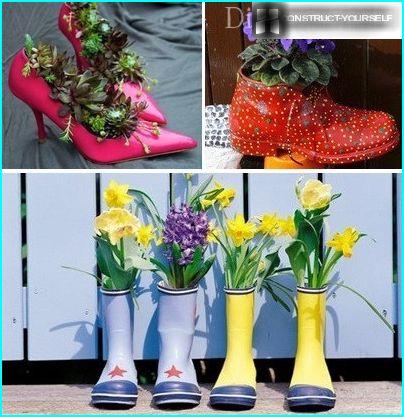 It is difficult to walk, do not smile, by such a boot or shoe, which is decorated with a shock of fresh greens, dotted with tiny colorful flowers
To turn an old boot in a gardencontainer enough to make a hole in the product several locations slightly above the base with a knife. Cuts are necessary to ensure adequate drainage. With the same purpose can be used gravel, clay fragments, wood chips, which fills the lower part of the shoe. The remaining interior space products densely populated soil mix. Also some useful tips we can learn in this video:
For planting in these improvised containers are ideal: petunias, geraniums, pansies, fuchsias and other unpretentious Flowering plants.
To create flower beds from scrap materials - an exciting process that allows you to turn any old thing, long ago became the stuff in a piece of art.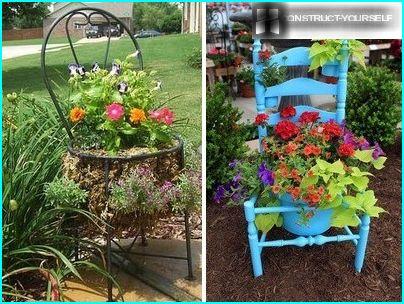 Old chair can become not only an unusual design element, but also a functional design for small blooming flower bed
Flower arrangements for the registration of such bedsYou can be both from stunted flowers and tall perennials. The mobile flowerbed conveniently be placed in any area of ​​the site, and if desired, change the interior - to move to any corner of the garden. To make the structure more stability, it is desirable to attach to the chair inserted in the ground reinforcement or partially dug into the ground.
If desired, you can even attach the old grandmother's bed, transforming it into a foundation under the gorgeous flower garden.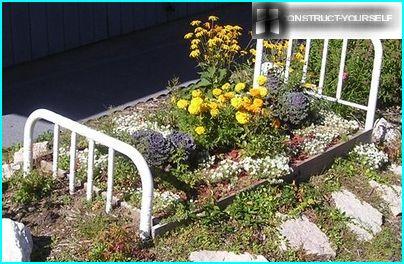 For the arrangement of beds metal beds to be dyed in the desired color and to dig into the ground so that legs fully submerged under the earth, and on the surface leaving only the back side
Fill a flower bed can be flowering, soDekorativnolistvennye and groundcover. Closer to the headboard, it is desirable to plant climbing flowers, the stems of which zapletut metal support, giving a bed of particular scenic beauty.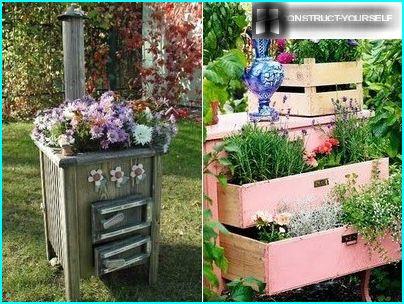 Darkened by time wooden cabinet alsomay find application in the capable hands of a creative master. To create original pots used as a table-top product itself and the side drawers
Before filling the container a layer of earth, it is desirable to lay their spanbond or polyethylene, cementing material staple gun.
Processing wood surface products with special protective structures will significantly extend the life of the structure.
To give an old bike a more decorative it is desirable to paint paint from a container, and then priladit to him a couple of wicker baskets.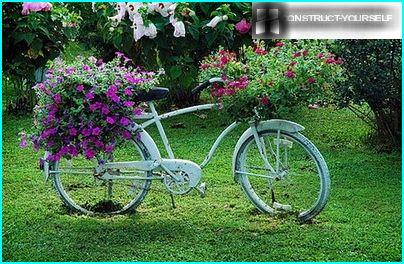 The original mobile flower garden can be done using an old bicycle. This arrangement beds can significantly save space of the area for planting other plants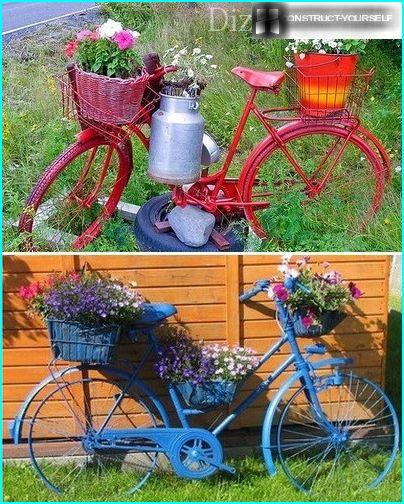 Containers with flowers can be placed on the front wheel, a frame or rear rack, turning an ordinary bike into a real installation of flower arrangements
During application, to fix the wheel in an upright position by using a metal pin driven into the ground.
Old boat, boat or kayak, first furrow water spaces, and now settled on the emerald lawn and fragrant flowers, will become a bright accent design of any suburban area.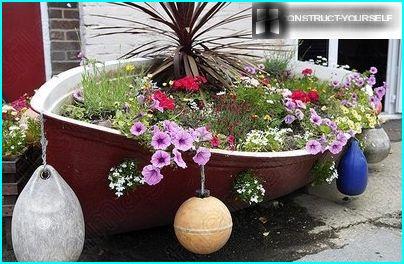 Turn of your old craft in improvised planter easily, filling it with a layer of earth and landed miniature bushes dotted with colorful flowers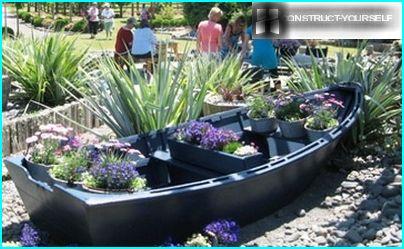 No less interesting to look boats decorated with lots of pots of flowering plants
Option decoration flower garden potting allows you to change the composition of the plant, depending on the mood and season.
Harmonious looks bed in an old boat in the area bordering the pond; while floral arrangement combines two elements - water and garden flora.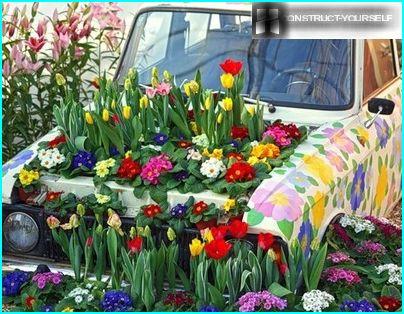 In the hands of even old cars may find new life craftsman
For the arrangement of a flower bed of a vehicleyou must remove the engine and all the stuff out of the trunk, then fill it with a layer of soil so as to remain at least 20 cm to the brim. For planting in the flower bed is better to resemble creepers, Entangling fast surface, and ground cover, creating a continuous flowering carpet.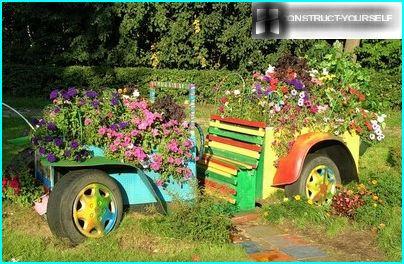 When making beds interesting look like smooth transitions from one tone to another, and contrasting color combinations
For the arrangement of flower beds, you can use anyavailable materials, harmoniously combined with growing flowers at the site. The only condition - correctly select the ratio of the elements in order to create a flower bed has become a stylish setting for a beautiful well-kept flower garden.