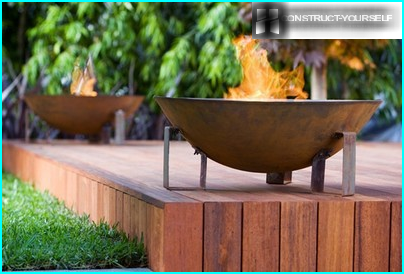 The days when the garden served a utilitarianfunction, providing crop performing food program on the scale of a large family, are fading. Today section with like nice flower beds and the beds neatly paved paths between them is more than a decorative garden. In addition to the direct appointment he combined with other elements of landscape design, it stands an unusual decoration of the site.
Content
Transform an ordinary garden with vegetable bed into the original element of landscape design - a task to carry out that any gardener can if desired.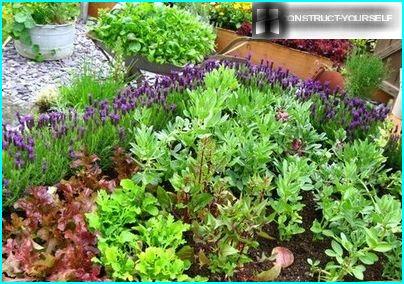 The easiest way to "revive" the site - try"Play" with the selection of the most attractive varieties usual vegetables and place them in the light not only compatible, but also a successful combination of shapes of leaves, flowers and fruit shades
Mixed planting in which one bedCulture alternates from the garden another compatible with her culture, allows us to give the vegetable garden more attractive. For example, alternate the carrot beds with openwork foliage, beets with a dense leaves and cabbage heads that resemble blossoming flower buds.
To give a more decorative garden beds,along their edges can be planted herbs and herbs: sage, oregano, rosemary, Melis, coriander, thyme ... They retain an attractive appearance throughout the growing season.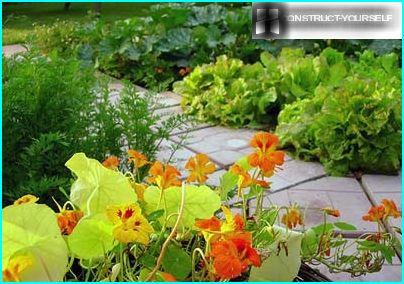 For the same purpose can be planted in between rowsvegetables and handsome-annuals: Coleus, cineraria, marigolds, ageratum. Colourful and fragrant flowers will not only plot a decoration, they will attract insects that pollinate plants
Combining the beds, it is important to remember the "disadvantaged" neighborhood when the plants do not get along with each other, for example: aromatic herbs with cucumber, parsley and cabbage, fennel and carrots.
Breeders do not cease to please gardeners new varieties of vegetable crops, which in addition to the high palatability and are more attractive appearance.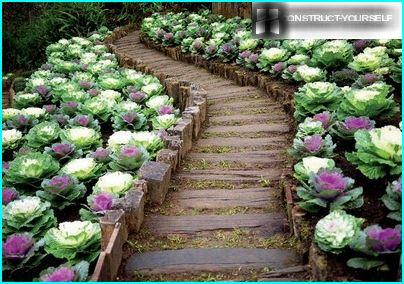 Ornamental cabbage resembles a marvelous full-blown flower on a background of juicy green vegetables appears bright accent, pleasing look bright and saturated colors
Article topic: Decorative cabbage as a design element flower beds
Suffice it easy to clean the culture is planted in the ground through seedlings in May. Throughout the growing season, it opens all shades of the palette, and the most beautiful shows in the autumn months.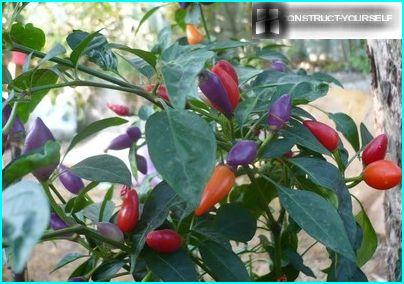 Ornamental varieties of pepper with bright colors fruits themselves, which as they mature acquire new, more saturated colors and appetizing
Scarlet, yellow, orange, purple, emerald -all these colors on the background of lush green look extremely nice and organically. Seedlings are planted thermophilic culture, when the threat of frost has passed and well-warmed soil.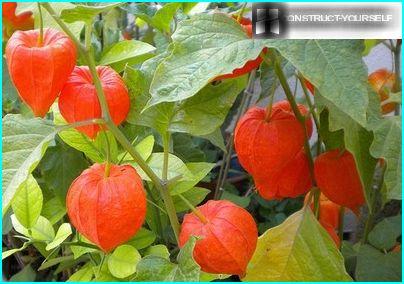 Festive jewelery beds can speak andbright orange "Chinese lanterns". Physalis, belonging to the family Solanaceae, is used in creating pastry and sweet dishes: pastes, marmalade, jam and jelly
Physalis, like tomatoes, are planted in the ground through seedlings. The variant Physalis sowing seeds in the ground before winter.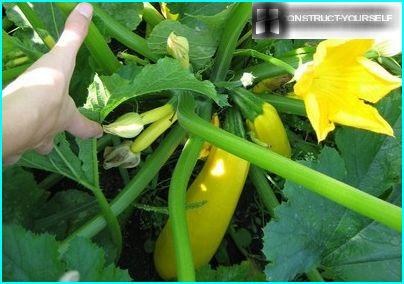 Ornamental varieties of zucchini with fruits unusual shapes bright colorful shades of yellow, orange and green colors may make the original setting for the vegetable beds
Seeds of squash are planted in the ground in late April or early May, choosing sunny and well-fertilized land for them.
Among the ornamental varieties of greens can be identified curly parsley, lettuce and sorrel.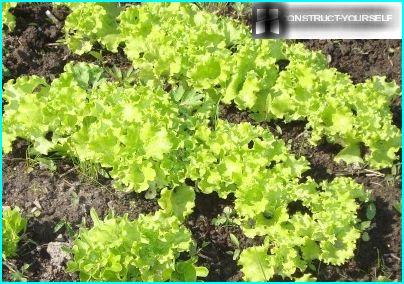 Light-requiring culture sown in March-April, the seeds in the ground, and friendly shoots, and the first harvest, they delight in the early summer
In summer, every two or three weeks reseeding can be carried out, thus providing the whole family with fresh herbs throughout the season.
Possessing only a small plot of garden, and equip with unusual territory can draw using the vertical bed.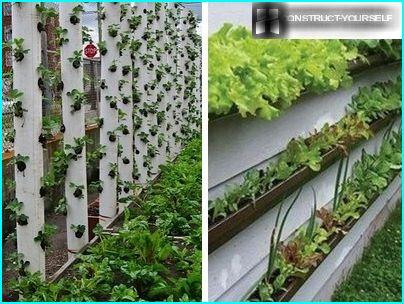 Containers with strawberries, strawberries and herbs can build on the fence along the site or in specially dug poles
It is interesting to look planting vegetables in wooden containers, baskets or boxes. The main advantage of such crops is their mobility.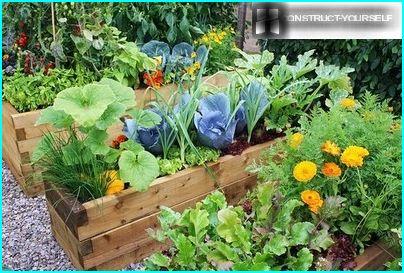 Boxes and crates with vegetables that have low stems can be placed on a makeshift pedestals and stable shelves
Plants can be placed at the site and asmall islands, framing their low curb. Herbal composition in such a method of landing on the principle mixborders form. For example: in the foreground are placed herbs and spices, followed by carrots, beets, tomatoes occupy the middle tier with miniature cherry fruit, and rear are the decorative background yellow sunflowers, twined stems purple asparagus bean.
Border of vegetable beds can be made of curb tape, which can be purchased in gardening shop.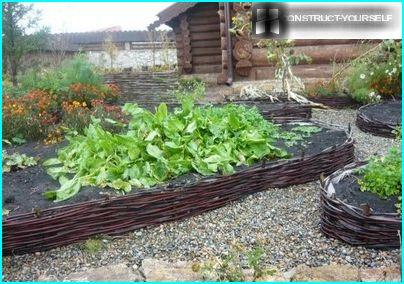 The original setting for beds can be built from conventional branches, forming a low decorative fence
For edging beds and flower beds are well suitedand cut down a tree, pieces of slate, bricks and stones. Gentle border can not only mark the border, but also to give a bed of vegetable compositional perfection.