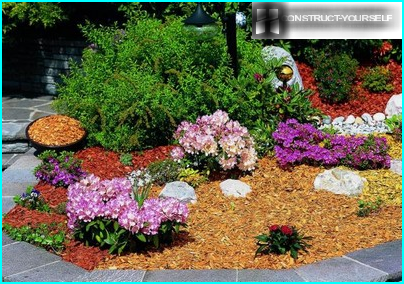 Sometimes the basis for creating holiday decorationsare objects mistaken for trash. For example, when sawing the old garden trees or clearing land for the construction of the stumps remain, which uproot and burn. If you look at them through the eyes of a designer, you can see the beautiful natural frames to create flower beds or original floral compositions. And dozens of pairs of second-hand shoes, the old cracked ceramics, suitcases travelers with worn corners? We offer a fantastic idea to give your hands that will turn old things into an exclusive holiday decor.
Content
See what you can make - so to speak from first-hand overview:
In every family there is a second-hand shoes, whichI became small grown up kids or simply fallen into disrepair. Traditionally, the shoe worn down at the heel "go" to the country where his life and live anywhere in the track between the beds. But if you show a little imagination - children's shoes or rubber boots turn into original pots for summer flowers. They adorn fences, porches, houses adjoining areas and a playground.
Ordinary rubber clogs for swimming ifspecially designed to have settled in these touching blue flowers. Incidentally, rubber - strong enough material, so additional pots for planting is not required
For vegetable decor fit any, even the unexpected shoes - time, office, and even sports.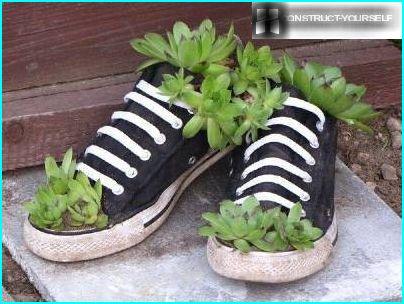 Who would have thought that the shoes - popular shoes today's youth - can be stylish "pots" for green plants. Note that the green and decorated with a pair of sports socks
Children grow up very quickly, leaving a set of pairs of beautiful and strong, not worn shoes. Especially interesting models do not give relatives and bring to the country and make of them a wonderful decor.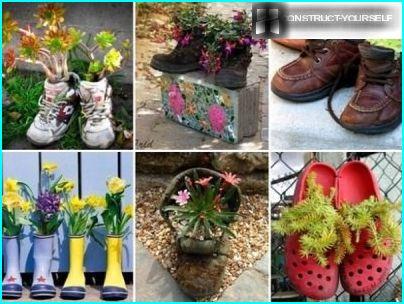 These are fun "residents" can stay in your country, and in the most diverse corners. The shoe will meet guests at the entrance, boots lined up along the fence, and slippers adorn a wall or ogradku
Several pairs of shoes, despite their "not fresh" look, look so texturally and original, that they should not overshadow luxuriantly blooming or basket plant.
Of the several pairs of old shoes, as well asrelated topics of everyday objects you can create an unusual composition that is appropriate to the country site, not limited to the home. This "family" design finds can be positioned on the front porch, veranda, in the children's corner or directly on the lawn.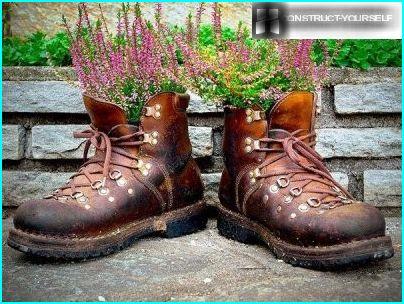 One of the options when a powerful image created boots, bright colorful floral arrangements. In this case, it is a decorative center shoes, and flowers - a light frame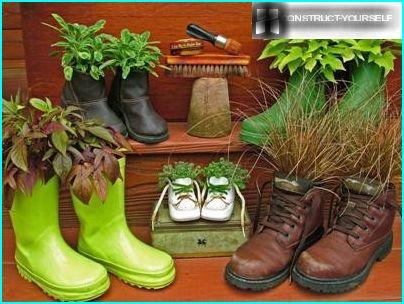 Before you - a family of several pairs of shoes. Each pair has its own age, a certain mood, and even his character. I wonder if the boots and boots with their owners look like?
Unfortunately, the shoes wear and crockery beatsor simply becomes unnecessary. But in the country, none old bucket, no kettle will not remain forgotten! Take in the hands of paint and color the old metal and ceramic plates, jugs and basins in all colors of the rainbow. The paint is chosen according to the material from which made dishes - so the decor will last much longer.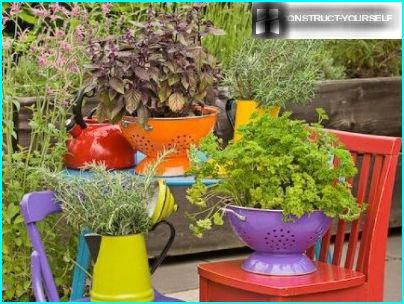 See how bright colors can changeboring garden area. Heroes amazing colorful paintings became the most familiar objects: iron kettle, the water pitcher, and even two large colander
Hand made decorations for the garden canplace everywhere, on lawns, flower beds, among, near the pond or swimming pool, along the fence or greenhouses. A cheerful, sunflowers in the kettle is conveniently located on the edge of the bench.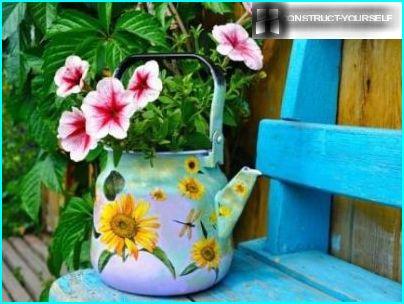 The smooth, flat sides metal utensilsenough to paint in any color desired, but if on the surface there are chips, scratches or dents, they can mask the colorful drawings and colorful ornaments
Particularly natural look on stone backgroundpaths, wooden fence and lush green products from natural materials. Ceramics made of clay, blends with the colors, besides it is not afraid of no rain, no wind, no random freezing.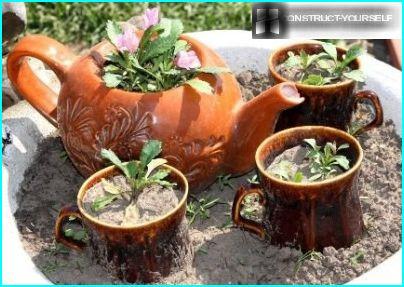 It was as if someone forgot to late at night with a clean tea set table, but instead of the table - the pelvis to the ground, and instead of tea - the immature green bushes
Among the remains found beautiful old dishesporcelain crockery - delicate cups and saucers decorated with delicate paintings. Expensive and high-quality dishes do not rush to make suburban area - perhaps it will be used in the house.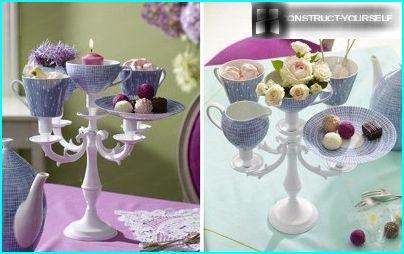 Teacups and saucers, milk jugs, instead of candlesset on a candlestick, transforming it into a beautiful exquisite vase, which is also very functional and serves as a stand for candy, nuts, flowers or objects for needlework
Do not forget about cutlery, coming out of active use - spoons and forks. No special skills are not needed to make charming hanger for bags or clothes.
For the manufacture of hangers and need oshkurennayalacquered board and some old forks. With the aluminum products to work easier - they are easy to bend and take the desired shape, but stronger than steel and not unbend under the weight of clothes
A bit harder to make an unusual chandelier, which is framed or not crystal glass pendants and metal forks and spoons.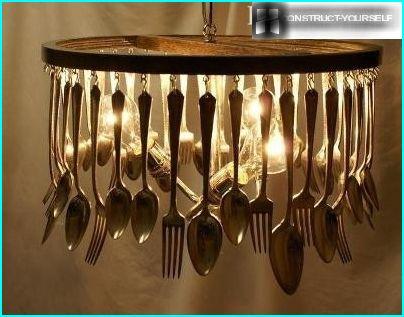 To make the chandelier for the kitchen or garden, you need a frame of the old lamp on one or more lamps and a set of table items
Due to the strength of the material and the rigid structureold trunks that have not used for their intended purpose, are still lying on the mezzanine, and serve as a mini-kladovochek for Christmas toys, children's veshchichek and reserve bought sleeping kits. Their owners do not even know what we can do to give out unnecessary things through creative ideas. In the first place - a traditional flower garden.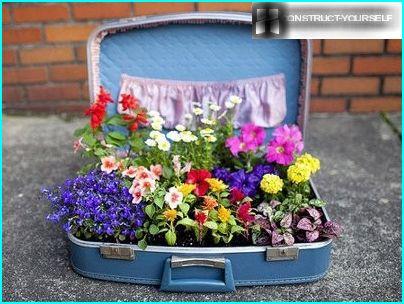 Opened suitcase fill with soil, using a waterproofing layer and decorate with low flowering plants. In a convenient pocket sewn to the cover, it is possible to store garden shears
The cover resembles a suitcase cabinet door, as conveniently closed and even locked with a key if desired.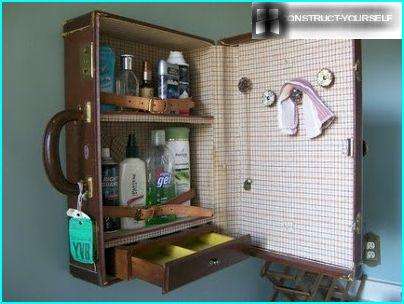 We provide equipment for a suitcase-rack convenient shelves and drawers - and now it is possible to store any household stuff from soap accessories to items for needlework
Large suitcase - beautiful blank for the manufacture of the console or pridivannogo table.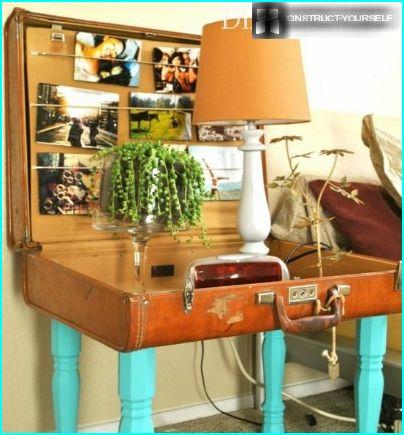 One part of the suitcase turns into a comfortable table for books, table lamp, flower vase, the second - for photographs, collage or set of handy pockets
Old suitcases and trunks fit perfectly into the interior of the cottage. They play the role of supports for the flowers, bedside tables, storage for trinkets.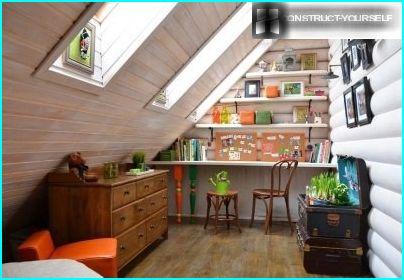 If the suitcase for decorating the room look too "in a modern way", it can wear out with the help of small nazhdachki or special colors
Large and big suitcase easily turned into a comfortable sofa.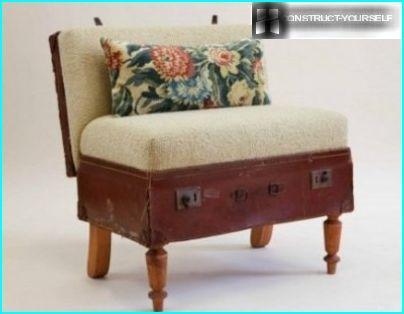 For the manufacture of the chair or the sofa would require the wooden legs of old furniture, bright pieces of textiles and durable material for stuffing - foam, batting or foam rubber mats
Pets often choose their boxes and suitcases for games or sleeping, and to finalize the thing until soft and comfortable bed for the caudate other - it is a couple of hours.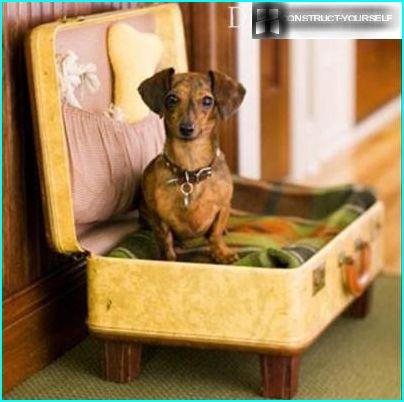 Large comfortable suitcase, a soft blanket, folded several times, beautiful design cover - and in front of you a wonderful holiday destination for a small dog or cat
For those who are too lazy to read, watch video instructions:
Some interesting ideas for decorating and gardengarden gives us the nature. The cut old trees, large branches, rocks, river pebbles - all this can be found directly on a suburban area, especially following the repair or construction of roads. We use an old stump and make it lush blooming flower bed.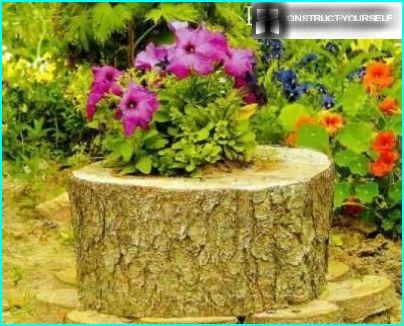 Beautiful and comfortable bed for planting from the stumpIt resembles natural planter. It can be installed in any part of the garden, near the house, pergola or terrace, or, if not removed the stump roots leave in the same place
To flower garden served for years, you need to select strong, healthy, not affected by disease and rotting stump. If the upper part is destroyed, it can be simply cut off grinder.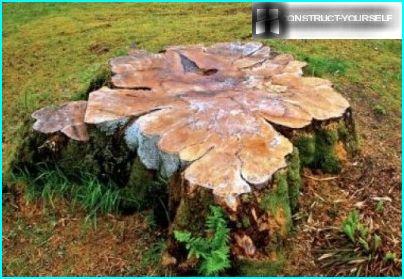 Do not worry if after removing the extra parts will remain low base - is more important for the device flowerbed width stump rather than its height
Sometimes, there are cottages rotten stumps,which look quite picturesque and is also suitable for planting flowers. They can decorate and turn it into a bed, but will remain a risk of infection by a fungus or disease healthy trees.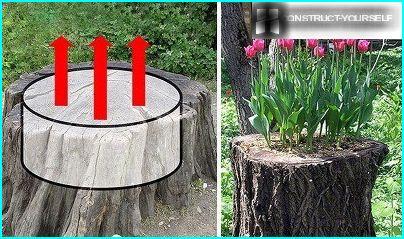 Our task - to remove the core, and in its place establish a container for planting flowers, for example, a flower pot, a few pots or container
Use a hammer and chisel, drill, jigsaw, picks split the middle part and pull out the pieces. This process is time-consuming and takes a lot of time.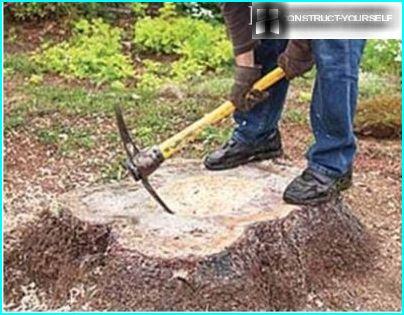 One embodiment of the core of destruction: first do in the middle of the stump hole using a drill (the more the better), then split the wood chips with a pick and pull out
Sometimes middle poured kerosene and ignited, but in this case there is a risk of destruction of necessary parts.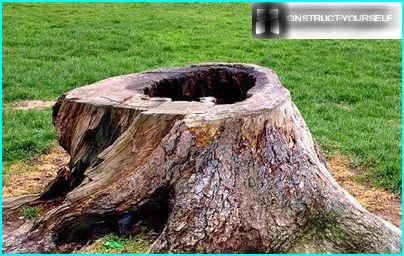 High humidity or bad weather may prevent light a fire, so you need to choose a clear day without rain and to make sure that the wood was also dry
The bark is left in place, but treatantiseptic, as well as the inside. Funds from the fungus and rot sold in building supermarkets. If you have recently built a bath, we constructed a gazebo, a terrace, a bench, a small amount of infiltration is likely to remain in your stocks.
The result is a processed stumpsuitable for planting flowers. Now you must choose the suitable container size, and put into place a slotted core. Pour the ground without the container is not recommended, as the stump will be destroyed.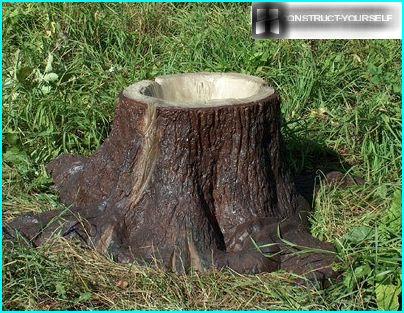 Do not forget about the drainage: before you place a container inside a drill drilled several holes that bring the water to the outside, to the base of the stump
The choice depends on the type of soil colors. Suitable universal primer or a mixture of soil, sand and peat.
Set the pot inside the stump, covered with soil andplant flowers. Suit undersized fillets pyshnotsvetuschie plants and garden shrubs - most importantly, to the size of the flower bed and stump do not contradict each other.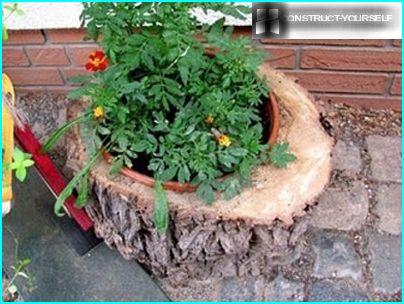 Pot set on all the rules, but not the correct size, so visible from the outside edge. It is necessary to fill the entire capacity of the soil, the composition look more natural
Here is the finished flower garden from the stump treated with the stored roots.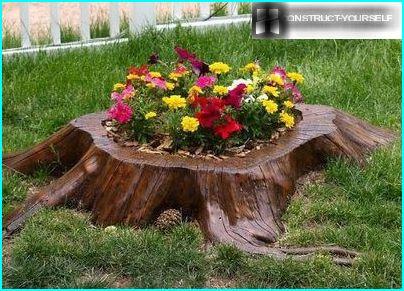 For low flowerbed fit any plantcolor with fine and lush buds: alyssum, begonia, ornamental cabbage, petunia, Chlorophytum, marigold, forget-me, violets, daisies, bell, pink, gerbil
High stump - excellent support for large and climbing plants.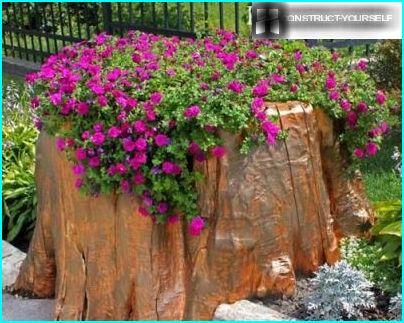 Basket plant can cover the upper partNatural pots or the entire stump entirely. For any good landing flowers with flowing shoots: pelargonium, verbena, nasturtium, petunia, surfiniya, fuchsia, dihondra
Logs left after the construction of a house orgarden clearance, are a versatile tool for decorating suburban area. Of these, make garden furniture, wooden composition in Russian style for the playground toys, stands for flower beds, swing and original tracks.
Do not burn or throw away even the gnarled, bent logs and twigs - sometimes they make amazing things.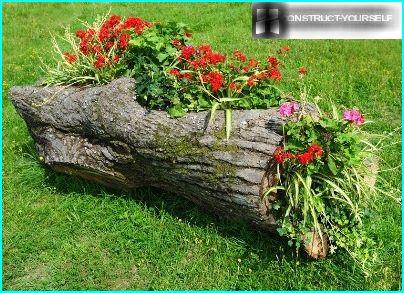 An old log covered with cracked bark and moss - the perfect solution for flower bed in a natural style. One gets the impression that the flowers are self-chosen location for habitat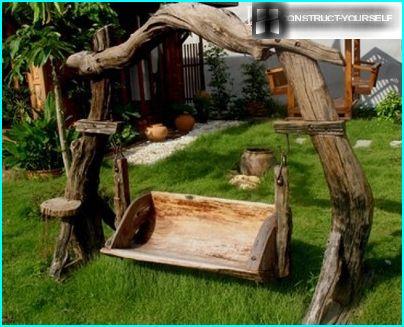 Original swing can create a heap of curves and seemingly unusable logs. The seat of a thick hollow stem and a support constructed of multiple curved elements
Even if you have enough skills in woodworking, you can create a comfortable, functional "set of furniture" for a picnic.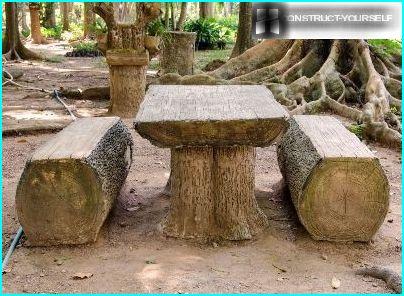 To make the bench, enough to trimopposite sides of the timber, leaving the crust on pristine parts, and for a table will require two stands of the big cut circles and wide worktop
Out of sawn timber, planks and sticks tofree lawn or sandy area, you can create a children's game world. Comfortable shalashika, fun slides, comfortable benches and swings like real cars and trains - children will find something to do while the adults work in the garden.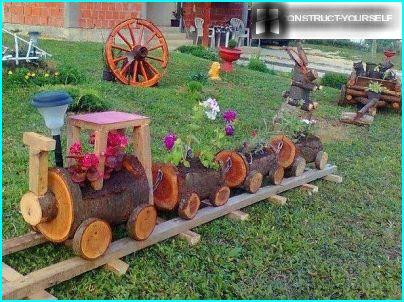 To produce beautiful train-flower gardenyou must prepare several boards, imitating the railroad tracks, lumps 3-4 for the composition, wooden clubs and bars for the wheels to the engine design
Cottage - the ideal place to implementdecorating dreams and design ideas. do not look for material in the store to create the next masterpiece - just look in the pantry or in the garden, and you'll be surprised how many interesting and useful things you can find there.