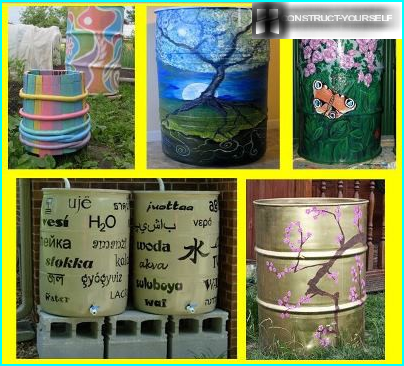 With rising living standards, the owners of the gardenplots change the direction of their use. Today the villa is less and less a source of income. People come here to relax from the city bustle and worry, to feel your oneness with nature. Planning is needed only for aesthetic pleasure or as a place to realize their creative potential. Artistic forging their own hands - one of the embodiments of their own skills and abilities.
Content
Such elements of landscape architecture as a wrought iron gazebo, walkways, pergolas and arches have gained great popularity not only as an investment of money, but also as a means of expression of the author.
Forged shapes used in the design of the garden,in any case should not fall out of the general style, which sustained the main building and the entire area. Otherwise, even a beautiful product can be felt alien. Therefore, when placing or picking pattern for independent work, it should be as carefully as possible to examine samples of the art of forging.
The appearance of forged components must comply with the overall style of the garden
Generally forged elements fit perfectly inany type of terrain. They are relevant to the definition of the French parks verified, perfectly combined with the emerald green English lawn, cleverly fit into the familiar comfort of a Russian manor, and only for the Italian garden fountains and marble are just part of it.
It is important the number of elements in forging itselfornament. A lot of small details, opulence and ambiance on products not suitable for every garden. Heavy Baroque style is appropriate to the site of a large area, which are bound to be echoing on the details and ornamentation house, designed in the same spirit. But for a light and thin wrought products No special conditions are needed - perfectly fit into any landscape.
Most often to decorate a garden plot and house located on it are used:
Option # 1 - gates and fences
Very decorative look and attract universalForged wickets attention. This element must be adequately combine and elegance and reliability. Not so easy to be both a part of protecting the suburban area and its decoration. The wicket is inserted into a fence or gate. If the Europeans prefer to use a fully forged openwork fence and gate, in Russia more common combination of materials. But the fence is more often forged only in the middle or top.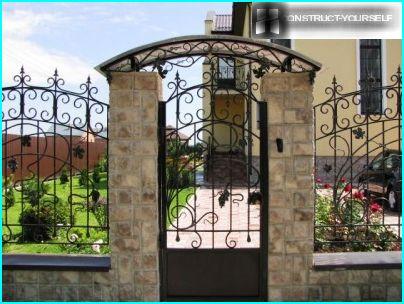 Wrought iron gate framed by stone orbrickwork looks like lace insert, while forging combined with wood or metal gate creates an impression in a medieval castle - the monumental and strong
Option # 2 - garden furniture
Durable and strong - these words firstcome to mind at the sight of a fully forged garden furniture. As a general rule, forged benches and tables placed in a recreation area. Fully forged furniture - not so frequently used option. A classic is considered a combination of metal and wood, and for the garden in the style of hi-tech uses forging, decorated glass.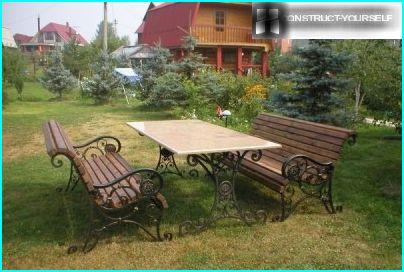 Wrought iron furniture can become a real decoration of the garden, if you do not forget the sense of proportion
Option # 3 - Garden bridges
Gracefully curved and decorated with thin delicate detail bridges - this is something that is worth considering if the site has a brook. In any season of the year forged a bridge will give aristocratic garden.
Especially such a poetic bridge will look at the background of the autumn fallen leaves or snow in the winter
Option # 4 - ladders and support
Inside the house, the staircase will serve as a graceful support when climbing to the second floor of the cottage, but also at the entrance to the house is very organic look forged stair, forming a porch.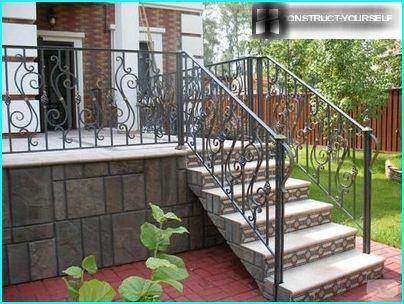 Stairs to the garden - one more decoration area
Option # 5 - pergolas and arches
These small architectural forms of the garden landscapeIt is extremely popular and are widely used for the site zoning, forming corridors twined plants. The peculiarity of forged products is that they are not just a support for climbing plants - they are aesthetic and of themselves. Their purpose in the formation of volumetric space. Forged Prelog, decorated with grapes and roses creates shaded transition, filled with honey aroma of greenery, heated by the sun.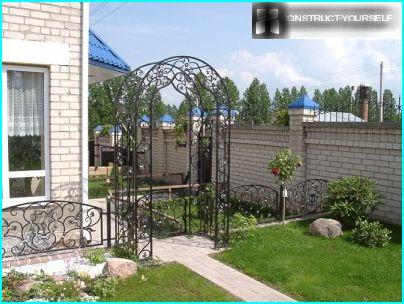 Arches can be folded from the entrance to the garden patio. These elements of the garden - a durable piece of jewelry that does not require special care.
Option # 6 - suburban barbecues
Check the nature of many perfectly withbarbecue. In this case, often using BBQ. Common BBQ is hard to reconcile with garden landscape, but it is not said about the forged products. It is the incarnation of garden barbecues manifested entire artistic forging process.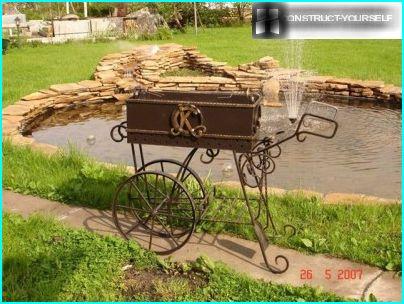 The combination of functionality and beauty - the basic idea used to create wrought suburban barbecue
Option # 7 - garden lamps
Tasteful forged lanterns on the walls of the house and plot tracks give it a special charm and create a romantic mood.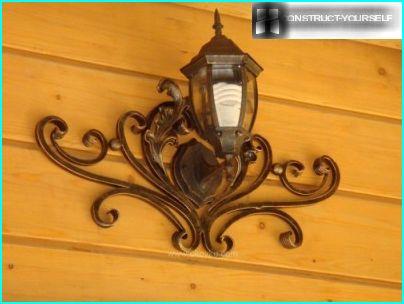 Such an element as a forged lantern looks good and, separately and jointly with other forged products
Option # 8 - pergolas and canopies
Forged gazebos often placed at a distancefrom the main building or in the pond. They are used to isolate it and rest areas on the main site. Gazebo or pavilion makes it possible to fully realize the imagination of the designer. It is here that it is possible to use a decorative wrought in all its diversity. Elegant, airy structure should create a sense of soaring and conviviality.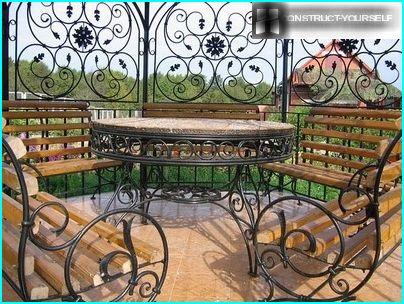 Light, delicate, air - that's what should be forged arbor
Forged visors and awnings not only protect from rain, snow and icicles, but also fulfill a decorative function successfully.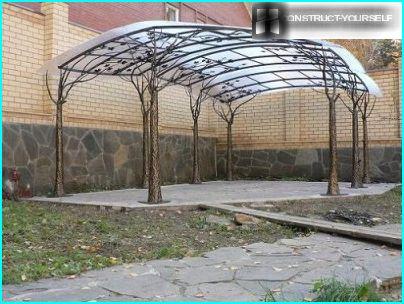 In conjunction with mounted lamps and framed porch awnings can create a single composition, forming a unique look at home
Option # 9 - Accessories
It is not always the owners have a garden plotthe opportunity to buy expensive forged products in the right amount. In this case, you can try to make their own hands, or be limited to wrought iron accessories. Small but nice wrought-iron door knockers, lamps, umbrella holders, figurines garden or flower stand will serve as a worthy decoration of any plot.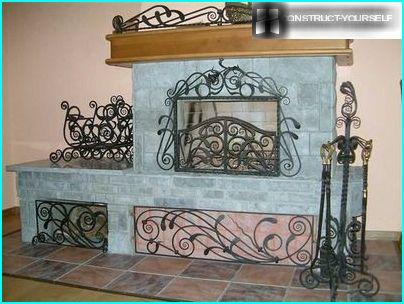 Forged accessories can transform not only the garden area, but the house itself
Many believe that to create his ownquality forged products is not possible, others believe: nothing particularly complicated about blacksmithing no time they successfully engaged more by our ancestors in ancient times. And those and others are wrong. In order to forge even a small element needs not only tools and skills, but also knowledge of the properties of metals. Hot Forging - hard work in conditions that are far from the office. What to do?
If there is no desire to build a forge and developblacksmithing technology, we can restrict the analogue artistic forging. Create a weldment of metal sheets and metal, which can be ready to decorate the details of artistic forging. To do this we will need: an electric power source; smooth surface for the assembly of the product; Bulgarian with metal brushes, stripping and cutting discs; neryastyagivayuschayasya rope marker; hammer, two pins; welder with mask, gloves and electrodes.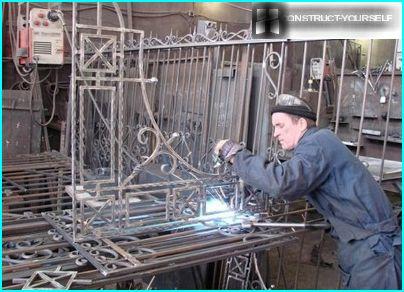 Even without the smithy you can eventually learn to make real masterpieces
The material we use metal profile, as well as metal. Last is better to take a smaller cross-section, because then we will be able to bend it, without resorting to a special heating conditions.
Choose a pattern. Keep it simple sketch, which will have to draw, because it is the first thing your product and metal - not particularly plastic material.
Buy metal. It is necessary to proceed from the fact that the length of the standard rod - six meters. It is necessary to consider the requirement for the metal and take it with a small margin.
Treatment. Delivered material is better to clean the rust. Then it will be harder to do. To do this, use a brush to put on metal grinders.
Assembling the frame. On a flat surface (slipway, bench, table)We make the frame of the product. Its dimensions are taken into account on the outer surfaces. Each of the 4 corners of the frame will have a welded seam. To frame is not warped, first we catch one of the parties. What will be the first - all the same. According to several welding drops drip is not the upper and lower corners, and then align the diagonal, tapping neprivarennyhrails corners. Whereupon the two remaining corner welds.
Measurements. Applied to the surface (table, chipboard, asphalt)the next drawing in the scale of 1: 1. To measure its elements take the rope. We put a rope to the elements of the picture, as a stencil. So we find out the length of the segments, which are cut rods.
Deformation. To deform the workpiece, it is necessary to create adevice: on a flat surface welds 2-3 cm apart two studs. Using them and hammer, gradually bends rods, constantly comparing the result with a stencil.
Assembling and Welding. Spread elements on the stencil, drawing and collecting pruning unnecessary. Carefully weld product with one and then the other.
Cleaning. We clean all superfluous.
Finished parts. Buy ready-made forged elements, which will serve as an ornament base. Welded them to their designated places, we clean the welds.
Priming and painting. The ground is white, to see if paint defects. The paint on the properties to be combined with the ground.
Chic and shine. The attractiveness of the product or give a special aging of gilding.
The resulting product appearance will differ little from wrought, and at certain skills, which are developed with the experience, you can learn how to create true masterpieces.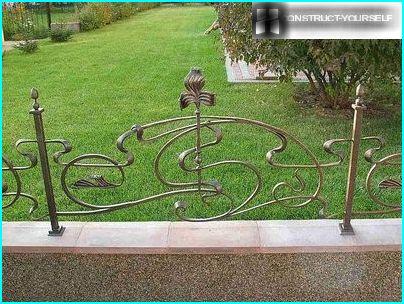 Forged products also need to be a minimum, but care
Forged products, too, need care. While in the garden, they are exposed to changeable weather. They should be painted at least once every two or three years. Rubbing parts of forged gates, swing gates or necessarily need to be lubricated. Then they will last a very long time, consistently pleasing their owners.