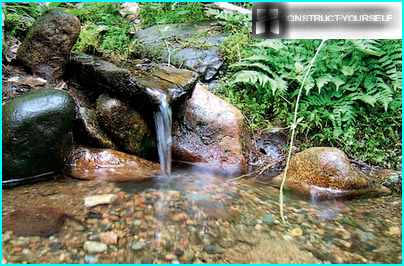 How pleasant to walk on their own garden,enjoying the charming nature and amazing fresh air. Thinking design suburban area, each owner is trying to make it special by adding color and creating a positive mood. Garden figures made of plywood can successfully supplement the herbal composition and miraculously transform the site, making it nice and cozy area, offers a friendly setting. Make such amusing figures out of plywood is able to anyone. To create such a decoration does not necessarily have the skills of the artist, but rather to show imagination and make a minimum of effort.
Content
Such figures are intended to emphasize certainplace at the site, making it more elegant and attractive. Due to the natural naturalness ornaments made of wood and plywood most fit harmoniously into the landscape design.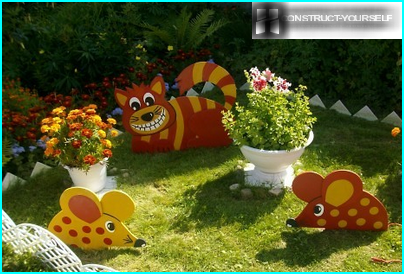 Cut plywood figures on garden plots look extremely
Plywood can do a lot of interesting functional jewelry for questioning. It can be:
Funny figurines;
Containers for flowers;
Mailboxes;
Feeders for birds;
Decorative fences.
Options figures plywood great variety, and each of them is distinguished by originality and expressiveness.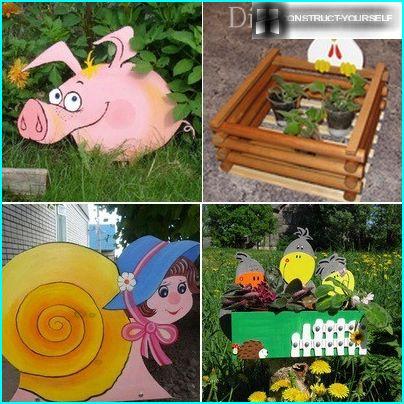 Miniature toy houses, figures of animals, whimsical fairy sculptures and cartoon characters adorn many suburban areas today
Plywood is one of the most easy and convenient to create the craft material. It is so simple to operate that figures obtained from it pretty quickly, and the main thing - interesting.
Plywood is a wood veneer sheets,bonded together in multiple layers with glue or synthetic composition. The strength and thickness of the material depends on the number of layers. Thickness range of veneer sheets ranged from 3 to 30 mm. The material can be completely different texture, that can affect the color and texture of the finished crafts. For example: thanks to the beautiful structure and warm colors look very aesthetically pleasing birch plywood, softwood plywood is more suitable for staining.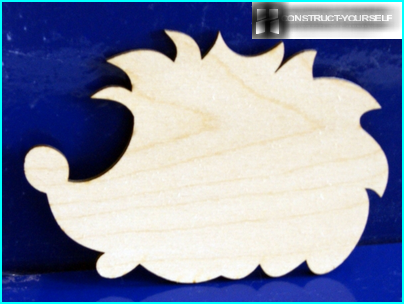 To create the garden ornaments are like fine veneers for the manufacture of the material which served as poplar, alder, aspen, pine, birch, spruce
The main advantages of plywood:
Environmentally friendly;
The strength and durability;
Water resistant;
Good flexibility;
Compatibility with other materials;
Ease of handling.
But as the plywood is still a tree, which by its nature is influenced by the environment, a number of points should be considered when choosing the material:
Moisture resistance. To make outdoor spaces and decorationsgardening area, you can use plywood sheets having markings FCM and PSF. Are used in their manufacture melamine and phenolic resins having a moisture repellent effect.
polished treatment. On sale you can find sheets to groundon the one hand (SH1), treated on both sides (R2) and unpolished at all (NS). This point is very important also in the case only when you do not have time for additional processing.
To create an expressive and colorful gardendecorations are ideal oil and acrylic paints. They fit perfectly on a wooden surface, creating a rich color combinations. Paints are resistant to UV rays, while maintaining the attractiveness for several years.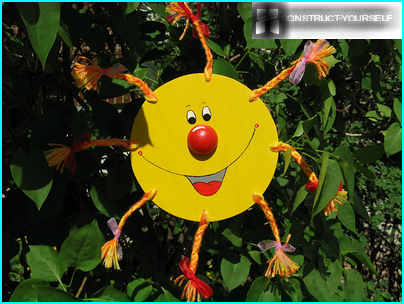 When selecting materials for the manufacture of jewelryit is important not only competently to pay attention to the quality characteristics of plywood. Also important moment of choice of colors for the design, which will retain the color saturation for several seasons
Most often decorated with flat cottages carvings of waterproof plywood sheets. To create an original decoration, we need:
Water-resistant plywood 2 cm thick;
Stencil;
jigsaw;
Simple pencil;
Fine sandpaper;
Screwdriver and screws;
Acrylic paints, brushes and paint.
If you plan to install a figure notleaning it on any support in the garden, you must also provide for manufacturing pegs its foundation. Their size depends on the size of the shape itself. But, in any event, rely on the fact that the pegs need to dig into the ground by at least 50 cm.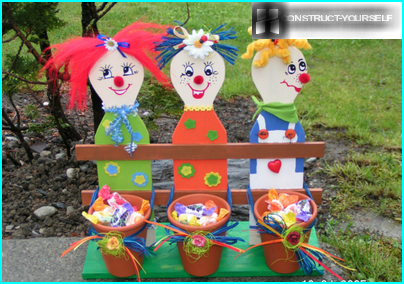 We also offer you to remember forgotten kind of creativity - sawing jigsaw, making an unusual decoration for the garden with his own hands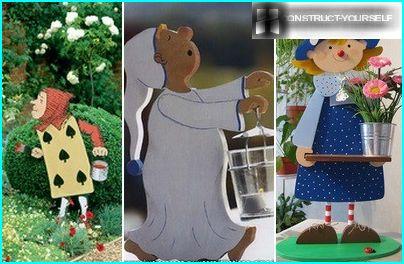 Figurines made of plywood can decorate every corner of the garden, hanging on a rope, nails fixed to a support and establish on supports
Stencil for making the figures can be done yourself. To do this on a piece of paper to draw a desired pattern by filling in the form of a drawing or a silhouette, and then simply cut it.
Cute figure of plywood is so easy tomanufacturing that make it possible for anyone to. Little helpers with pleasure will respond to the proposal of adults participate in an exciting process.
Lovely snail surely enjoy not only a little restless, but an adult site visitors, becoming elegant decoration for a children's playground and a favorite character entertaining games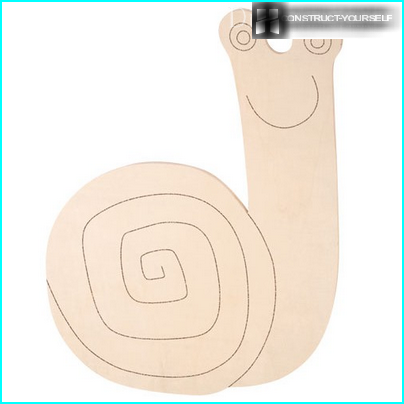 On a sheet of paper to sketch a future figure whose image in the subsequent transfer to the base of the plywood
If you are confident in their abilities, cando without the paper template, snail drawing directly on a sheet of plywood. Cutting jigsaw pieces for security reasons you have to do yourself. But prorisovyvanie contours and prettification snails can safely instruct the eager little helpers.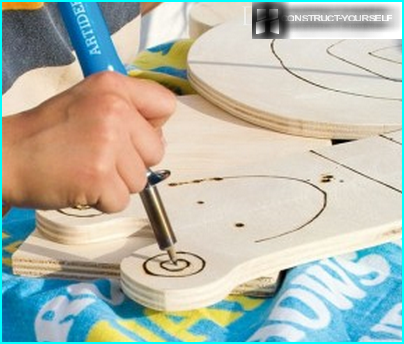 Use the pen or Vyzhigatel draws the contours of the cochlea so that even after coating with paint, they were bright and expressive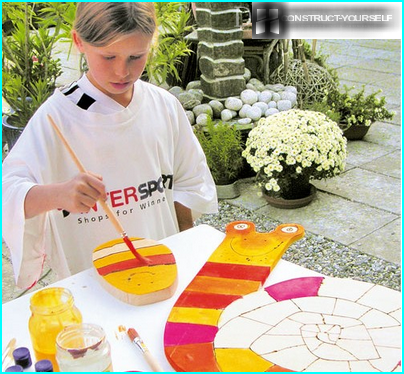 The preform is painted with acrylic paints, choosing spectacular contrasting combinations. To get saturated colors, acrylic paint is best applied in 2 layers
Snail ready. Give a little dry inks, and can safely be planted cute character to any liked place in the garden.
Highlighting just a couple hours of free time to manufacture the Scarecrow, you can personally make a fun figure that brings to the area a touch of cordiality and warmth.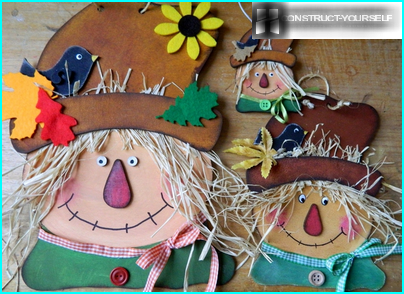 This is so incredibly cute and charming fairy tale character Scarecrow from "The Wizard of Oz" and can settle on your site
Production figures will be carried out in severalstages. First, take a sheet of plywood, which with the help of a stencil plot the path of the future character. Ready pattern can be transferred to the plywood using conventional tracing.
If we make a figure which will be based on the pegs, just attach them. For this figure the housing bore through the paired holes whose diameter corresponds to the size of pegs.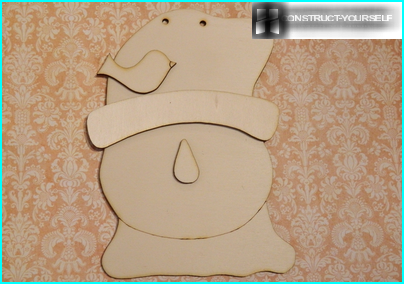 According to the planned contour using a jigsaw cut out the shape. Its edges carefully fine tuning sandpaper, giving them smoothness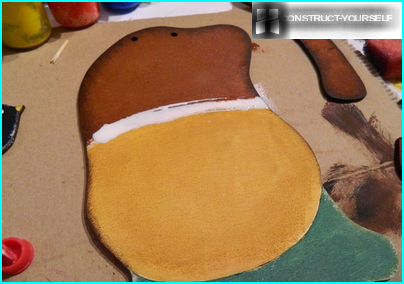 We make out a figure: on the workpiece pencil draws the elements of character and paint them with acrylic paints
Painted front of the workpiece, paint the edge facets. When the paint dries, cover figure varnish.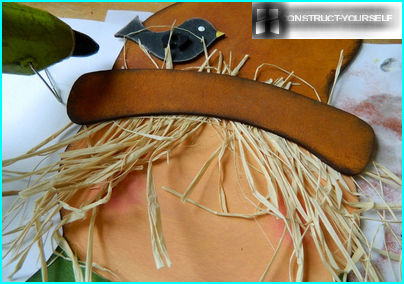 To decorate the figures we have used dried herbs, which have issued scarecrow hair, buttons, satin ribbon, from which laid-collar character
Our cute fairy tale character is ready. It remains only to reach through the holes in the hat wire and mount it on the branch of a tree or fence.
Little secret: if during the cutting out jigsaw begins to delaminate the plywood sheet, it is necessary to impregnate it with a solution prepared from PVA glue and water in the ratio 1: 1. Plywood impregnated with 2 -3 times, causing each subsequent layer after drying the previous one.
Because such artifacts are rather easy, ready-made products to be securely capture, partially digging into the ground, falling asleep with sand or sticking to the bottom.
The same principle can be donethemed plywood construction, such as: lost in the flower garden miniature fairy forest with fanciful trees and a pretty meadow by the pond filled with fun animal figures. Hand made plywood construction, decorate your site, making it an attractive and unique.