Content
Young good feeling in the rocky soil and sandy soil. So if you like gardens or gravel paths, this plant will help to make them more attractive and original.
In landscape design Young usedlong - even in the Middle Ages they were decorated with flat roofs. The ancient Romans believed that this plant removes the storm. The British also landed Young on the roof, calling him a live tile. The French - the creators of beautiful gardens and parks of the palace began to combine different varieties of roses on stone paths, along the borders, doing carpet landings. Already in the 19th century stone rose was used for decoration of the Alpine hills and in asymmetric free garden plantings.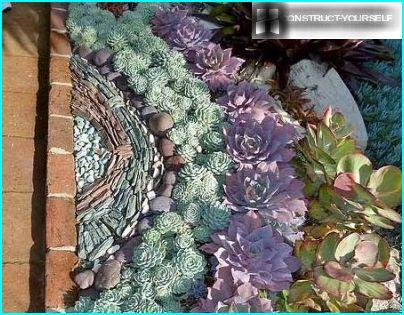 Semi-circular flowerbed at the track is made with beautifully lined with stones and three kinds of youth. The harmonious combination of pastel shades attracts attention and pleasing to the eye
Thanks to an excellent decorative qualities, the stone rose breeders have noticed. Currently, there are more than 4,000 varieties of youth.
Molodilo widely used:
for planting in rock gardens;
to create a carpet and ornamental patterns on the beds, in the tracks and curbs;
as decorative element on the background of sand and gravel;
for planting on slopes;
for group plantings on the background of ornamental shrubs;
to create compositions in pots.
Molodilo also grown in frames, so thattopiary shapes using this plant can create and experiment, combining its forms, combining it with other plants. On the flat roof of the low land it can be rejuvenated, and today, when various design refinements in fashion.
The root system of this plant is small,so it can be planted almost anywhere - in the gap for paving paths, between stones, his awesome appearance enliven any element of garden design. Young can take root even in places where other plants planted useless. Anywhere garden graceful stone rose will look exotic decoration.
A variety of colors and shapes of stone rosesIt allows designers to effectively draw the curve of the track in the garden or park, or create a "patchwork" of different species of plants. When planting a flat area even some craftsmen create a picture of the young. Sempervivum forms a beautiful combination with ground cover - stonecrop, saxifrage, Armero and others.
Modern varieties Young presented in a variety of colors: light and dark green, maroon, yellow, pink, silver. This diversity allows you to create luxurious living carpets.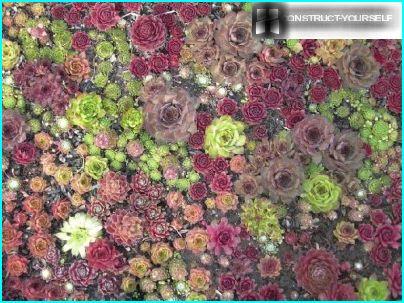 Monoposadka all sorts of varieties of stoneRose recalls star placer. Such beauty will delight you all summer, you only need to put the plant in a sunny part of the garden and occasionally watered. Dense planting young virtually eliminates weeds
In one landing, you can create compositionsdifferent varieties or odnosortovye monokompozitsii - and they both look very aesthetically pleasing. Created with the help of stone rose patterns and lines - a living mosaic. Of course, the effort required to properly break the cell, but the resulting ornamental patterns will be worth your efforts.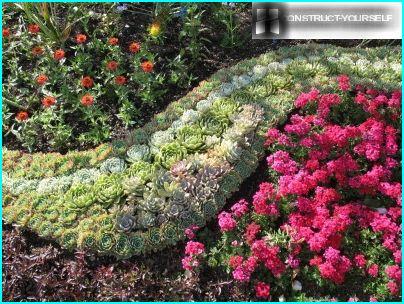 Young on a bed in a frame of other colors. To create a tortuous path 4 cultivar used - the same along the edges and larger at the center. Sockets form a beautiful pattern, contrasting with bright colors
Not every site can be brokenrockeries, to create it requires a certain area, the creation of embankments, if there are no suitable landscape areas. A miniature version of rockeries - a small rocky garden can be done by any stretch.
Choose shrubs that will create backgroundthe composition, such as barberry. You can use a clay pot or vase, pebbles or gravel. Put the pot on its side, reinforce, pour soil capacity within and immediately adjacent land and landed the young rosettes. Next to the flower pots can be placed a few boulders, and the area around the fill composition shingle or gravel. Mini garden is ready, it looks very beautifully, and make it possible in any sunny corner of the garden.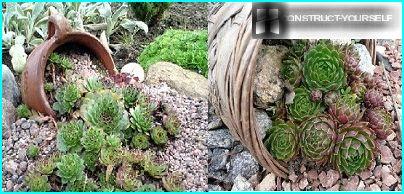 The two options for creating a mini-rockeries: with clay flowerpot and wicker baskets. Capacity, little pebbles or gravel, a few sockets young - and nice composition ready
Young - plant-leader in the creation of modern landscape compositions in the style of minimalism, retain their decorative quality throughout the year.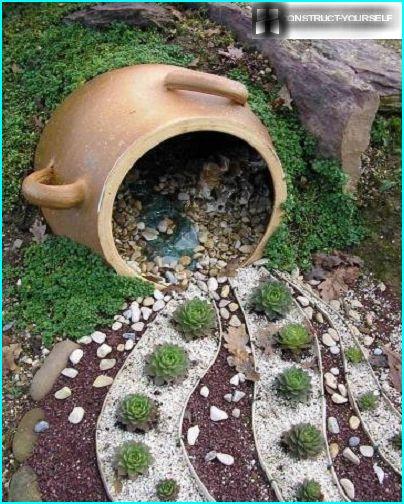 Mini rockeries with elements of gravel garden: using colored gravel create the effect of flowing water, "streams" are decorated with elegant rosettes Young
If you like the small form of mini-gardens, plantseveral varieties of roses in a beautiful stone flowerpot or a large garden pot. You can try to create a mini-garden in the oriental style, using stones and even oriental statues. Such an area will have to contemplate, care of the daily hustle and bustle, relax.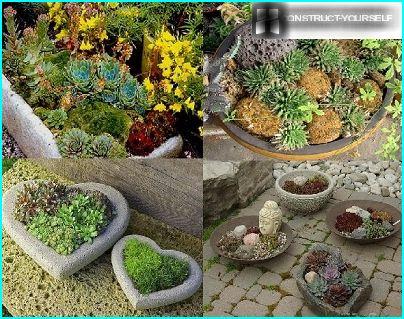 Options to create a small rocky garden in pots - can be used as one kind or different land plants in several capacities
Youth - in itself the original plant,so it looks great in the exotic surroundings. Pick original containers for it - it can be colored pots and old broken jug or pot, and plastic color basin, and a steel box and even old shoes.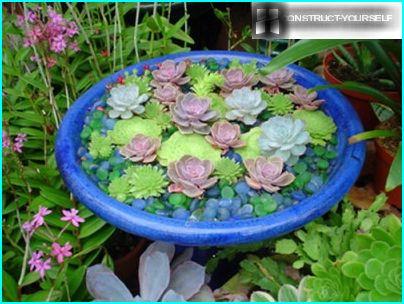 Although water is not used in the composition,it seems that the rosettes are young, who have undeniable similarities with the water lilies floating in the water. The illusion reinforces blue container, blue and green decorative glass gravel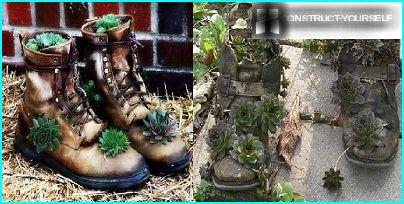 New life of old shoes - fill them with soil, and plant the roses in the slot of the young. Such unusual compositions always attract attention
Especially effectively looks young in the rock andconcrete containers. For plants with small root system, low, it is better to choose a squat vase. The flat container rozetochki beautiful small plants form a beautiful unusual composition, seeming artificial. They want not only to be considered, but also touch. The only requirements for the cultivation of potted roses stone - provide a flow of moisture and separate child processes if you do not want to composition changed, growing.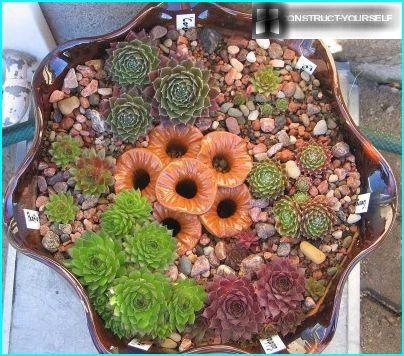 The effective composition in the beautiful squat flowerpot: to create it several varieties of young used, colored gravel and ceramic decoration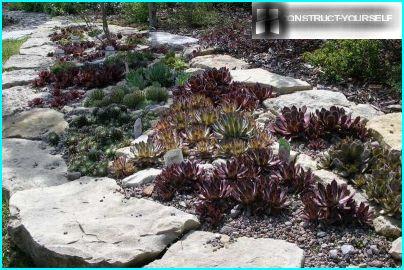 Stone Rose is surrounded by stone - the plants planted by species groups, separated by chains of stones group clearly distinguished on a light background
Combining the simplicity of care andexotic beauty, rock rose allows any amateur gardeners to try yourself as a designer and create an interesting composition that will make your garden special - the original, alive, attractive and beautiful is doubly because this beauty - the case of your hands.