Content
Wonderful plant with large leaves, paintedin various shades of green, often occupy a central place in the floral compositions. Landscaping with hosts different special elegance and refinement: elegant floral arrangements, complemented Dekorativnolistvennye hosts looks simply amazing.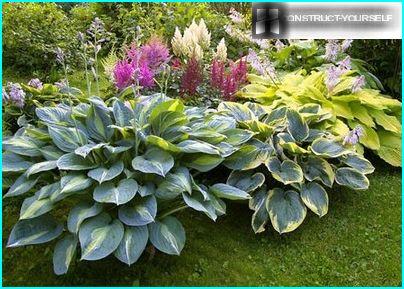 Hosts forming green air "cushion", visually soften transitions between elements flowerbed flowering, can bring harmony to the composition
The main advantage of the many favoritePlant growers is the ability to grow in all conditions. Host perfectly coexists with many plantations, which is an important factor in the regeneration of landscape design. Absolutely undemanding plant safely tolerate a little partial shade, and so dense shade. Yet most comfortable feeling in the plant lightly shaded areas, hidden from direct sunlight and strong wind gusts.
When choosing a location for many hostsgardeners use a little trick. By purchasing two copies of the original plants, they are seated in different places of their area, and a year after planting plants on the outer mind, saturation of colors and the number of extension of green mass determine the most suitable location for the hosts.
"Queen of the shadows" is very populareven among gardeners because ruggedness is not only maintenance, but also durability. Centenarians are able to maintain decorative perennials for 20-25 years. Hosts are very popular and arrangers: Plant leaves are used to create floral arrangements and bouquets.
Depending on the plant height dekorativnolistvennye hosts can serve a wide variety of components of landscaping elements of landscape design:
Ground cover, not exceeding 20 cm and a height, Ideal for rockeries, rocky slopes and half-shaded corner of the garden.
up to 30 cm in height Low grade serve as container gardening items. They are ideal for the decoration of borders and mixborders.
Samples 30-45 cm tall will act as the background of flower arrangementsnatural landscaping. They look excellent as a continuous carpet, speakers for background sredneroslye garden flowers: gladioli, lilies, delphiniums.
Plants 45-60 cm tall become worthy of framing ponds and garden paths. Planted next to each other, they create a perfect backdrop for an elegant flowering plantings.
Most tall samples, which exceeds the height of 60-80 cm, The most impressive look as single planting in areas with large areas.
Depending on the plant variety, the leaves mayhave a rounded, heart-shaped or narrow shape. The texture of the leaves can also be quite varied: smooth and grooved, Tighting and wrinkled, shiny and matte, with a metallic sheen and wax coating.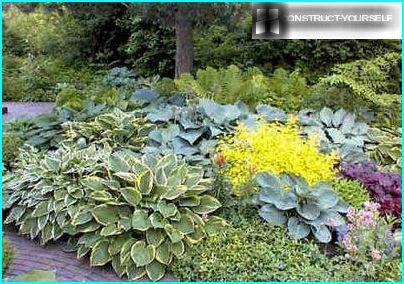 It hosts a variety which has about 50 species are known for extremely beautiful foliage and ability to retain the decorative, not only during the flowering period, but throughout the season
The plant is capable of forming dense "cap" of leaves, often used as a carpet landings, through the thick weeds that leaves just can not get through.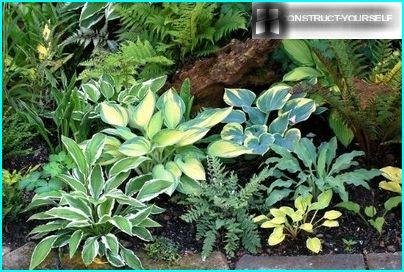 The main decoration of the hosts - basal foliage of different textures and colors, which grows throughout the season in the spherical openwork "cushion" of about one meter in diameter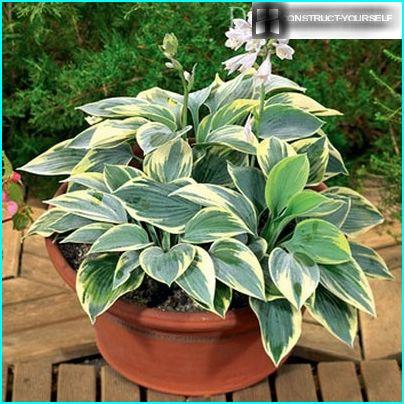 The flowering period of the host decorate the white, pink or purple bell-shaped flowers. Perched on high stalks of green foliage, they create a stunning tableau
In addition to traditional green foliage colors, the palettePlant colors are also very diverse, ranging from pale yellow and cream and finishing with rich green leaves and blue, which are able to create incredibly beautiful background. The landscape design of plant species used most often forming bushes in height from 40 to 100 cm, decorated with leaves in length from 6 to 35 cm.
Lush "cushion", as if woven from blue-gray, blue and gold leaves, can bring extraordinary colors in the palette of the garden.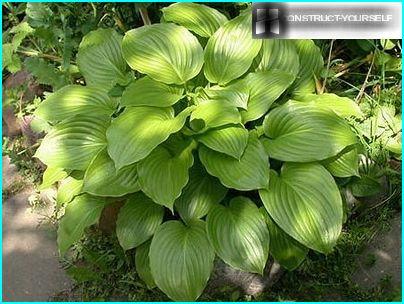 Perhaps the most common variety, has longaccustomed to the suburban areas - host plantaginaceae. The plant is decorated with large pale green leaves, capable of forming a "cushion" of 60-80 cm in height
Breeders do not cease to surprise, creating new varieties, amazing contrast of shades and texture of foliage. Greatest decorative different two and even three-color hosts.
'Uirlvind' with white leaves, bordered with apple-green loop - a bright representative of three color varieties of perennial beauties
No less impressive looks and sort of 'Striptease', decorated with delicate whitish stripe, punched in the center of the sheet through rich broad dark green border
One of the latest trends in the selection of the host - the creation of varieties with a wavy edge of the leaf blade.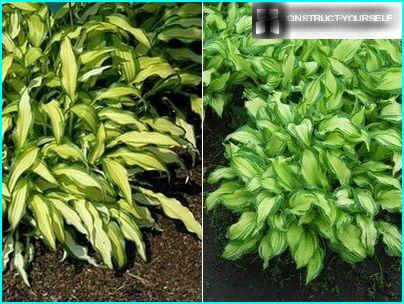 Special charm have varieties 'Medusa', decorated with the curtain green and yellow foliage and 'Hadspen Heron' with bright green leaves veernoobraznymi
A special feature of variety of plants is slowweight capacity. Sufficient decorative hosts are gaining only 4-5 years, and to show the beauty fully capable of only at the age of 8-10 years. Gradually, from year to year, forming an increasingly large leaves, which become characteristic of the variety the color and shape of a small unattractive clumps become real "King of the flower garden."
To create a bright contrast flower garden whose elements are harmoniously complementing each other to form a complete tableau, should take into account a number of points.
Lush bushes host leaves a monochromatic color in landscape design do more background role. They go well with the garden plants: Astilbe, peonies Dicentra ferns.
The decorative part of a single landing moreassign large varieties and models, with two or three-colored leaves. These colorful bushes resemble placed in the corners of the big garden pots filled with a huge bouquet.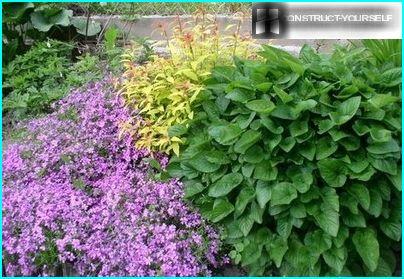 Successful partners to become the host plants with small leaves: purple periwinkle, phlox styloid, blue forget-me, poppy and rhododendron
Effectively Spreading and emphasize the beauty of the hosts to help fine varieties of conifers.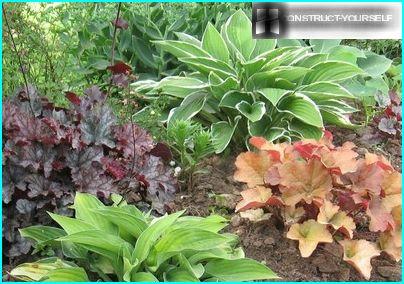 Vivid contrasts compositions can be prepared, landed not far from the host herbaceous plants with another shade of the leaves, such as Heuchera with purple foliage or Goryanka with burgundy leaves
Vertical accent plant compositions impart: phlox, daylilies and Solomon's seal. Finishing compositions help give grasses: miscanthus and reed.
To create a beautiful and durable designgarden, should be considered especially Dekorativnolistvennye cycle plants. When choosing plants, should focus not only illuminate the area, but also on the composition, the moisture and soil acidity.
For the growth of the host best suitedareas shaded in the afternoon, slightly acidic and neutral soils. It is important to know that the hosts do not like stagnant water, which negatively affects their root system.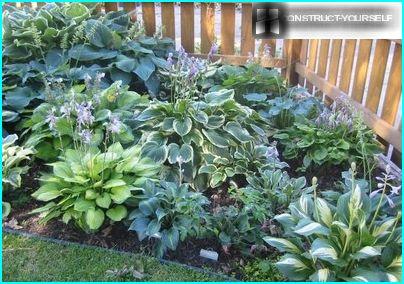 Ideal for planting the plants - cultivated, fertile and well-drained soil, in which a lot of earthworms and microorganisms, saturating it with oxygen
As for illumination, not all the varietiesprefer shaded areas. In the shadow of hosts prefer to grow with leaves of blue and bluish shades. A well-lit areas at greatest decorative exhibit two or three color varieties with white, yellow and gold leaves.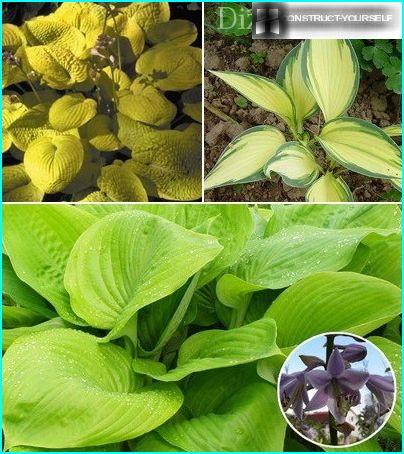 Sun-loving varieties of host: Sum and Substance with heart-shaped leaves, Zounds with bright yellow foliage and Great Expectations with creamy leaves, edged with braid bluish
Hosts are resistant to frost and therefore do not requireadditional shelter in the winter. After dropping off the plant to a permanent place in the spring or early autumn, it is sufficient to periodically thereafter to feed it with organic fertilizers. At one point the host can grow over 10 years.