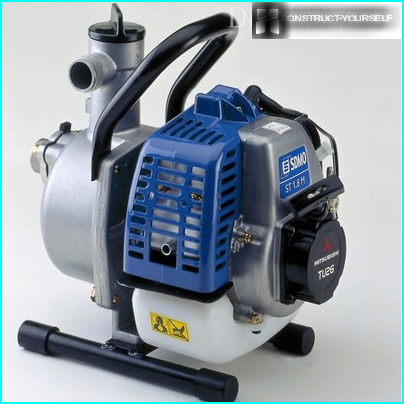 If you've heard the expression «conversationpits », you know that so-called Americans buried recreation areas or lounges. It's fairly new, not yet had time to become a traditional design method, which is popular and is used in the creation of elite cottages. Special relaxation corners, below the level of the main buildings, satisfied not only in the courts, but also in swimming pools, as well as a large indoor house.
Content
These cozy area often haverectangular or circular. The very area, in which people are close enough to each other, has to conduct intimate informal conversation. Trusting atmosphere is nice and warm for family leisure and for receiving guests.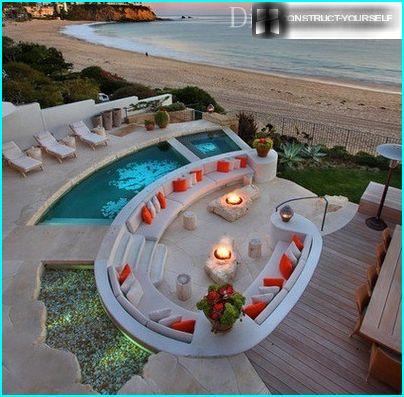 This zone can be considered multifunctional. It is intended for large companies, from it a magnificent view of the coast
If you place a similar area in the courtyard, rightunder the open sky, the appearance of the site becomes much more effective. Even in the most minimalist design are living look incredibly luxurious. Note that no smart furniture to decorate this original construction is not required.
Make flooded living room in his yardtempting, but this building there are some features that you should consider. After all, a country station, usually visited by family in several generations.
Little children playing dangerously close to buildings may fall down inadvertently and injure.
Inside stairs lead zone, which is not sojust going to go down and then go up, the elderly and disabled family members. And to help them will be difficult, if steps are traditionally narrow. The two of them did not fit.
These design flaws are unlikely to make youto abandon his plan. But you consider them when planning steps, and in the decoration of the premises. It should be not only surprising, but also the safety of the building, attracting everyone's attention. And the most important thing.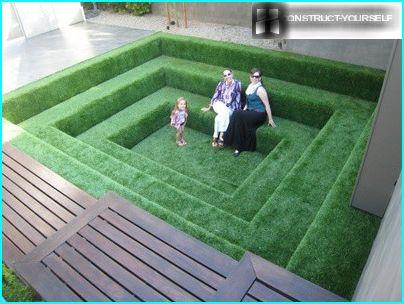 This living room is not quite completed, but it is made taking into account the interests of all members of the family. Her whole inner part is made of soft and stairs are wide enough
In areas with windy and dry climateuse recessed area is not desirable. There's a building of this type can quickly accumulate a large amount of dust, which will have to fight continuously. For particularly moist climatic regions such construction is also not suitable because they will constantly flood the water.
The most common site for the area make circular orrectangular. We have repeatedly said that every building on a site should be well written in the style of a single selected one. Buried living rooms are no exception to this general rule.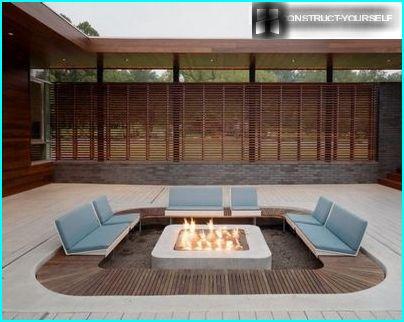 The recessed seating area is fully consistent with the style. It is for this reason that it looks very organic. Pay attention to the center, which forms the center of the site
If we create a modern section, and the selectedstyle - minimalism, all the more appropriate to be rectangular design. To Nouveau is preferable to use a circular contour. Art Deco and avant-garde may require not only the polygon, and the living room of irregular shape.
There are facilities for that one general rule: the height of the furniture, which is located inside buildings shall not exceed the height of the steps. Then it will look particularly harmonious. And the height of the steps of determining the proportions of the original premises. this type of zone must not be overloaded with furniture.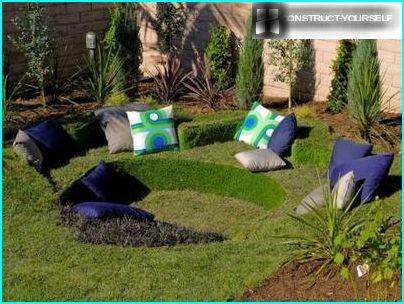 Even a fashionable building can be inexpensive. And no one can say that such an option recessed living room furniture is not good
Optimally here have a cozy upholstered furniture withpillows and elegant coffee table, which is placed in the center. Sometimes here and have a TV, but it should be borne in mind that a place for conversations to be separated from the area in which the home theater or TV.
A nice addition to the traditional furniture canbe a fireplace. Usually this Bio Fireplace - is not too complicated construction. But the open space allows you to install and gas equipment, and even an outdoor garden hearth. If you put a fireplace, equipped with wide flanges, it can perform the additional function of the coffee table.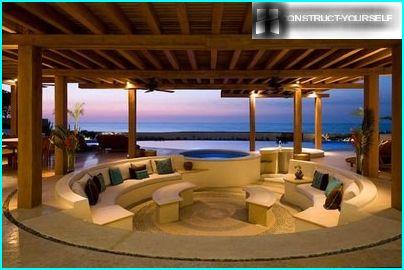 But the creation of a living spent no small money. It is very comfortable, and can carry out their functions in any weather
For everything you need was at hand, you caninserted into the hollow base of the furniture or stairs stairs drawers. Originally look and banquettes, pull-out of the sofas. Upholstery, as a rule, do monotonous.
Selection of a particular color depending on the furnitureenvironment and the owners preferences. No specific recommendation on this subject is not. The desired color accents are arranged using a pillow. If desired, you can at his feet lay rugs or mats.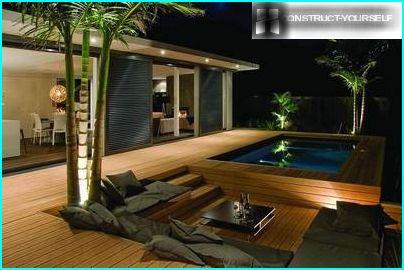 In this case the furniture is not used at all. Her role successfully perform flooring, which simply put mats and pillows. It is very convenient in case of bad weather
The most spectacular site can be calledburial, if it is undeveloped in the pool. Of course, this option can be used only during the warm period. But for such a hot summer living may seem simply salvation. This idea is fascinating. You can equip a summer living room right in the artificial pond, equipping it with soft sofas, easy chairs, garden chairs and a small table and comfortable with a refreshing drink, fruit, snack.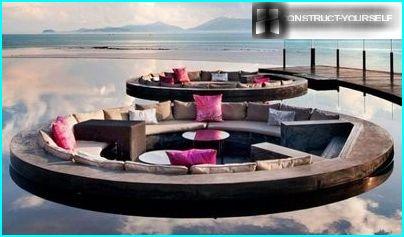 If during the day, this living room looks so attractive, imagine how good it will rest at night, when the stars will shine from the sky and their reflections - from water
The recessed area is located in the most bowlpool and slightly covered with water. This option is only relevant for very hot climate, when the determination for some time in water ankle will repose, not cold. In fact, the living room is moved to the part of the reservoir, which can be called shallow.
Guests will appreciate the innovation, but a full dinnerunder these conditions apply will not work. Crumbs from food can damage the pool water. But a variety of beverages will be very handy. Above ground it is appropriate to build a removable canopy. During the day he will protect from direct and reflected sunlight, and you can enjoy the stars at night.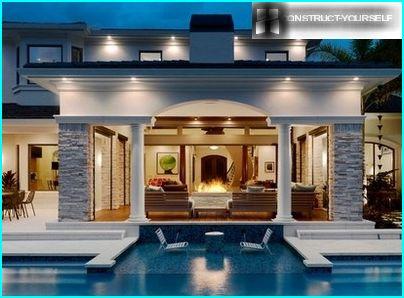 Combined with a swimming pool living room can be used in the hottest time when even the night does not give the body the necessary relief and the water in the shallow water can provide such peace
Another option - an option inside isolatedbowl. There can be built a seating so that the water inside of its wall separated solid. This is also an interesting option may be used only during the warmer months. Inside, the living room will be much cooler due to the fact that its walls washed by water. Moisture in the structure itself does not penetrate, because it is securely isolated. This situation creates a special feeling of comfort.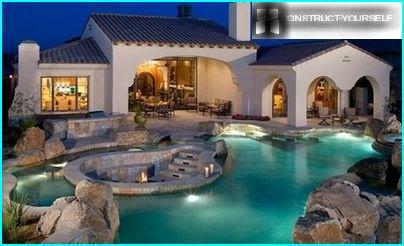 Such isolated living room - a real reservoir of cool. There should always be fresh. And this is exactly what you need so sultry summer evening
Recessed zones of one of the flangesBasin held track. As a rule, this is a side that is closer to home. This is a convenient solution, because it makes it easier for the delivery of food products. burial options remain at the discretion of its owner.
If you omit the lower living room, it will notcover those who are on the shores of an artificial pond, view of the water surface. Besides profound guest rooms seem more isolated from all other parts of the yard. In the heat if they concentrate in themselves cool.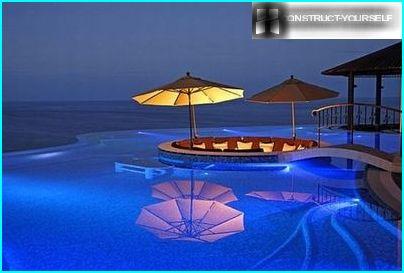 Happy to go down well in the recessed living room and spend the hottest hours in the cool, but there is a danger of suffering from sunlight. To avoid this, you need umbrellas or canopies
Very impressive it looks a room withglass partitions. Of course, for this purpose use a special material. Glass provides the necessary insulation and at the same time allows to see the inside of the pool. Isolated area may contain all conceivable comfort attributes. That night lighting, and an outdoor fireplace or hearth, and a stereo or home theater.
It is worth a lot of fun, when you considerthe level of complexity of construction and installation engineering. But these facilities give an opportunity to get a completely new experience. This is something new and different than yet can boast few.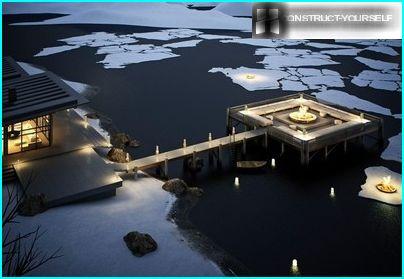 Outdoor seating, located on the water, are predominantly used in the warm season. But, as you can see, there are no rules without exceptions
For those who want to imagine all the benefits of this platform, we offer this video. We are confident that it will cause you only positive emotions and the desire to make this miracle in life.