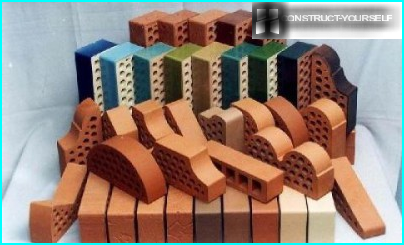 Wondrous natural beauty of the southern seas nobodyindifferent. Colorful gardens with citrus and conifers is ideally complemented by picturesque ponds and decorated with all kinds of arches, pergolas and grottoes simply dazzling. But in our latitude to implement a Mediterranean style in landscape design is not such a simple task. After all, to restore a copy of the section subtropical plants adapted to our climate, it requires a lot of effort and patience. However, the style is built not only on the green areas. Maximum similarity plot with gardens on the Mediterranean coast to help design tricks and a whole arsenal of attributes.
Content
The peculiarity of this style is widelyapplication in the design of the site different kinds of natural and processed stone, marble chips and sea pebbles. This is due to the fact that in the wild gardens are located near the coast and are often stony character. The mountainous area was the cause of widespread registration in the territory of various retaining walls, stairways and terraced slopes.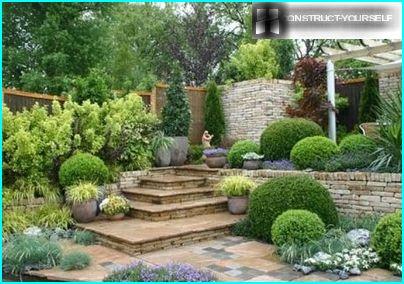 Mediterranean style, successfully combining elements of ancient Greek, Roman and contemporary art, is considered one of the most picturesque style of landscape design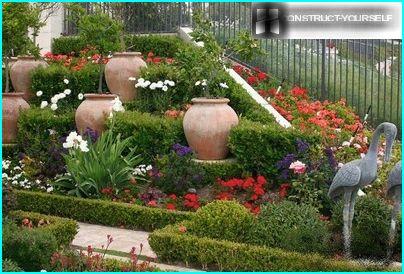 The Mediterranean garden is attractive especially rich colors, splendor and abundance of plants of various architectural decoration elements
The most popular plants have always beencitrus, pistachio, olive and palm trees, which in addition to decorative functions pleasing fragrant and juicy fruits. It is in these gardens widespread art of Topiary - giving plants the original form through a special haircut. Hedges with tapered and spherical shrubs favor a true "highlight" of the garden.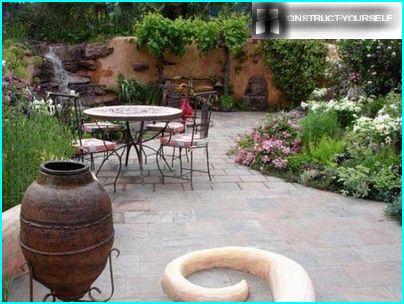 Against the background of variegated colors of flowering plants effectively shaded comfortable garden furniture. Wrought iron and wood benches and tables for a pleasant pastime and recreation
From the most popular attributes areceramic amphorae, vases, pots and various forms of a landing colors. They are arranged in the garden, arranged on the lawns in a horizontal position, and even half-dropped into the ground. Strokes "antiquity" give garden figures in the form of old vessels and broken amphorae, decorate and hang-downing Dekorativnolistvennye plants.
Despite the large number of fansMediterranean-style, limiting factor in choosing it for the design suburban area is the difference in climatic conditions. Many heat-loving shrubs and trees, feel comfortable and relaxed in sultry summer soft carrying nesnezhnuyu winter, do not survive in our climate zone.
Fill garden southern charm and convey the spirit of warm countries are able not only palm trees, which, incidentally, can be grown as a container crop, putting them in the winter indoors.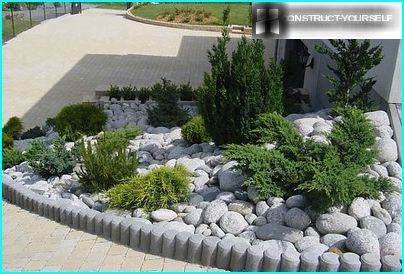 The unique atmosphere of a Mediterranean garden can create an evergreen emerald conifers: yew, juniper, pine, arborvitae, spruce
Branches will hide from the scorching sun in hot afternoon ornamental deciduous plants: viburnum, magnolia, boxwood.
Worthy framing trees and elegantflowering shrubs will flower beds, planted with fragrant roses and colorful perennials. At the foot of the trees will look great lawn of herbs: melissa, chicory, steppe onions, mint, sage.
Sunny and hot climate of the Mediterranean requires a drought-resistant plants.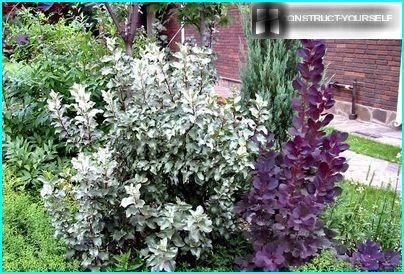 Drought-tolerant trees, as if defending himself from the scorching rays masked by painting their leaves in shades of silver
A good complement the picturesque landscape willpear purple loosestrife and different types of shrubs Lohan that "Olivier" is often referred to by the people. For example: Loch silver is attractive small leaves and fragrant flowers dotting the branches, on the site which later formed quite edible and sweetish taste of olives.
Under a design with foliage fine pearlperiwinkle suit, Mahonia, cotoneaster. Instead thermophilic cypress trees can be planted less demanding to light and heat columnar junipers and arborvitae.
Mediterranean atmosphere will help to create small groups of plants planted purple, blue, red and orange.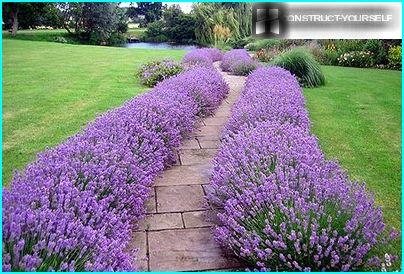 Lavender - ideal when you makeopen clearings in the area. But if the weather conditions do not allow to grow this beautiful thermophilic worthy alternative to it can speak or Veronica skipetrovidnogo mullein
Well, what kind of garden without lianas? These graceful vines adorn the arbor, sheds, pergolas. Sun-loving southern vines can be replaced honeysuckle, clematis, or girlish grapes.
To create on the site instead of TopiaryTraditional Holly and cypress can be planted Spiro, barberry, privet. They are also easy to carry haircut, allowing to form the crown of the original "live" decorations.
Enjoy the contemplation of beautiful picturescomfortable ensconced in a cozy alcove or in the graceful arches, overgrown with flowering vines. It is appropriate to complement the design of the arches will live tree crowns, canvas tents and wooden trellis.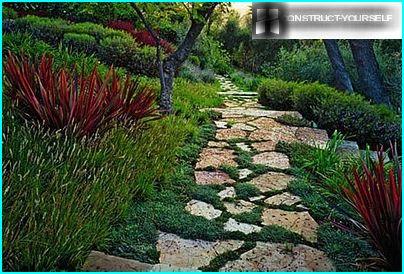 Beautifully tiled stoves track to make its way through these lush greenery, gone into the garden calling relax outdoors and enjoy the enchanting beauty of nature created by the corner
Special features of the arrangement will give reliefvarious terraces. Divide the land into separate zones and create an atmosphere of detachment and solitude help hedges. Low stone walls, forming a perfect background, better to do with a rough surface, filling out their purple clematis varieties or stain "on the stonework."
A significant element of the garden Sredizemnoomorskogodevices are the water: streams, waterfalls and fountains. Spreading the garden drops of life-giving water and filling it with the sounds of murmuring water, they make a truly rural portion of paradise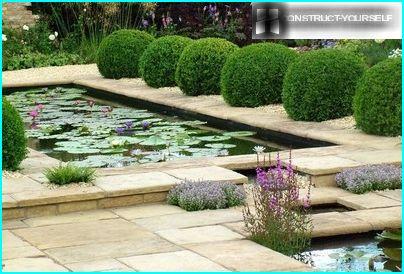 Spurting out of the ground keys, decorative ponds and basins introduce "marine" notes in a picturesque Mediterranean garden
A small fountain in the Roman style, decoratedanimal figures and framed flowerpots with flowers - the perfect option, which will give the site a unique look. No less colorful looks and a wall fountain in the form of a lion's head with open jaws.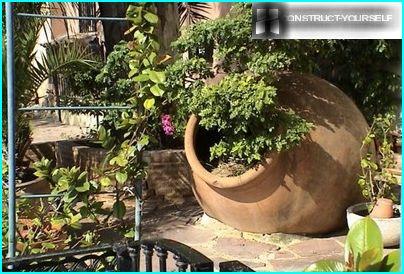 Ornament suburban area will serve as a "vintage" sculpture in the antique style, and clay pottery light shades
The cozy inner courtyard patio - quitepopular element of landscape design, garden design when used in the Mediterranean style. It equips on the south slope, sheltered from the cold north wind. Ideally, the site should be opened with a view of the sea. In the absence of such, it is desirable to provide that with its beautiful views of the emerald lawn, garden, hills ...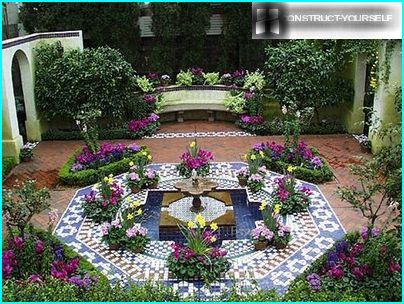 The feeling of proximity to the sea will make styling patio, decorated white as foam, sky-blue and blue shades
Association with the sea will cause items of furniture, decorated with covers of fabric in blue and white stripes, painted in the colors and flower pots.
When making a site and the regeneration of the roofpergola only use simple materials: straw, reed and soft tile. No frills, the main thing - convenience. However, focusing on northern conditions, it is desirable to provide for equipping the walls that protect the area from rain and snow.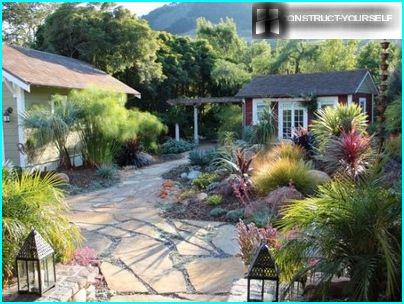 Surface area often perform masonry, if you want to successfully replace its wooden flooring or terracotta tiles
Wooden stairs, rocking chair, lounge chairs andUmbrellas also successfully complete a site design for the holidays. Organically fit into the overall style and rough furniture in warm colors. To decorate an open area used in large beautiful planted tank container plants: thuja, laurel, oleander.
All garden items should ideally be combined with each other and together and at the same time emphasize the temperament of a Mediterranean garden.
Finally, we suggest you watch the video on how to decorate a dining room in this style: