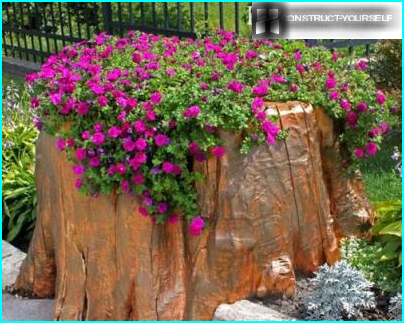 Owning a suburban area - beautifulthe ability to translate into reality the dreams and plans of a comfortable, cozy, functional corner area of ​​personal freedom and taste. To your own little world natural answer to your desires and goals, make your own design section: Consider location of the major architectural objects, mark the zone boundaries rest and work, make a communication layout and holiday decor - and try to implement your plans in one of the most popular styles of landscape design.
Content
The first thing to do - carefullyexplore the territory of the whole area. Why is this necessary? Knowledge of the terrain will help to make the construction work, it is advantageous to design work areas - garden and orchard, to identify destinations, taking into account such nuances as the location of the sun and the main direction of the wind. Even the definition of the compass will help you accurately choose plants for the garden or flower beds - sun-loving, or, on the contrary, loving shaded areas.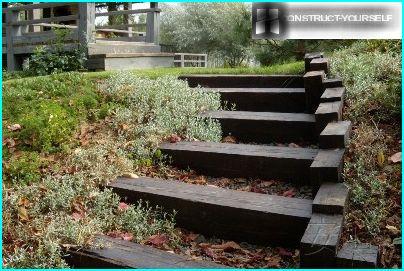 If the area is not perfectly flat, useterrain features to create a decor in natural style: multi-storey alpine, original stone or wooden staircases or even buildings, half of "hidden" in the land
So, to make a meaningful, complete and useful project, perform the following steps:
To analyze the soil. If possible, make a professional analysis of the soil with the definition of acid-base level and the type of soil. So you will be able to choose suitable for this type of soil, ornamental and crop plants.
Be relief scheme area, indicating the lowlands and hills to the right place at the site of the main objects and to identify the zone boundaries.
To investigate the dynamics of light and wind, to highlight the leeward areas and places open to the drafts, lit and shaded areas.
Be sure to explore the surrounding area andthe presence of buildings located in neighboring lands. This will help to avoid confusion with its own construction, as there is a list of the rules governing the distance to residential buildings, ponds, etc.
Do not forget the exact figures. To do this, take an ordinary tape measure, measure the perimeter of the site and all without exception natural objects that are on it. Check every detail, including the separately growing bushes, small hollows and creeks.
The presence of huge natural reservoir opensopportunities for design registration. The small overgrown pond can be transformed into a beautifully decorated with a pond with fish, a fountain and lighting, and a creek that crosses the territory, to bridge the gap.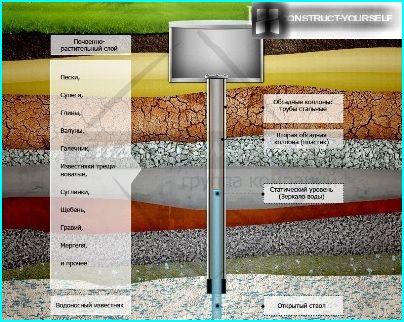 Own well - a guarantee of waterdwelling house and garden, so one of the first actions should be a call representatives of the company concerned to find a reliable source of groundwater. They can also help in the drafting of the soil analysis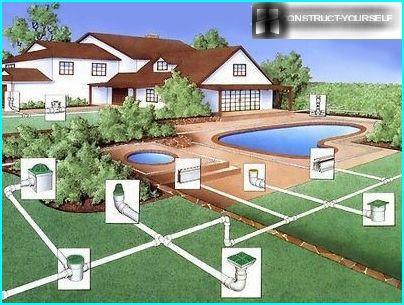 Make a detailed diagram of underground sourceswater and natural water bodies, to design water and sewer system for the water supply device in the home, as well as lawns, gardens, septic tank, pool
Explore the area and analyzing the environment, you must make a plan diagram of the entire site and try to break up the territory into functional zones.
Exterior garden plot project can bedifferent: an album with sketches and spreadsheet calculations, huge sheets of paper with the planning options, the usual checkered notebook with diagrams and a list of future buildings. It is your own creativity, and most importantly not in the intricacies of design, and in the content and usefulness of the information.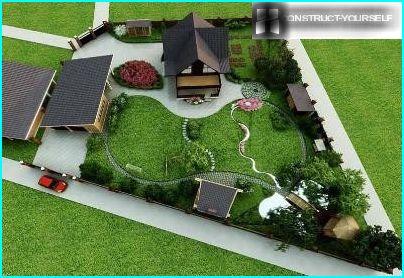 Often used calculations and creating schemescomputer programs. Here are some of the simplest options, clear and "neprodvinutye" users: Our Garden (Rubin), X-Designer - garden plot planner 3D, 3D Home Architect Design Suite Delux, Garden Planner 3. Businesses use software more complex level: AutoCAD, Punch! Professional Home Design, 3D Max
Zoning is necessary to increase thethe functionality of the objects and, therefore, the comfort of living in the country. There are several options for division into segments, but the easiest way to break the land into 4 main areas:
Floor - house with patio, veranda, terrace and summer kitchen;
economic - additional buildings, garage, cellar;
garden - fruit trees, greenhouses, beds;
for recreation - a patio, swimming pool, playground, tennis courts, lawn games, flower beds, barbecue, garden furniture.
Sometimes, especially when the free space deficit, obtained laconic, but quite functional combination options.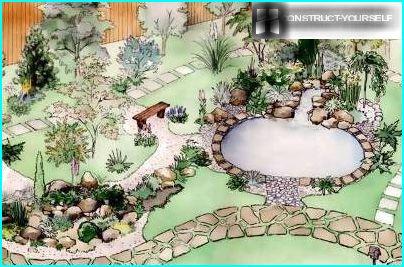 To visualize some areas, you can make drawings closeup. Try to imagine and reflect on the paper will look like house territory, alpine garden or columbarium
The final sketch of the plan should be the whole area as a whole, ideally - using the scale, symbols, and the explication (explanation, a list of important objects).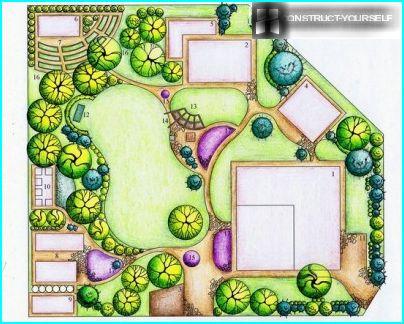 Here is the complete exemplary diagram suburban area. It shows and are numbered residential and utility rooms, paths, recreational, ornamental garden and flower beds
You can also use special software, then your project can be considered in three dimensions:

Do not mistakenly assume that onlylocation of the house, baths and garage is of great importance, and the rest can be placed in a free manner in the remaining territory. So you risk instead of cozy corners to get the chaos and jumble of flower beds, flower beds and unnecessary buildings. The location of each, even the most miniature of the object must be relevant and useful.
Separately should be said about the paths that connectresidential, commercial and operational areas. Depending on the type of soil and climate, they can be sandy, concrete, stone or decorative, but in any case - functional and comfortable. For example, in a region with frequent rains it is not necessary to erect the slippery wooden bridges, and in the thick beautiful garden to lay broad, straight path.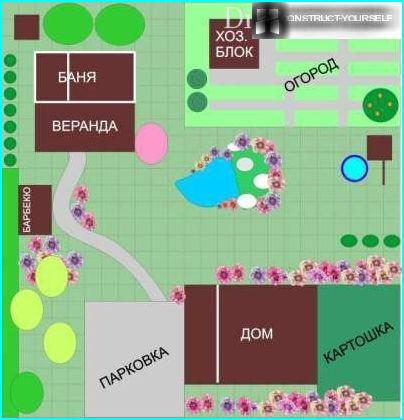 Scheme first select all that is importantjust for you. For some, it is the house and outbuildings, for others - the location of the beds and greenhouses in the garden, for the third - an extensive seating area. But then do not forget to mention the other, smaller, but no less important objects - track, swings, beds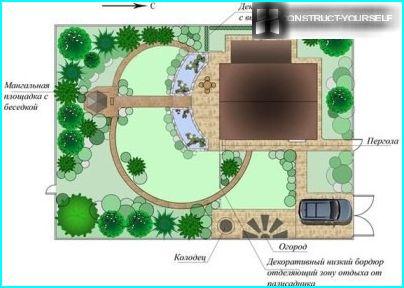 This diagram shows the functional track,connecting the house with a barbecue and parking for the car, and more, located on a circle, which can be called decorative or recreational
Be sure to specify the location of the smallarchitectural forms - arbors, patios, walkways, barbecue - and think how best to arrange the surrounding area as a place for recreation should create an atmosphere of peace and comfort.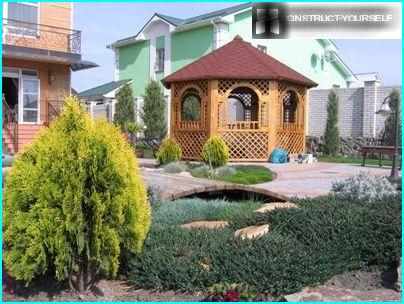 Arbor can be positioned in the immediatevicinity of the house (it is easier to set the table for a friendly party) or, alternatively, in a remote corner of the garden that was an additional opportunity to walk through the site area
Consider planting trees, flowers, locationcolumbaria, alpine gardens or rockeries. Excesses can spoil the whole picture, and rare single composition look sad, so observe the golden mean.
There are many different classic andexotic styles of landscape design. Not everyone got accustomed in the Russian province. For example, the complexity of the construction of pagodas or unusual Japanese bridges in the water creates a difficulty in the Territory in an oriental style. Consider the traditional areas, suitable for decorating suburban areas everywhere.
suburban area atmosphere in rustic styleIt embodies all that we lack in the bustle of the city: clean clear air, ringing silence, natural materials, comfort and features, with nothing comparable to the natural comfort. Rustic style fits all who come to the country to relax or work in agriculture - the cultivation of garden trees, vegetables or flowers. Of course, all of the buildings and decorative compositions, located on the site must comply with the realities of rural life.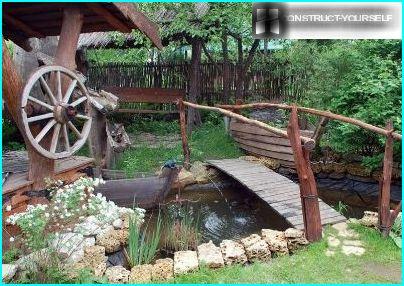 Buildings, sidewalks, bridges differ plainness and simplicity. Wooden buildings and decorations you can make yourself, if you own carpentry tools
If you are familiar with the forging orwood carving, you can create a lot of great decorations for your home or garden, typical for rustic. This Wooden well for water, and a gazebo decorated with openwork lace, and wonderful composition of wood and stone, and wrought iron home decoration, gates and fences. In the design process of the infield think, in what will manifest your skills and what better to choose decorations for decoration of buildings, paths, flower beds.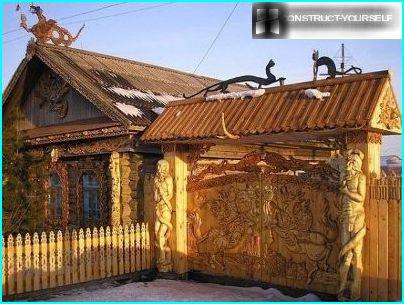 Sometimes a country house and grounds are transformed into a real masterpiece of carpentry skill: decorated with an elegant carved wooden chalet, fabulous gates, carved concise fence
The direction opposite to strict regularthe style is known as a landscape. In the first place there is naturalness - dense green thickets, scattered carelessly colorful flower gardens, wild, overgrown sedge ponds, meandering sand and stone paths. It seems as if the hand of man has not participated in the creation of beautiful scenery, and all decorative compositions created by nature itself. Nothing artificial and symmetrical.
Landscape style is simple and economical, therefore,It fits all. Suppose, for the construction of the tracks will not need a natural granite or marble, more natural trail winding among the trees of rubble and sand. No need to spend hours to care for topiary or rockeries, timely enough to water the plants and make sure that beds are not grown beyond the specified limits. However, the basic principles of planting flowers do not lose their strength: for example, lush accent flowers planted in the middle of the fillets have plants at the edges.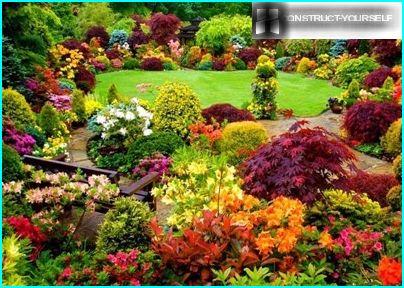 If you like to experiment with floraldesign or grow rare varieties of plants, it is unlikely that will create a real wild landscape. We'll have to move away from the canons of landscape style, but had an excellent corrected, skillfully organized floral arrangement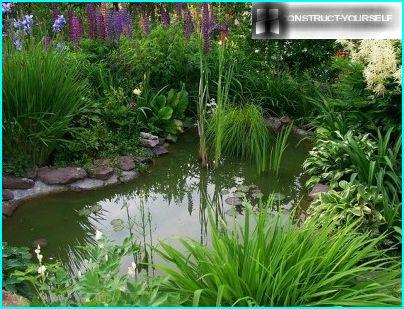 Arranging an artificial body of water, try,so that it is fully consistent with the principles of naturalness: clearly delineated rocky shore with dense thickets of greenery and flowers, water lilies and duckweed on the surface of the water - and no waterproofing the presence or plastic hoses
Nouveau embodies the dreams of all who are tiredand harried city dwellers work. You come to the country - and here you and flat beds with flowers and a tennis court in between, and a cozy corner for tea. The main features of this trend:
order and organization;
presence of geometric shapes;
symmetry;
intention to create "artificial";
wide variety of building materials.
The modernist garden, you will not find impenetrable thickets - each plant has its place, all the trees are arranged in neat rows.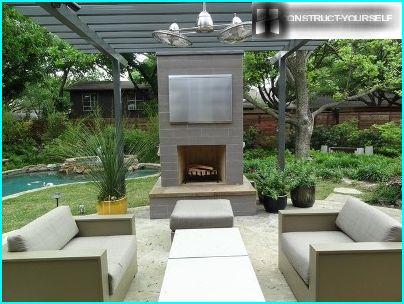 When walking through the garden, you suddenly stumble onsitting area, it will not be creaking wooden bench surrounded by lush vegetation and lush. You will see a comfortable, created for complete relaxation area with armchairs, a table, a modest landscaping and beautifully decorated pond
Green, of course, is present, but it is arockeries with conifers, than lush beds of peonies or roses. Modern does not tolerate diversity of colors, so the design of flower beds should be present one color, and often it's all shades of green. Getting to the preparation of project design suburban area, make sure that there were herbs and dispersal - all beds are arranged in a row or on the perimeter, and each corresponds to one type of flowerbed flowering plants such as iris or begonias.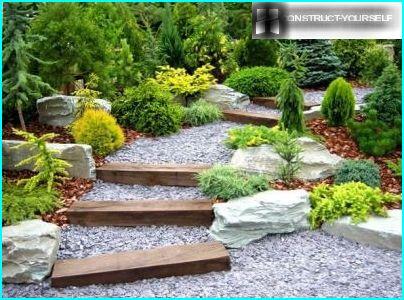 Approximately 50% of all flower beds, rockeries,rock gardens occupy the structure, track or decor of a variety of building materials, including artificial and natural stone, concrete, gravel, pebbles, sand, wood and decorative tiles
So you've decided on the style and constructionmaterials and outlined the construction site homes, saunas, gazebos, mentally put together all the beautiful paths and even decide which is better - a swimming pool or pond. It remains to see the advices of experienced gardeners and prevent possible numerous errors.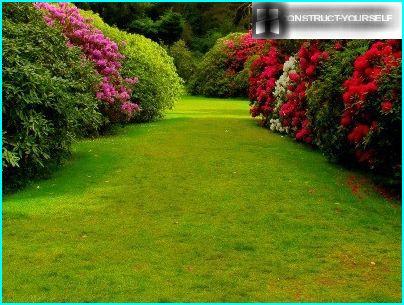 If you place the lawn found in your project, do not forget: there are sports, protective and decorative lawns, each of which correspond to certain types of grass
Consider color palette portion as a whole andrange of shades of individual flower arrangements: soothing monotone, but with the same success drives the depression, so be sure to plan some bright, accent pieces.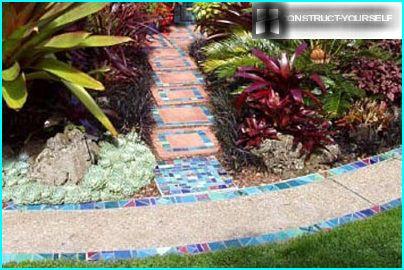 Magnificent dacha decoration are mosaic track - bright, colorful and unique. Embody the idea in life is simple: a little imagination, patience, and a multi-colored tiles or stones
Planting trees or shrubs favorite breeds,be sure to ask what they will be in 10-15 years. Perhaps magnificent crone cedar pine obstructs the sunlight and strong root system will destroy the water supply system or track.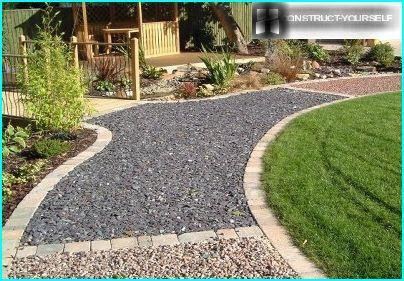 Popular due to its low cost, loosetrack of sand, pebbles or gravel have one drawback - eventually fall apart and lose their borders. Problem solve a neat and durable edge of stone or brick
Fruit trees, flower bed, and evena small artificial pond require regular care, however, creating construction and planting culture, wonders if you time it will be enough in the future to keep land in order.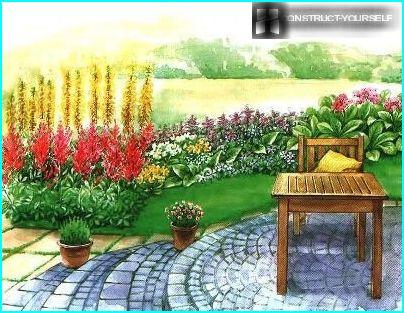 The choice of colors for the flower beds is largely dependent onflower bed arrangement. Suppose, for framing the tracks are more suited mixborders and ridges, for the local area - ground columbarium, and in high places is excellent look arabesque
As you can see, in the preparation of the project design is important to consider every detail - only then you are guaranteed a good rest and enjoyment of the work performed.