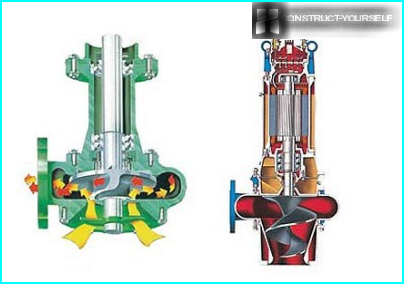 Simplicity, conciseness and universality -key strokes Scandinavian style, are widely used in landscape design. Popular Destinations arrangement gardens originated in the Nordic countries, for the people whose main objective was to create a cozy and blends in well with the garden by nature, able to withstand the tests of the weather. The climate and topography of these regions has characteristic differences. But in the design of gardens population inhabiting the peninsula, it is easy to find similarities. Which - read on.
Content
As is typical of Scandinavian style? The main feature of this area stands close unity with nature and life-affirming attitude. This landscape is decorated in Scandinavian style, it offers a pleasant rest and at the same time charging energy and vivacity.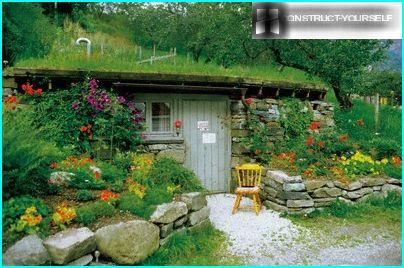 Scandinavian style is a successful combination of trends and styles prevailing in the northern regions of Scandinavia: Denmark, Sweden and Norway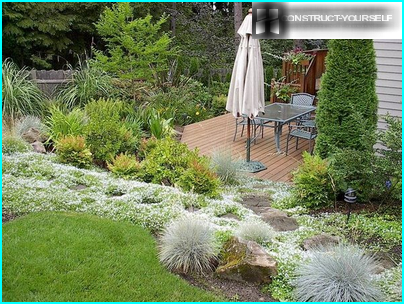 Scandinavian style is natural simplicity, which borders with strict restraint design and functionality
But this plot arrangement in Scandinavianstyle involves activation of saturated rich colors. In daylight conditions, and severe deficiency a long winter, typical of the North, bright colors and bright colors help make the garden more comfortable and light.
Key elements that characterize the Scandinavian style:
Open Plan;
Fences from hedges instead of fences;
Containers with flowers instead of flower beds;
The cobbled square area;
Natural oases with clearings and wild plants;
Frameless lawns without beds;
Artificial pond of irregular shape;
Availability heather garden.
In the design of the Scandinavian section youmeet artificial decorations. Instead, the garden is decorated with large rocks and boulders, distributed on the site seemingly without any particular system. All the elements of landscape design distinguished by clarity of lines and regular geometric shapes.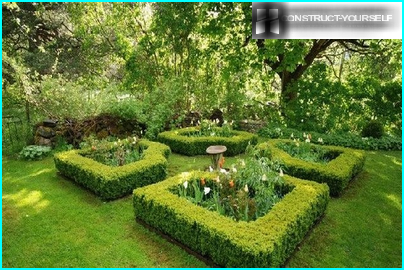 Unity with nature help provide heath gardens - lovely oasis, effectively emphasizing the tenderness and lyricism of the landscape
A good complement heather garden canto make a small garden, composed of just a few carefully decorated beds. To support the styling, the beds can be framed plank frame, and the passages between them draw gravel dumping.
The main advantage of Scandinavian designIt is the ability to create beautiful Nordic corner, even on a small plot of land. Most shrubs and flowers that are used in the design of the Nordic regions, will not be difficult to find and in our latitudes.
It is hard to imagine a garden without a pennyevergreens. The main decoration gardening area are pine, juniper, spruce, arborvitae and pyramidal. Stacked beds in Scandinavian design is replaced by all sorts of outdoor pots and vases. Effectively look in containers hydrangea, yew, box.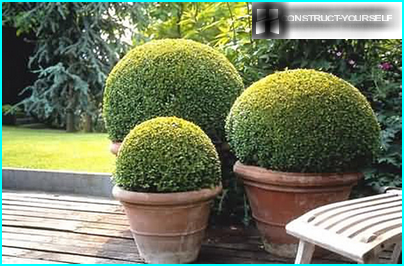 Unpretentious in nursing box-trees perfectly amenable to pruning. Their crowns can be given the original pyramid and round shapes
Arbor or playground for recreation can obsadit creepers. Ideally suited for this purpose: curly beans, hops, morning glory, ivy, clematis.
Characteristic for the Scandinavian garden and miniature teplichke, under the arch of which are cultivated thermophilic decorative plants.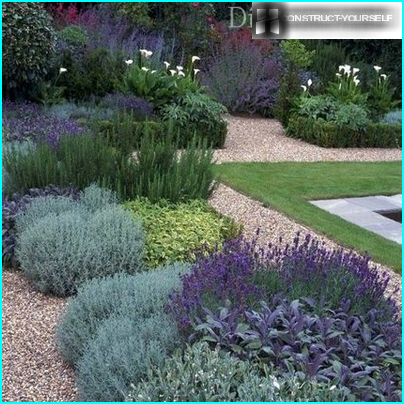 When you create flower arrangements most popular are: lavender, rhododendron, peony, poppies and daisies, as well as any wildflowers
Elegant Lawn of phlox, asters, calendula andFlax, like islands, and then found in different parts of the garden. These joyful oases give a special charm to the garden Nordic. A host of Scandinavian tribes atmosphere will help to create semi-wild grains.
For the arrangement of rocky gardens are ideal: bellflower, Alpine carnation, sedum and creeping baby's breath.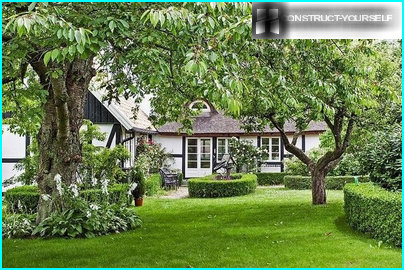 The perimeter of the area is often framed by trees. Unusually picturesque look of mixed planting lilacs, birches, aspens, firs and pines
When selecting plants should be guided by the principle that the general view of the garden should remain understated and simple, and only some of its elements can be isolated with bright colors.
Wood and stone - the basic materials attown and country planning. Construction plot in the Scandinavian style is aimed at creating a cozy and really comfortable corner for a pleasant stay. In the design of such sites necessarily present an outdoor gazebo.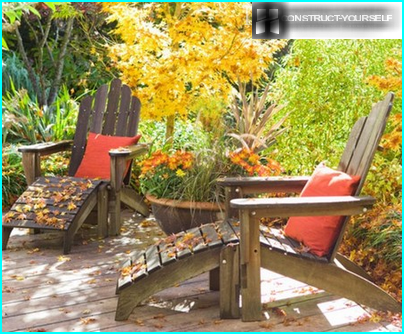 The spacious grounds and equip cozy gazebo on the boardwalk and equipped with wooden benches and loungers
Scandinavian style is inherent in the abundance of stone objects. Large boulders and stone figures decorate not only gardens, but also the front part of the territory.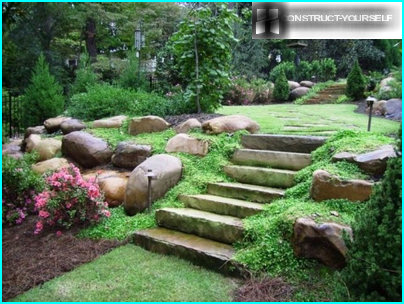 Scattered in the chaotic order a few blocks of the section of the untreated wild stone helps display inherent in the northern regions of the elements of culture and style
Artificial caves - another characteristic feature of the style. They were constructed of stone and decorated with flowering ground cover.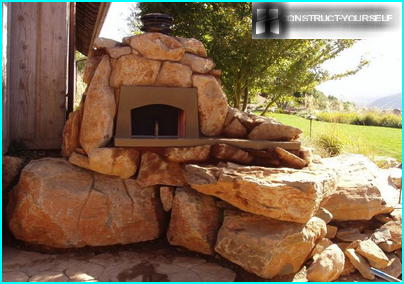 Give a portion of the northern tradition of helping and stone fireplaces - decorative designs that are building stones of medium size
If desired, the stones can be spread, and a functional fireplace. Then gatherings around the campfire will be one of the favorite activities and cool evenings.
Design Scandinavian design meansthe use of utensils and household items from the past. Clay pots, ceramic and straw figures, colored watering can, roughly made tubs, wheels of carts - all these subjects of national life can be involved in decorating the site.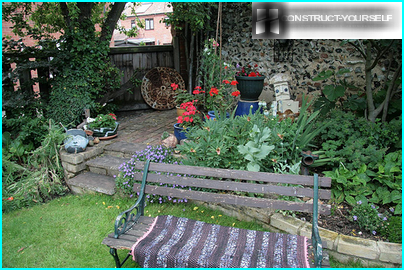 Vintage items or high quality imitation capable of creating the unique atmosphere of comfortable and extremely scenic area
An impressive exterior complements actwicker objects: screens, pots, stand, stylized garden figurines and baskets. To make the site colorful strokes garden figurines (Vikings, trolls, gnomes) and individual items of exterior painted in red, blue or orange.
As a frame for decorative pond using the same stones and moisture-loving plants.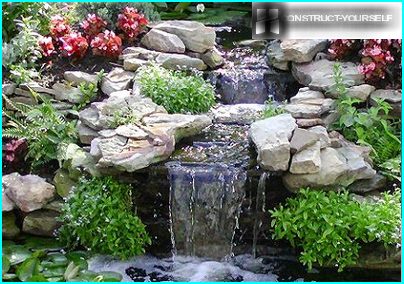 An essential attribute of the North Garden is also a small waterfall or a decorative pond, water surface is decorated with exquisite beauties lilies
If the section is not possible to build a reservoir, you can bring by setting high the tub with water in the atmosphere of the water element notes.
The harmonious combination with nature help to provide elements of wooden garden furniture.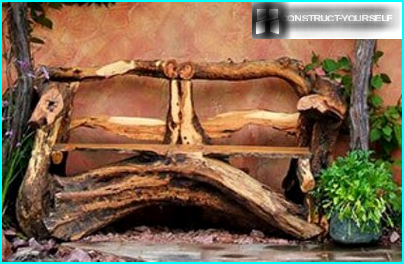 Against the backdrop of colorful meadows with fragrant flowers beautifully look rough garden benches hewn logs out of the ordinary
Widespread in the regeneration areasWe received and stores the so-called containers in which to store all kinds of garden tools handy. Thanks to this convenient functional Scandinavian designs gardens also referred to as the "container".
Make the image expressive original garden and help shape and snags bizarre.
Wicker furniture - no less popular element of the Scandinavian style. It successfully combines interesting design and ease of use
At arrangement section wicker chairs, loungers and tables often are arranged not in the open air, and are selected for their shady nooks under trees.
Scandinavian style - is primarily a good combination of small details that create a complete harmony and perfect a single image.