Wood - a soft, yet durable, loved by manymaterial for the construction of houses in suburban areas. Even if the building is constructed of brick or foam blocks, logs, lumber or boards are used for the construction of baths, garages, gazebos, verandas. Do not do without the wooden decor - well, benches, swings, bridges. Fences and fences are also made of wood. To prevent rapid deterioration of the material, an effective protection of wood against external factors, excessive moisture, fire, insects.
Content
If the moisture content exceeds 15%, the structurewood starts to crumble: swell, delaminate, and then shrivel. As a result, products are changing their shape, cracks and gaps. Almost all wooden elements are affected by high humidity, except, perhaps, sisal and rattan, as they come from the tropics.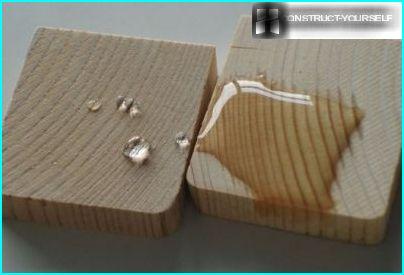 The experiment showed that the water does not penetrate into the pores of the treated water-repellent composition of the bar, while rapidly absorbed into the unprotected wood
There are special solutions by means of which the protection of wood from moisture. They are divided into two groups:
penetrating;
film-forming.
The first group provides a safe barrieragainst the penetration of liquid in a tree structure. The processing compositions of the second group with the time to be repeated. Consider two means resisting moisture.
Aidol Langzeit-Lasur refers to impregnatingmedium viscosity formulations, perfect for covering walls of the house, garden furniture, balcony and terrace railings, fences. Azure is safe so that it can be covered with children's toys and construction. It has a lot of decorative colors: silver gray, teak, ebony, dark oak.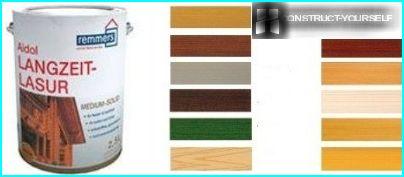 If impregnation Aidol Langzeit-Lasur treated softwood, initially it must be primed. This rule also applies to products damaged by fungus or mold
Belinka Interier Sauna incorporatesacrylic resins, water and additives. It is a colorless glaze, ideal for the treatment of wood in baths or saunas. Two mortar layer is applied by brush, roller or spray.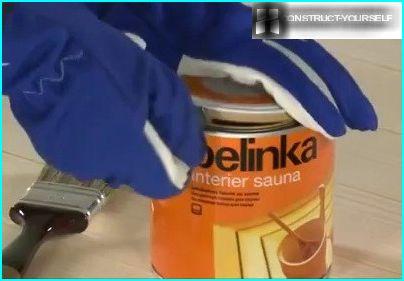 Belinka Interier Sauna does not mask the natural texture of wood, but only makes it more silky and shiny. Bank azure 2.5 liters is 950-1000 rubles
Variations in temperature, precipitation, solar radiationlead to untimely rotting wood. The first signs of decay - the appearance of mold and mildew. Large area pockets suggest that the material can not be saved. If the wooden structure of the product or experience for yourself atmospheric turmoil, high humidity and precipitation of condensate, is not superfluous to conduct preventive work, which will protect the wood from rotting.
The best helpers in this case areantiseptics representing pastes or slurries. Some of them are generic, that is, not only protects the material from moldy fungi, but also on the beetles. Examples of such compositions are two popular tools.
PINOTEX IMPRA used for treatment of woodsurfaces that are not subject to further decoration. This is usually a beam, roof lines, lathing parts, that is the hidden part of the buildings. The impregnation is green. On coated wood it is possible the formation of mold, blue stain, mildew and rot.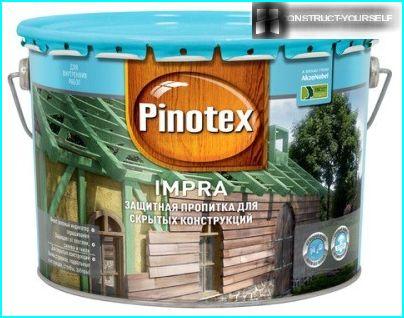 Antiseptic Pinotex Impra goes on sale in large-volume containers. Price means: 3 liters - 1,100 rubles, 10 L - 3350 rubles
Senezh Ekobit used as an independent coating, and as a primer under varnish or paint. 2-3 layers means to protect wood from rotting for 30 years.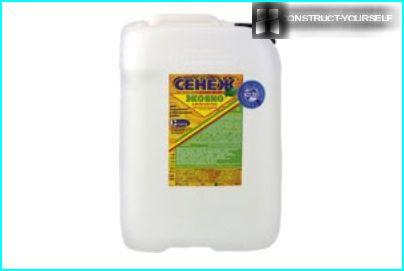 If the wooden surface was originally treated with varnish, paint, varnish, or other water-repellent agents used SENEZH Ekobit useless
To protect the wood from the fire therefireproof solutions - flame retardants. They are mandatory for residential buildings. Under the influence of flame substance impregnated wood which is converted into a thin film capable of time to prevent a fire. The coatings have a different view:
solutions;
plaster;
paints;
wash.
Sample retardant - NEOMID 530, for impregnationexternal and internal works. Guaranteed service life - 7 years. It protects against fire wood walls, floors, doors, windows, partitions. The composition of the flame retardant does not change the structure of the wood. Above the flame retardant solution may be applied to paints, varnishes, primers.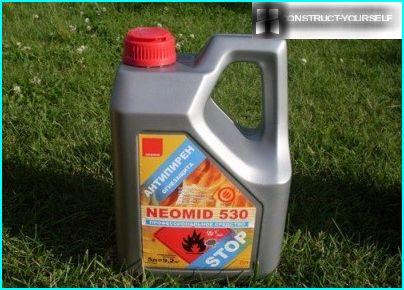 Keep in mind that when applying a flame retardant NEOMID 530 occurs slight toning material, depending on the tree species, so before work is recommended to test
Pirilaks - biopiren providing protectionwood from fire and fire localizing lesions. The prefix bio means that the tool is both a barrier to the growth of mold and insects. The solution provides effective protection inside and outside the building safe for the treatment of buildings for poultry and livestock.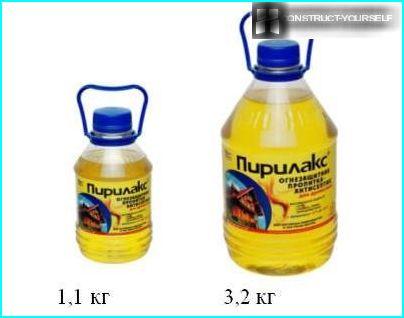 Pirilaks for external use is not washed away sediments within 13-15 years. Indoors it provides protection for 25 years
The tiny beetles are able to turn to dustwooden furniture, walls and floors of the house. Bugs-grinders, long-horned beetles and weevils with their larvae are slowly but surely destroying the raw building material. Only the protection of wood from pests save the situation.
It is much easier and cheaper to take preventivemeasures than to replace the damaged timber and beams. Insecticidal solutions turned out of shelters already established pests and block the way for beginners. You can use folk remedies - tar turpentine solution, trichlorfon, paraffin or a mixture of kerosene and carbolic acid. But more effective formulations for professional treatment.
Aqua-Bor varnish impregnates the wood surface,protecting it from any negative external manifestations, including by beetles. They cover the window and door frames, baseboards, stairs, railings, fences, wooden wall of a house. Transparent impregnation does not distort the texture of wood, only it changes its color to the desired. The varnish can be diluted with water, but its percentage should not exceed 10%.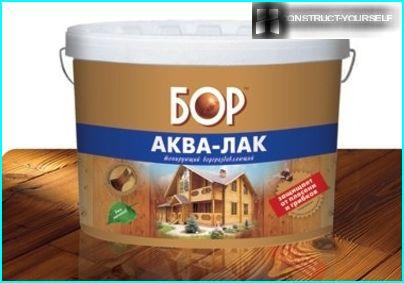 The number of layers of varnish applied Aqua depends on the location of wooden elements: indoors only two, outside - at least three
Tonoteks Antiseptic helps both toprotection of wooden surfaces, and for decorating. Its composition wood texture stresses without altering its properties. Gamma allows you to give different shades of ordinary wood color of one of the precious wood.
Tonoteks refers to universal formulations, which are used for the treatment of wood in the suburban area: it protects against weather and trouble, and from the biological threat
If we compare the old farmhouse, built inthe middle of the last century, and modern holiday cottage, you will notice a big difference. It deals with the appearance of wood. Old houses had little extra protection, so in a few years become porous timber, gray, covered with cracks and small holes. Now, thanks to a comprehensive treatment of all wooden parts and structures, the appearance of buildings does not change with time.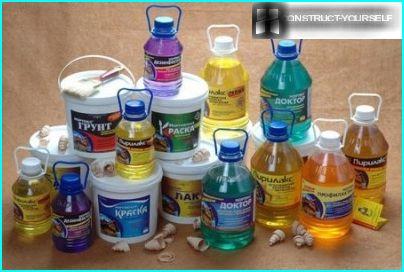 Building supermarkets offer a wide range of protective compounds for wood: and accessible domestic and foreign production more expensive
Various impregnation solutions, azure lakes andinks are composed of substances that protect the wood from insects, rapid wear and decay. Using protective compounds when building a house, you can make it really impregnable, safe and secure.