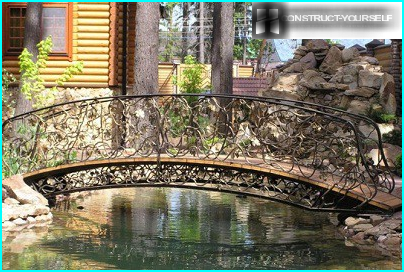 Private garden - a perfect place to work, andfor relax. For the full holiday vacation people come up with a variety of devices from swing to hammock. The classical subject of comfortable furniture armchairs considered. But someone managed to make ingenious in its design addition, make it even more convenient: born rocking chair. This model allows perfect to relax all the muscles and unhurried and rhythmic rocking to a pleasant meditation, soothing, lulling. Rocking chair proved so popular that during his invention many variations and modifications. Moreover, it was found that the rocking chair with his hands made of different materials - is not a myth.
Content
To create the classical model of rocking chairsneed willow vine. Delicate and lightweight design looks great on a background of greens and the villa is successfully combined with an interior garden shed or arbor. The disadvantage in this lightweight and durable products one - fear of excessive moisture.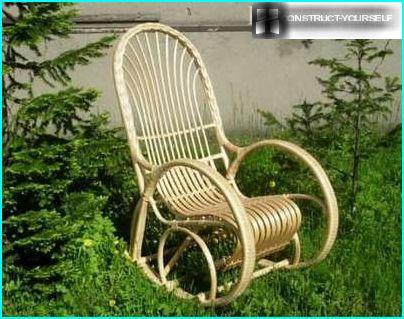 Make easy and seemingly unpretentious chair of willow twigs is not so easy. You must be able to prepare the material, and the weaving technique requires special skills
Rattan - a flexible liana which growsSouth-East Asia. Rattan weave also wonderful and very beautiful chair. In beauty, they do not concede a willow that can not be said about strength. No screws or nails to create rattan furniture is not applicable. All connections to keep only due to the glue and elaborate mating.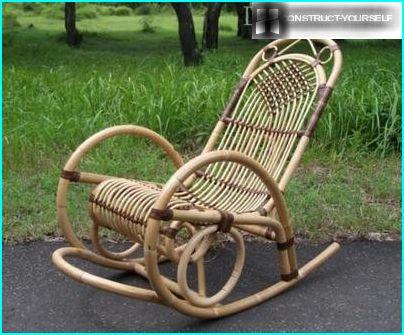 Rattan as a raw material in our stores is notsale. This rocking chair to give the owner - it is a good buy, but not a product in the manufacture of which it can display their creative abilities
If we talk about the strength and durability of the product, an example of robust furniture can happen here, this model created from wrought iron. Fine lace adorn a structure of any garden.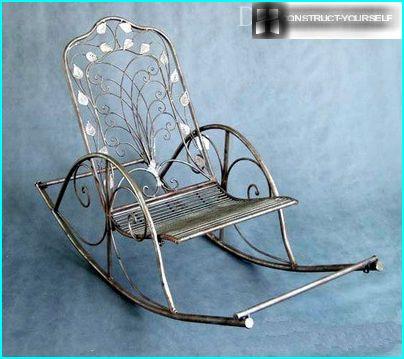 The main advantage of this model is its durability. The main, but not the only one. I agree that this thing looks like an elegant silver jewelery
Rockers are not only used as garden furniture. A distinctive feature of the office rocking chairs are its respectability and reliability.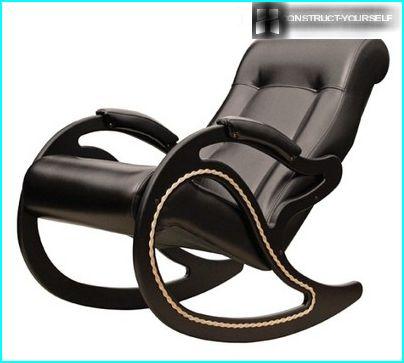 Office workers also appreciate the quality rocking chairs as an accessory to help you have a rest from the bustle of the business. Of course, office models differ from the holiday options
There are designer models of rocking chairs, made in the style of hi-tech.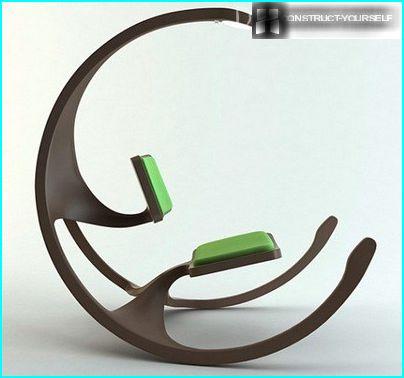 Very interesting and, most importantly, fairly functional model. It combines a comfortable rocking chair and directed light
Some ultra-modern designRocking chairs are truly unique. As a simple model, they guarantee their owner comfort, but, in addition, independent of energy sources. This product is equipped with solar panels, it allows you to spend time with the comfort and benefit.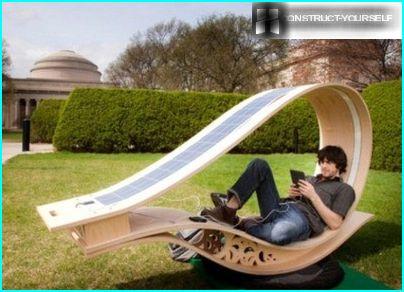 You can use a thick veneer, and for it to the top of the base of this design - polycarbonate. Find the network of solar cells today is not a problem.
Double rocking chair is more like a sofa. If it is convenient to put the construction of several pillows or throw rug, nothing better for a holiday vacation just do not find. We'll tell you how to make a rocking chair with his hands.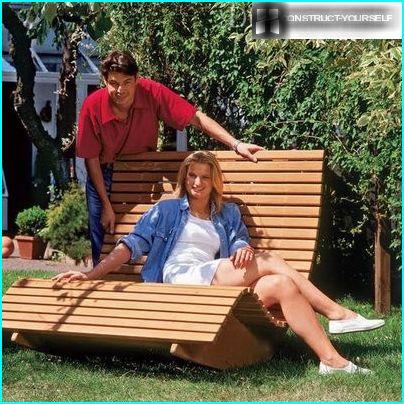 Who said that to enjoy the comfort of a rocking chair can only be alone? That this model is good for two
Make high-quality rocking chair is not sodifficult as it seems. Having all the necessary tools and inventory quality materials, can be leisurely to do everything yourself. What exactly the tools we will need for this job?
Electric Jig Saw complete with sawing wood.
Disc sander. To her the nozzle will need a different grit. In fact, the manual router can also be necessary, but if you have a large amount of coarse sandpaper and with sufficient power at the sander, you can do without it.
Screwdriver with a set of drill bits for wood and bits.
The right angle, having a long dipstick.
Roulette.
A hammer.
Putty knife.
Brush and pencil.
Proper organization of the work suggests that all of these tools will be literally at your fingertips.
Any important work starts withmanufacturing drawing. It is necessary to correctly calculate the need for materials. However, the drawing is already there. On the metric grid, a step that is 100mm, the pattern side of the chair is placed. It is best to move the drawing on paper and cut mold with which it will be easier to apply to the veneer path.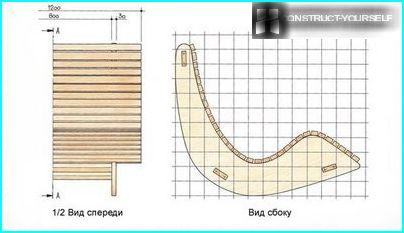 Drawing great rocking chairs, which can be done by skilled hands, is made on the metric grid whose pitch is 100 mm
Small errors are permissible, it is important not to be mistaken in one thing: the sidewalls must be identical on the ride, the lower their side should be no protruding angles.
For screeds-drawer side and sidewallsevrofanera required, the thickness of which is 30 mm. The sides, as has been said, are cut jigsaw strictly on templates. The dimensions of each of the three drawer side - 800h120 mm.
Now you need to cut the workpiece barswhich in future will make the surface of the seat and back rocking chairs. For this you need a timber the size 50h25 mm, from which we are cut off for 35 pieces of 1200 mm each. Before purchasing required for this material, find out what the standard length of one such bar in your stores.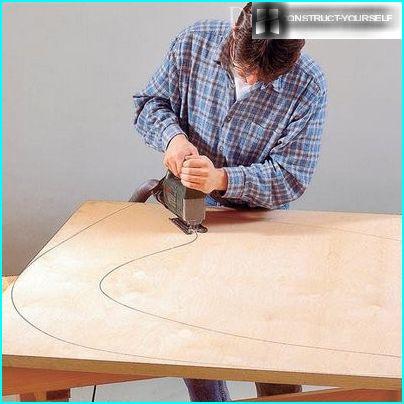 On the basis of the proposed drawing template needs to be done, with the help of which you want to put chairs on the contour of the sidewall veneer
Total planed that you need, without youeasy to calculate yourself. Observe the multiplicity that when cutting workpieces was not a large volume of residues. Better your chair will be a little longer than originally planned. For example, with a standard length of 2.4 meters length one piece will be 1195 mm (thickness subtracted cutting and further processing).
With simple fasteners. Looking for:
SCREW (evrovinty) 12 pieces, size 5h120mm;
screws 140 pieces, the size of 4h45.
In fact, the initial part of the work is already behind us, butMore fundamentally have to work hard to get the right result. In the course of this work will be needed linseed oil, varnish on wood, putty, antiseptics, which also need to buy in advance.
Getting sanding and removal of all partssmall facets. If your sander is powerful enough, and you know how to handle it, this procedure will not take much of your time. Given the fact that rocking chair will be on the street, special attention should be paid to the ends of all the elements to maximize protect them from moisture, which impact they will undoubtedly undergo.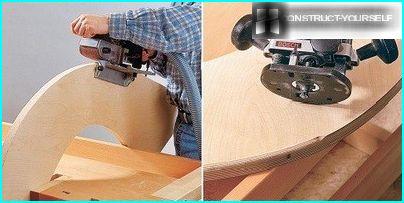 Pre-treatment of parts is not only in their sanding and chamfering. It is necessary to take all measures in order to protect the end of the elements from rotting
The ends of the parts must soak hotlinseed oil and wood fibers to slightly flatten them with a hammer. Since moisture will be absorbed less. To the ends of the processing-painting-processing procedure should be carried out twice before the general assembly of the structure.
No specific standards for manufacturingthe subject of garden furniture is not provided. Holes tsargi marked as required by the logic: the head, the middle part of the outer sidewall of the arc and the foot. Side-bar will be drawn to the sidewalls using SCREW. To do this on the side of doing a preliminary layout, after which the two side walls are aligned, and in their planes drilled through-hole drill 8 mm. For holes in the end of the drawer side using a drill 5 mm. Now you can pull the chair frame using evrovintov.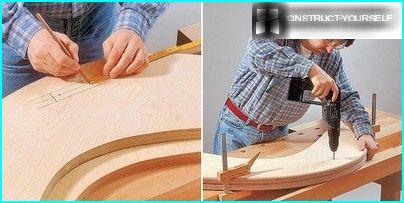 Holes tsargi must first mark, after which the two side walls are folded together and drilled a neat through-holes
Now let's talk about how to drill rods,forming the seat and backrest. They have exactly 35 pieces. Must be drilled in each bar 4 holes (two on each side). This symmetrical holes 140.
We use the "conductor" To simplify the problem -device for marking a large number of homogeneous parts. We make it very simple: take a scrap of the same timber, not shorter than 250 mm, drill holes in it for the pattern, the diameter of which must be the same as that of a pencil for marking. With a face and one of the side parts of the "conductor" nailed plywood scraps, which will serve as a limiter, not giving to miss in the markup. "Conductor" is ready.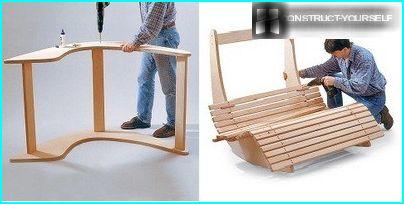 Assembling - the longest and most difficult part of creating a rocking chair. However, the "conductor" will help you facilitate the drilling process symmetrical openings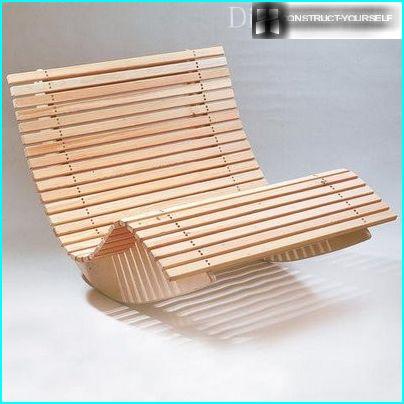 Here is the chair during the final stage of the work. Of course, it still can not operate in this way. It is necessary to take measures to protect it from the weather
"Conductor" will be used for markingholes can not be drilled through it, because the drill holes can be divided into formulaic and details have separate countersink. If we take a countersink drill 3,5h30, will be ready for opening such markings do what is necessary.
Referring to the drawing, between the bars should bea 15 mm gap. To avoid distortions it should be noted on the side of the seat a distance which will correspond to the six bars together with the intermediate intervals and to verify that the thickness of template inserts. If the match can continue to strengthen. Otherwise, the adjustments should be made. Chetyrehmillimetrovy screw on wood perfectly kept evrofanere. But given the fact that the frequency of mounting high, it is best to use a drill trehmillimetrovoe.
The holes on the screws must be carefullyzashpatlevat. Next in line will be processing an antiseptic and three-time coating products waterproof varnish. Work must be very diligently. Remember how in that chair has already invested your labor. After all, you want it served for as long as possible? Then try!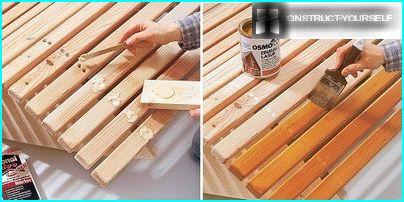 If you have small children, you can attract themto work on the filler hole of the screws, but carefully examine the model you are looking for lesions to remove them you have to yourself
You've probably noticed that allmodels presented above have a common working principle. The trick in that the rocking base used in these curved runners. How to make a rocking chair without rails? It turns out there is such a possibility, too. Watch this video and you'll get an idea of ​​how it's done.