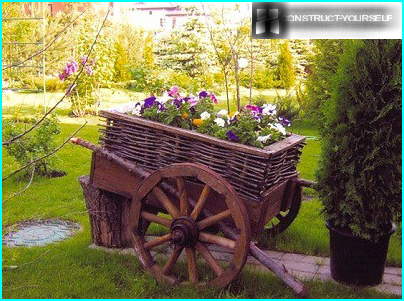 One of the attributes of the garden or recreation areasuburban area - a bench, sitting on which you can read a book alone, or, conversely, to spend a few hours of fun with friends. How to make regular shop was comfortable and at the same time turned into garden decor item? The solution is simple - a bench for the garden made with their own hands. Just own exclusive creations will satisfy personal aesthetic needs.
Content
Before you do a sketch or drawingproducts, it is necessary to consider the place of installation. It depends on material and workmanship. For example, in the old garden with large trees branching looks good wooden bench in the forged frame (as an option - the product of a log on a stone base), and the young garden - light, even delicate shop in the romantic style.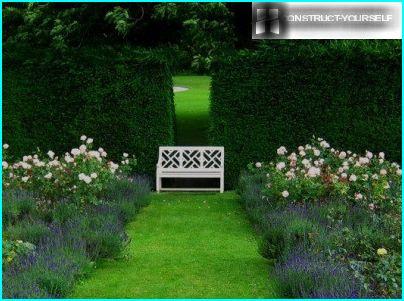 A small bench white contrast stands out against the dark green hedges
If it is placed in a quiet nook nearor pond surrounded by blossoming flower beds, it is a great place of solitude and rest, where you can spend a few pleasant minutes alone with him after work, "warm-up" in the beds.
Old brick wall, bench of ashen tree and flowers look mysterious and romantic
Most benches are an integral partporches, arbors, summer picnic grounds. In this case, there should be several products matured in the same style. One example - garden table with two benches on both sides, followed by a summer evening you can arrange a tea party or a family fight in board games.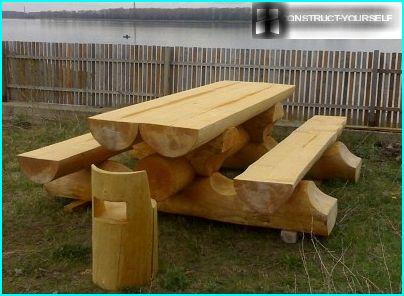 Deliberately rude and comfortable wooden structure - a table, two benches and armchair
Better bench set so that aIt is not a view on the neighbor's fence or garage, and in the body of water, a flower bed or garden. Surrounding the picture should be pleasing to the eye and not be reminded of the need to fill a car or to update the paint on the gazebo. It is also appropriate to place benches in the playground, pool, near the main entrance to the house.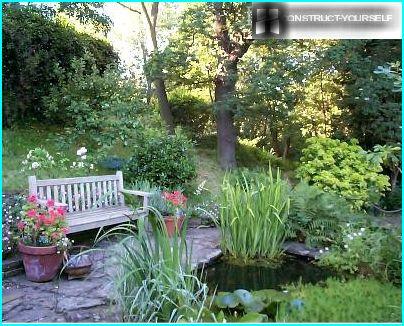 Bench at the pond surrounded by flowers and greenery - the perfect place for rest and reflection
One of the best places - in the garden, around the beds. It is better if the bench will stand in the shade, for example, under a spreading crown of the tree or under the canopy, as it is designed to rest from physical labor - digging, weeding, watering and harvesting.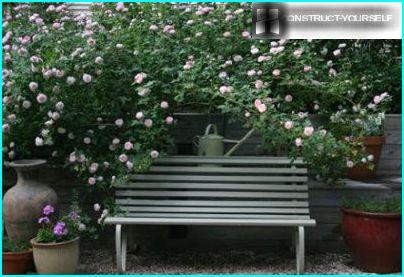 Rest in the shade of a flowering bush - a real pleasure
You can think about decorative frame: garden bench, made with his own hands, looks good in an environment of low flowering bushes, specially arranged flower beds, on a small hill or at the site of a natural stone or paving slabs.
First, you need to take a piece of paper andmake a sketch or drawing of the intended product. Even at this stage, questions may arise: what is the optimal height or how many feet should be at the bench? There are general standards that should be followed during the preparation of the scheme:
400 mm - 500 mm - seat height;
500 mm - 550 mm - the width of the seat;
350 mm - 500 mm - the height of the backrest.
If the plans to create a product with a back, it should bedetermine for themselves how the rest will be attached to the seat. Depending on whether or not the portable bench, leg planned: at literal products they are fixed firmly in the ground.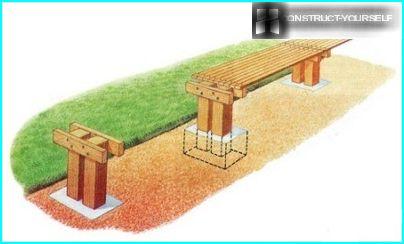 Feet bench fix is ​​simple: you need to dig a hole the right size and fill them with cement mortar, down to the wooden parts
In the drawing, you can estimate how many needmaterial to work with. Usually, this kind of product takes a minimum of financial investment: the country is always a lot of wooden pieces left over from the construction of a house or a bath, fasteners (screws, nails, screws, staples), paint formulations for the treatment of wood.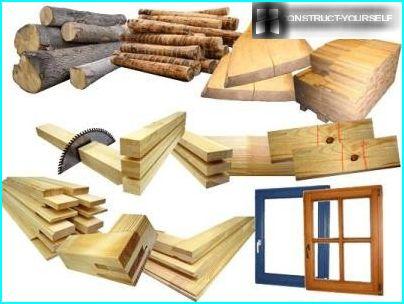 If you collect the remains of wooden products and pieces from all over the garden, you can come up with an unusual model
There exists in the back and a necessary tool. If the basic material for the production will be wood, should be prepared: planer, saw, jig saw, hammer, sandpaper, tape measure and pencil.
You never go wrong by choosing to run a tree -soft, malleable in the processing and at the same time durable, able to serve more than a dozen years of material. Because wood can create the elements of various shapes and sizes, curly inserts, volume and miniature details.
If you are having difficulties with the preparation of the sketch, you can use ready-made drawing of garden benches.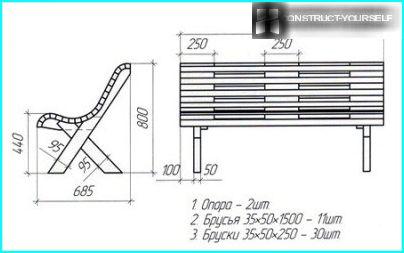 All parts are cut according to the size of the drawing
This traditional bench for urban parks,Similar items can be found at River Station, near the theaters or shopping centers - in those places where it is necessary to spend some time waiting. The advantage of this option - ease of preparation details and quick assembly. For thick boards for the required support (3 large and 3 smaller ones), bars or boards for seat and back.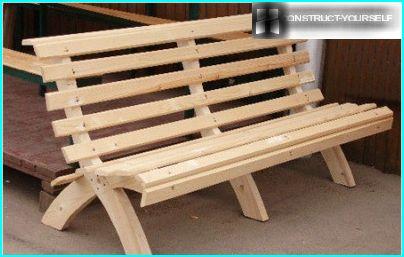 Color of items can be changed using the impregnation varnish or a darker shade
This model is portable - it alwaysIt can be rearranged for another, more convenient location. That she always stood straight and does not wobble when installing supports necessary to monitor the exact location of the parts - even a small mismatch will cause misalignment of the product.
At the end of - and this applies to any product ofwood, located on the street - all wooden parts to be treated specially impregnated against mold or varnish also contains protective components. Treated wood moisture can not be longer serves as a new look for a long time.
Article on the subject: Overview for the protection of wood against moisture, fire, insects and rot
This option is more thorough than the previous one. Bench with rectangular seat and a backrest looks great against the backdrop of a house built out of any material - wood, brick, stone.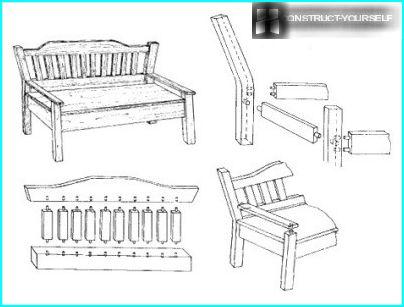 Assembly diagram armrests and backrest bench in classic style
For variety, you can change the color, chooseshade closer dacha buildings. The back of a bench - a real find for fans to dream up and implement their ideas in the wood. Straight vertical bars can be replaced by strips arranged crosswise.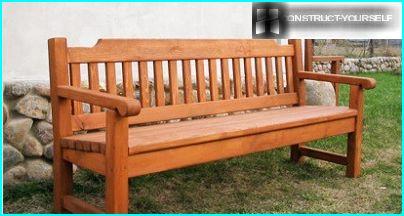 On this bench can easily fit a few people
The upper horizontal bar would be niceI am looking to see if its cover delicate carvings or colorful ornaments. The armrests and legs may also be figured - but it all depends on the willingness and skill to master. To make such a bench to give, take just a few nights, and enjoy your holiday on it can be more than one year.
Garden kit for families consists of comfortable tables and two fixed benches.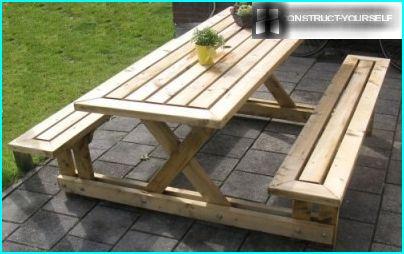 Convenient and practical table with a couple of benches useful for all the cottage
All major parts (table, benches) are collected separately, and then assembled into a single unit with the 4 lower bars - 2 on each side.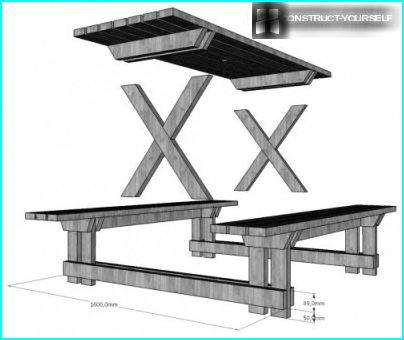 The circuit assembly of the entire set
The table is a table top with legs mounted crosswise.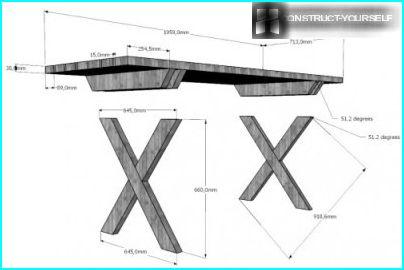 Driving assembly table
Lavochki easily collected from the boards or bars of different lengths.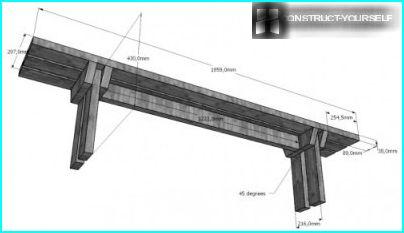 Driving assembly shops
In the last step, first fix the bench - to stabilize the structure, and then - a table, exactly in the middle.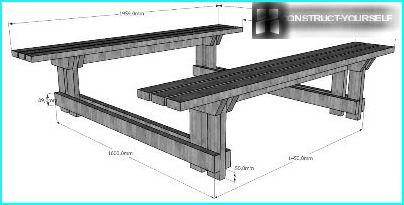 Initial assembly - Connect shops
Simple in appearance, but convenient table becomes a place of gathering of family and friends in the evening - to communicate, afternoon tea, relax.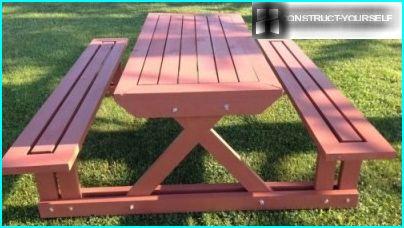 This table with benches can be placed directly on the lawn
More detailed drawings and photos of this project can be downloaded here.
Wood - a traditional "warm" materialmanufacture of benches, so products made of it so different. Instead of bars can be machined to take the natural material of natural forms - and in front of us is not just a bench and a real masterpiece.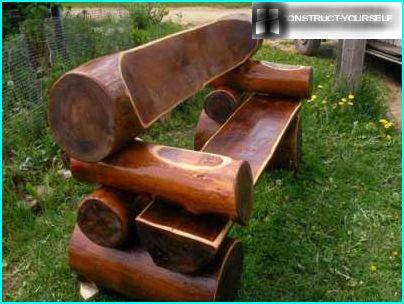 The original bench is made of large pieces of sawn and processed timber
It turns out, there are stone benches, buttheir value rather than for functionality and aesthetics for. Sit on a stone product would be desirable only in the warm season, but you can admire it constantly.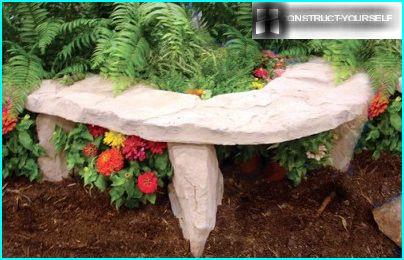 A small stone bench blends harmoniously with the floral landscape
Refined and elegant look forged products, but to create a bench for the garden of his metal hands can only be a professional blacksmith.
Wrought iron bench among violent raznotsvetya looked more than appropriate
It is interesting to look combined benches and benches, built of stone and wood and decorated with objects from textiles - capes, cushions.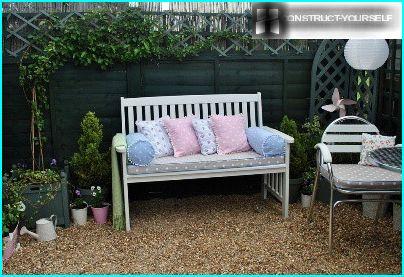 Small pillow in pink and white, neatly laid out on the bench, make a garden area and a cozy home
That is all. We hope that you find for yourself something useful. If you have questions or wishes - you are welcome in the comments.