Paving slabs successfully withstand competition from other types of construction materials for pavements, Parking lots and squares in cities, paths, leisure areas, access roads in suburban areas and in country houses. The demand for it is growing from year to year. Manufacturers are responsive to consumer demands, not limited to the production of traditional types of paving, and bringing to market new varieties with unexpected and very interesting characteristics: rubber and polymer, glowing, and even the tiles with applied three-dimensional image.
The pavement slab managed to maintain its popularity for a number of reasons:
It has excellent performance, this abrasion – and frost resistant material.

She has a long service life.

Styling is quite easy to force the technology used and the accuracy of geometrical shapes. When small amounts of this work can handle almost any.

It is an environmentally friendly material made from natural ingredients. Soil under areas where tiled, remains alive, because the coating does not suppress shrubs and trees – it's moisture – and vapor-permeable.


The market offers a wide selection of shapes, colors, textures, patterns. To build a variety of original design cover – only a question of desire.

Paving affordable. This is its major advantage. Granite paving stone, clinker brick, granite, Sandstone have comparable characteristics, and in some respects superior to tile. However, they are much more expensive.
Paving slabs are produced by way of vibrocompression and vibrolit'ya. The first production method is distinguished by a high level of mechanization and high labor productivity, significant volumes of products. In the production of tiles with method of vibrolit'ya in most enterprises, dominated by manual labor, the product itself is inferior to the characteristics of vibropressed tile, the service life is shorter. However, its advantage lies in the diversity of shapes and colors. Under fragmented production method of vibrolit'ya is not a problem to replace the form and to perform an individual order.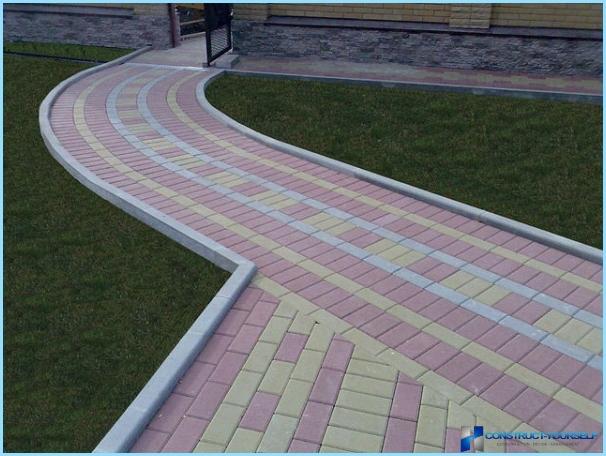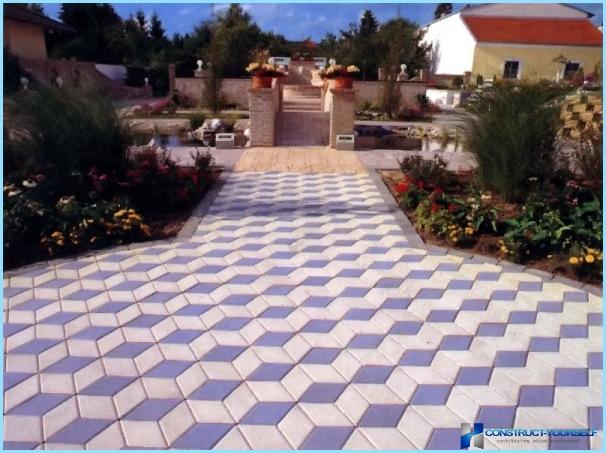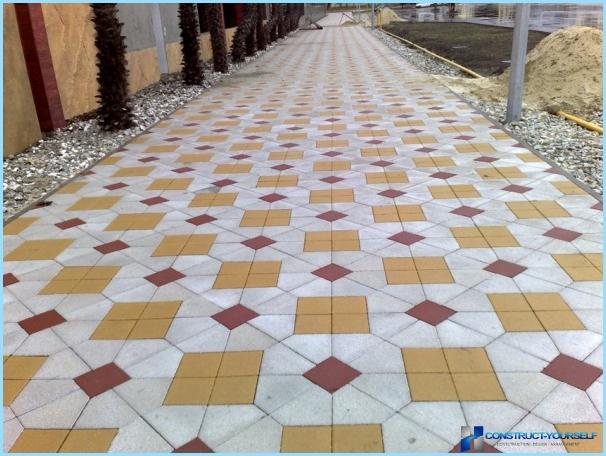 Laying paving slabs on your site, if you have the desire and time to do it yourself. And the lack of experience to compensate for accuracy, the exact observance of technology and the introduction of the creative beginning in the design of recreation areas or paths.
A more complicated issue with production at home. First we need to decide whether you're going to do the tile only for themselves, or will sell it. «Business plans» organization of own production of paving slabs distributed in the Internet, it is very far from reality and do not take into account the most obvious things.
It is important!
For their needs the tile it is advisable to make at home. It is a matter of economy and quality. The fact that the market is very many small producers, who do not stop violations of technology and the use of substandard raw materials. Defects «resurface» after a year or two, when to bring a claim it will be too late, Yes and no. And for yourself, you will try to make the best bar in the world.
A small organization of production of paving only at first glance seems to be very lucrative. And the main issue for you will be sales – the market is oversaturated and the buyer is very selective. Plus (or rather, this is a big minus for your plans) is not a very favorable situation on the suburban real estate market. Weight of finished objects «hung» and not sold. No purchases – no new owners of cottages and country houses that it is urgent to pave the tracks and platforms. Without clear prospects for the implementation of products you are going to release his new production, to start buying equipment and raw materials is hardly appropriate. While you ponder that question, let's talk about equipment for the production of paving tiles with method of vibrolit'ya. For their needs because it is necessary to establish the production process.
For production at home, we need fairly simple equipment and materials for concrete and mortar.
Full set of equipment consists of vibrostanok for pouring and shake-out, thermal imaging cameras and mixers. In practice, often restricted only by the table to fill. It is a metal base frame which carries a sliding table with a vibrator. The working plate table is fitted with springs (such used in the Lada). The vibrating table is necessary – it ensures the sealing and degassing of the solution. No of you will get artificial stone, not thick paving slabs. Shake-out vibrating table is working on the movable frame plate shake-out of finished products. However, you can do without it.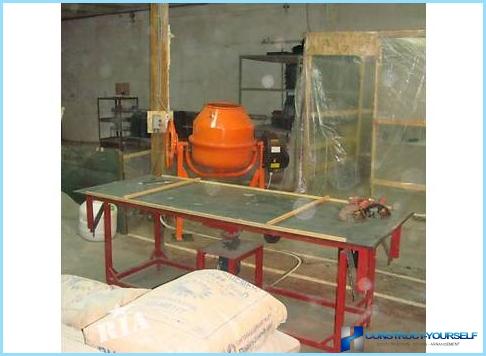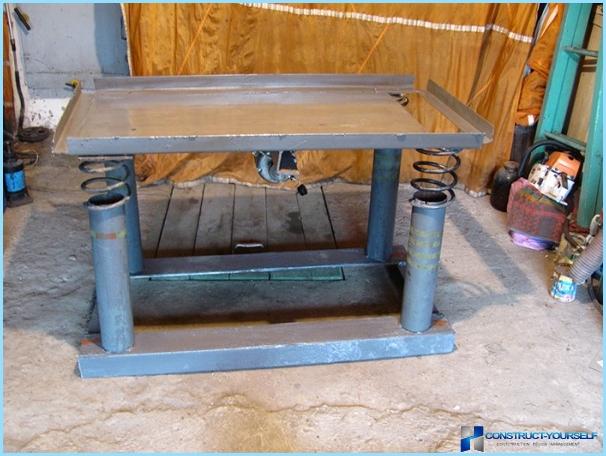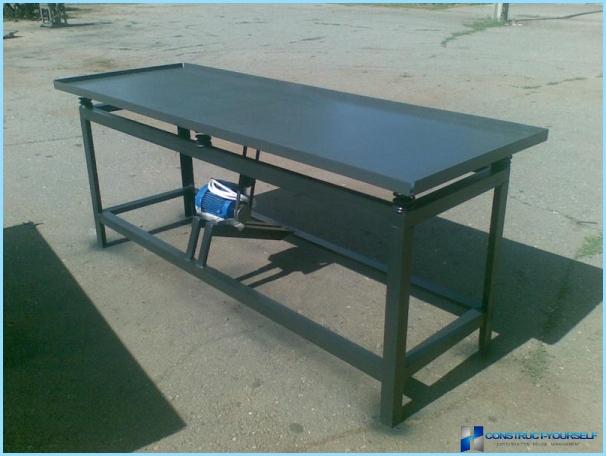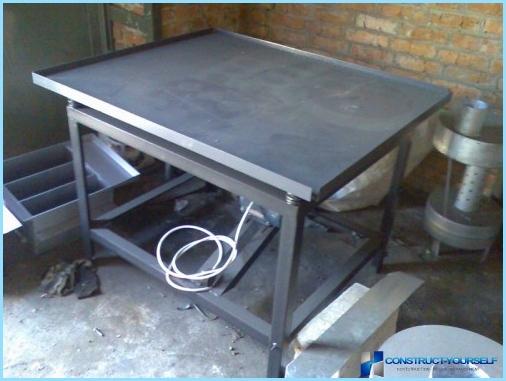 «Canonical» technology of vibrolit'ya involves the use of thermal cameras to reduce the time of solidification of the mixture in a humid environment at elevated temperature. Partly curing time can be shortened by using warm solutions. A heat chamber is sometimes replaced termopanel – capacity, in which by means of heating elements the temperature of the water 70-80°C. in the production for their own needs, the time factor is not crucial. In contrast to the production for sale, when it is necessary to use all opportunities to accelerate turnover forms.
Attention!
For the production of a limited amount of tiles it makes sense to abandon the mixer and limited a powerful punch with machine / whisk.
However, at small production to implement you need at least one mixer. The second will be needed for the manufacture of tiles of different colors.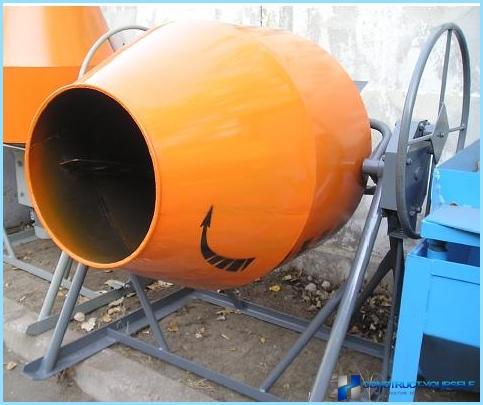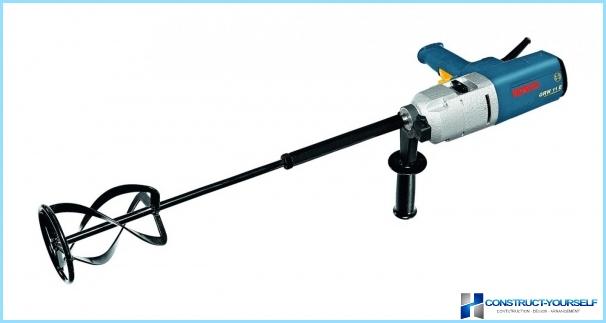 Materials, which are usually made form polypropylene, rubber, and plastics. The rubber form is more durable and can withstand up to 400-450 cycles. Polypropylene can withstand around 100, but they are cheaper and a half times. You will also need molds for the production of curbs.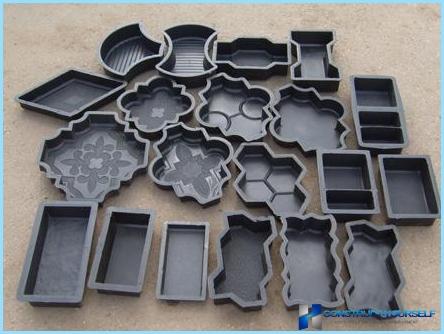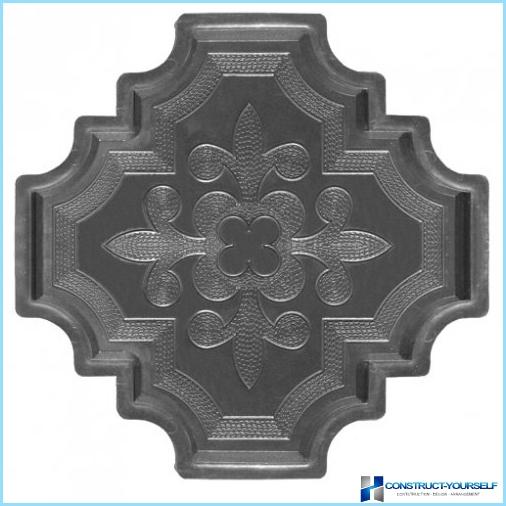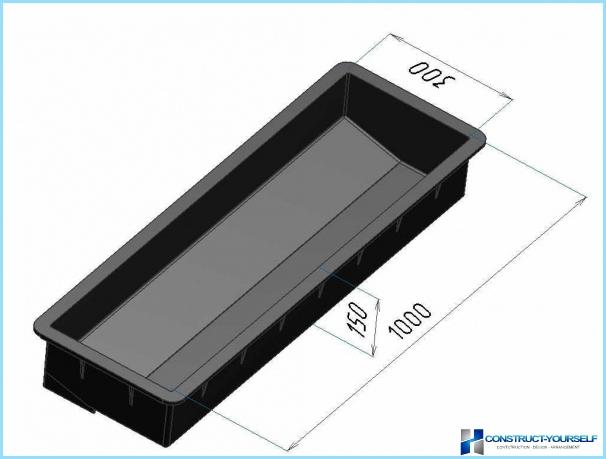 At home, after several test batches, you will determine the best proportions for making solution. Try to start to use the following:
20 kg of cement grade 400.

18 kg of the sifted river sand, fraction 0.6 mm.

50 kg of gravel fraction 10 mm.

70 g of the plasticizer S-3.

16 l of water. With water, do not overdo it, otherwise, greatly reduced the strength of the tiles.
It is based on kneading in the mixer. Check the quality of the solution after the completion of the cycle so the solution needs to be kind of grainy porridge, it can take one movement of the trowel, with the mortar to pieces falls apart. For the production of color production added pigments. One batch will require approximately 0.7 kg of the dye, however, this value should be checked for matching color tones intended to have the finished product.
All components are loaded into the concrete mixer. Please note that the plasticizer, which is purchased in a dry form, should be diluted with water. The pigment is laid in the beginning of the process of mortar mixing.
Forms are placed on a vibrating table and pre-lubricated with a special compound so they will not be damaged when removing tiles (with Stripping) is Easier and faster to grease the form of spray aerosol. After mixing, a vibrating table is switched on and the solution is poured into molds. For about 4-5 minutes, starting from the date of filling of forms, there is a seal and degassing of the solution. Look for the appearance of the foam and not allow the resulting foam to settle. It is a signal that the solution is ready. Turned, the part will start to delaminate. Further, the engine of off and forms are sent to dry.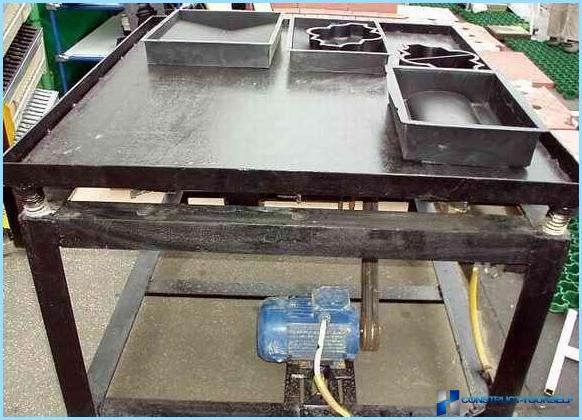 It is very important!
You want to carefully monitor that forms on drying was in a horizontal position. Otherwise you will get a defective batch of tiles that you can use for other purposes will not succeed.
For storage convenient to use a normal wooden pallets.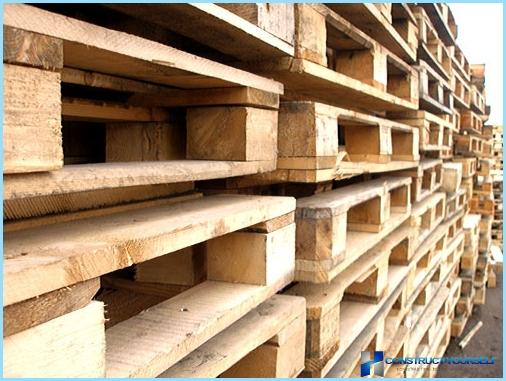 The mixture will be dry at least a day. This is largely dependent on the temperature and humidity of the environment. After setting the mixture in the form included heaters in the bathroom and heated to 70-80°C water for five minutes put form. This procedure facilitates the extraction (Stripping) of the tile. Extracted products immediately cannot be used, they need at least a week «relax» and to gain strength. Arrange a place under a canopy for aging of finished products during this time.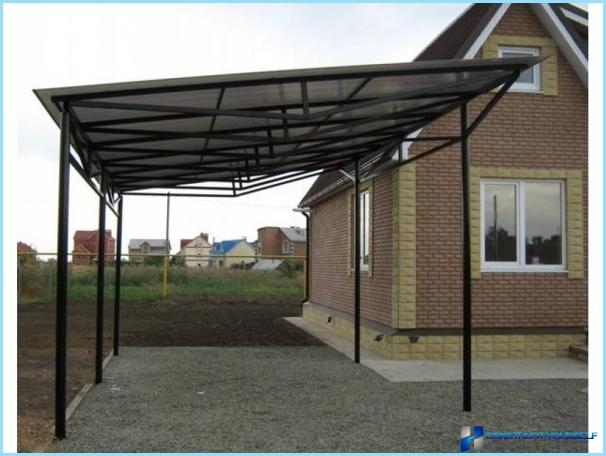 Important! Consider a job done only when you've washed form a brine (a solution of 30 g of salt in one liter of water), rinsed them with water and put to dry.
We considered the process of production of paving slabs method of vibrolit'ya at home. It should be noted that another mode of production – vibropressovoe – is associated with much greater costs for the purchase of equipment primarily to the machine. The vibrating is much more complex and expensive equipment. And termoandes in this case not do, you will need to purchase thermal imaging cameras.
Any difficulties with the manufacture of paving tiles in the home not. In the process of making a trial batch you will be able to master all the subtleties of the technological cycle and to Refine «recipe» solutions for gray and colored tiles.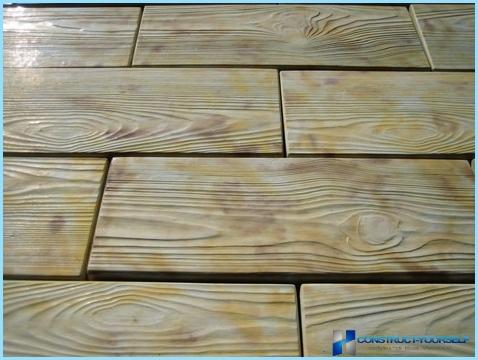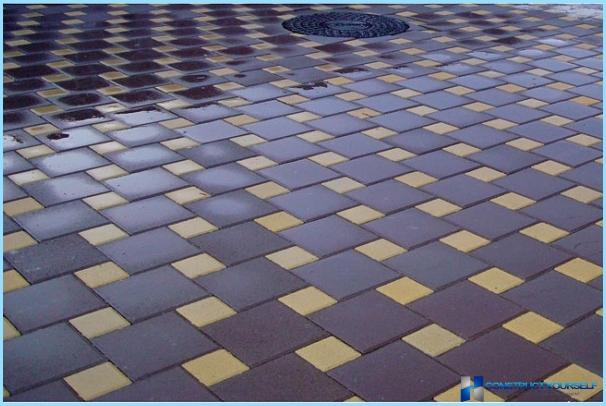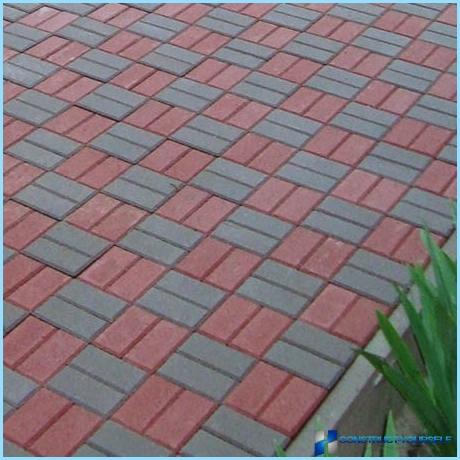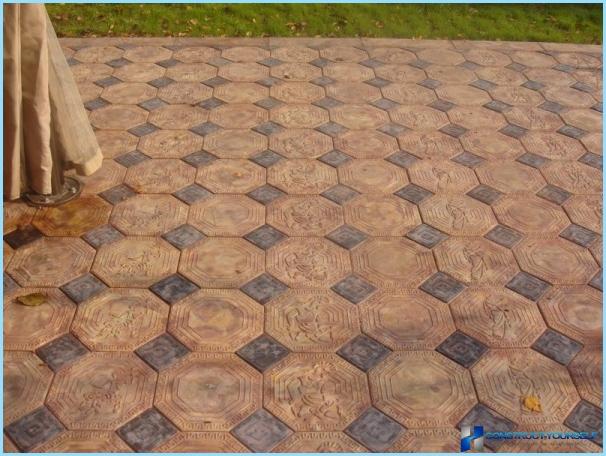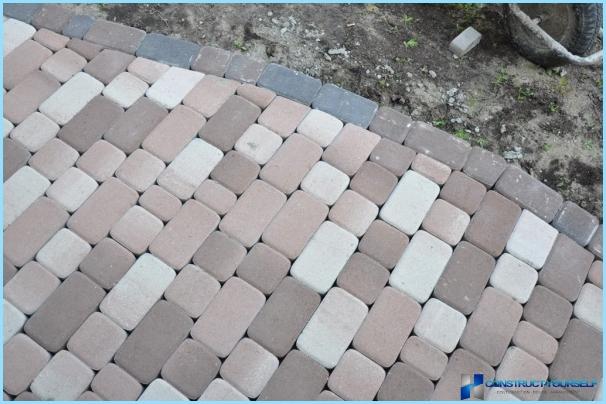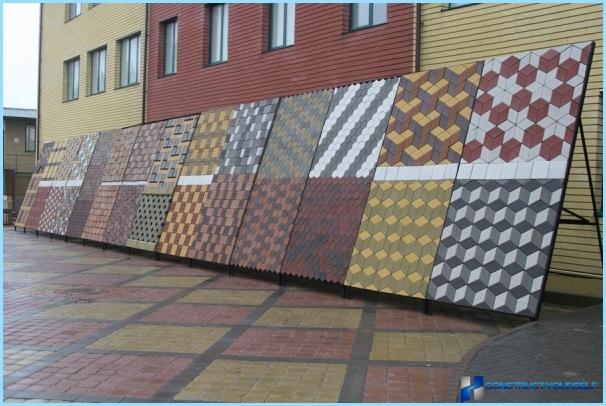 Content related