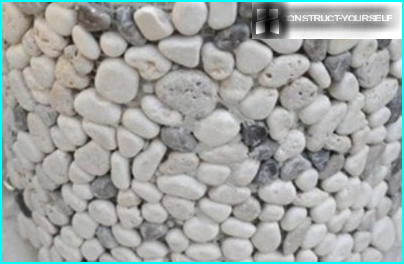 Colorful and bright flower beds of annuals can always fill the garden with rich colors. Annual flowers for garden is good in that they allow every year to create elegant picturesque and unique herbal compositions, which are the brightest ornament of the site. Using annuals each season to update the look of your site, transforming the garden to suit your mood and taste preferences.
The contents
Thanks to the annuals on the site you can create a truly luxurious landscape. Most of the annual flowers form flower beds, modular flowerbeds and mixborders.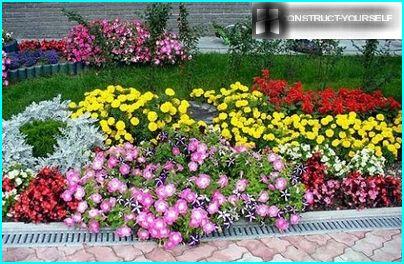 The main advantage of flowering annuals is the ability for just one season to go through the whole cycle of vegetation, pleasing look the fast development and rich flowering throughout the summer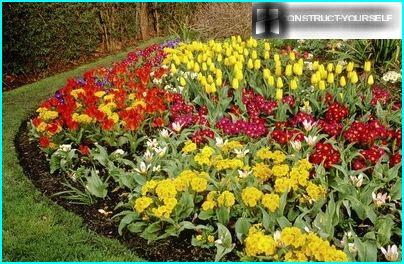 Beds represent plant compositions that have a definite shape and clear boundaries. Mainly flower beds attached to traditional round, square and diamond shape
The ornamental arrangement of flower beds provides the location of elements of the composition in the same plane. The main advantage of these flower beds is their mobility: containers you can always move to more lighted areas, decorating the empty space on the deck, or, alternatively, to decorate the quiet corners in the garden.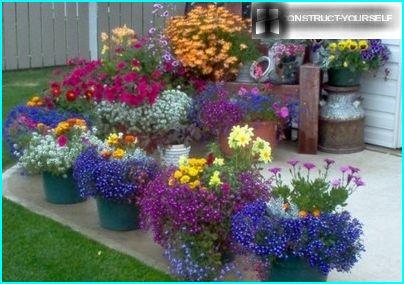 Modular flower beds were a beautiful plant compositions, with the design which used various containers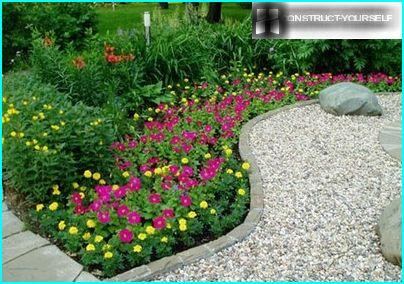 Feature of mixed borders is the selection and location of plants in such a way that as a result, formed a multi-level composition, which replaced the one wither the plants bloom other
Planning to complement a flower garden of perennial plants several varieties of plants, blooming only one season, or wanting to create a flower bed full of annuals, you need to consider a number of factors:
Flowering period. All annual garden flowers are known for long blooming, but still some of them bloom earlier, and others later. Among spring flowering annuals are: pelargonium, begonia, Petunia. Since the beginning of June bloom zinnia, marigolds, marigolds and cornflowers. And until late autumn decoration of the flower beds will be the following: Astra, lavatera, snapdragons and calendula.
Place planting plants. The regeneration of the front garden is perfect short and colorful marigolds, nasturtiums and cornflowers. Spectacular decoration for the fence or wall gazebos can be ornamental sweet peas, morning glory or curly beans. For planting in containers are well suited geranium, begonia, Petunia.
Color palette. By choosing beautiful annual flowers for the garden, each gardener receives a great opportunity to colorize your site in favorite colors.
Annuals – sun plants. In all its glory, they are shown only on the rich, rather moist area, well lit by sunlight.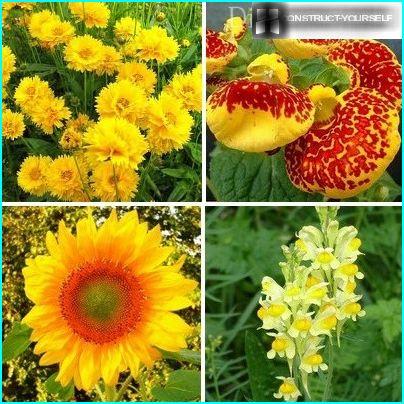 To bring in the lush green garden of bright yellow paint can landed coreopsis, calceolaria, sunflowers and snapdragons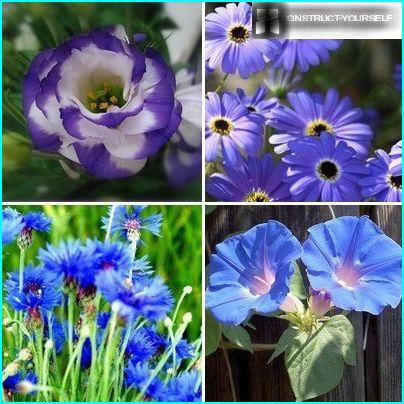 To dilute the composition of blue tones, you landed eustoma Russell, brachicoma americalist, cornflowers or creepers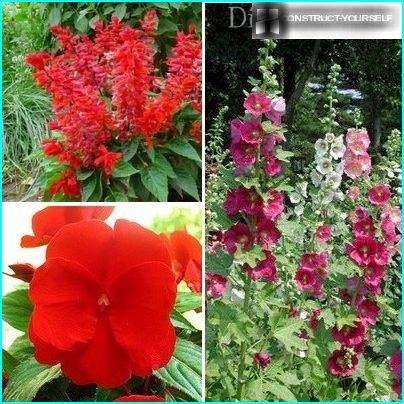 Bright strokes of red color are easy to add with beautiful Salvia, «lights» balsam or Terry «POM-POM» -stem roses
Low-growing annuals, the height of which does not exceed 30 cm, on a background of taller «fellow» always look extremely elegant. Often they are planted as podvorotnya who successfully fill «gaps» between the clipped ornamental shrubs and rose bushes.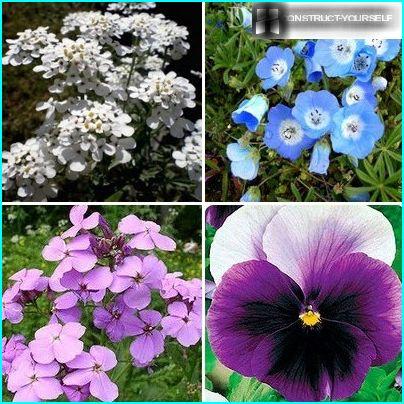 The lowest undemanding annuals blooming all summer – iberis, forming a white «clouds» inflorescences, pale blue nemophila, night violet, with its unique aroma and extremely elegant dwarf viola
Decoration rockery or rock garden will be lush «pillow» of ageratum. Low-growing plant forms dense mats of blooming various shades, ranging from pale white, and finally blue and even deep purple.
Like sunbeams, sparkling Golden tints, from the first day of summer to late autumn, decorate the plot compact clumps of Tagetes with tiny flowers.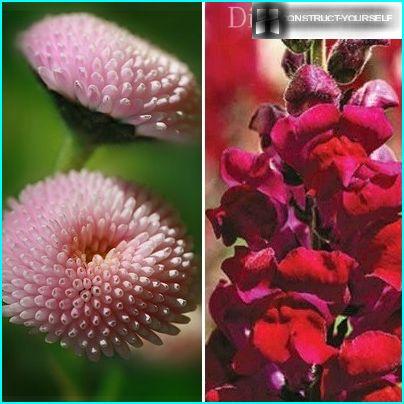 Cute head, tiny daisies, framed by pale green foliage or the flowers of the dwarf varieties of snapdragons adorn the curbs along the garden path
Among the low flowering and picky annuals can highlight and compact varieties of celosia silver, Phlox, Senecio, forget-me-nots, Lobelia.
Flowers up to 80 cm good not only for creating mixed borders and flower beds, they often form the basis of borders, partners and other mixed flowers. Therefore, when selecting plants for the mixed compositions, it is important to select such varieties which will be in harmony with other plants and shapes.
The medium range of annuals is quite extensive, allowing you to create the most incredible floral arrangements that will become a real «the highlight» plot.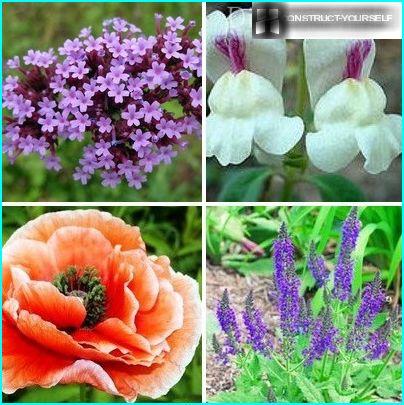 Decoration of flower beds can spherical inflorescences of verbena, oddly-shaped flowers of antirrhinum, al «caps» poppy or weird purplish spikes of Salvia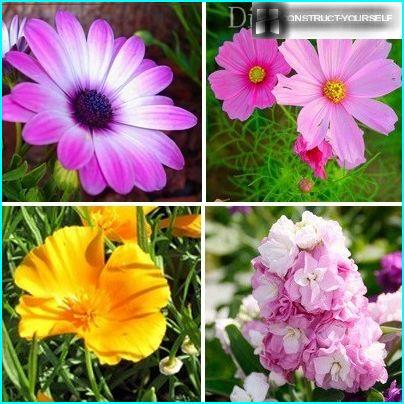 Among medium «fellow», popular among gardeners thanks to the extraordinary beauty and ease of maintenance can be distinguished: dimorphoteca, Cosmo, esally, Mattiolo
When you create a complicated flower-beds of annual plants fill the empty space after otzivi bulbous or free spaces between the conifers. The seeds of these flowers can be sown directly in the ground to a permanent place, but to produce earlier flowering, better to use seedling method.
Tall handsome annuals, reaching a height of 1.5 meters, effectively look like in solitary performance, and in group planting.
Original addition mixborders will serve as an annual Dahlia, Kochia, amaranth, tobacco, sweet and decorative corn. Some varieties of these plants require garters to support, what to consider when choosing a site for planting your favorite plants.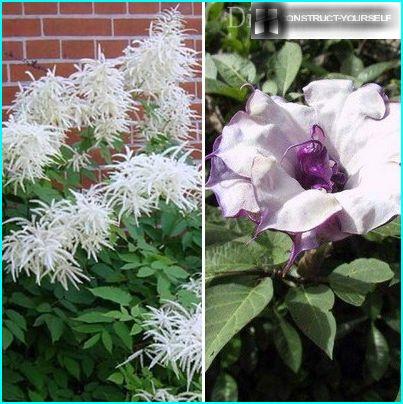 The center of any composition can be: aruncus with white paniculate inflorescences, or the nomination, decorated with white flowers, resembling a bell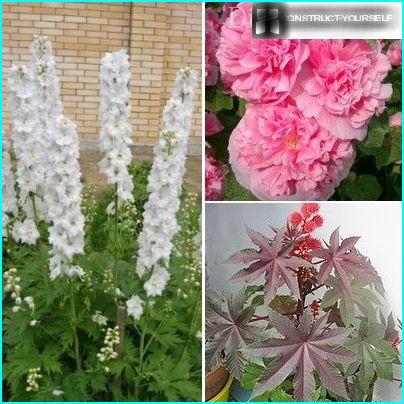 For individual plantings, which are most effectively look against the bright green lawn, the best fit delphinium, castor and annual double varieties of hollyhocks
Tall flowers fill the background in a multi-level flower beds, they decorate the unsightly walls of buildings and are used as hedges.
Among the large family of annuals there are even fast-growing vines, able in just three to four months to decorate the walls of unsightly outbuildings, fences and barriers.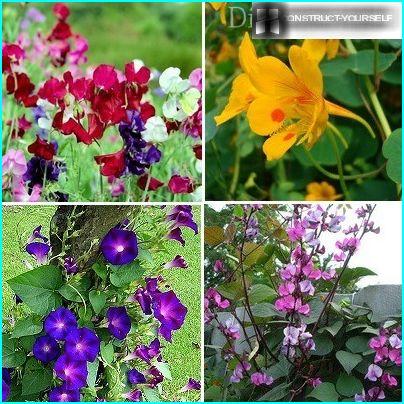 In areas where planted perennial vines that have not had the desired effect, a great help will be planting sweet peas, nasturtiums foreign, Ipomoea or decorative beans
Annuals – a versatile plant for landscaping and decorating the area. Even after cutting its decoration does not lose the breeze, Helichrysum, foxtail, and gomfrena. Fans of Floristics they are used to create winter bouquets.
Content related