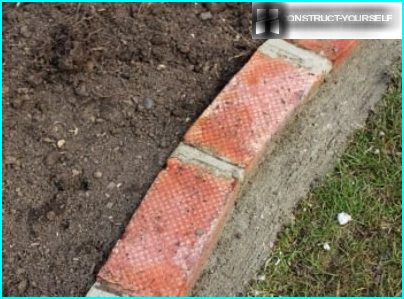 If the family has small children, they just need to equip a play area in the country. Here they will play in the fresh air, giving parents a chance to relax or do their business. And when you are free – you will always be able to join them. Games area in the garden will be much more positive, brighter and more interesting if you use a DIY Playground. There are many ways to make them yourself, which we'll cover in this article.
The contents
For decoration of the Playground do not need to buy expensive garden decor. Done by DIY will allow the plot to be very original. It will be a unique children's area that is only for you and your children.
Make crafts by yourself pleased in all respects material for such creativity are abundant, and absolutely free, it is sufficient to use imagination, creative imagination, and soon you will be able to please their kids. The work must begin with the selection of places that will host the site. Suitable spacious place not far from home, where there are both sun and shade.
Good coverage for the site that will host crafts, sand mound or lawn. You need to monitor the cleanliness of the lawn, among the grass had no glass, sharp stones and sticks that children could play barefoot, and inedible berries. As you know, in the childhood we want to taste everything, especially what looks bright and attractive.
What can be used as raw material?
First of all it is old tires. Currently, used tires are literally given new life – they're used in flower beds, swings and a variety of crafts on the Playground.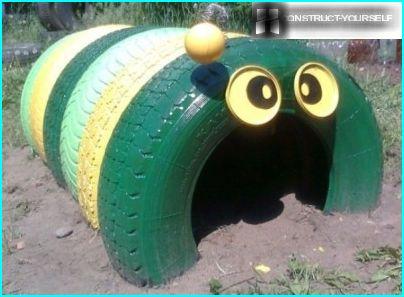 Tires are good because of they can create sports equipment. For example, such a tunnel, make a swing, dig in the ground at a distance, to be able to jump and walk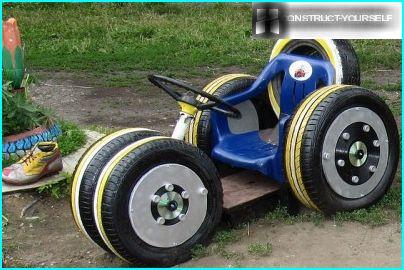 Today, not only boys, but girls are in awe of machines. This gorgeous car can be made from tires and plastic chairs. An easier option is to dig 4 tires into the ground and make a wooden seat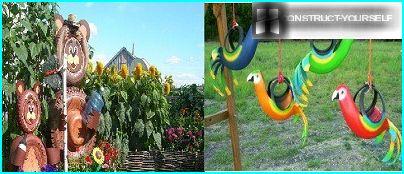 Of tires can create amazing DIY — funny bears (used different size tires, cardboard, old pelvis), bright tropical parrots. When coloring they seem to come alive and transform the Playground into a place of joy and positivity
A tyre before the start of the creative process need to wash and dry. For dead standing in the tyres can walk and jump, you can attach the top boards, paint them, and to make such «climbing frame» even more interesting. From the big tires can make a sandbox, well, the options for creating various figures just do not count.
Plastic bottles are also very common material for Handicrafts. The variety of shapes and sizes allows you to create very interesting things – trees, flowers, figures of insects and animals.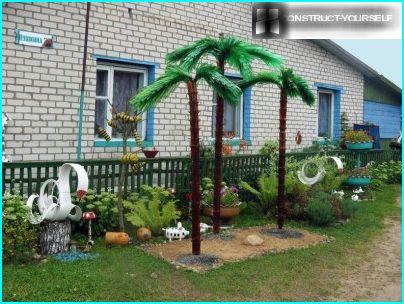 Exotic palm trees will brighten up any landscape, and make them is not difficult. Of a material such as bottles, everywhere. Do not have to adhere to strict instructions, experiment, creating at his tropical area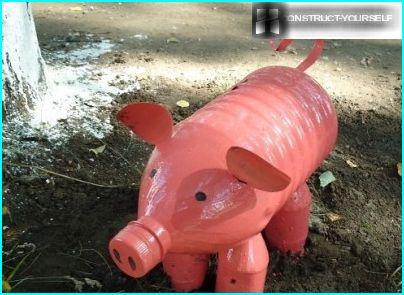 To make such a pig is very simple — use the body of a five-liter bottle, two-liter — for the feet. The lugs of the tail is also cut from plastic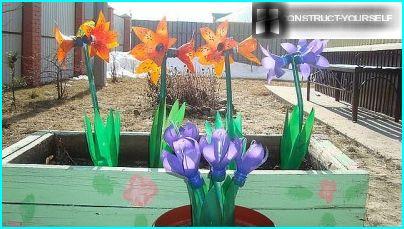 Such a flower will not wither throughout the summer. Flowers — bottle carved in the shape of lilies and bells, leaves — bottles without a base, cut into 4-6 pieces. Paint them with paint from the remote and install in the right place
These crafts are practical – they are not afraid nor rain, nor scorching sun. To make a palm tree, a bottle cut the bottom and string them to each other, insert a metal rod inside is the base of the palm. To create «crown» use one or more bottles and cut them from the base to the neck for a few bands – this will be the leaves. Then cut part of the cut obliquely, that they resembled in form the hard palm leaves. Insert the neck of the bottle in «trunk». The classic palm trees are brown bottles (the trunk) and green (kr), but to adhere to the classical rules is not necessarily.
Plywood is a great material for the manufacture of flat, brightly colored figures, which will cheer up anyone. On plywood, you can draw anything – their favorite cartoon characters, heroes of movies and books, and then cut the figures and put them in the garden. The composition can be done on a large piece of plywood, it can be used as fence-the delimiter for garden areas.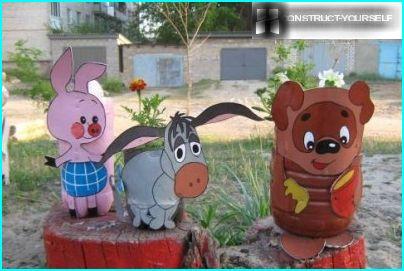 Action figures of favorite cartoon characters are always encouraging. To create Winnie the Pooh is also used five-liter bottle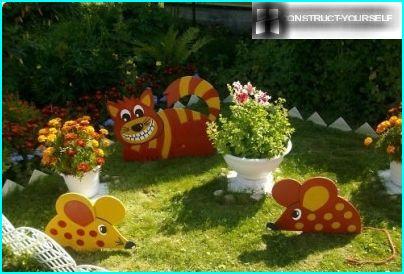 Plywood cat-and-mouse surrounded by vases with flowers, located on the soft lawn is a great place for relaxation and outdoor games for kids
Foam – not too familiar, but interesting material to create Handicrafts. Figures from it like toys, look great and are very popular with the children.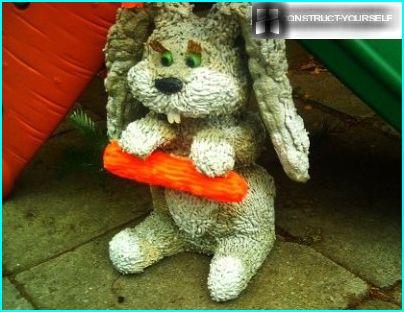 Figures from foam look like ready. The site has a master class on their production, if you're interested, the technique of their manufacture can be mastered
Pebbles – also a suitable material. If you paint the rounded stones in bright colors, you get funny bugs, hedgehogs or other animals, depending on what you will prompt the imagination. Better to paint them with acrylic paints and then cover with a colourless varnish. Look good pictures with a clear outline. First, he is drawn with pencil, then black or white paint. Between the contour lines are plotted colored paint.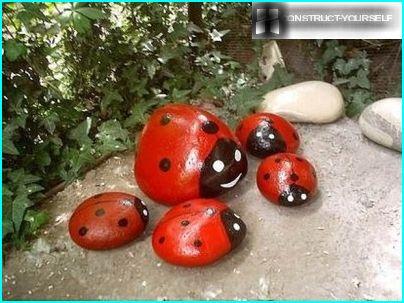 Such a family of ladybugs will add a positive children's corner. To paint the stones under bugs the easiest way — to apply a simple outline drawing, and then used bright, contrasting paint and varnish
You can create interesting crafts made of logs, combining the pieces of wood of different sizes and different lengths. A combination of different materials – tires, logs, tyres and plastic bottles and does not let you get bored, you can make such a Playground, which will be envied by those who have acquired for your garden ready.
You can create interesting lawns or flowerbeds in the shape of animals and insects using as a fence of the bottle. Work together with children, they usually have a completely non-standard interesting ideas.
Funny bed-crocodile — any decor for children's Playground, made from plastic bottles (contour), eye — plywood and plastic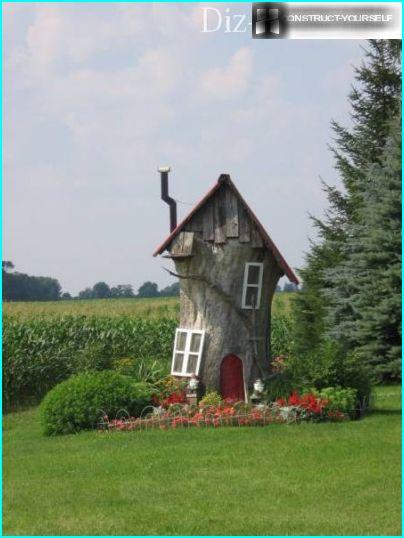 If the area was an old tree which you cut down, do not rush to get rid of the stump. It is possible to make here such a great house with door, roof and Windows. It not only delight children but also be a beautiful décor for the area
Zebra made of logs and tyres, the mane is made of plastic. It and sports equipment, and a home-made garden decor at the same time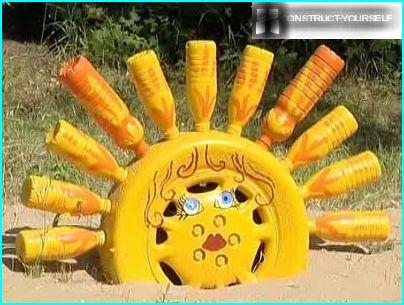 To create the sun, used bottles, plastic and old tire. The composition is very bright, positive, and make it easy. Bottle caps nailed to the rail, then screwed to the bottle — rays ready
If you have any unused after the construction of a house or arranging garden materials – do not rush to throw them away. For example, the colorful pieces of ceramic tile, you can lay the track, the space around the figures, or use pieces of broken tiles for uploading of a mosaic of images of various characters. Draw the path of the contour figures, and then lay it with tiles. If spread on the ground or on sand, this mosaic will be short-lived, but placing the cement mixture creates an image for years. Power trowel the seams after drying, and the result will please you themselves.
Content related