The contents
Depending on the variety, lilies have bowl-shaped, chalmovidnaya, funnel-shaped, tubular or bell-shaped flowers. The height of lilies varies from 0.5 to 2 m. low-growing varieties can be planted as a border, as tall as tapeworms and back garden plan. Lilies are often planted in groups of detached islets of different varieties or combined with other perennials and annuals.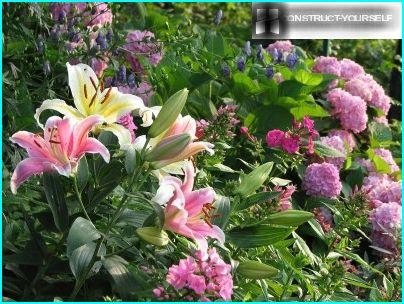 Light pink hydrangea and lilac Phlox formed the backdrop for pink and white lilies
Pink lilies form an expressive tandem with plants that have a spreading large leaves. A good background for the yellow lilies will create rhododendrons, Euonymus, barberry, mahonia. The beauty of the lilies is stronger in combination with evergreen species: junipers, cypresses, thujas.
Tall lilies look great as a background plant and along the fence, delineating the boundaries of the site. As a single planting lilies solitaires win, being placed in the middle of the lawn on the hill. Good Lily and the foreground trees when dense green crown playing the role of the background for Regal flower or small groups of 2-3 lilies. Low-growing species is a highlight of the track beds, with varieties for mixed borders is selected so that to enjoy a Royal bloom flowers all summer and beginning of autumn.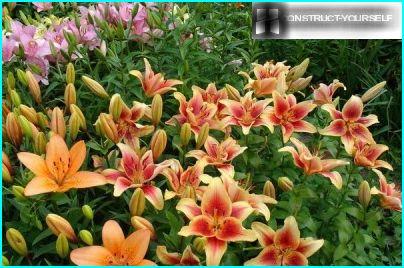 Customized color and size of buds, lilies of different varieties perfectly side by side on a bed
The Lily combined with the peonies and delphiniums, junipers, and ferns, astilbe and alyssum. Lilies are often placed in clumps, given their hue and compatibility with other plants in tone, as well as the form and texture of foliage.
For planting along paths and forming low curbs perfect Lily tubular and its kind of Lily Garrisi a height of 70-80 cm, flowering in July, pure-white inflorescences.
Good for the same purpose white Lily formossa a height of 60-90 cm, with narrow tubular flowers. But the most effectively outline paths, as well as complement the ridges and borders undersized Lily Thunberg height of 50 cm, flowering in may-June, speckled orange flowers.
Another type, is able successfully to issue the lower tier of the flower beds and decorate the rockery, the Lily drooping 40-60 cm high with pink-purple flowers chalmovidnaya.
Due to the expressive form of the inflorescences and erect stems with showy foliage in the landscape design of the Lily is often planted singly and in small groups.
For single planting lilies in the garden are best suited:
Lily Golden. 150 cm mottled White, blooms July-August.
Lily regale. 120 cm, White with purple, blooms June-July.
Lily candidum. 100 see White, blooms July-August.
Lily tiger. 120 cm Red-orange, blooms July-August
Lily chalmova. 150 see Purple, red or yellow, blooms June-July.
In the garden, where everything is subordinated to aesthetic perception, it is important to achieve a harmonious combination of lilies with other plants. To lilies impressive looking in the garden must be planted, obviously imagining how they would look surrounded by other flowers, and trees, shrubs and other decorative elements of landscape design.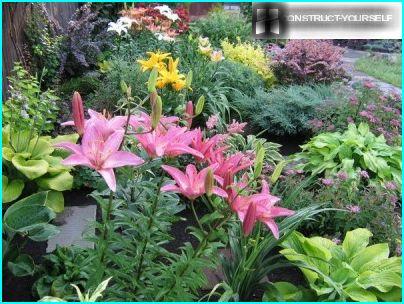 Solid flower bed, consisting of shrubs and evergreen species, is the best background for a bold shape and color of the lilies
Each type of Lily has its own unique decorative and Botanical characteristics that must be considered when creating landscape compositions – the height, size and color of flowers, time and duration of flowering, the nuances of care.
In landscape design a flower garden successfully looks created from lilies of different groups or different varieties of one group planted two or three storeys. Such a multilevel array of lilies looks very impressive. In the foreground is a low-growing varieties of lilies form a lush Mat – they pick up among «Asian women» or LA hybrids, flowering earlier than other types.
It is desirable that the lower tier of the lilies had blossomed first, and then began to blossom medium and high tiers of planting – they are formed from tall or Oriental hybrid lilies.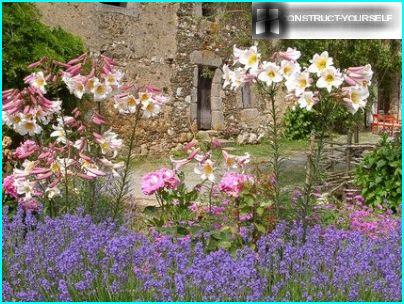 Low types of garden flowers in blue palette will create the best contrast with the white and pink lilies
When planting lilies species groups, it is desirable to divide the tiers of other plants. For planting in front of the lilies are great low-growing conifers, gradually expanding to the sides and covering the soil.
Of all garden flowers best lilies combined with peonies, which bloom before the lilies and lush foliage have high decoration – it serves as a backdrop for Lily, no matter how planted the peonies behind or in front of the lilies.
Before the peonies will be particularly spectacular group of low-growing lilies in combination with groundcover Phlox due to the rotation of blossoming: Phlox in may, peonies in June, lilies in July. Behind the peonies look beautiful high class Oriental and Orienpet hybrids of lilies that bloom in July-August.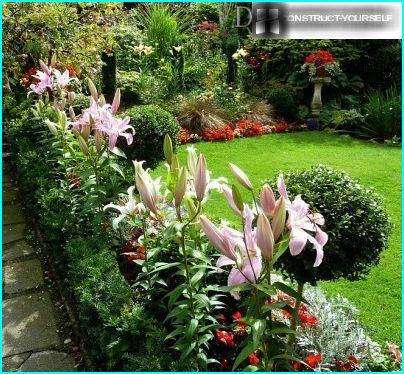 Pale lilac lilies elegantly complement the ridges along the track due to the contrast with the lawn, the emerald and silver green bushes
Not very successfully combine lilies and irises, the leaves of which, after flowering dry up quickly and lose their decorative effect – in this moment irises do not need watering, while the lilies he needed.
Lilies and roses are not the best combination in the flower bed – they are good in landscaping themselves. But, if you still have the desire to put the Queen and the Queen of the garden together, it is advisable to place tall lilies with dark colors behind light bushes of climbing roses. Roses also look good with lilies of identical color.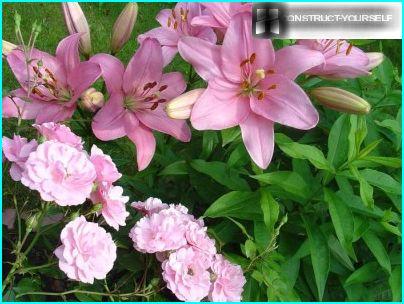 Undersized plain lilies create an aesthetic duet with groundcover or climbing roses of the identical shade
When the rose grows in a single landing, she already is a striking composite spot, so close to the rose Bush lilies are planted in small groups of 3-5 instances, otherwise they will be lost in the background.
Not all Phlox are in harmony with the lilies – sharp blue and violet colors of Phlox paniculata in tandem with a Lily would look too motley. But creeping varieties of Phlox blue or pale purple shade, blooming in early spring, will form a good background for the younger shoots of the lilies. Summer's shiny leathery leaves of Phlox create a unique border in the foreground planting of lilies and winter will serve as a mulch layer.
In the foreground is a planting of lilies very gently look a Bush of iberis height of 10-15 cm, flowering snow-white tidy blooms all year round retaining green foliage, exposed in winter, in the role of mulch for lilies.
Another great option for planting in front of the lilies – alyssum, gradually expanding and forming a beautiful green carpet dotted with small white flowers.
In large landscaped gardens, where the lawn combined with ornamental shrubs and trees, medium -, and low-growing lilies planted in lawns and along paths. Varieties of lilies for lawn landing are selected so that they stood out well against the background of grass due to the bright color – it can be Asian Lily hybrids rich orange or red tones.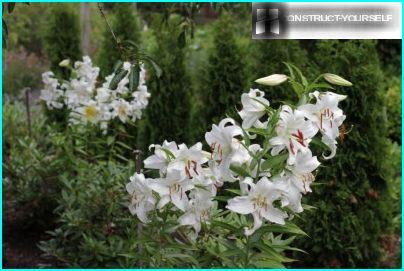 Strict, expressive tandem is obtained by combining white or any other bright colors lilies with evergreen plants and conifers
For borders you can use the low types any color. The impressive Duo of Lily and form a coniferous evergreen shrubs such as juniper. Lilies are planted and the front, and sides of conifers, and if you use a high grade, and behind bushes.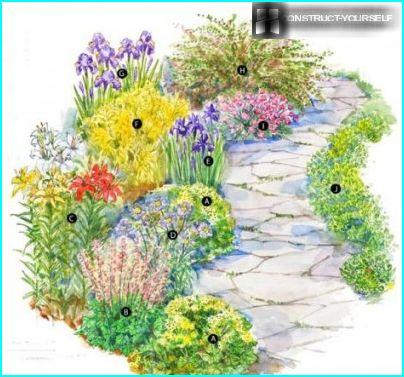 A. Cuff soft (Alchemilla mollis) 2 units B. Geyhera (Heuchera «Champagne Bubbles») 1 PCs C. Lily (Lilium) 3 pieces D. Scabious (Scabiosa «Butterfly Blue») 1 PC E. Siberian iris (Iris sibirica), 3 PCs F. Japanese Spiraea (Spiraea japonica «Goldmound») 1 PCs G. Iris (Iris) 3 PCs H. Thunberg Barberry (Berberis thunbergii) 1 piece I. the seaside Thrift (Armeria maritima), 3 PCs J. Kamchatka Sedum (Sedum kamtschaticum) 9 PCs.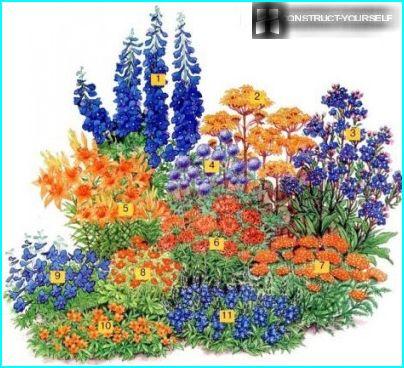 1. The tall delphinium dark blue (Delphinium). 2. Botulinic gear (Ligularia dentata). 3. Anchusa Lazareva (Anchusa azurea) «Loddon Royalist». 4. The ordinary globe-Thistle (Echinops ritro). 5. Lily «Enchantment». 6. Phlox «Citrus» 7. Yarrow (Achillea) «Terracotta». 8. Geum scarlet (coccineum Ceum) «Werner Arends». 9. Dwarf large-flowered Larkspur (Delphinium grandiflorum) «Blauer Zwerg». 10. Tonga cinquefoil (Potentilla tonguei). 11. Broad-leaved Veronica (Veronica teucrium) «Kapitaen».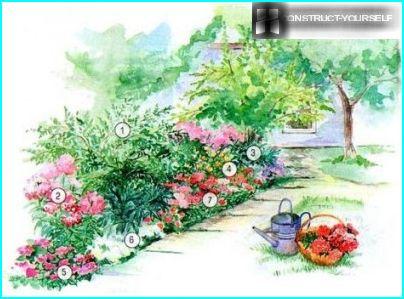 1. Mock Orange (Philadelphus). 2 Phlox paniculata (Phlox paniculata). 3. Hybrid peony (Paeonia x hybr.). 4. Tiger Lily (Lilium tigrinum). 5. Ageratum Mexican (Ageratum houstonianum). 6. Lobularia sea (Lobularia maritima). 7. Carnation Turkish (Dianthus barbatus).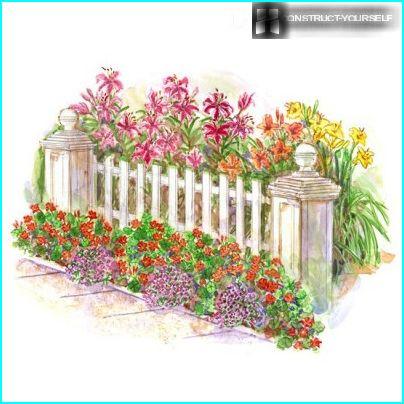 Tall lilies three shades of one species will complement the design of the fence a garden plot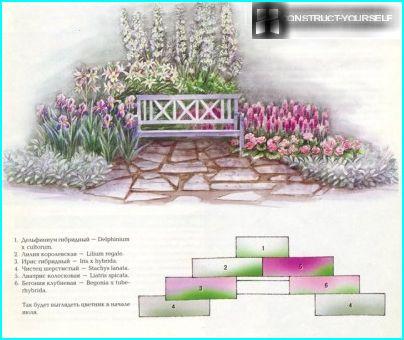 Soft pink lilies in combination with delphinium and irises subtly complement the design of the relaxation areas in the garden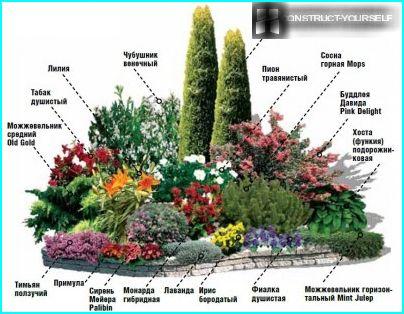 Bright orange lilies will be an expressive accent in the flower bed with conifers and low-growing perennials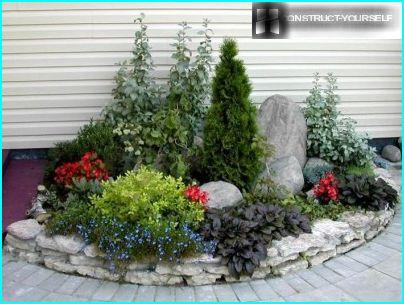 Lily orange color is exotic focal point of a flower bed formed of different varieties of roses
To perfectly fit lilies in landscape design, you must determine whether it is single or group planting – based on the ideas, choose the appropriate variety of lilies: optimal height, size of buds and colors.
There are many varieties of lilies grouped:
Asiatic hybrids of lilies. Height 80-100 cm, flower diameter of about 15 cm Blooming in June, well winter in the open ground, low maintenance. The Asian varieties have a wide range of colors, they varied the height and size of buds – these lilies give room for imagination to create the landscape design of the garden.
Red: Solferino, Red Senseis, Black Out, Black Jack, Hiawatha, Cocktail Twins, Landini, Linda, Matrix, Oline.
White: Navonna, Costa, Annamari Dream Crossover.
Yellow: Top Line, Fata Morgana, Black Spider, Wali San, Vento, Golden Stone, Grand CRU, Graffiti.
Pink: Lollipop, Iowa Rose, Arosa Jewel, Wali NAPA, Vermeer, Delilah, Chianti.
Purple: Double Senseis, Night Flyer, Nettys Pride, Purpl Ay, Purpl Life, Push Off.
Orange: Apricot Pixel, Bullfighting, Loreta, Orange Art, Orange Electrician, Pearl Justin.
Tubular (dlinnozvennye) hybrids lilies. Heat-loving flowers, hibernating under a good shelter, with little buds and delicate flavor: yellow (Deliana), Magenta (devine, Miyabi, Tsirano), white (white elegans, Prime ice, elegant Lady). This culture of hothouse lilies mostly in the open soil it is grown rarely.
The tubular hybrids (longiflorum) and Asiatic lilies (LA hybrids). The tall erect strong stems with beautiful foliage 1-1.3 m Diameter, velvety, upward flowers about 25 cm Blooming in July, are perfectly winter – hardy varieties resistant to disease. LA hybrid lilies are perfect for growing in the open ground, will complement its multicolored landscape garden design.
Red: Fangio Won, Red Planets, Constable, Original Love, Royal Grace, Tomar.
White: Litvin, The Oakland, Ice Crystal,Bright, Diamond, Donatello, Ercolano.
Yellow: Royal Fantasy, Freya, Busseto, Yellow Cocotte, Prominent, Royal Fantasy.
Pink: Cavalese, Turandot, Arbatax, Beyonce, Indian Summerset, Cavalese, Little Kiss, Moselle, Nora, Rodeo.
Purple: Noranda, Sabatini, Samur, Cecil.
Orange: Best Seller, Eremo, Indian Diamond, Kentucky, Supersymmetry Crossing, Orange Cocotte, Fiamma.
Oriental (Oriental hybrids). Powerfully developed greens, a large Bush with a height of 0.8-1.5 m Diameter exotic flowers about 25 cm Blooms in August, do not hibernate (it is better to dig the bulbs and store them in the basement). Oriental lilies — the most spectacular and popular among gardeners, but some competition in the landscape design they begin to make new varieties FROM hybrids, characterized by early flowering.
Red: Distant Drum, Montezuma, The Old Magic, Pico, Stargeyzer, Sumatra, Tigerwoods.
White: Innocent Lady, Rialto, Casablanca, San Glowe, Triumphant, Muscadet, Annika, Double Party, The Legend, Marco Polo.
Yellow: Royal Fantasy, Freya, Anais Anais, Brendans.
Pink: Isabella, Bernini, Josephine, Acapulco, Bergamo, Belonika, Double Surprise.
Purple: Dizzy, Power Gloss, Starfighter, Entertainer.
Hybrids of Asiatic and Oriental lilies (OA hybrids). Diameter upward flowers 18-20, see this new group of hybrids varieties little: yellow (yellow Power, Cauvery, Nanjing, Sleigh crown), pink (Cocopa, red Power, fest, crown elegant crown).
Hybrids of Oriental and tubular varieties of lilies (FROM hybrids or Orienpet). Bush height of 1.5 m. Huge aromatic buds with a diameter of 30 cm is directed to the sides and up. Easy to care for, spend the winter without problems.
Red: Mussati, Ed HART, Of Satisfaccin, Sophie.
White: Boogie Woogie, Jura, Eastern Moon, Coconut, Mr. Cass, Ovation.
Yellow: Gold Class, Yellowin, Katina, Lesotho, Pontiac, Solange, Fifty Fifty.
Pink: Bowmore, Baywatch, Gluwein, Judy Fowles, Donato, Myth.
Purple: Dalian, Judith Saffigna, Life Style, Miss Fairy.
Orange: Morini, Orange Space, Saltarello.
Hybrids tubular Orleans and lilies. The strongest varieties of all types of lilies, resistant to fungal and viral diseases, but in winter, requiring shelter.
White: Upfacing White, Lady Alice, Regale, Regale Album.
Yellow: Upfacing Yellow, Golden Splendor.
Pink: The Pink Upfacing.
Purple: Pink Perfection.
Orange: Upfacing Orange, African Queen.
Martagon hybrids. Chalmovidnaya medium-sized flowers with foliage, arranged in whorls. Durable, hardy, disease-resistant varieties.
Red: Claude SRID.
White: Martagon Album, Chameleon.
Yellow: Slate Morning.
Pink: Russian Morning, Hagberg.
Purple: The Purple Martagon, Maroon King.
A completely new group of lilies LO-hybrids (Oriental plus Longiflorum) with funnel-shaped flowers form: pink (Bellsong, Dolcetto, Pink Neven, Prince promis), white (global beauty, Illusive, white Triumph).
Another new series of lilies, obtained by triple-crossing, — LOO-hybrids, with flowers-shades with a diameter of about 40 cm: white (bright Diamond, Eagle, Nuance polar white Triumph), pink (Dreamweaver, Pink Diamond, Pink Panter, forlana, faith).
In domestic latitudes experienced gardeners are advised to grow these varieties of lilies: regale, Crystal Old Mirostar, Narbonne, Grand GRU. But to enter in landscape design with bright touches, use rare varieties of lilies: red (African Lady, black beauty, Scarlet delight), white (gold bend, Virginale, Speciosum Album), pink (Lankon, Speciosum Rubrum, Lily drooping), orange (Lily David Lily Henry, Lily blue), yellow (canadian Lily, dwarf Lily, Lily Leichtling, Lily Hanson).
The emergence of new varieties and hybrids with rich coloring palette and unique decorative properties allows the lilies to gain a strong position in landscape garden design, decorating its kind flower beds, clumps, borders.
Content related