Pergola is a structure in the form of an arch, which in Italian means a canopy extension. Today it presents a variety of buildings, according to the classics is a number of arches, which are interconnected.
Thanks to the creation of these masterpieces widespread this design got in landscaping. The rich imagination of designers allows you to create such beauty, which it is impossible not to admire.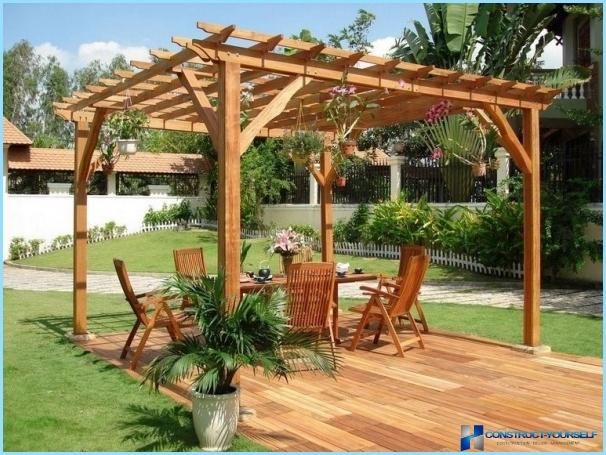 To your attention I want to offer the following photos.
Before you presented the clearest example of pergolas in landscape design. Inspiring? This area in your backyard will allow you to feel the breath of nature or enjoy the aesthetic of relaxation with a Cup of coffee.
Dream of creating such a miracle in your yard or home? Dreams can come true! You can easily try to create a pergola with your own hands.
How is this done? This issue will be given a separate topic. However, it is quite a time-consuming process that will require time and effort.
The main feature of this structure, which will be made personally, is that it is unique in all respects. In this case, you can give free rein to your fantasies.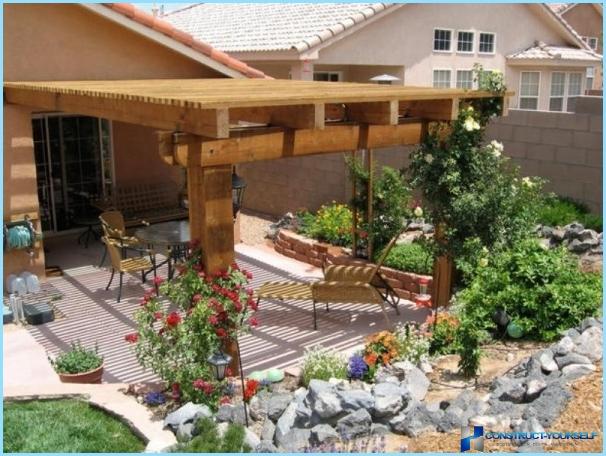 However, before proceeding to the question of how to make a pergola with your own hands, you need to decide on:
the material – wood or metal, since each of them needs proper care (antiseptic treatment or anticorrosion coating);
design – simple and robust gazebo is ideal for a quiet place and rest, awnings and pergolas: to create infrastructure, recreation facilities, open verandas with pergolas – more suitable for business meetings or parties, a long and cumbersome – often found in architectural work;
the size of the design depending on the space of land on which it is installed, because the proportions is the Foundation of your success;
to provide structural strength, if intended to be pergola for grapes or other climbing plants.?
It is important
! Do not neglect these tips, they are time-tested, experience and professionals!
The easiest and most common type of such structures are wooden construction. They represent a number of symmetrical beams, on top of which is attached to the ceiling. This kind of wooden pergola provided the photo below.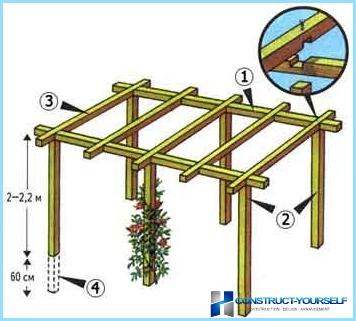 1 – beams which form the roof; 2 – supporting columns; 3 – cross-beam; 4 – concreted Foundation.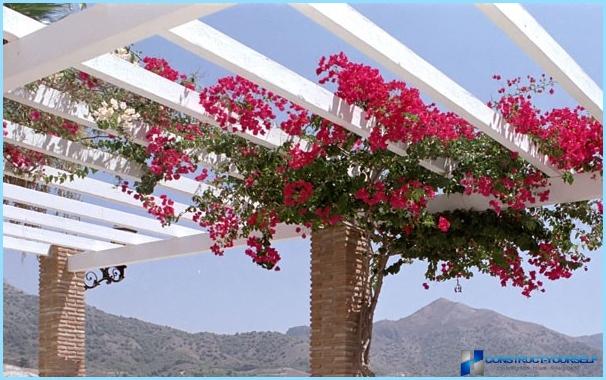 Very impressive look of this design, if you pick beautiful plants for pergolas. Since the upper space in the gazebo of this type is completely open, you can use any climbing plants that are able to please your eyes.
The second option of pergolas and arches of wood to give beveled ends curved upwards. This is because, for mounting transverse beams of the roof using the slots. This design is reminiscent of a gazebo on the East.
Natural and aesthetic appearance are the wooden buildings in the country style with the use of logs of circular cross-section, which between the supports additionally equipped with struts. Pretty simple and the original version of the pergola made of wood is shown in the photo.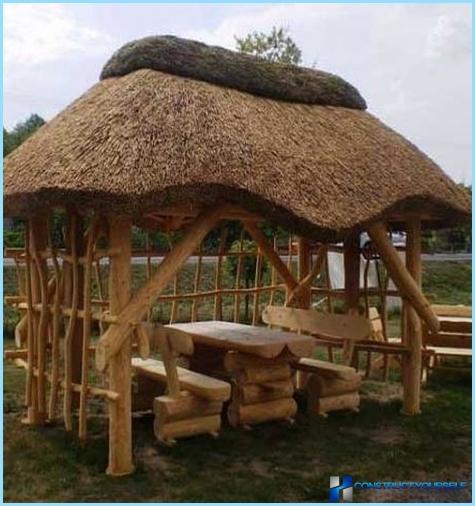 Looks interesting canopy pergola, which serves as a side extension to the house. This is perfect for creating a cosy atmosphere during the tea party.
Great pergola in the garden with photos are given below.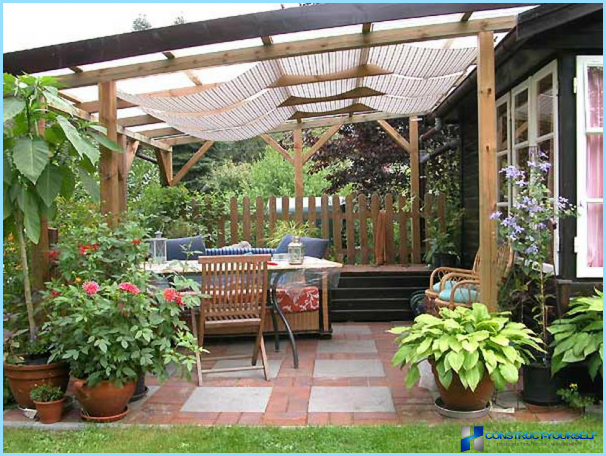 Beautiful and quite exquisite decoration are pergolas and trellises of wood, which is shown in the photo.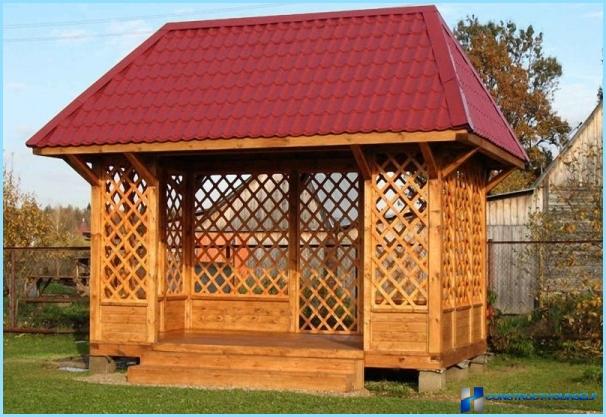 Did not find a suitable option for creating a pergola in the garden? How about a gazebo that can be made in very unusual styles. Then look at the gazebo and pergola for the garden in the photo.
They will be a real decoration of your site, which not only pleases the eye but also will allow you to actively spend your holiday weekend and celebrate the important events in your life.
This gazebo made by hand will surprise your friends and relatives will be pleased. Thus, on a hot summer day you can not only here to escape the sweltering heat, but also to retire with your favourite book.
An ornament to any yard and any path will serve as a arch pergola with trellis that you can seamlessly fit into any landscape design.
For the avid gardeners, who gives tranquility, the extra space, we recommend a pergola for grapes, which is shown in the photo.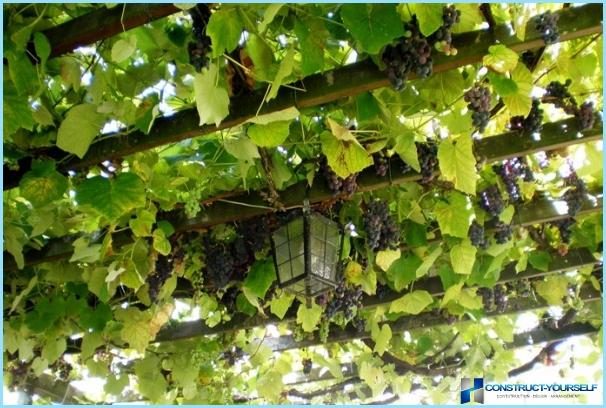 Well, if you are a lover of Oriental art, it is possible to hope that you will like this unusual Japanese pergola, which in the photo below. Elegant roof and lightweight wall will give you serenity and inner peace.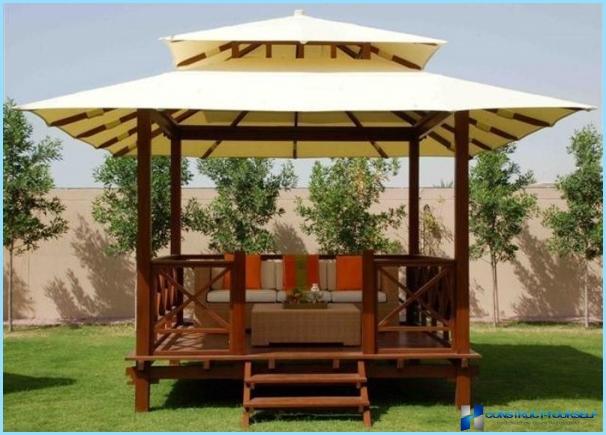 In addition, we also offer the following pergolas in the country, which can also be build with your own hands, see photos. These beautiful gazebos photos will perfectly complement your home, garden and even a vegetable garden.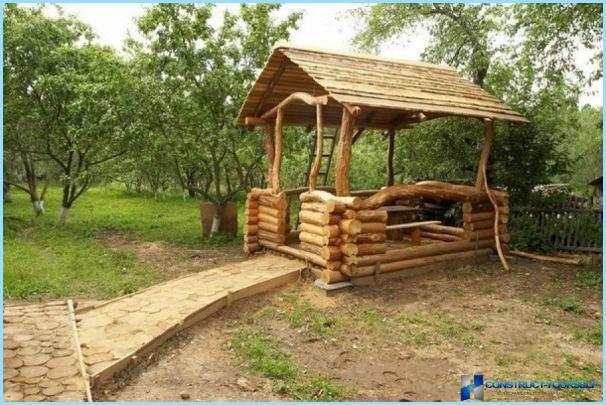 Metal pergolas as pictured are made of pipes of different diameter and size.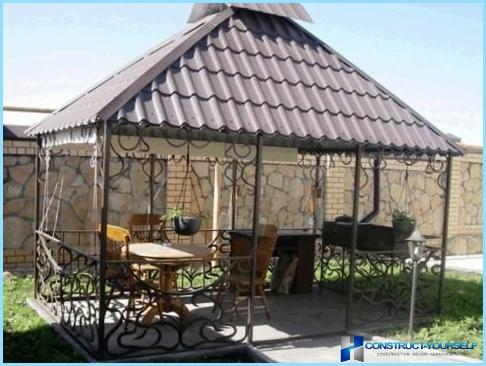 In the manufacture of such structures is taken into account and is composed of the correct proportions. It is very important that its width was somewhat greater than the height. This is a necessary condition for the sustainability of the design. Strength characteristics such gazebo has thanks to connect pipes by welding.
Very nice work, if you decorate the wrought-iron pergola, a Prime example in the photo.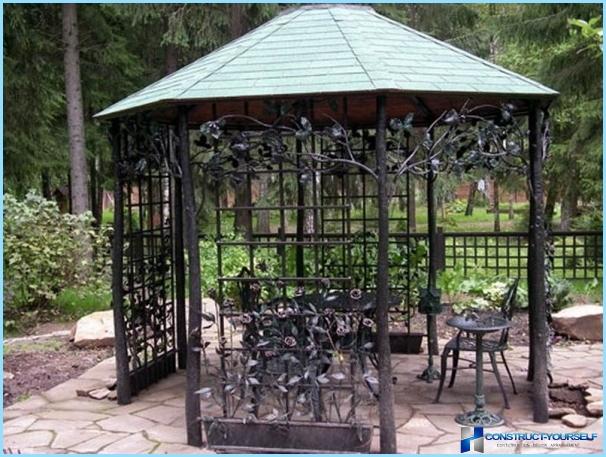 Want to make beautiful and decorating their cottage not only forged designs. In this case, you can go options such as arches and pergolas: to create focus on the path or walking path, pergolas and benches for the allocation of separate areas where you can be alone, and wonderful pergola over the porch – not only decorate your home but will also create a certain kind of welcoming atmosphere.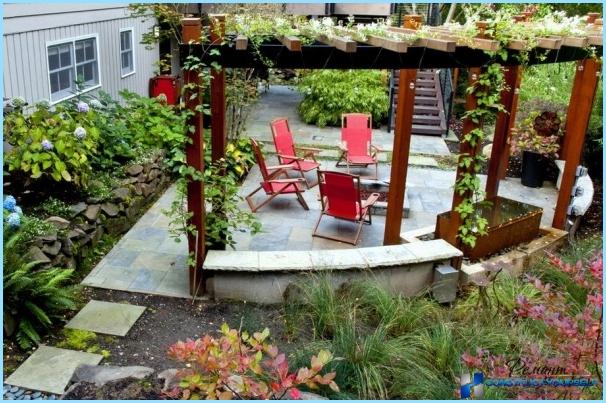 Landscape design in recent years is gaining strong momentum. In truth the creative design and interesting design approach makes increasingly interested in the art form and find new directions of development.
A classic of the genre is an arched design, with the links interconnected and pergola for roses can create a romantic atmosphere and fantastic surroundings. A more practical variant of the classical interpretation of the pergola for the vine.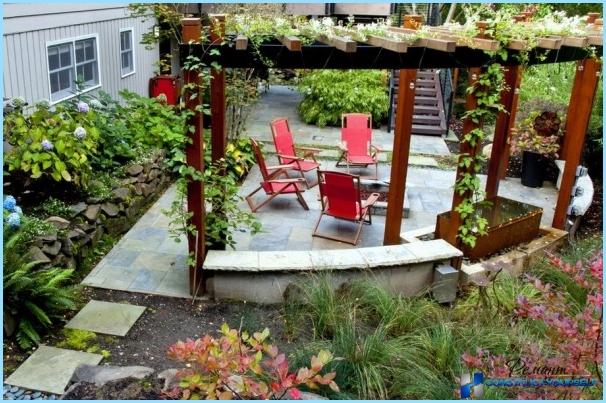 Using the Internet you will find many pictures design classic. However, progress does not stand still and today it is the generalized concept which includes gazebos, roofs, canopies, arches, arch tunnels, etc., etc.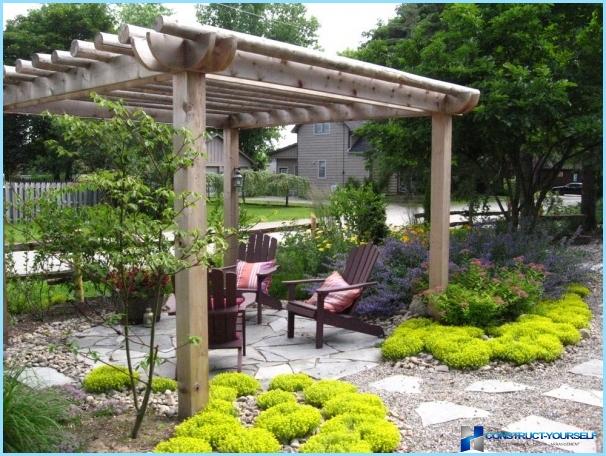 Depending on the functionality that it will perform, you can find various designs of pergolas in landscape design (photo see below).
In this section, your attention will be presented step-by-step instruction of manufacturing of such charms with their hands.
Because in its manufacture of metal and wood are some of the features, so each describe separately.
To build a wooden gazebo-type canopy in the job, follow these steps:
to the wall using anchor bolts at intervals of 0.5 cm are attached vertical bars, pre-calculating the size of the pergola – the height and width;
with U-shaped brackets, which are fixed with galvanized nails to the wall beam, every 0.7 cm and fasten the roof beams;
set and concreted stands for the target layout;
Produced the markup beams, which are designed for roofs, they should be 0.15-0.3 cm over the lateral edges of the gazebo. This is necessary for graceful design;
Additionally it is possible to decorate the design of the transverse beams or struts.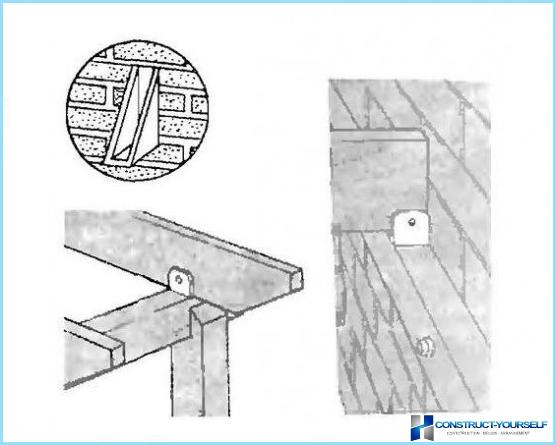 The main stages of construction wooden structures are passed, now the sequence of actions, which must be observed in the installation and manufacture gazebos of metal:
Using the pipes and finished the markings to be cut on the supports, ribs, roof and crossbar.

?

Attention

! Depending on the load of the canvas is selected the diameter of the tubes, this figure can vary on average from 4 to 10 cm.

Before installing all parts are pre-processing – they are painted in the desired color, which further prevents corrosion.
Support structures are concreted or prepared for welding the base (if it is portable design).
The Assembly of the roof, the pipes which are welded and fixed further by bolts.
To secure the pergola are welded to special crossbar.
For scenery you need to put a little more effort. Under our design we select a set of tapestries with the appropriate sizes. In this case, you will be able to visually determine what kind of source material for you. But be sure you need to partition the lattice-type pergola were spaced as in the photo.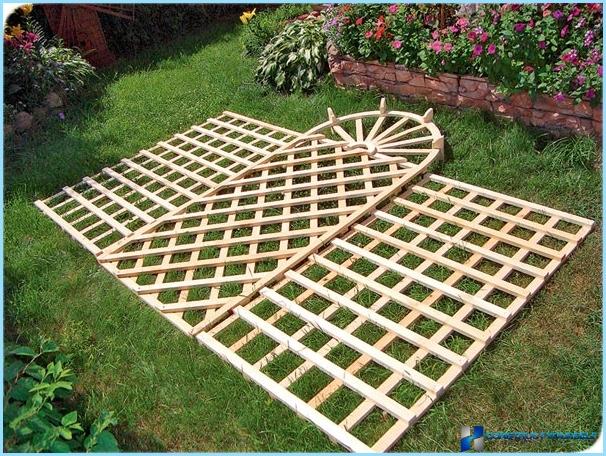 This principle of markup you can use when working with wood gazebos. If you have almost completed work on a metal structure, in this case there are two options for registration: the use of forged items, or the use of wire as a markup.
The following video will familiarize you with the production of industrial furniture:
This step-by-step manual will be your textbook Board. So go ahead and good luck in all your endeavors!
Content related