The ceiling in any room and attracts attention. Moreover, in the main room of the apartment or private home – in the hall. To hide the defects on carelessly repaired surface will not work, because the lighting will be «treacherously» to show them on public display. And the time when our citizens were happy just clean, whitewashed the ceiling, long past.In our everyday life has entered this previously unknown concept of the ceiling design.
What materials can be used for the device of ceilings in the room? Will not talk about the paint that the repair works have segodnyashnaya chalk whitewash. Lower and ceiling polystyrene panels. It's cheap and practical enough material for finishing, but it is unlikely in the case of its application it is possible to talk about beautiful design. In order that the ceiling was «expressive», use other materials for covering plasterboard suspended structures, suspended and stretch ceilings.
It is very important!
The ceiling is decorated in the style must match the design of the hall. It should be remembered that it is an essential part of the interior space, while all of this part of the interior is always in the limelight. Its design can be separated into its functional areas and to visually increase the room.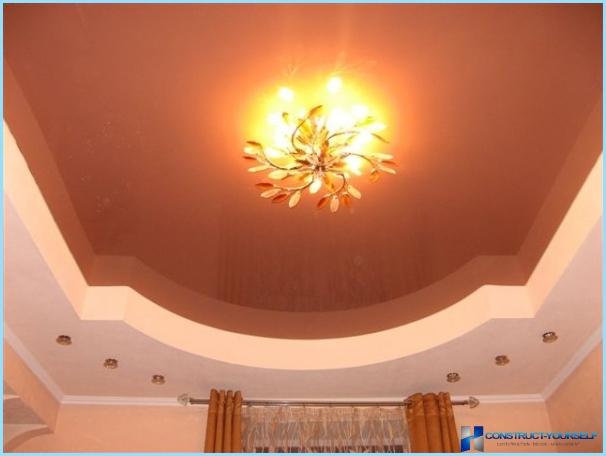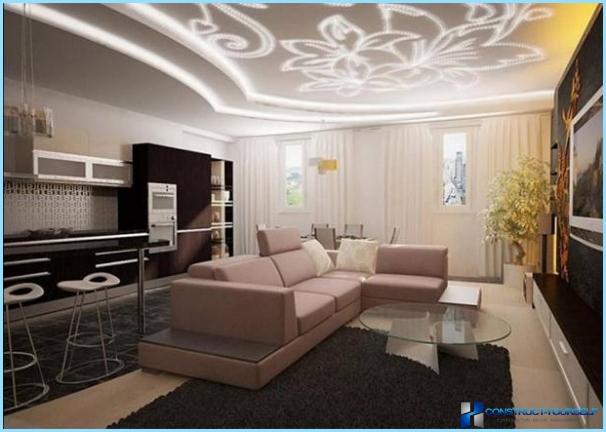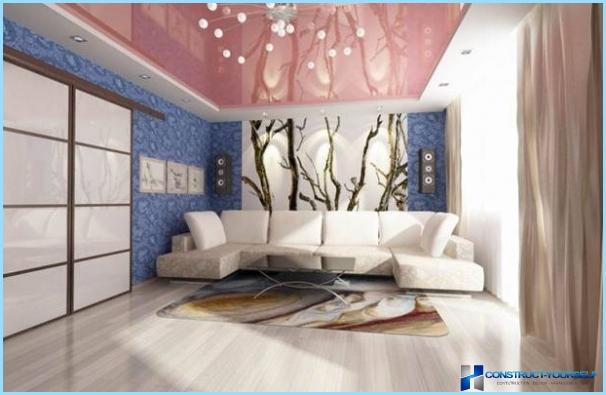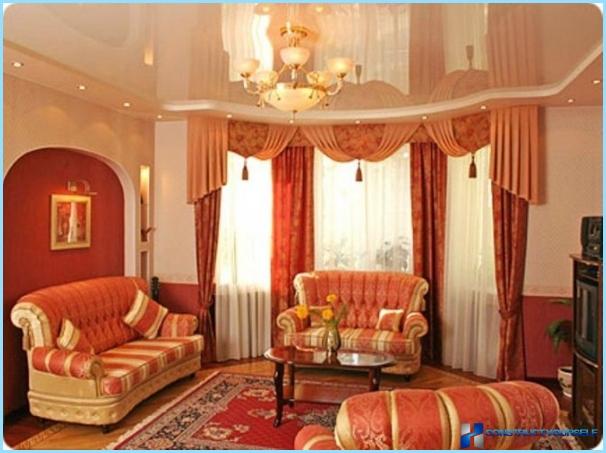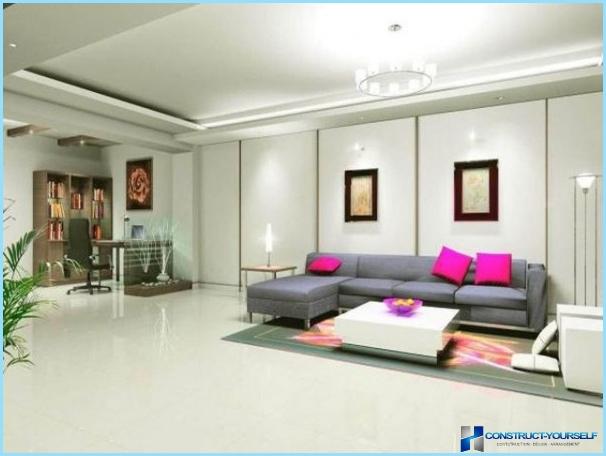 Today suspended construction of plasterboard are frequent guests in our apartments. Such designs have a number of serious advantages:
The ability to create almost any design. Leading manufacturers of worked device technology, multi-level ceilings with curved sections, organized the production of all necessary materials, has released a detailed flow chart indicating the standard expense allowance of materials for each operation process, laid out for public access how-to videos. It is particularly important that the builders have been working with drywall, and installation are going to do well in almost any team of professionals.
However, you can only talk about the relative ease of installation single-level design of the drywall. Complex multi-level structures require special skills and experience. If you yourself will undertake the installation of such a complex design or hire a crew «wagon» from Sunny Central Asian republics, the frustration can be very large.
Ecological purity of the drywall. Drywall is a three-layer structure made of special cardboard around the edges and plaster in the center of this «pie». Apply the drywall in any room where it will not be exposed to moisture.
Practicality and reliability. Installation of suspended ceiling of plasterboard does not require leveling and repair of slab, all defects will be hidden behind the frame.
The possibility of finishing nearly any material: paint, decorative plaster, Wallpaper. Drywall easy to install features, mirrored insert. Ceilings W drywall often combined with stretch ceilings.
Suspended ceiling of plasterboard gives you the ability to covertly carry out any new communications or hide already laid.
The installation of lamps of any type and organize complex combination of the lighting system.In appearance suspended construction of plasterboard is often difficult to distinguish from a matte white stretch ceiling. No different these designs and features. This is one reason that quite often they may be combined together.
Affordable price that contributes to its popularity.
However, the drywall, as any material has its drawbacks:
A hanging cage «eat» not less than 40 mm high in the hall. In rooms with low ceilings using plasterboard is hardly appropriate.
The drywall has moisture resistance (even green – it is intended for use in bathrooms, but without direct contact with water). The flood from the top are guaranteed to lead to the fact that the material is unusable. But you're not every day is filled, and this is an emergency.
Time for the installation of plasterboard structures will require much more than the installation of stretch ceiling. Dust and dirt will be a lot more.
Structurally, they are divided into smooth (have one level) and complex (multi-level).
It is important!
Plasterboard ceilings are complex structures formed by two or more levels can be satisfied in the halls with a height of not less than 2500 mm (with the size of the frame). In the premises, in which the height is less it is better to refuse from such multi-level structures in favor of simple and smooth. Or you can use the following configuration of the ceiling, which will not be much visually reduce the room, for example, when the second level goes only around the perimeter to accommodate the backlight.
Of course, the layered ceiling gives endless possibilities to create an original design and combination of device of the lighting system. This drywall designs few can compete with: the zoning of the hall with various lights and shapes of the ceiling, the combination of different methods of finishing and different colors.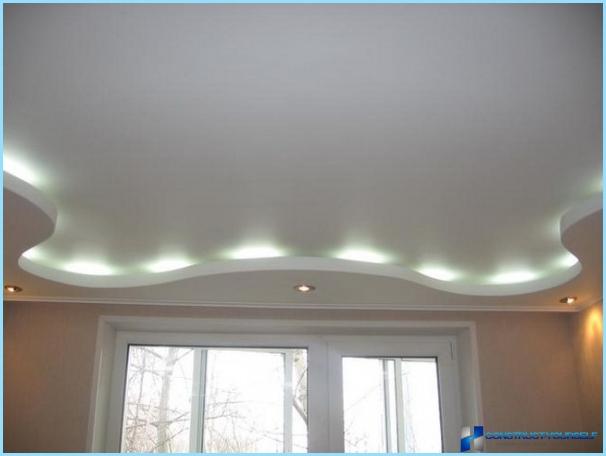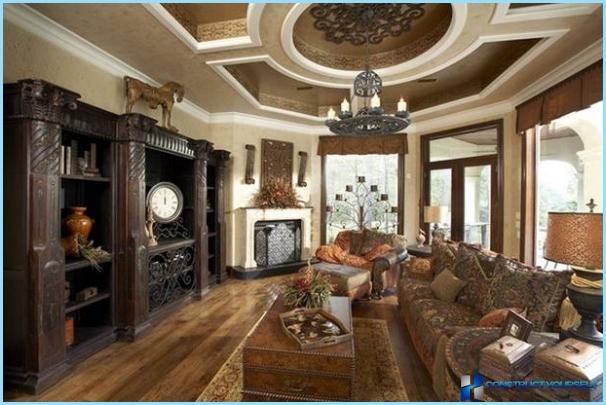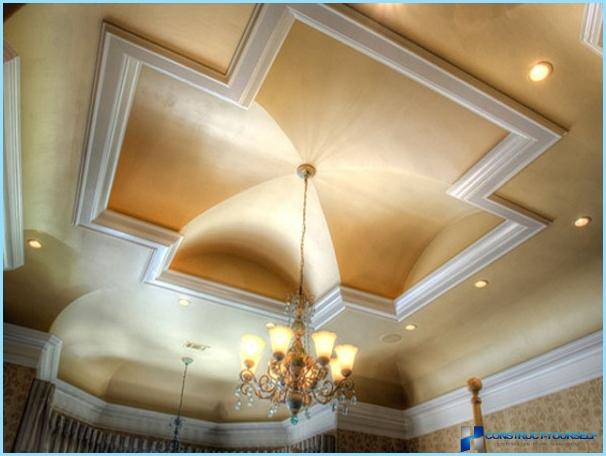 However, the statement about the banality of smooth-level ceiling – obviously an exaggeration. Thoughtful design, quality performance, proper selection of materials will be your helpers in the transformation of this design into an important part of interior design. Using the variety of dressing will make your single-level ceiling is not just smooth and accurate, but will give him its charm.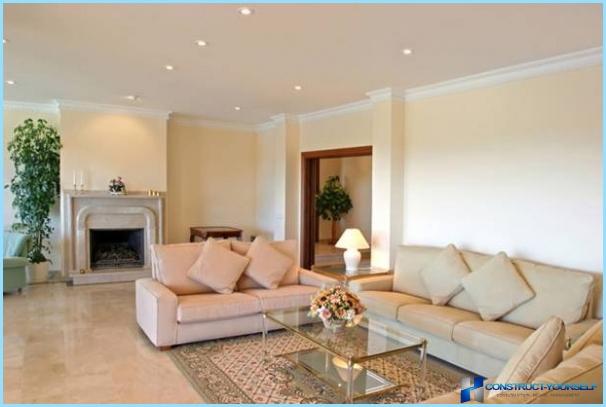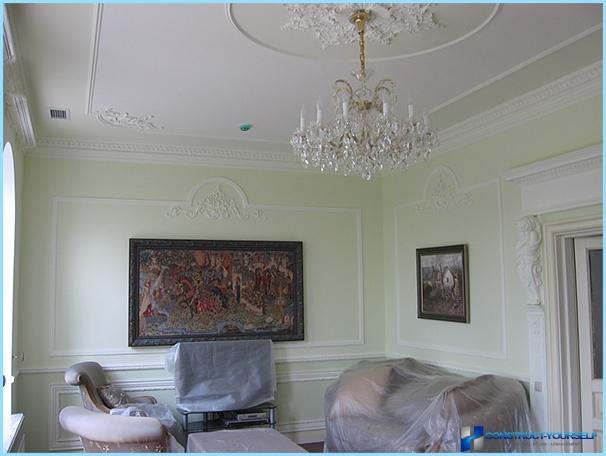 To finish hanging the drywall construction used paint, decorative plaster, mirrored inserts, stucco plaster or polyurethane, and even Wallpaper. Single-level ceiling of plasterboard can be decorated with elements made of polystyrene foam that mimic beams of wood. The result is a two-tier design. For finishing drywall in this embodiment, good decorative plaster.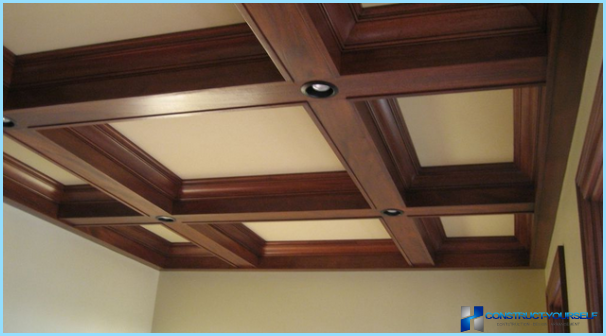 A popular option is the use of suspended ceilings for finishing drywall. This technique is used for two – and multi-level flow of the drywall.
The choice of color scheme depends on the interior space and it is not necessary that this choice was made in favor of white or very light option. You can choose any color, it is important that it harmonize with the color scheme of the room. This choice may be black, but glossy black. Very stylish and even elegant.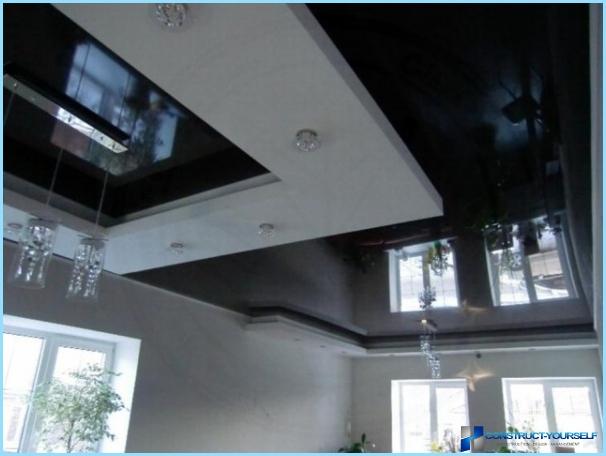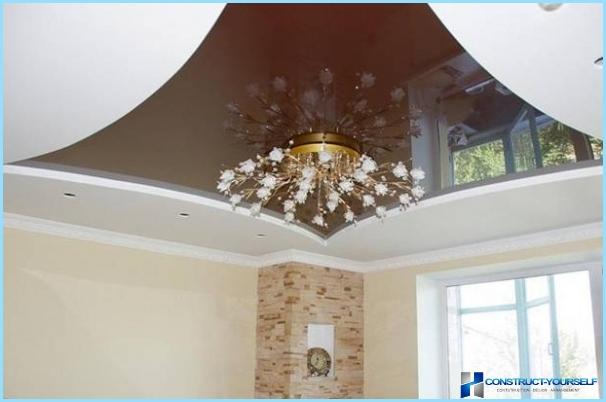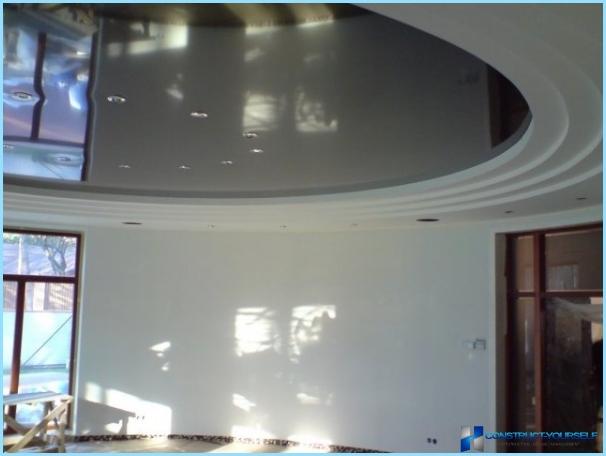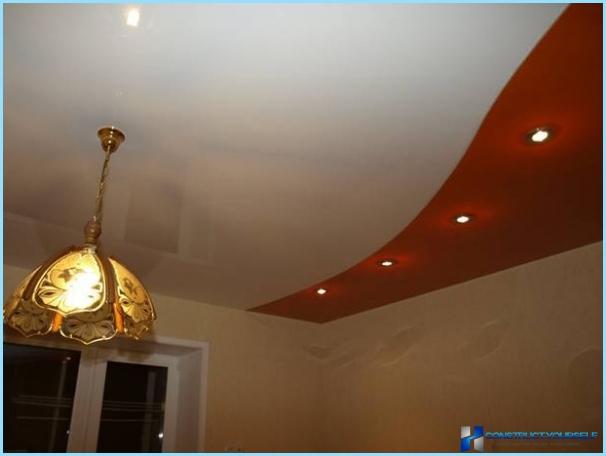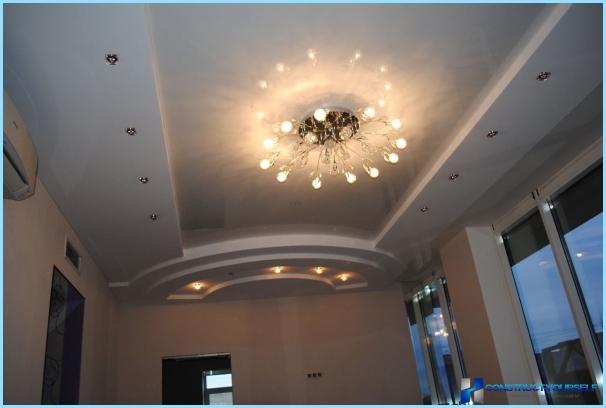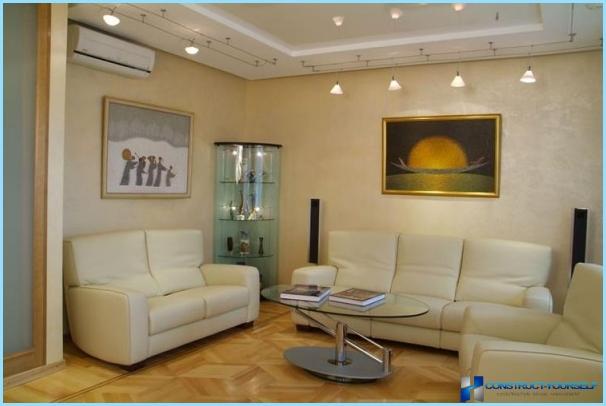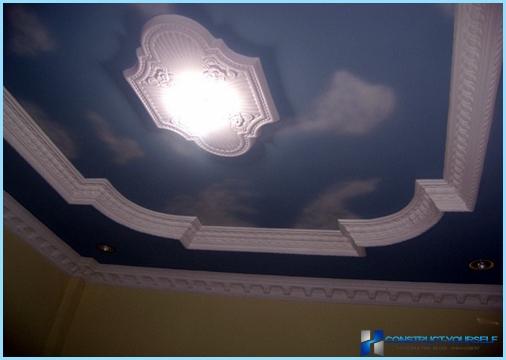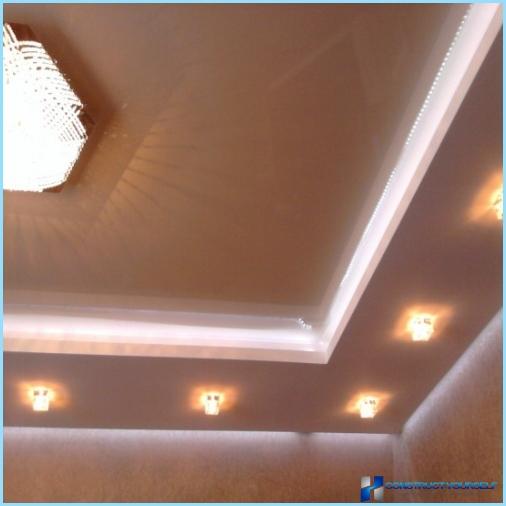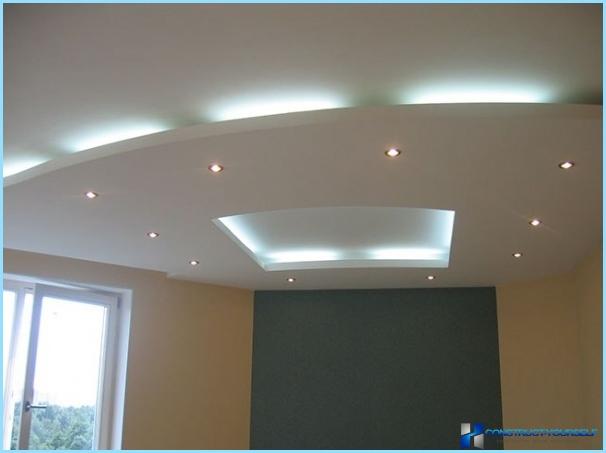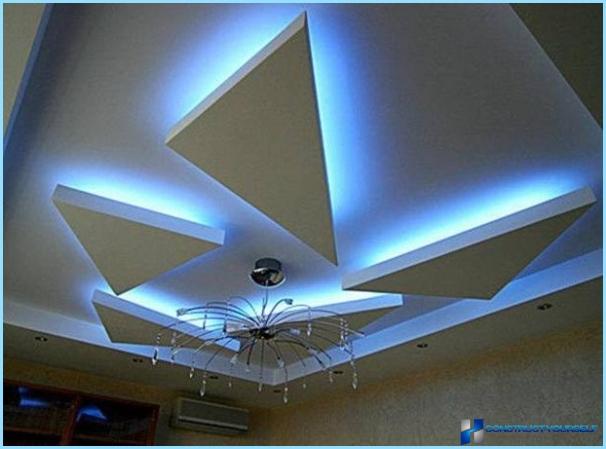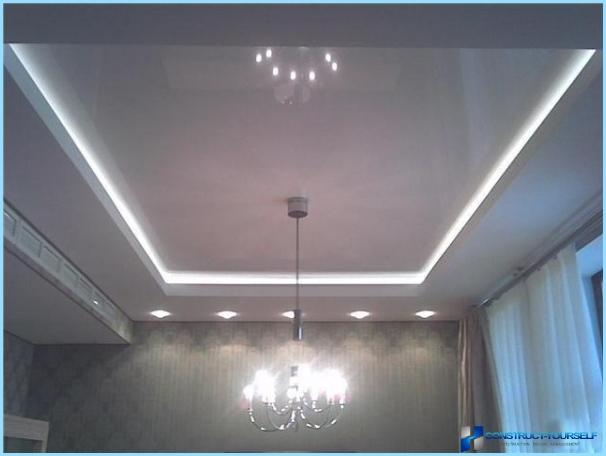 Ceilings vary in type of material, cloth and vinyl. Fabric made of polyester canvas which is impregnated with polyurethane to give greater moisture resistance. However, the degree of water-resistance and elasticity of the stretch fabric materials, inferior designs made of PVC film. PVC ceilings has good resistance to serious leaks.
Stretch ceilings are available plain or with a pattern, which is applied with printing. The level achieved in this technology can be applied to the surface of any picture with higher image quality. For any interior and any color scheme in the room you can easily purchase suspended ceiling, which will be very harmonious look.
The surface of stretch ceiling is satin, matte or glossy. Feature suspended ceiling with a glossy surface – ability is very much visually increase the height of the room. Increase the height even glossy black ceiling. This property is used for decoration of rooms with small height.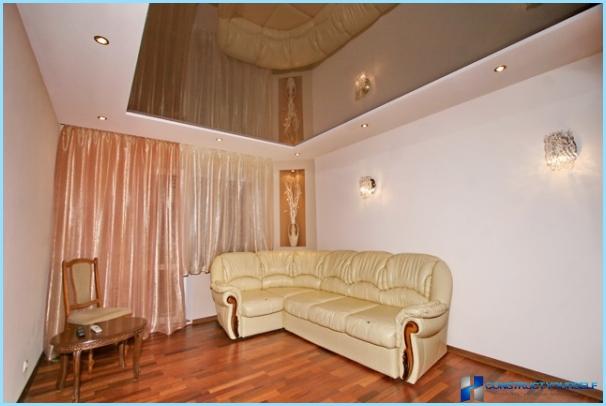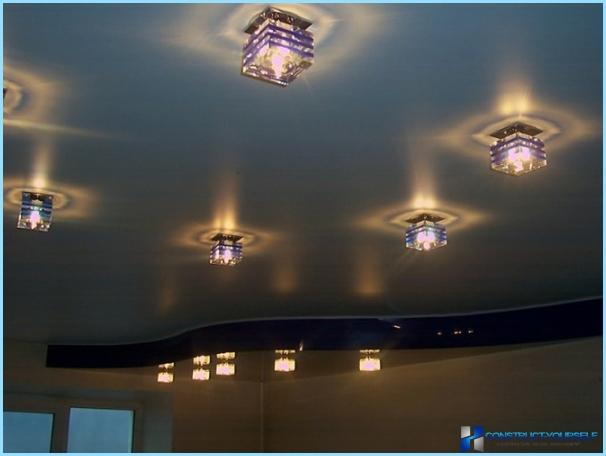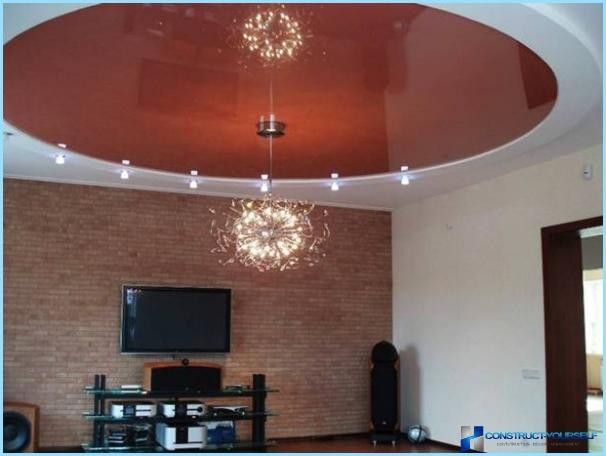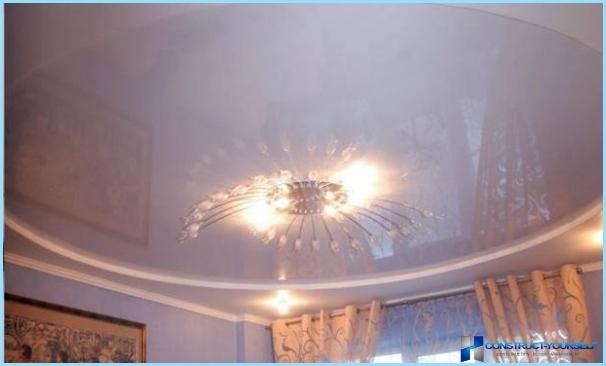 Hinged design – design with a frame that may be lined with slabs of type «Armstrong», aluminum slats, wood or plastic paneling. By design, suspended plasterboard ceiling also applies to attachments.
Designs of this type in the halls of the significantly less popular. Lining severely limits decorative solutions. Panel «Armstrong» associated with office and production facilities, and aluminum rack – with bathrooms.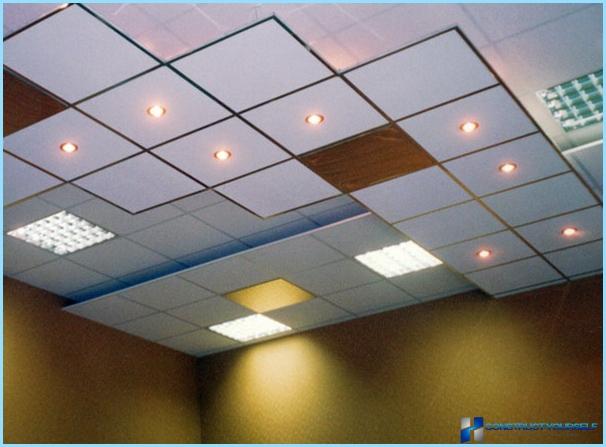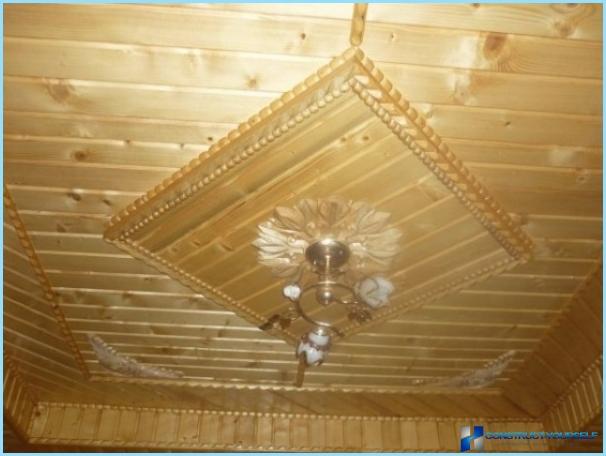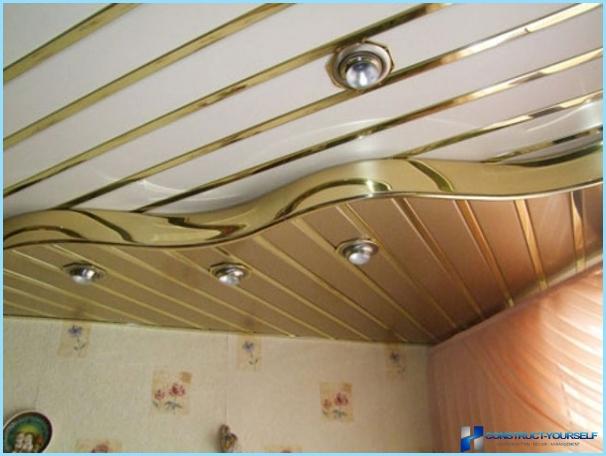 However, sound-absorbing paneling provide the opportunity to bring designs to almost any curved shape and create a very unusual interior design. The panels are made of a soft mineral of glass fiber, they are distinguished by environmentally friendly components. The lack of acoustic Ecophon – high cost. In addition, they are designed for high clearance and large area premises. For this reason, in model homes, they are not widely used. However, in the private house of sound absorbing Ecophon, it is possible to create very interesting design.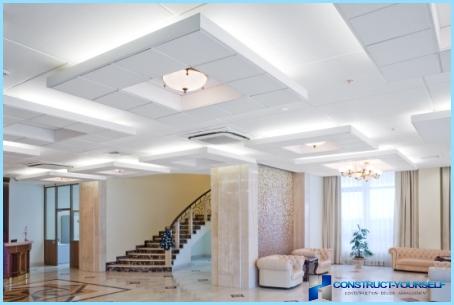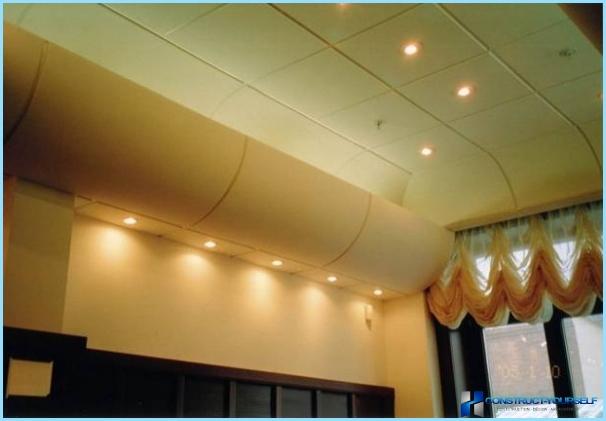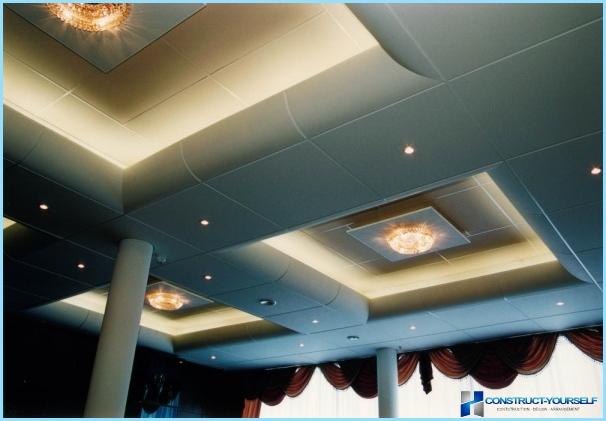 The market has a wide choice of materials for ceilings. Depending on the area and height of room you can choose a suitable option for you. However, it should be observed mandatory requirement – the match styles of the hall and the ceiling, which is a very important part of the interior. In fulfilling this requirement, the ceiling will visually increase the room, to participate in the zoning and to be an integral part of interior design.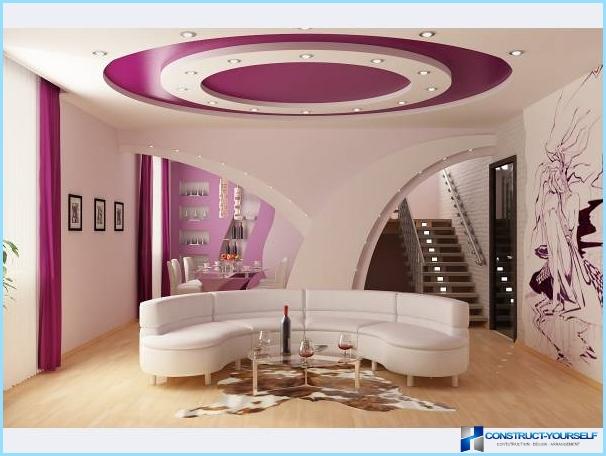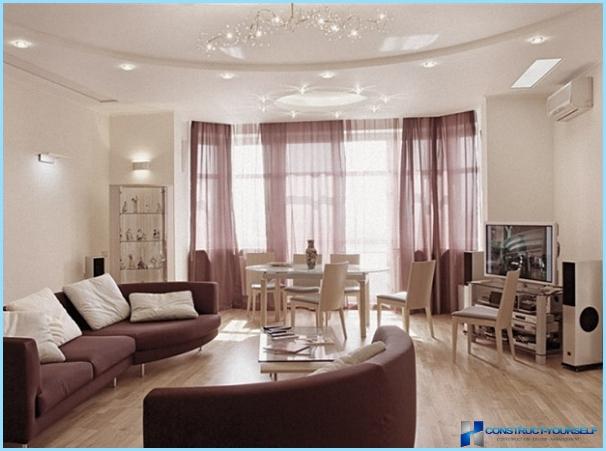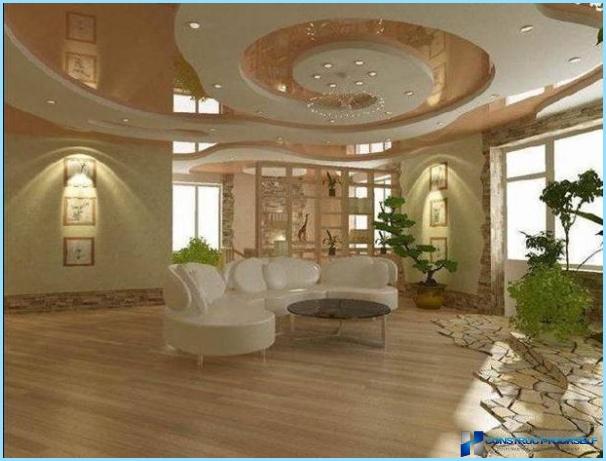 Content related