Design – only six letters, and how much meaning and diversity. Surely everyone at the mention of the word sees different pictures. Just as all people have their own idea of the perfect interior.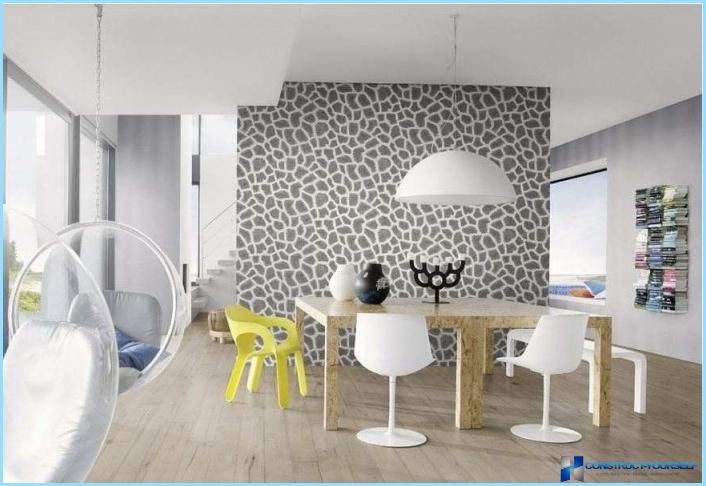 Sometimes, it seems that to create the interior of your dreams easy, but only as long as it will not reach the fixation and elaboration of details.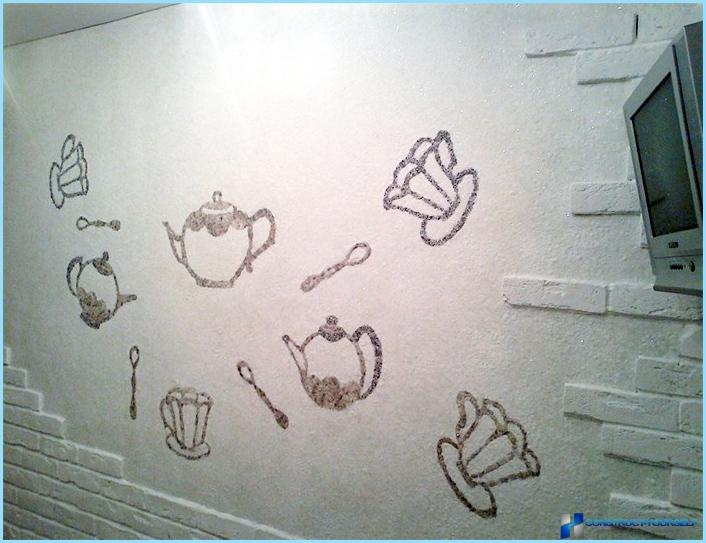 Wanted to talk about walls and about the most popular finishing material for them – Wallpaper. Most tend to perceive them as paper or cloth, rolled coils, which is glued to the wall. But the world does not stand still, and today's Wallpaper can be not only vinyl or flizilinovye, and liquid.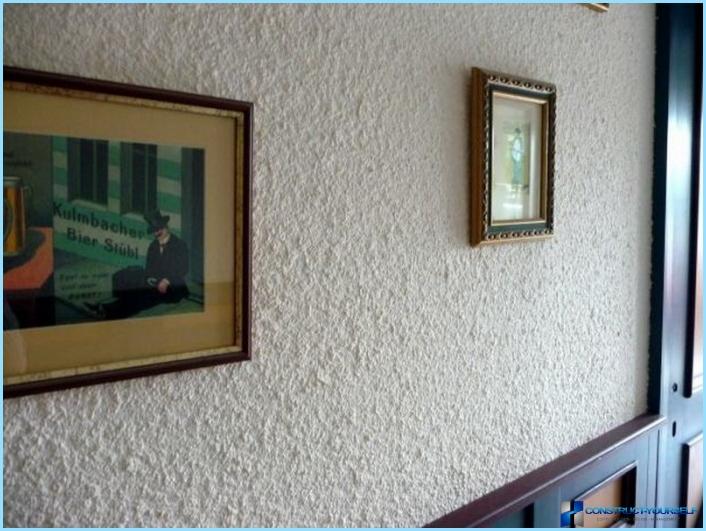 Man never dealt with them, it is difficult to imagine how this is possible, but most encounters with them almost every day and not even notice. Many offices today trim is a liquid Wallpaper for their practicality in terms of repair or restoration required.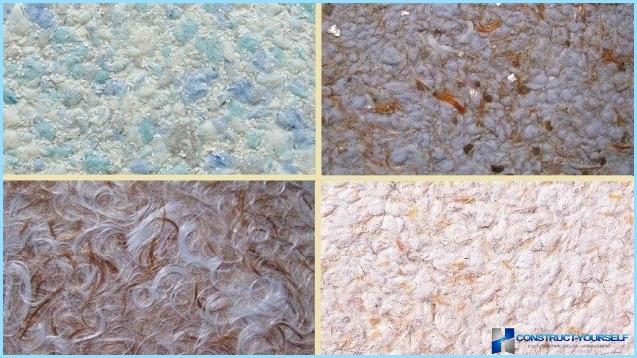 Unlike conventional roll of Wallpaper, liquid enough to soak with water and just wipe the damaged area. It's what attracts most consumers, although upon closer examination, the positive aspects speaking in favor of such a finish is much more, but all in good time.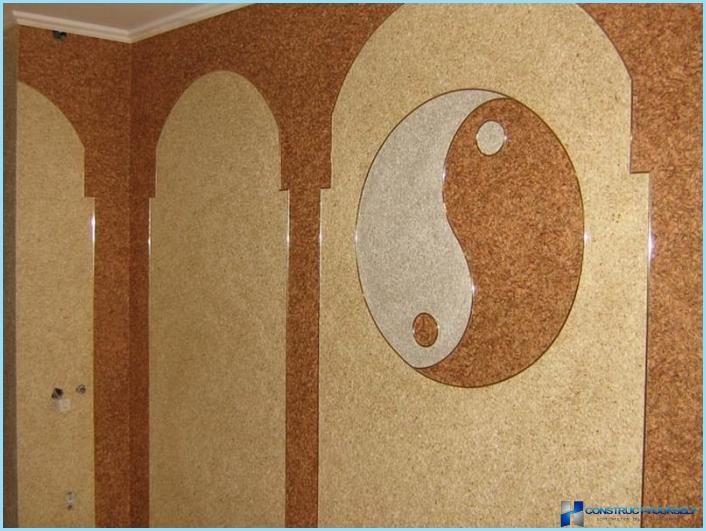 In fact – it's small flakes, dried and Packed in moisture-proof polyethylene. Before using them simply dissolved in water and applied to the wall with a roller and plastic trowel.
The Council
! before applying liquid Wallpaper must hold in a dissolved state at least an hour, then all components fully collect water and mixed with each other.
Depending on the selected tool, the liquid wall will look completely different, working roller, it is possible to obtain a relief surface with a variety of transitions as texture and color. This method is particularly relevant for areas with low aggressive environment. On textured surfaces less visible damage and contamination, but there is a significant drawback, namely the complexity of regular cleaning.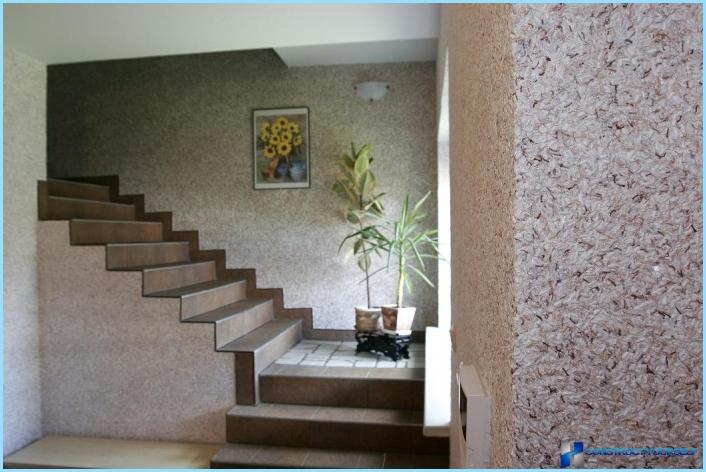 If you work with a spatula or trowel, the surface is flat and smooth, such a method of application perfect for living room or bedroom, where the walls should not draw too much attention and distract from the key interior, in which emphasis is initially.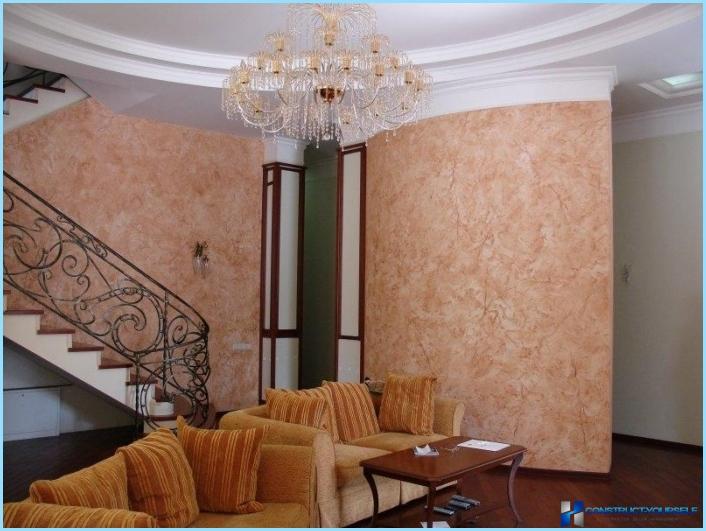 In order to clearly understand how to apply liquid Wallpaper, you can see a small master class, shown on national TV
About all the advantages of this material can be very long, but not to hammer head with unnecessary technical information, will focus only on the most significant.
Unlike its rolled counterparts, liquid Wallpaper can be easily restored in case of damage.
If the apartment or house is newly built and has not given shrinkage, it is the best option. In the natural process of microstrain walls, any klyushina cover starting to move away from the basics, with liquid Wallpaper will not be such problems.
They are completely harmless, as they include only natural materials: paper, silk, marble chips perhaps.
High water vapor permeability, under the surface of the liquid Wallpaper will never be condensation and mould, as their porous structure tends «breathe».
Huge selection of colors and textures allows you to choose coverage under any style of interior.
For applying liquid Wallpaper, do not need to leave the room with all the furniture, it is sufficient to release the desired wall and work quietly. As there is no need to roll on the floor a long strip of Wallpaper, plenty of space not needed.
Liquid Wallpaper can be applied to the ceiling, if required by interior design.
The Council
! buying Wallpaper, you should always take an extra bag in stock, you will need it in case of damage or heavy soiling.
Affected area can always be easily restored. This is especially true when using in the nursery, where the walls suffer most often.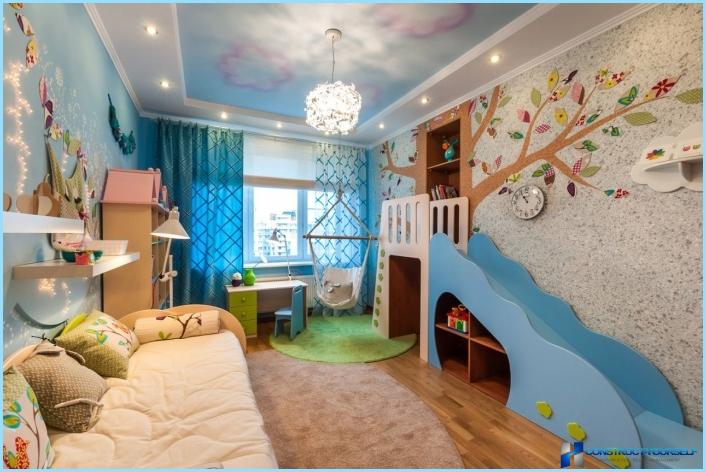 Unfortunately, nothing in our world is not ideal, and liquid Wallpaper is your list of cons, which one cannot ignore.
When used in areas with high aggressive environment, you need additional coverage.
To get uniform coverage, we need at least a little experience in painting or plastering, and if not, you can just a little practice.
If using an additional coating, the water vapor permeability is lost.
Without surface coating, they absorb odors and moisture, it must be taken into account, putting them in the kitchen.
Easily susceptible to mechanical stress.
Rather quickly fade in the sun.
As can be seen, plus still more, but before you make a choice in favor of liquid Wallpaper, consider using them in the interior of the apartment.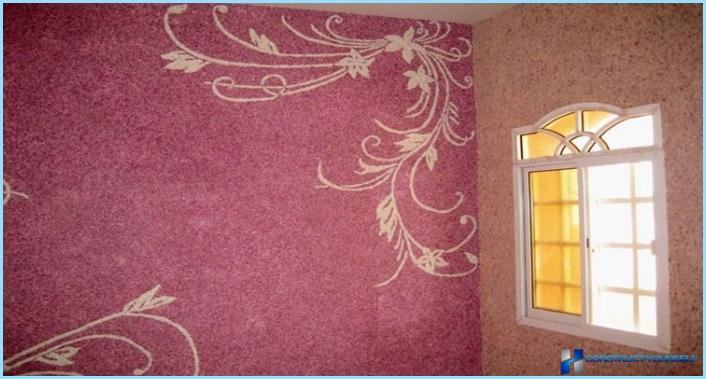 Textured base and the variety of colors liquid Wallpaper can be used in any part of the house, but for high-quality and durable coatings, you need to carefully consider all the disadvantages described above and to choose the most suitable option based on the individual characteristics of the interior and purpose of the premises.
In spite of all external similarity, they may differ in main material used in their manufacture. In the construction market can be found four varieties:
Paper, or to put it more precisely – cellulose.

Silk, in their composition in addition to the paper there are thin strands of silk, they provide a special elegance and at the same time improve the quality characteristics.

With stone chips. Most often it is the marble of various colors and sizes fractions. These Wallpapers are the most resistant and durable, but as a consequence, it is reflected in the price.

Combined. Can consist of all three of these components, and are created individually, at the client's request. Usually is a single solution which is added at the request of various components.
It is important
! Having no skills in the preparation of mixtures of liquid Wallpaper, it is better not to take that job. Incorrect proportions can lead to poor quality coatings and are unpredictable color change.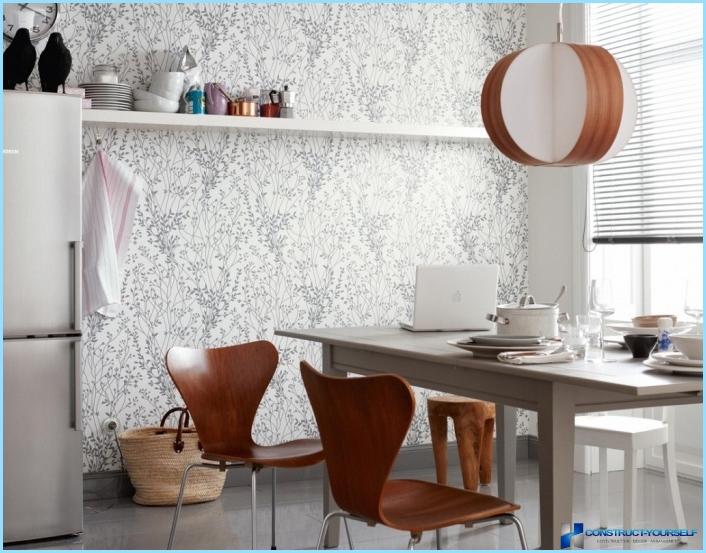 The simple paper wall-paper, can be applied in the living room or bedroom, but, for example, in the kitchen, their use is not recommended. Paper can easily absorb all the smells and cannot tolerate the constant changes in temperature.
Just a few years ago – it was the only option liquid Wallpaper, so today, you can find a lot of negative feedback about the drawbacks when used in the kitchen. Actually, the problem is not as liquid Wallpaper, and the ignorance of consumers, how to properly apply and exploit.
Even combined liquid Wallpaper in the kitchen need extra protection. This can be done with a simple lacquer based on acrylic. Thin transparent tape will protect the paper from odors and, in addition, this coating is much harder to damage.
Of course, there are a number of new disadvantages of such a coating, namely:
Coverage ceases «breathe»
In the event of damage to restore the coating will be much harder.
Every few years a layer of varnish will have to refurbish.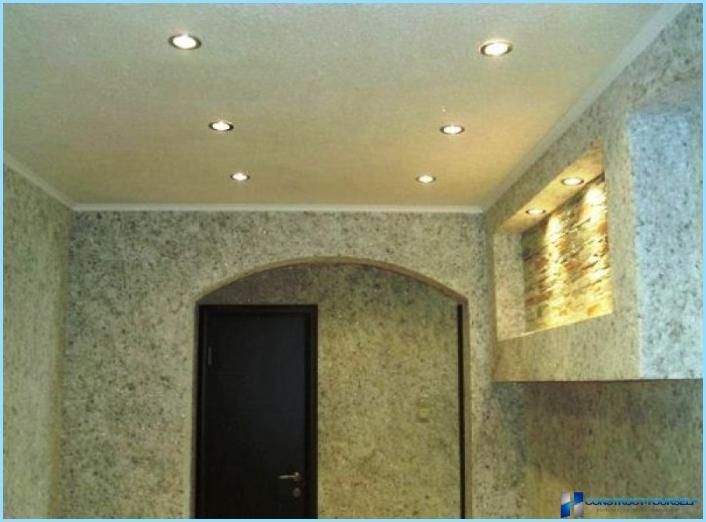 Some specialists in the repair and finishing, the use of liquid Wallpaper in the interior impractical. The main criterion of such reviews is the low mechanical stability, but do not forget about the positive aspects of this material.
By the way, the kitchen is one of the most difficult rooms in the house, and to pick up materials to finish can be very difficult. To withstand all «adversity», which fall down on the kitchen walls, only plastic and ceramic tile, but what if you want something more warm and cozy, because it often happens that the kitchen is not only a place where food is prepared, but going with the whole family for lunch or dinner.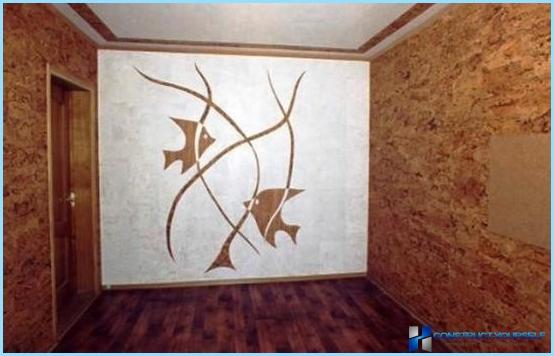 Liquid Wallpaper you can use when creating a kitchen interior, the main thing is to follow a few simple rules for use and care.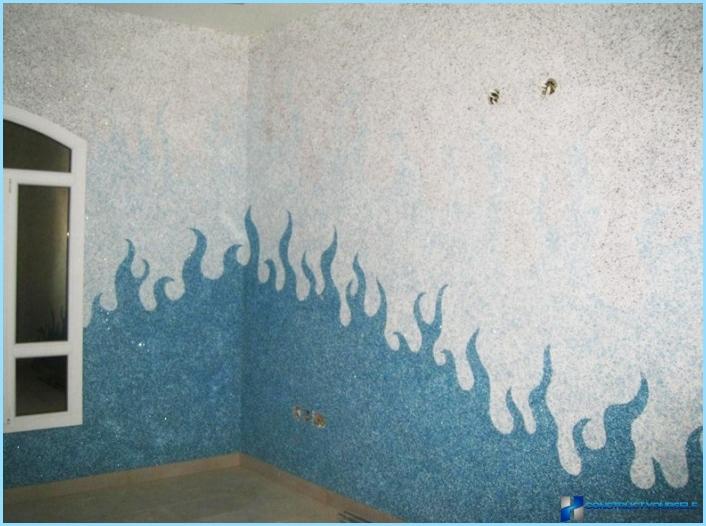 Liquid Wallpaper is in any case impossible to put on an apron. Surely this paragraph could be omitted, but note that no protective coating will not be able to save the Wallpaper is located close to the working surface.
Whatever type of liquid Wallpaper or used, they necessarily require the surface layer of acrylic lacquer.
In the interior of the kitchen is better to apply Wallpaper with a trowel, that is, with a minimum of textural transitions, the more you have, the harder it is to apply varnish and the less will be its protective function.
It is strictly forbidden to apply liquid Wallpaper paints, nitro-based solvents in their composition will destroy the structure of the coating and colorants.
Do not abuse frequent washing walls, acrylic varnish is less resistant to abrasion than their chemical counterparts. For a regular cleaning once a week to wipe the walls with a damp cloth without using detergents.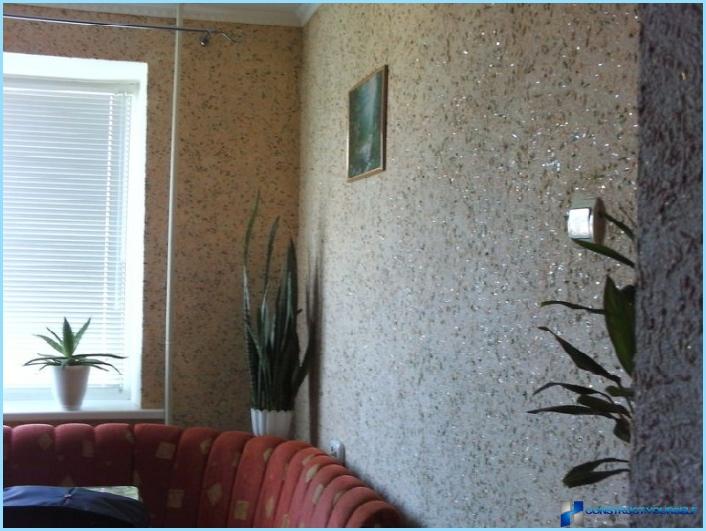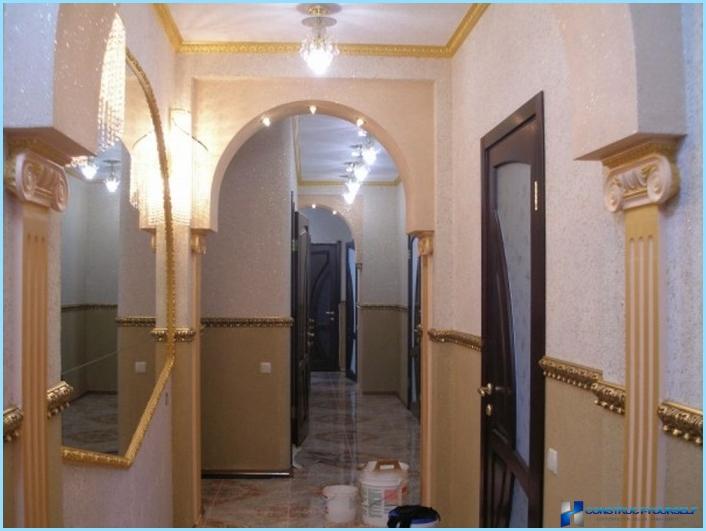 Certainly, many after reading this material, left a mixed impression about liquid Wallpaper. Reviews of people on the Internet also ambiguous, so the choice usually remains with the consumer. It is important to consider the material in detail and all the details, and only then to draw conclusions. Indeed, very often, liquid Wallpaper can not be used in the interior, and that can be a lot of reasons, but there is another side of the issue – those positive qualities that are inherent in liquid Wallpaper, rarely have what material can meet.
Content related