Have you ever wondered why among the townspeople become increasingly popular rustic style of the interior? With our modern pace of life want to escape from the hustle and bustle and just relax. We find this repose in the country, a picnic, or when Hiking in the woods. But how to provide an atmosphere of relaxation and serenity in your own home? A great option for this is the design of the interior apartments, and kitchens in particular, in a rustic style.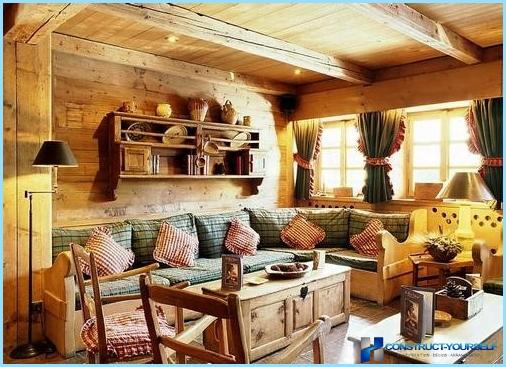 Such an interior does not require a significant investment of money and time. Moreover, any strict rules in the design of the kitchen in a rustic or rural style no. Importantly, this interior was cozy, extremely comfortable, practical and gave a sense of security. Below we review what is rustic and what you should pay attention when designing the space.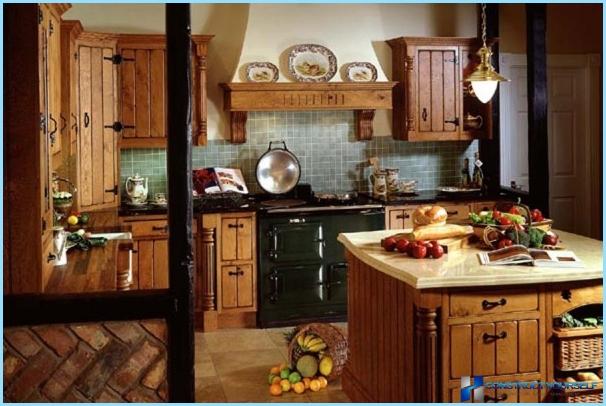 Immediately is to say that since its inception, rustic style, each country acquired its own special local features. It is therefore not surprising that the American or English style different from the French or the Russian. However, rural or rustic style in different countries, despite some differences, United by common features:
simple, even slightly coarse finish without any frills;
use in the finishing of natural materials;
simple furniture;
the predominance of natural colors;
the abundance of different handmade accessories;
large number of all kinds of textile items.
Mainly the rustic style used in the design of private country houses and cottages, however, it can now be found in urban apartments, especially the kitchens.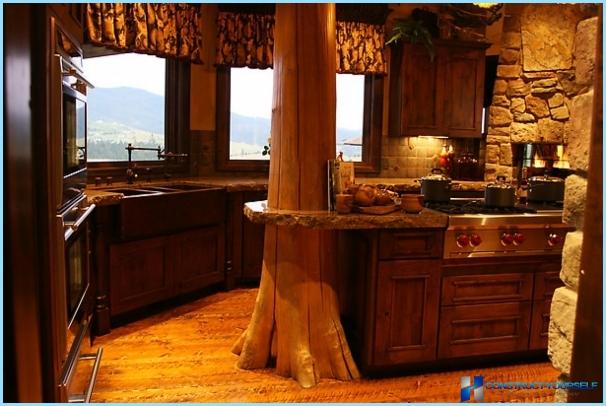 Deciding to decorate in the rustic style of your kitchen, you must first determine the direction of the country, Provence, Russian, Swiss and so on. For example, the kitchen in the traditional Russian style – rough finish of the floor and walls, plaster ceilings, woven-carpets and Russian stoves. Modern appliances in the interior will not look appropriate. Therefore, in order to convey the true atmosphere of a Russian log hut will have to sacrifice the benefits of civilization and leave only the Essentials. In Russian country style or country style is perfect built-in appliances. An exception can be made for the exhaust, the more that manufacturers produce retro models and stylized chimney.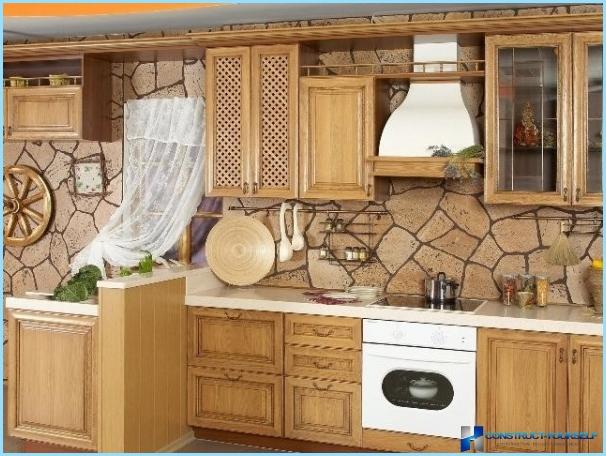 It is desirable that the walls of the house or apartment is fitted in rustic style, was made of wood. But this does not mean that the kitchen walls should be exclusively made of wood. You can resort to painting or plastering. Also use a Wallpaper with a faux wood, brick or stone.
If you want to visually enlarge your kitchen, you can use the mural depicting the rustic theme.
Designers say that deliberate roughness in walls will only emphasize the beauty of the rustic style. This can be achieved by applying a textured plaster.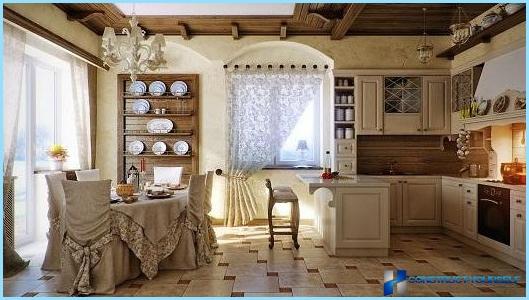 Deciding to independently decorate your kitchen in a rustic style it is very important to correctly choose the suitable accessories. For example, it is not necessary to install plastic Windows and modern blinds, since this style involves the use of only natural materials and is better to give preference to a real tree.
Curtains in the interior should be made of natural bright fabrics in plaid, stripes or floral motifs. As for lighting, it should be plenty. Dining and work area should be well lit. The lamps should be chosen taking into account the style of the kitchen, because they don't have to stand out with its modern appearance against the General background, so that lighting with a wrought-iron design will be an excellent option.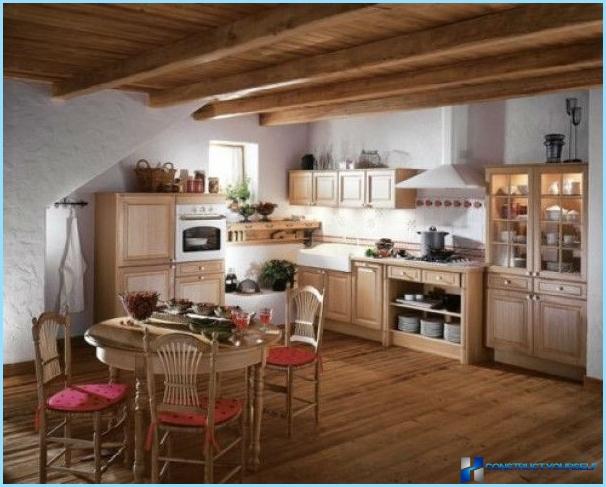 For kitchen flooring is best to use a laminated Board, but about the flooring to forget. It is desirable that the pattern of the laminate match the selected style and imitated natural materials – real stone or wood.
Quite original look, the floors lined with specially aged and unglazed ceramic tiles. And the presence on the floor woven from different fabric handmade rug will only add to the room more coziness and charm.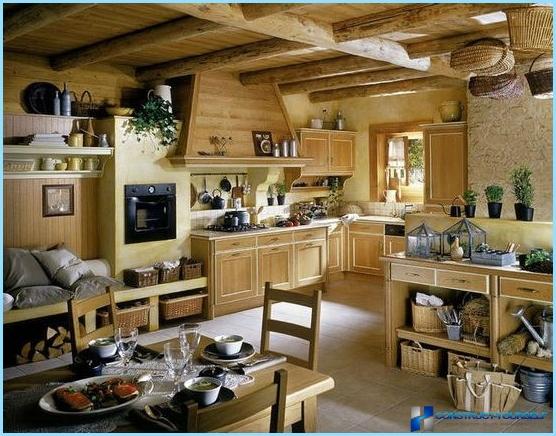 Ceiling, rustic, mean the device beams, a beautifully eye-catching mostly light background. Very often on the beams hung bunches of onions or mushrooms, dried herbs and much more.
For beams mainly use painted or whitewashed planks and raw logs. But sometimes from a variety of construction and finishing materials can be created and designs that mimic natural hardwood deck. The main disadvantage of beam decor is that it can be applied only in rooms with high ceilings. You can also use ceilings of milk or beige shades.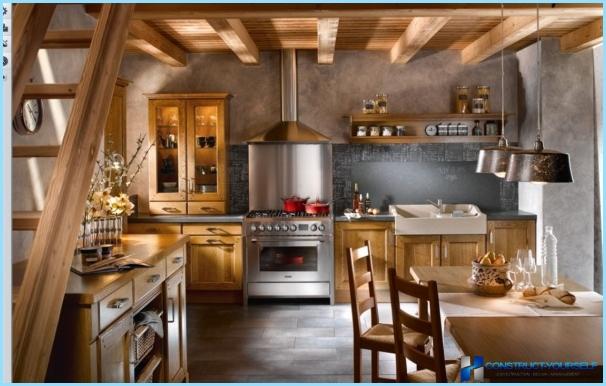 When the lighting device, it is desirable that the lamps were made in accordance with the chosen style. Quite original and appropriate will look like wrought iron chandelier or sconces in the form of vintage street lamps.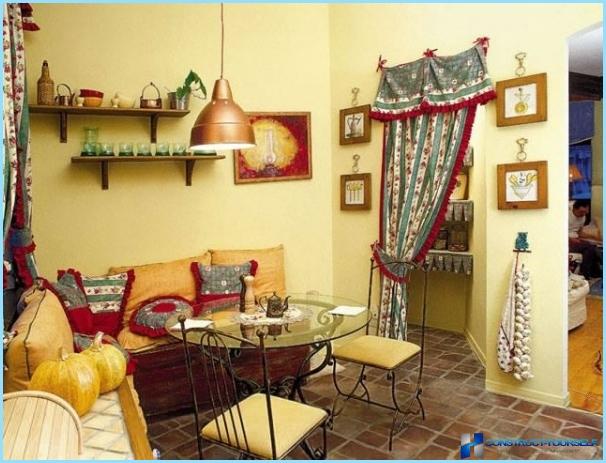 The interior of the kitchen will greatly change, if you use all sorts of accessories. Digging in the closets, for example, to find the things that will help to create in the kitchen a comfortable and cozy atmosphere. It can be:
family pictures in simple frames;
lace doilies and embroidered towels;
candlesticks;
wooden spoons and cast iron pans;
braided sandals.
Also for the kitchen interior in rustic style is perfect things made by their hands or as it is now fashionable to say – hand made.
You need to pay attention to the phyto since it is difficult to imagine the village without flowers, bundles of onions or garlic and bundles of various herbs. Flowers can be used as indoor and field.
However, it is not a fanatical approach to the design of the kitchen, as everything should be in moderation and there is no need to overload the room with unnecessary items.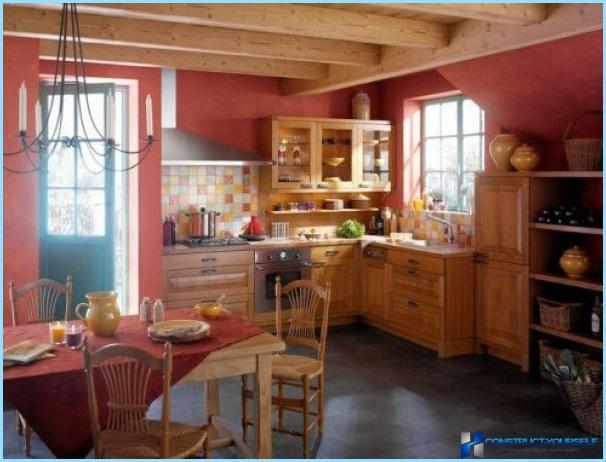 Kitchen furniture in rustic style will differ in good quality and some «clumsiness». Here is possible to use glass, plastic and chrome elements. The facades of the kitchen cabinets should be wood, without carving and complex mechanisms. Everything should be extremely simple and reliable.
Furniture dining area can be made of wood, have a simple geometry and wrought iron legs. Solid wood worktop will perfectly look in the interior, and a bright tablecloth and chair covers will add comfort to the room.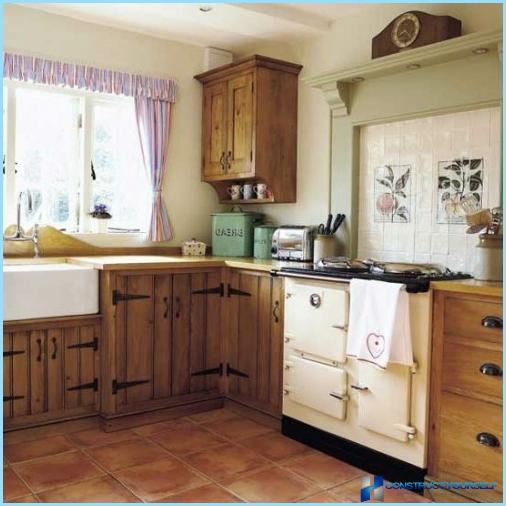 When choosing furniture for a rustic kitchen should not go to extremes and buy only massive and bulky model, because if the room is small, they will not look quite harmoniously. If a small kitchen area doesn't allow setting a large dining table with chairs, you can buy wooden stools with wide armrests.
Currently, the country style permits the use of wicker furniture. It should say, now, wicker can be not only chairs, tables and chairs. Produced and quite original cabinets and shelves that fit perfectly in folk styles.
Generally for a country, like any folk style is characterized by pastel colors – from brown to sky blue. All used in the design of the kitchen, color is very harmonious blend together. If the walls are made of wood, you should not set against the background of dark furniture, especially if the kitchen is small, as this would look pretty bleak. This option is more suitable for spacious rooms. The walls of a small kitchen, especially in a rustic style, should be light, so the room will look visually larger, and dark furniture more elegant. Near dark is better to install wall light furniture.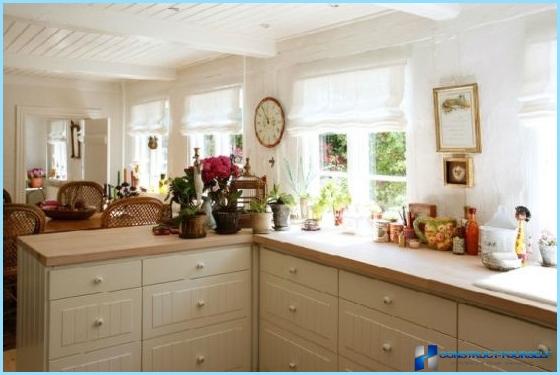 Pastel colors, it is desirable to dilute the bright green, red and rich blue colors.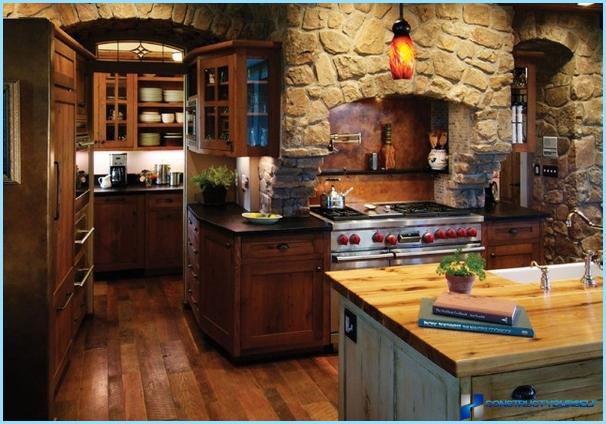 In order to avoid errors in self-creation of the interior should adhere to the following plan:
to remove the old paint of walls and a floor;
choose the materials which you have worked;
when using old furniture, it is necessary to sand it and varnish;
all the appliances, it is desirable to hide in closets because it is not compatible with the chosen style of kitchen;
floor build soft braided rugs;
use the curtains-natural light fabric.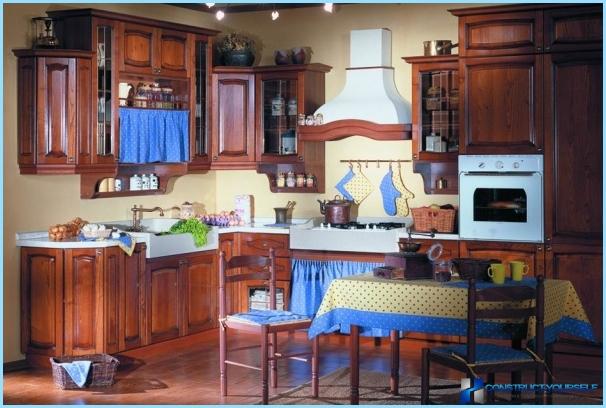 Only the soul made kitchen decoration will bring you real pleasure and will evoke a sense of admiration from your guests. To build a place where every morning and evening gathers together the whole family and your friends is not so difficult.
In the presented video you can see examples of designer kitchens in country style.
Content related