Often there are times when it seems to be in the kitchen and new furniture, and fresh walls and ceiling, but something was missing. Some of cordiality and warmth. And it is unusual and beautiful decor and DIY for the kitchen can change the entire atmosphere of the room making it more cozy and comfortable.
Even just one picture or unusual shelf can completely change the entire kitchen design, adding comfort and originality.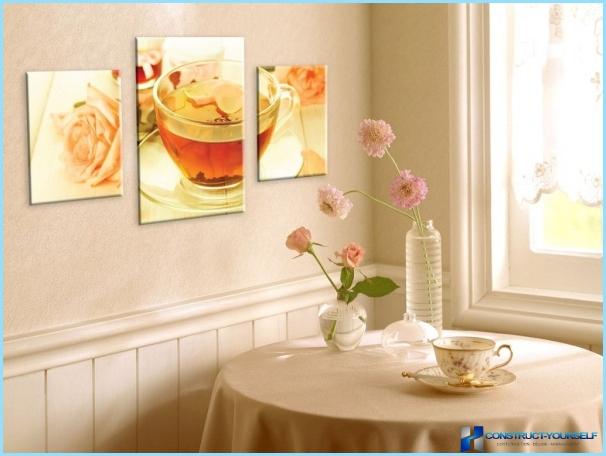 Decorate with decor can be any part of the room equipment and, most importantly, of course, to select materials resistant to the conditions of the kitchen, that is not easily ignited and not afraid of moisture, so as to be subjected to frequent cleaning.
Any decor or crafts to cuisine you can make with your own hands, it is not necessary to purchase or hire the services of professionals enough assistance of family members or friends.
If the wall in the kitchen a monochromatic color, for its decoration will be perfect stencils and designs. Definitely need to do in advance of the markup, that the figures were located exactly. Attach the stencil with tape and then painted the necessary places. After that, it is advisable to varnish that you paint as long as possible retain its external qualities.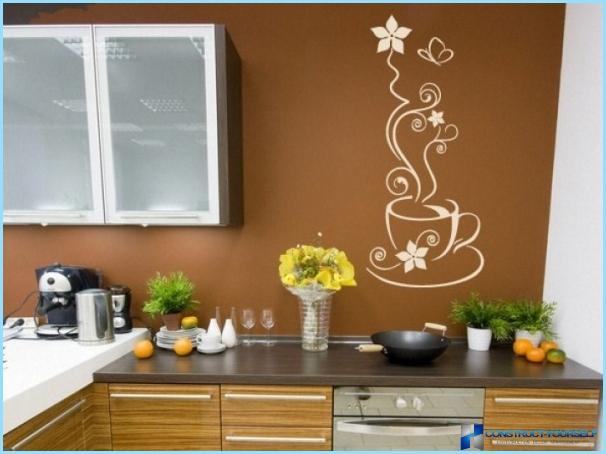 Perfect self-adhesive film. On the back draw the outline of the future shape and cut. Stick the decor on the wall slowly, pressing down gently with a rubber spatula to expel all the air.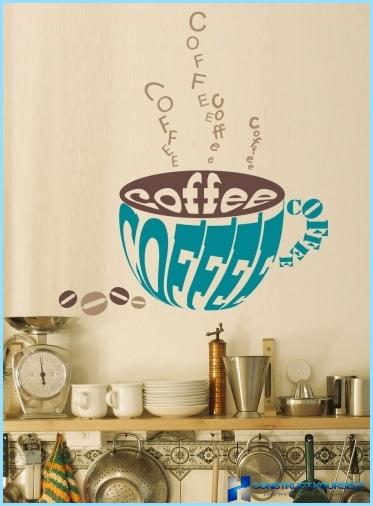 If you do not want to cut, you can buy ready-made stickers. The more options of colors and patterns countless. Offered as the simplest and funny and complex and elegant. Stickers can be made in the form of silhouettes of butterflies, flowers, berries, inscriptions or vignettes.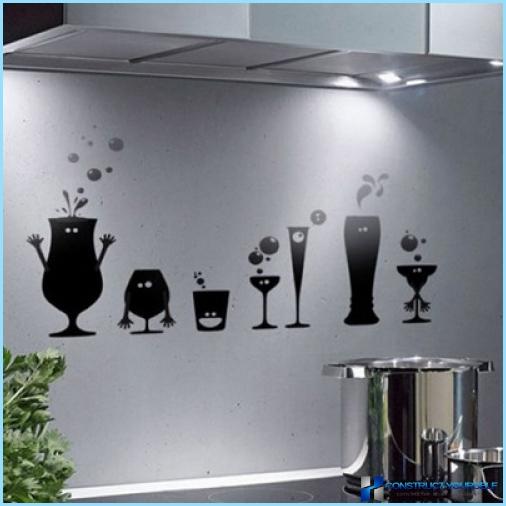 Their advantage is in the fact that it is easy to change the old to the new.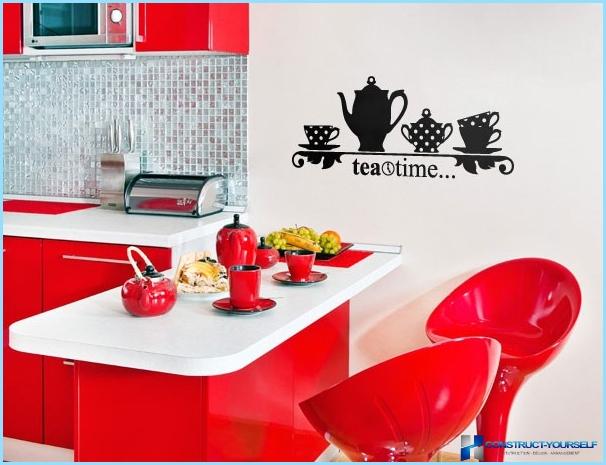 For those who have artistic talent, you can draw a landscape or other picture in the wall, for example, adjacent to the dining area. Can be used both acrylic paint and decorative plaster. Latest easy to use, you only need to plant and decorate. Moreover, it is suitable for any surface: metal, plastic, concrete, wood and so on.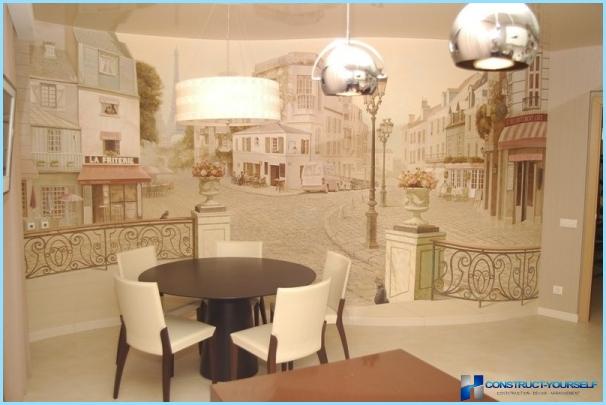 A as decor for kitchen walls used ceiling outlet. Paint them in different colors spray-paint and paste, putting in interesting combination.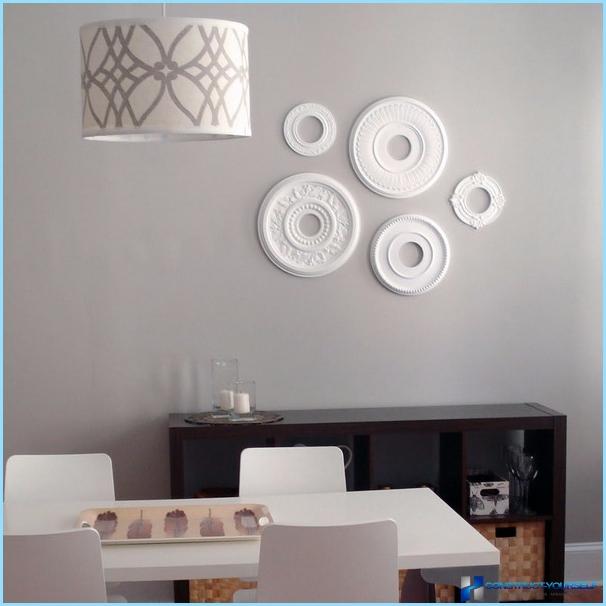 It is important
! Choosing decor for a kitchen wall, remember, it needs to be combined with her overall style.
Great wall decor for any room, wall clock. The range of designs and colours, hours huge, so to find a particular style of food will not be difficult.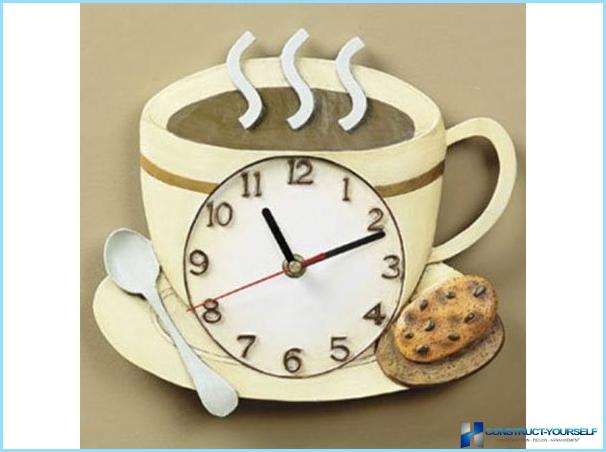 If the wall already has a pattern, for example, Wallpaper with flowers, then it is better to hang paintings, pictures or photographs. In the kitchen with a classic design will look great still lifes, landscapes, herbarium, and the like. For the kitchen, made in neoclassical style, better suited to black and white paintings or photographs. Rooms are modern style decorated with posters, signs or conceptual paintings.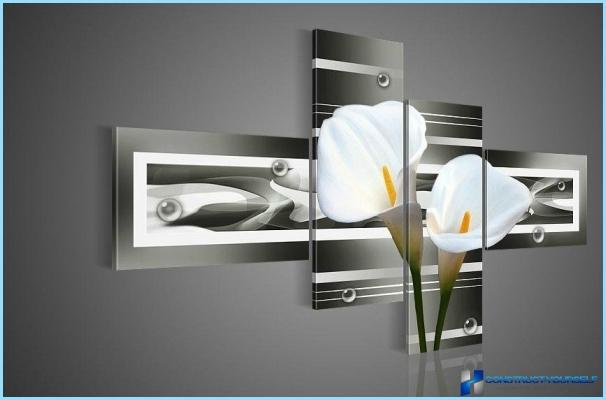 But if the kitchen is small in size, it is not necessary to give light weight its many paintings. Better if only one medium size or smaller ones, located in a vertical row. This arrangement will visually increase the room.
Rare crockery (plates, trays) or unusual colors is also ideal for wall decoration. Traveling around the world, get the dishes with the national picture. The end result is an interesting and original collection.
Unusual look of wooden cutting boards. They drilled a small hole and hang on the hooks.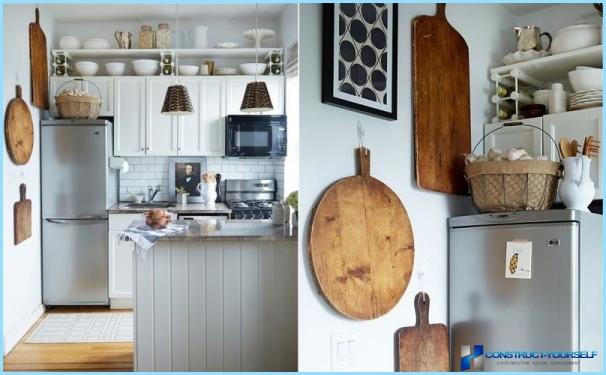 Optional to decorate the entire wall, enough to make either an apron or dining area, or a part of the wall behind the stove or sink. As decor for the kitchen you can use and tile. Moreover, the choice of material is vast, ranging from patterns and ornaments, finishing drawings or mosaics.
The tile can be laid in a herringbone pattern or combine different sizes. In this case please draw a diagram for error-free stacking.
If the tiles you already have, then it can be painted with special paints that are resistant to heat and wash.
Not necessarily to paint all the tiles, especially if the most part in excellent condition. It is enough to paste over the problem areas with vinyl stickers or other interesting things, such as clippings from magazines or napkins. And the disadvantages are hidden, and great wall decor.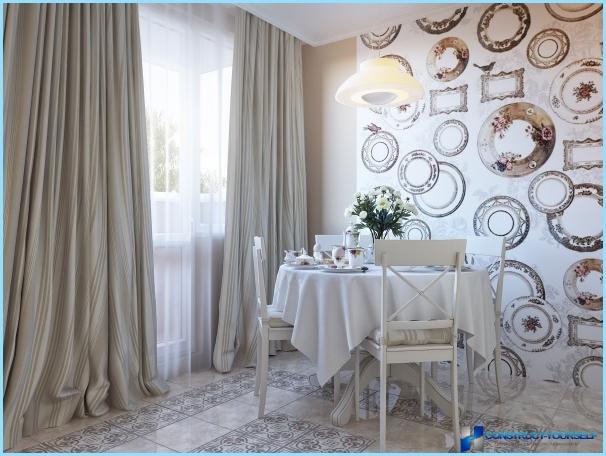 Another unusual way of decorating is wrapping different Wallpapers, for particular areas or underline only one of them.
For example, a dining area Wallpaper bright color, and the rest of the kitchen a more neutral color.
Decor can be Wallpapers. Most often they are applied to the apron or on the wall adjacent to the dining area. In addition, they visually enlarge the space.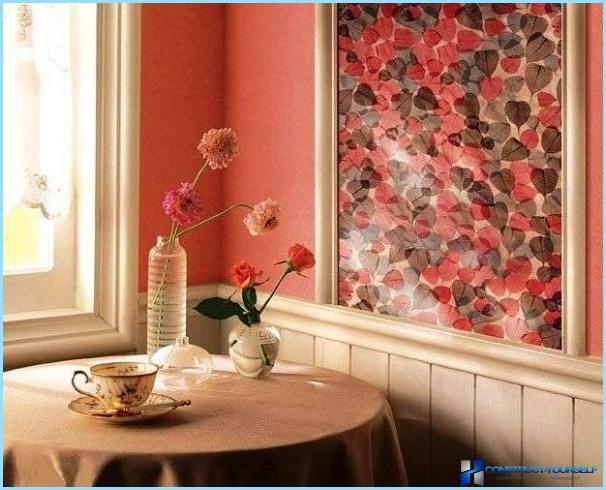 And for those who like a lot to write and draw, you can use chalk Wallpaper. To paste them as an entire room or only part, making, for example, in the blackboard. This option is especially good for children. Or to put it in the form of paintings. Then inside it will be possible to draw or write something original. For example, a Declaration of love to the household or to record interesting recipe.
Chalk Wallpaper easily washed and they can even be stick from one place to another.
Do not hang them all over the room if it has only one window or no. The dark shade of the material will make it dull and boring.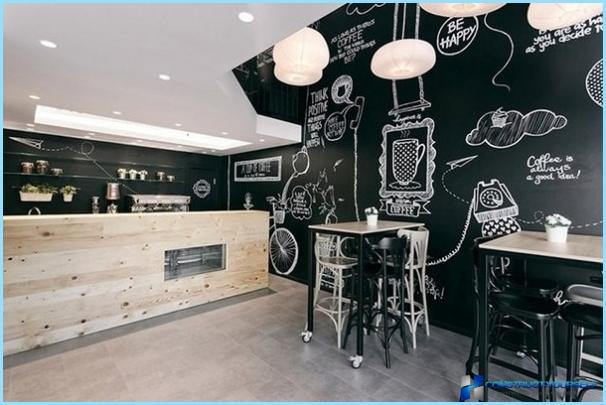 Another way to decorate mirrors. Especially well looks unusual decorative mirror, made in the original frame, matching style to the kitchen. Or mirror surface is mounted on the apron. This method also enhances the space, with the added freedom and comfort.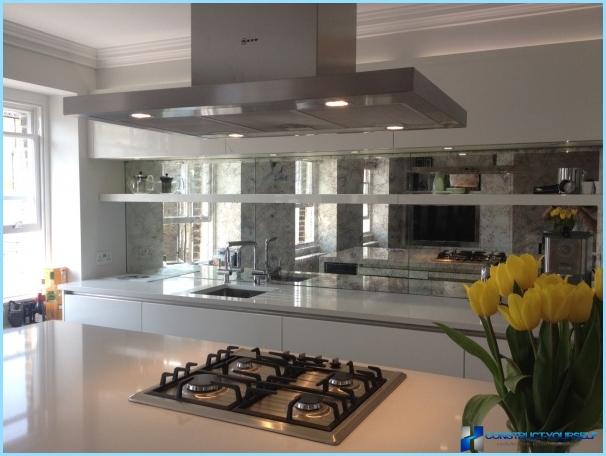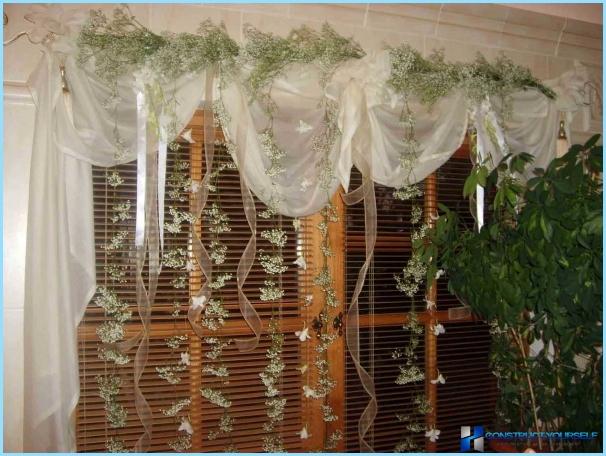 For decoration of Windows in the kitchen, you can use curtains and Drapes. If the kitchen is small in size, it is best to hang small, lightweight curtains, but if large, you can even use the curtains, they give the room a mood of chic and wealth.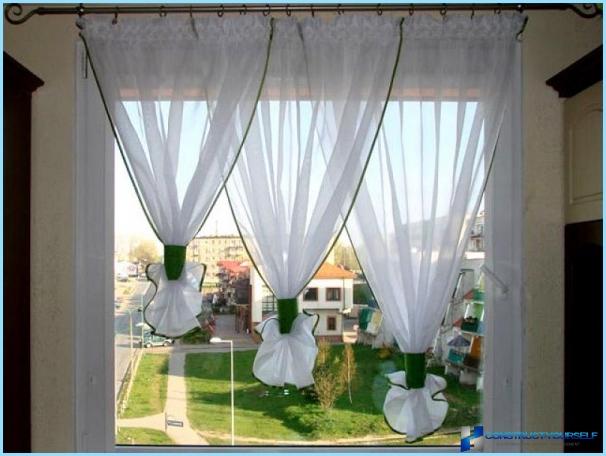 The Council
! Bright and light colors of curtains or curtains will make the kitchen bigger and add more of a positive attitude, and the dark shades of tranquility and luxury.
Sewing Drapes or curtains with your own hands will take time, but worth it. You can decorate the fabric with original patterns made of beads, butterflies, flowers, to make the drape or only add fringe and swags.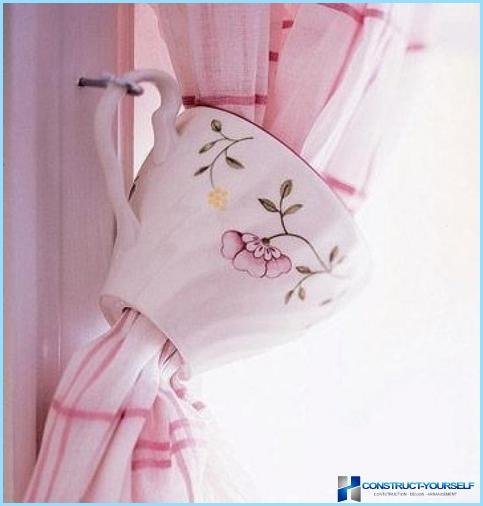 If the furniture has lost its original appearance and looks very dull, it is quite possible to decorate the decor. For example, to paint in another colour and replace the handles. How beautiful and unusual it will look in a locker, decorated with patterns or pictures made by your own hands.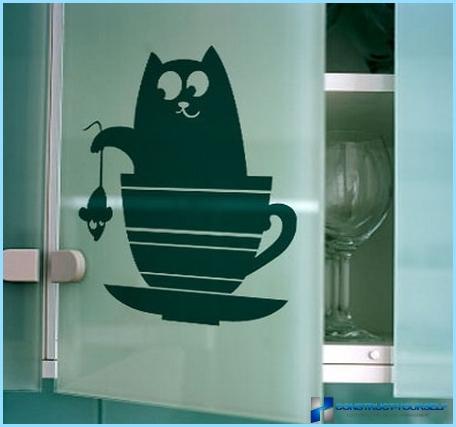 Glass in the cabinets can be painted with stained glass paint or even to remove the door, leaving the shelves open or with curtains. Especially this option is ideal for kitchen with small area, because the closed cabinets reduce the space.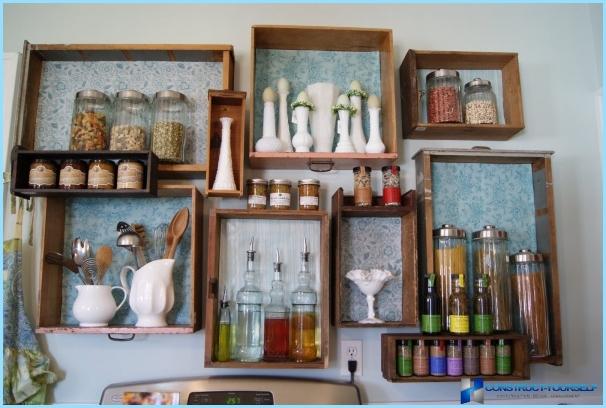 The technique also can be painted or covered with stickers. Special attention and reasoning parts should be paid to the refrigerator, as it takes a lot of space and is an integral part of the kitchen.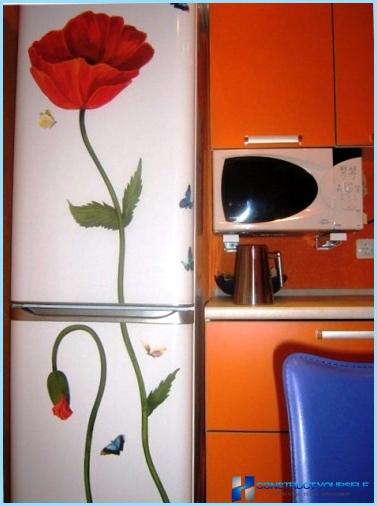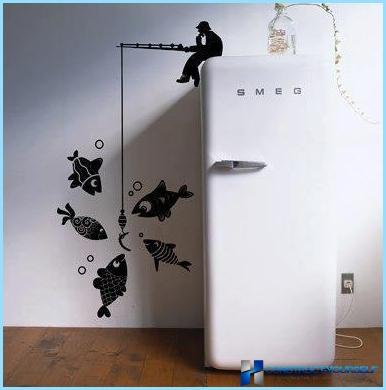 The Council
! Before you start decorating, decide, or deal only with furniture or appliances. As if to decorate all together, the kitchen will become too colorful and loaded.
Don't forget about the hood over the stove. It can be painted or draw the patterns. Also comes with gas hob, washing machine. Although, for the latter it is better to make a case.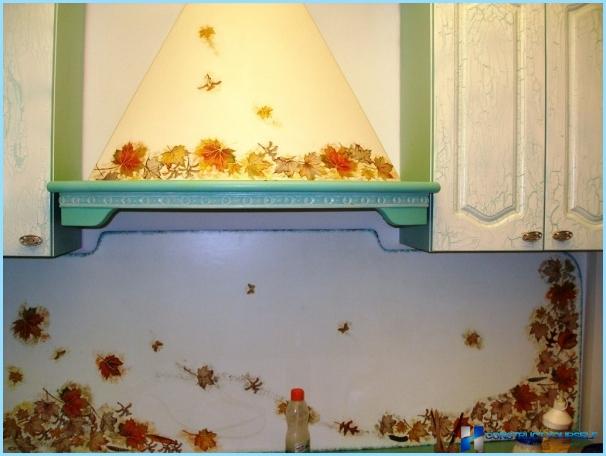 Outdated chandelier, do not rush to change, try to make a new lampshade.
If you can not decorate decoration furniture or equipment, in this case, will help a variety of stuff and forgery.
The more things you can do with your hands, countless:
potholders, napkins, tablecloths;
warmer;
dolls;
pockets, baskets, storage systems;
the bottle holders;
topiary;
pattern;
cutting boards and much more.
To create something new, there are many interesting techniques as decoupage, knitting, patchwork, burning, sawing, and more.
The following photo contains articles for kitchen, hand made.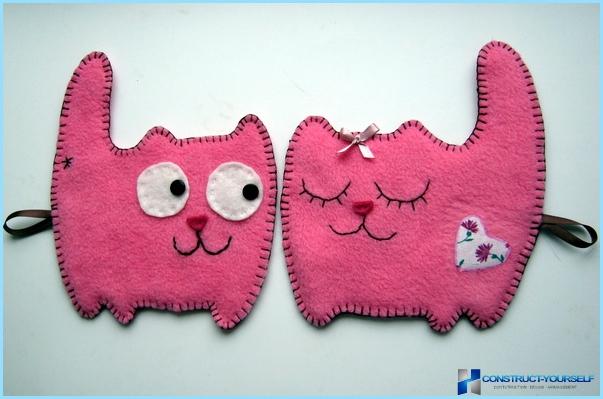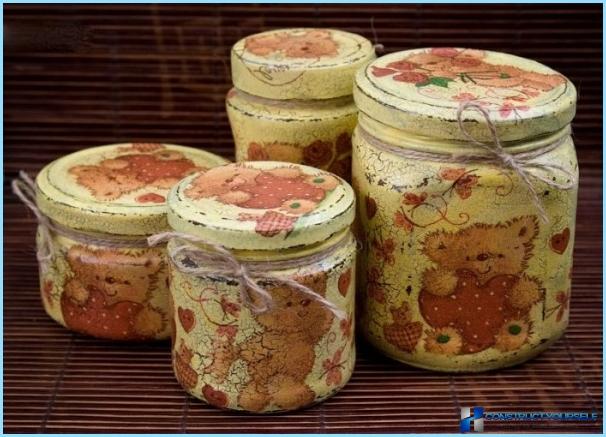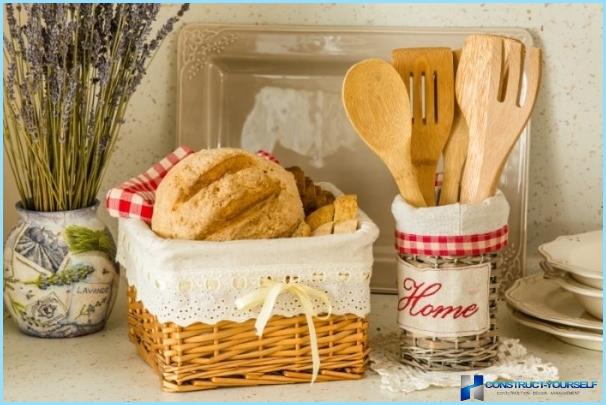 Of tissue using the technique of patchwork, you can make cushions for chairs, tablecloths, napkins. Decor, made in the technique of patchwork, great for kitchen in Provence style.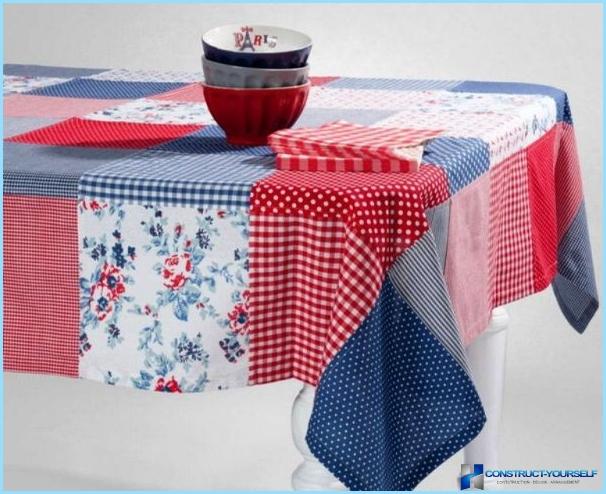 Material for art can be seen in any detail, even toothpicks or matches, cereals, napkins, grains and more. Everything depends only on imagination.
Jars with different spices, cereals and a beautiful bottle will be a great decor for any kitchen. They are arranged on open shelves. Similarly, it is arranged in dishes or jars with canning. Shelves can also be done with your own hands.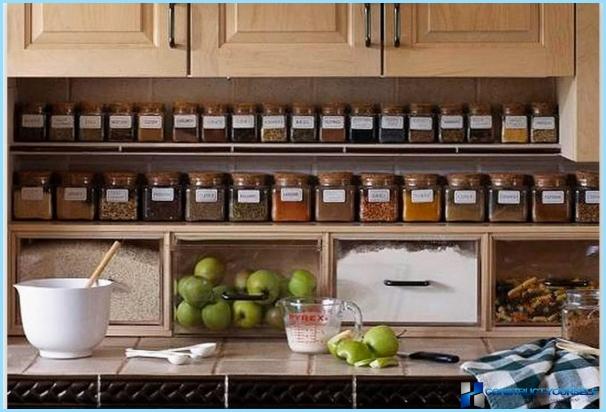 But if there are magnets, with their help, the little jars of spices can be anchored to the wall, making panels.
Banks can make out of wood and decorate in the desired style. Necessarily they must stand in the most prominent places: open shelves, a Desk or hanging from the fridge.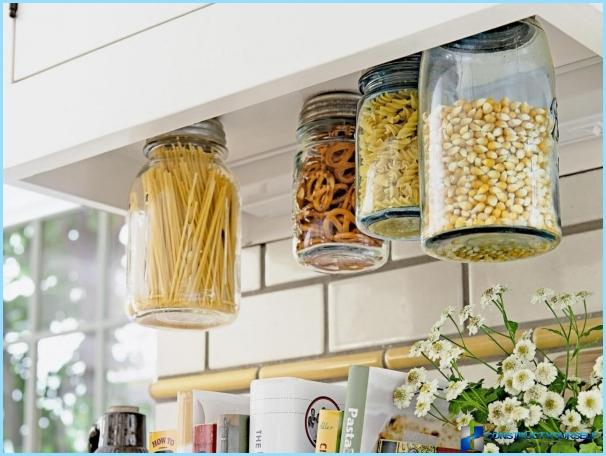 Transparent jars with colourful cereals and vegetables, you can fill in your own hands or purchase. In the latter case, they will preserve the aesthetic appearance much longer, as manufacturers use a special technology for their conservation. Besides, put all bottles with fancy and unusual shapes.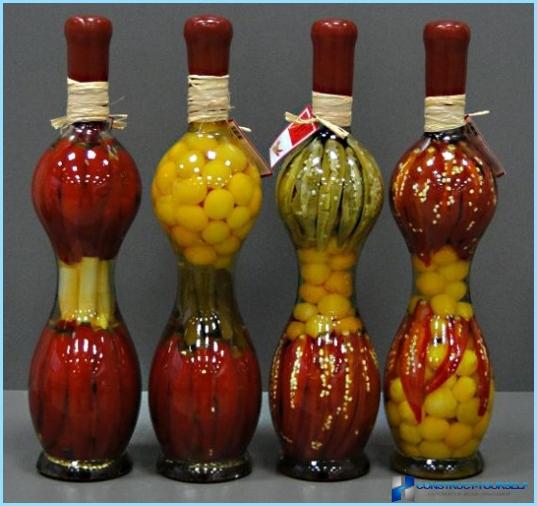 Books with recipes are always look bright and beautiful, so they too should be kept in a conspicuous place.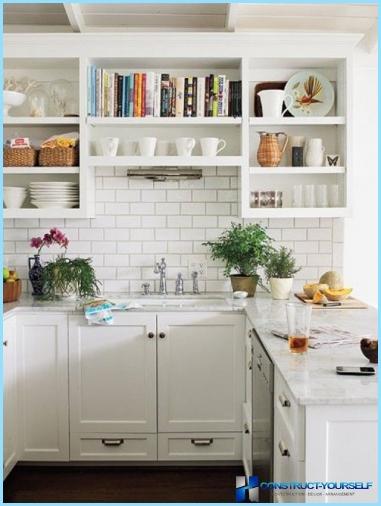 The dolls not only hide the plastic bags with mind, but also great to decorate the wall. Instead of dolls, you can use the shopping bags or bags with embroidery.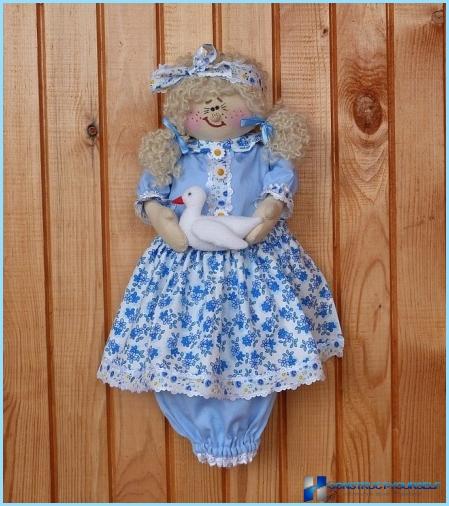 Mugs hanging on hooks under the shelf. Space-saving and interesting design.
Pegs fixed to the wall for towels, holders for magnetic devices, magnets for fridge perfectly to decorate the kitchen.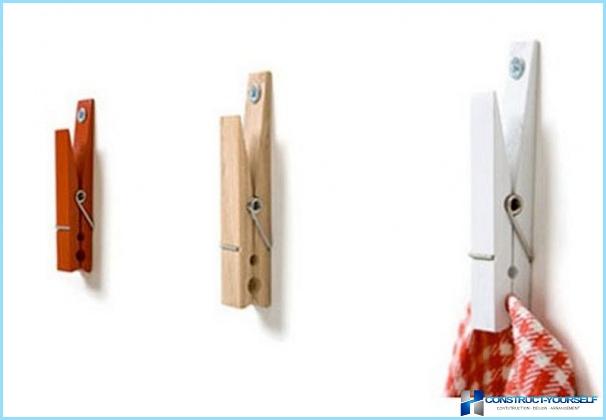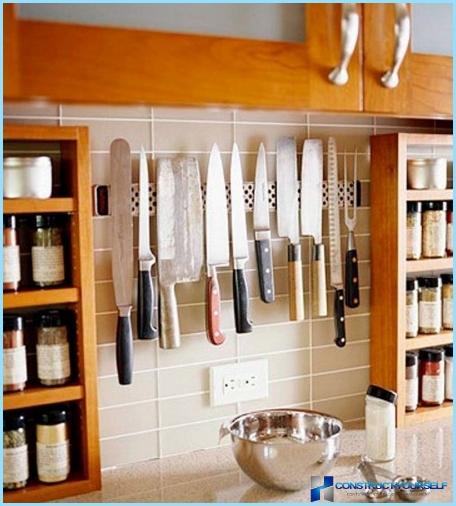 Cutlery, curved in different shapes also look great, use them, for example, for towels.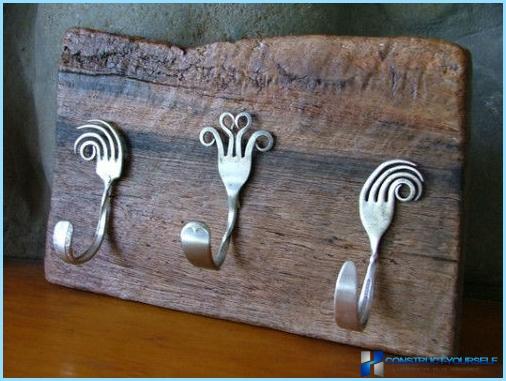 Below the photo is clearly seen as unusual look of the original decor ideas for kitchen, created by your own hands.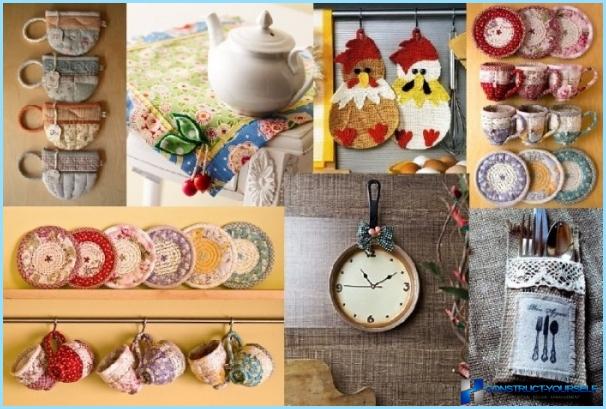 Various growing herbs in pots is also a great decoration for the kitchen. In any possible places you can place the pots (window sill, fridge, free shelves). And the pots can be finished with decoupage technique.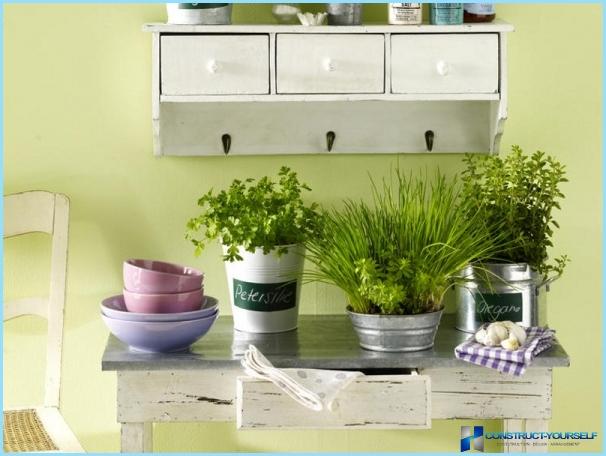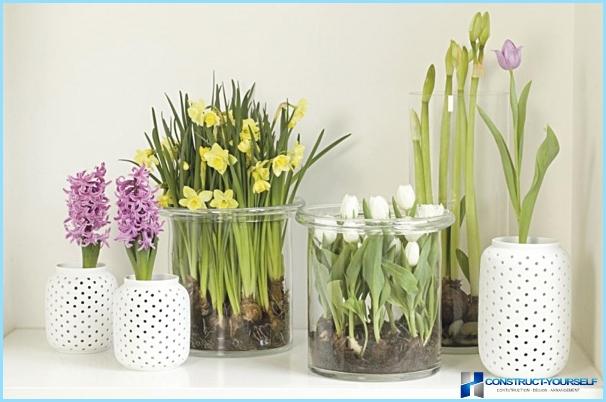 Use different decorative items for the kitchen depending on the seasons, as, for example, if autumn, then hang herbaria, and if the spring, put a vase from the first flowers.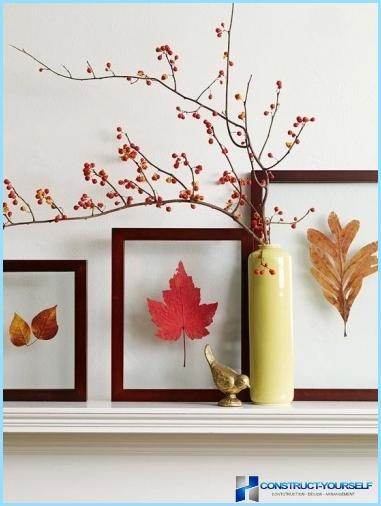 Storage system – the original décor of the kitchen and fans to keep everything in order.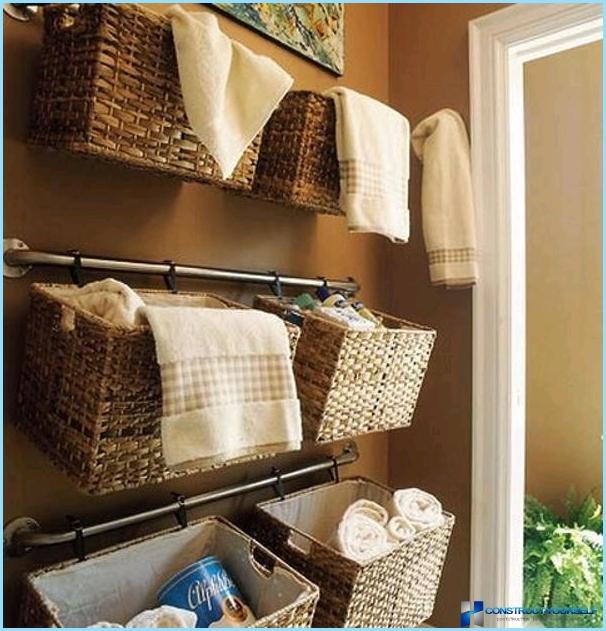 Ideas for kitchen decor huge amount to list them all is just impossible. Crafts made from fabric, paper and other materials will help to add comfort and warmth to any kitchen. Everything depends on the hands of the craftsman and his patience, and of course, opportunities.
The kitchen is the place where many people spend a considerable portion of their time, so it must look good to cause only positive emotions and lift your spirits.
Content related