Many people, when faced with a small bathroom, and it's usually not more than two or three square meters, make the decision to combine them to space has become more and more functional.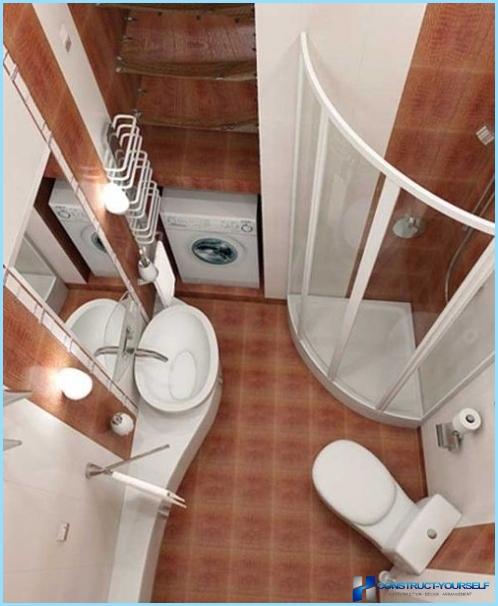 It is a good way for small families as such a combination bears some difficulties. Combining the bathroom and washroom, some change the bath to shower.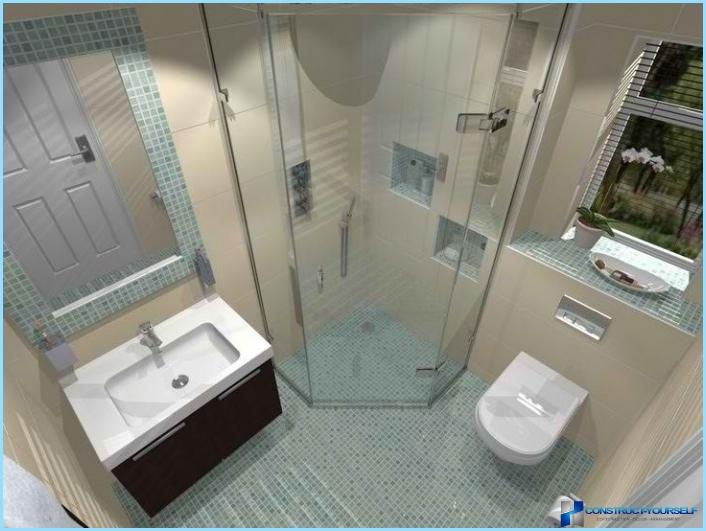 Combining the two rooms into one room increases, giving a flight of fantasy. To make it even bigger will help a replacement bath shower. A shower also allows you to quickly take a shower before work, rarely having a bath. It saves water consumption, which is important. Also, modern showers have additional useful features such as radio, telephone, sauna and aromatherapy.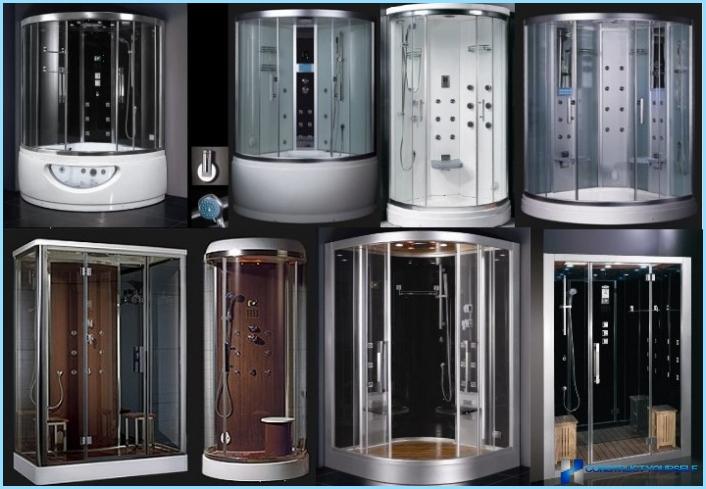 Of course, the shower will never replace a full bath, but the variety of choice will help you choose the right instance. Showers can be with pallets, low and deep. A deep pan might be nice to replace the tub, even if it is sedentary. The shower door opening outward, inward or in part, will help you choose the option for any layout of your room.
Why you should combine the bathroom with a shower cabin:
The main advantage is the increase room, which is held every morning and evening.
More space allows you to put more storage cabinets, bath accessories, car washing and more things that brings joy.
Association areas allows to save on finishing materials, because one of the walls will be removed, there will be more space and savings by eliminating one of the two doors.
The room is larger, allow you to install plumbing as prefer or is more convenient.
A common room, a larger size will allow to realize ideas with a more complex design.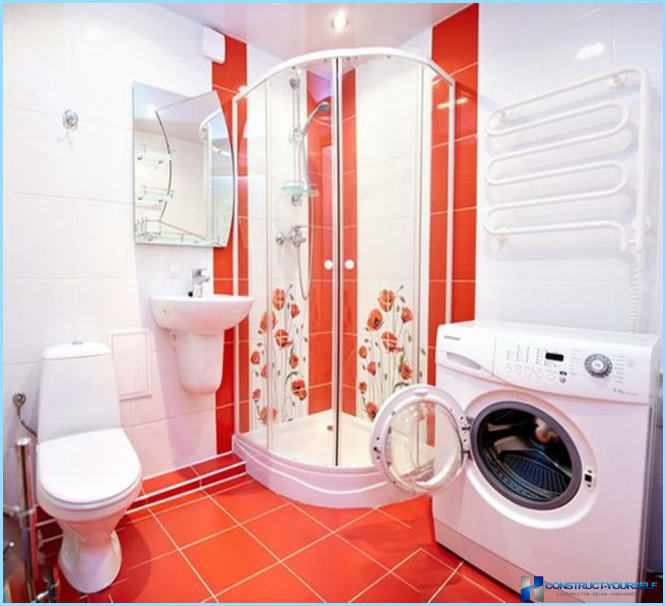 What can prevent to combine a bathroom with a shower cabin:
Having a large family, will become a problem bathroom visit a few people, especially if you have multiple children, especially if they are different sex.
For the demolition of the walls have to draw a permit and it is provided that the wall is not a carrier. Such walls can not endure.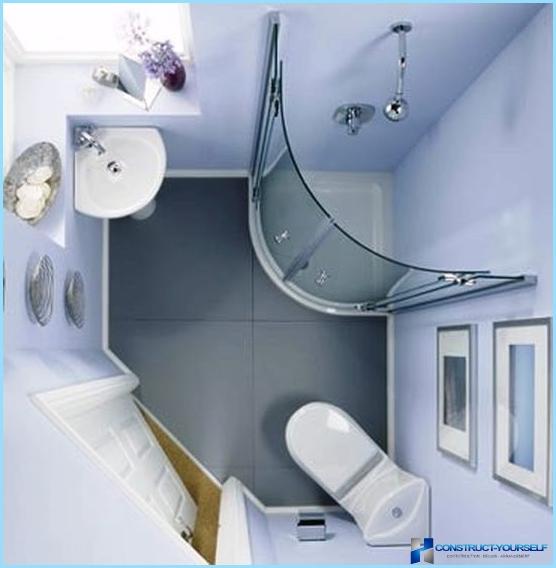 Starting a repair, it is necessary to first draw the plan of an EN-Suite bathroom with shower. When you know where and what will be, renovations are taking place much faster.
The main types of layouts:
The room is square shaped, is considered the most convenient. In this space you will easily accommodate the plumbing and necessary furniture along the walls. It also gives the opportunity to make a partition separating the toilet from the common room.

In a rectangular room, with a door located on the wide side, have a shower, usually with one side of the door, and the toilet and sink on the other. Sink or table under it, may be elongated in front of the door and exciting corner near the toilet. In this Cabinet is easy to position and the sink and the washing machine or drawers for storing bath accessories.

In the room, in the form of a long narrow rectangle, with the door located on the narrow side of the wall, plumbing and furniture are arranged along the long wall, in a row. This arrangement also gives the possibility to separate the toilet partition or screen.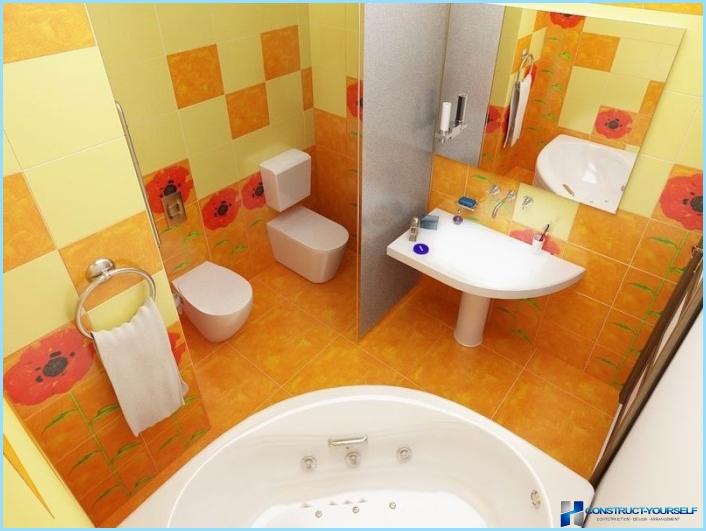 Not all design styles suitable for small rooms. Design combined bathroom with a shower cabin you can create with the imitation of any style and small accessories.
Several types of design for small spaces:
The high-tech style

– it's minimalist, dark, glossy surface, compact sanitary ware, spot lighting, any small trinkets. Considering this style, it is worth considering that dark colors can depress to get bored quickly.


Japanese style

is natural materials or a good replacement for them. This style is also welcome minimum. The colors are usually neutral, a set of drawings of Japanese flowers, and kanji. Well suited to sliding doors and doors. If space allows room, very into the interior of the bamboo divider or screen.


Minimalist architecture

is very little furniture, only the most necessary. No detail and decor. Color choose either beige or gray. Doors, sink and glass shelves.


Marine style

, very popular, it's all shades of green, blue, beige and white colors. Shells and sea stars, drawings of sea creatures and plants. Lots of accessories with a nautical theme, will cheer up anyone.

Combined bathroom with shower cabin can be arranged in any style, as long as he neither pressed and not have to redo everything.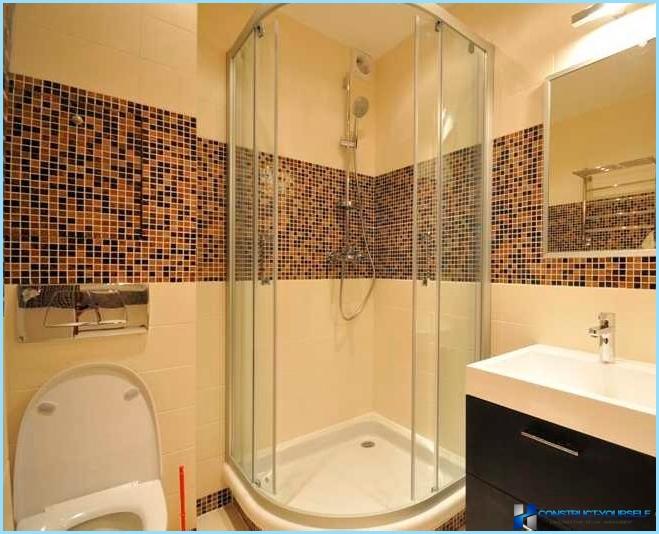 Walls can be finished with any material is a tile, and Wallpaper, and panel, and their easier to paint. Most often, the walls spread with ceramics. When choosing tile, you should not forget a few rules:
Tiles should not be too large, no more than twenty centimeters.
Put it stands vertically, or diagonally – this will increase the volume of the room.
Combine colors, you should not take more than two, so that was not too bright.
Separation by color, the top of the room and lower, make the room above.
The glossy surface of the tiles will reflect light and make the area more.
Mirror tile well increase the bathroom, but it is hard to care for.
The tiles are dark colors are very visible soap stains and to clean it more often.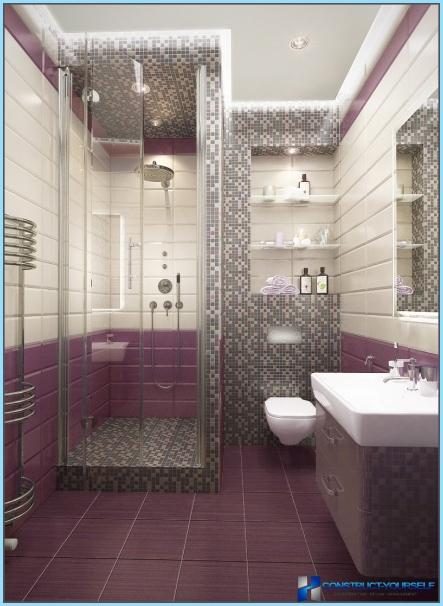 The Council
! A good option for any bathrooms will have mosaic. With its help you can create your own, individual style. It can be on all the walls, and a separate drawing or pattern.
A trim wall multiple materials, or by separating the top and bottom, or alternating on the walls, each wall it is possible to make different or to beat for contrast. The walls have to be mirror, be they small or on the wall.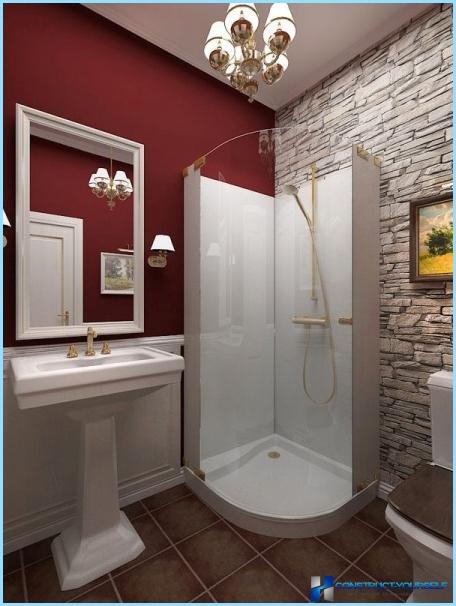 The most common ceiling trim – this is a good whitewashing or painting. If your room is tiled, the ceiling, it is better not to use. Mounted or framed ceilings will steal extra inches of space, but glossy false ceiling made up for it. A mirrored ceiling will greatly increase the volume, but this option is not suitable for everyone, but only bold people.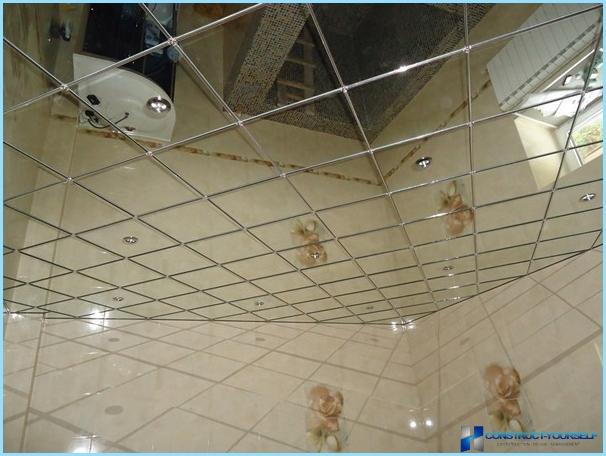 On the floor, you can put the tiles, and the tree, preferably on the diagonal – this will help increase the bathroom. To make it cozy, will help a large range of Underfloor heating.
In the video, showing all the stages of repair combined bathroom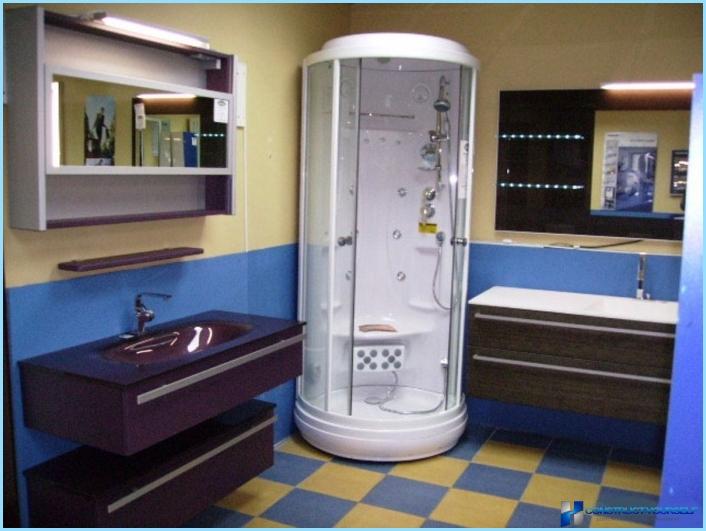 The shower enclosure is selected, given the size of the room and the style of the room. It can be angular, square, rectangular, round, oval or even curved. Shower can be deep or low pallet, or do without it.
For small bathrooms with shower, toilet and sink possibly choose hanging. This will visually enlarge the room and give the opportunity, for example, under the sink to install a washing machine or cupboard for cleaning products or bath accessories. In addition, it will facilitate the cleaning of the room.
In a small room, little things are stored, usually in hanging cabinets or shelves. Their choice also depends on the place and style.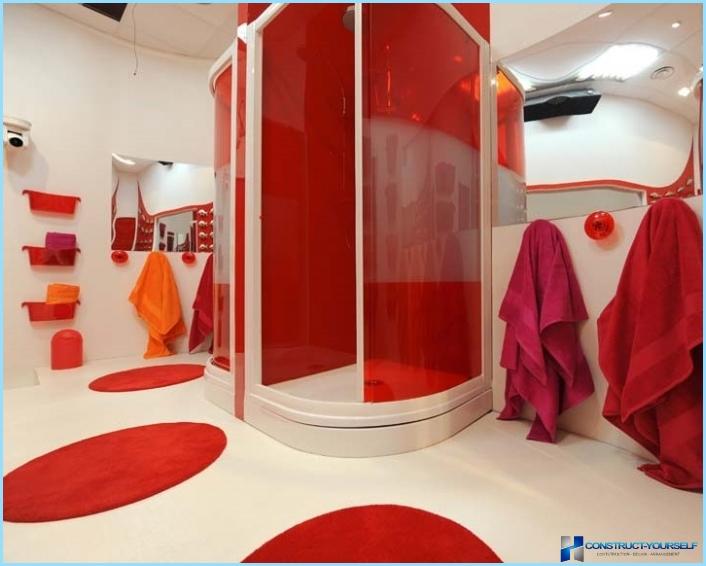 Choose accessories, considering the style of bathroom. If a certain style is not, I advise you to pick up, for example, curtains, towels and mats in one color or, conversely, in contrast.
The combination of bathroom with shower good idea for small apartments, where a small bathroom and tiny toilet. Such a merger will increase the total area will make it comfortable and functional. Greater spatial volume will make it cozy and to fill small.
Content related