Efficiently perform construction work help well-chosen special devices, fixtures and appliances. Without such electric appliance as a building or a technical fan most of the work cannot be performed. This product has several names, such as melt, thermobondable, hot air gun or simply blower. The principle of operation is simple. It works by applying a directed stream of air heated to a certain temperature, to the place of work performed.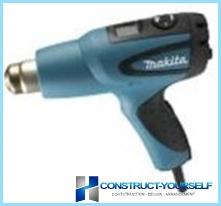 Using the device you can perform the following operations:
blow drying or cooling of surfaces including hard to reach places;
to remove Wallpaper, tiles, flooring, coatings;
welding of different materials (fabric, PVC, linoleum, tarpaulin);
brazing polymers;
cutting shingles, ruberoid, foam plastic material;
to speed up the process of gluing;
to promote the warming up of many elements (water pipes, stairs, chutes, engines, etc.);
to perform the fitting;
melt the solid compounds, including bitumen;
work with solder (tin, silver);
to perform the tinning;
remove the screws, put on the glue;
scorch wood.

The use of this necessary tool in construction and everyday life cannot be overemphasized. It is useful not only to professional builders, but fans of everything to do with your hands.
The main elements of construction of the dryer are:
housing;
handle with toggle buttons;
a set of nozzles (nozzles);
heating element;
the electric motor;
fan;
the power cord.
The casing is made from a material which has insulating properties. The heating element is located on the insulator, made of heat-resistant ceramics. Motor pumps with impellers (one or two) hot air in one direction and once in the nozzle, creates a worker thread. Nozzles that are used for dryers, made of high-alloy steel. They can be different shape: flat, narrow, rounded. Some models are equipped with a special cutting head, with reflector, protective and other.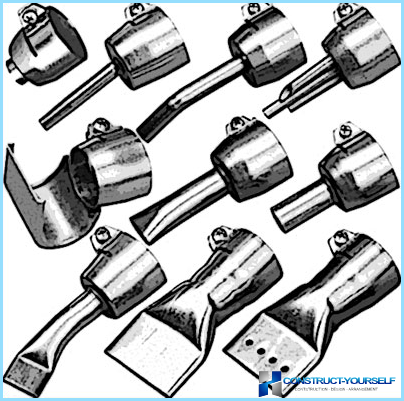 A construction dryers have additional functions, with which is possible to regulate the temperature of heating (continuous or stepped), the volume change of the air flow, the implementation of switching modes, filtering of incoming air, control and indication (led or LCD), protection from overheating. There are hair dryers that have this feature, like blowing cold air. This allows the bonding of materials by heating and cooling the bonded surfaces. These hair dryers have 2 of the nozzle or the function of disconnecting the heating coil.
A few words about arms. They can be open and closed. Tool with an open arm easy to use, and closed – protects the hand from exposure to hot air and splashing.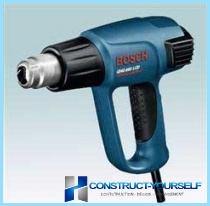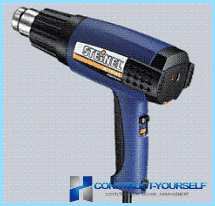 The power cord must not be less than 3 m. Some models of dryers have a loop in the cord. This facilitates its storage and makes it easier to use.
The main specifications include:
power consumption in watts (from 500 to 3400);
operating temperature ºC (50 to 800);
air flow in l/min (50 to 650);
weight in kg (0.5 to 1.5).
It is important!
To TV served long time of continuous operation should not exceed 10-15 minutes.
Manufacturers (domestic and foreign) produce products in a large range for both domestic and professional use. It is important to know the basic criteria and principles of selection. What is a building dryer to choose? This issue is of concern to both Amateurs and professionals. Let's try to figure this out. First and foremost, you must know what types of work you plan to perform using the device.
Amateur or household hair dryer used in the following cases:
max temperature of air in the unit, in the execution of works does not exceed 560 ºWith;
uptime is 15 minutes.
there is no need to gradually adjust the temperature of the air supplied.
It is important!
The top five products includes the following models: Bosch, Makita, AEG, Metabo, Sparki, Black&Decker.
Professional product is necessary in the following cases:
execution of works for various purposes;
use adjustment features smooth temperature;
the need to keep a constant temperature in the process.
Such devices should have a heat shield removable type and the handle closed type.
It is important!
The best manufacturers in this category are industrial dryers models from DeWALT, Metabo, Makita, Bosch, Steinel.
When working with the tool, it is necessary to observe a number of conditions, which will prolong its lifespan:
when activating a new device it is recommended to first allow it to run at high speeds. Not allowed to immediately use the product to maximum power;
the air flow should be directed to the product at an angle of 45º;
to prevent the ingress of dust and moisture on spiral;
to prevent overheating of the tool (air intake grilles must be open);
it is recommended to work with interruptions;
choose the speed of the airflow and temperature according to the work performed;
when you turn off the Hairdryer also need to let it run a while at low engine speeds.
Each model has a manual that was developed by the manufacturer and to violate it is not recommended. It describes in detail for what purposes can be used the Hairdryer and the basic operation modes. Here is a video for reference:
You must also observe the following safety rules:
not to keep the instrument at the level of the head;
work only in well-ventilated area;
do not work near flammable materials.
Content related