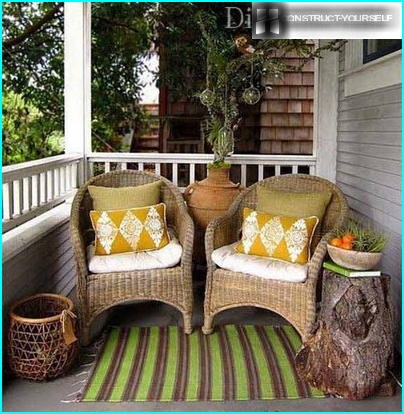 In North Africa and Spain in the VII-VIII centuriesMoors and Arabs have formed their own state, whose rulers were building palaces. Broken around parks and gardens combine elements of different cultures. It is believed that the efforts of the Slavs penetrated into Spain through Constantinople from the Crimea, and in the XII century is widely represented in the military class, Moorish lawn was created. That's why he looks like a blossoming field meadow Russia. Green inclusion motley grasses, consisting of simple wildflowers, was sweet heart Slavs homesick.
Content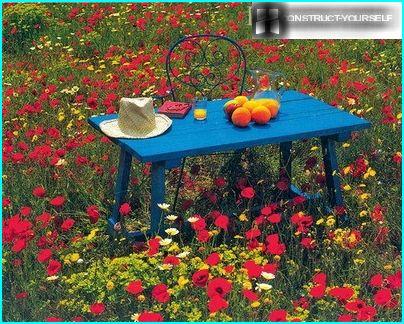 Moorish lawns recently in vogue again
Today Moorish meadow, a little forgotten forthe past few years, again at the peak of popularity. He became increasingly used in landscape design. And we have the opportunity to admire and enjoy its natural beauty.
The composition of the mixture that is used to createMoorish lawn includes seeds of wild flowers and grasses. To blooming lawn pleased from spring to autumn, it is necessary to combine plants of different periods of flowering. The choice of specific colors can be limited only to the personal preferences of the garden owners.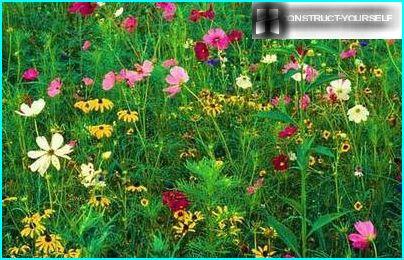 The composition of the mixture to create a Moorish meadow grasses include seeds and a variety of colors
most other colors in the composition of the Moorish lawn include:
Oriental poppies. Bright red and rather large flowers eastpoppy has always attracted attention. It is a perennial, flowering during the last 2 weeks of May. Boxes contain poppy seeds and provide a self-seeding.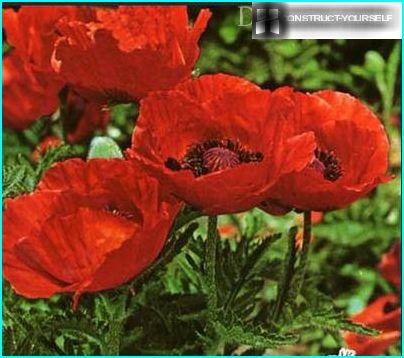 Bright Poppy - a real decoration of meadows in the Moorish style
Field cornflower. Dazzling blue blossoms of this plantknown and loved by us from childhood. Cornflowers Flowering occurs in late June and lasts till August end. They can meet both annual and perennial species cornflowers. The plant can easily be renewed by means of seeds.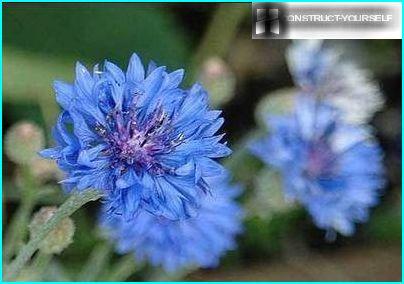 Since childhood friend and favorite cornflower field evokes nostalgic thoughts of home country
Meadow daisy. This plant - perennial traditional withoutRussian meadow which looks unfinished. Daisy looks great with bells and cornflowers. Height daisies - up to 90 cm, so the group is especially attractive landing. Blooming daisies begins in March, April and may continue until October.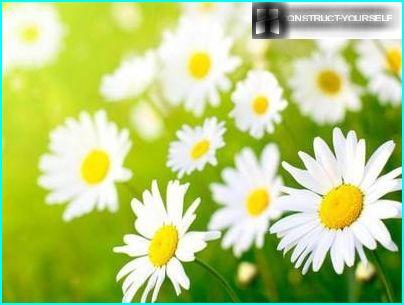 Daisy Meadow - the traditional Russian perennial
Echinacea. Medicinal plants Echinacea is a perennial andIt looks great when a group planting. Echinacea, even in the form of cut long retains attractive appearance and is a real decoration of the interior. Echinacea heads may be pale pink color, reaching to deep red. Blooming echinacea may begin in May or June. The flower can provoke allergic reactions.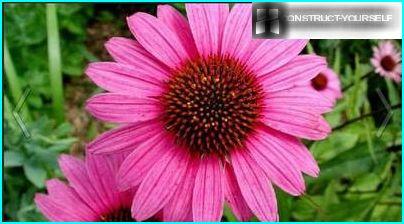 Echinacea is accepted to use in a group planting
Large-flax. The fact that this plant is an annual plant,can not detract from its beauty. Len is often used for bouquets. The plant may be not only a sky blue, and red and white and even red. The inflorescence reaches up to 3 centimeters in diameter.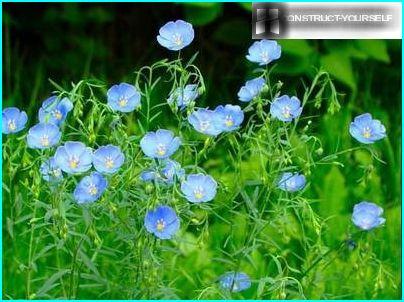 Linen can be not only delicate sky-blue, and purple, and even white with a red heart
Nemesia. The genus of this plant includes more than 50 speciesannuals and perennials. Bright, festive, unpretentious Nemesia flowers from the beginning of summer to late autumn. Loving the light and resistant to cold, Nemesia decorates the lawn yellow, white, red and even purple.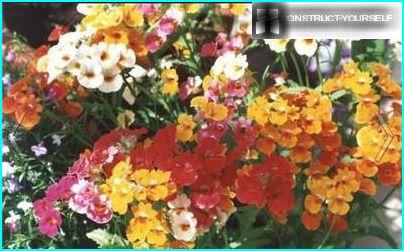 Light-requiring, and cold-resistant Nemesia blooms all summer until late autumn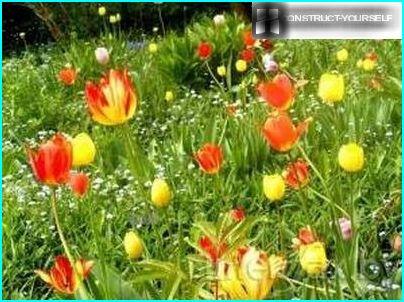 Bulbous plants are perfectly combined in the Moorish lawn with the other flowers and herbs
Most of the colors that make up the Moorishlawn, are honey plants. The bright and fragrant blossoms attract not only butterflies, but bees. To this we must be prepared. The composition of lawn colors can be incorporated and bulbous species that bloom together in the spring. Crocuses, tulips and daffodils are perfectly combined with grasses.
Among the herbs themselves can be given preferencemeadow bluegrass, bent grass thin, timothy and meadow ryegrass pasture. Value herbs to flowers should be in favor of cereals. You can stay at 80:20, but sometimes limited to 95: 5. It must be remembered that the proportions of annual and perennial plants should be timely adjusted.
Create a Moorish lawn with his own hands is not sotoo difficult. You do not need a lot of money and overwork. Moorish lawn is different brightness and diversity. Perhaps that is why they occupy a large space is not necessary. It looks great on a small area, like a clearing, bathed in sunlight. This may be a gap between the trees, land, contrasting with the usual lawn or space along the border area.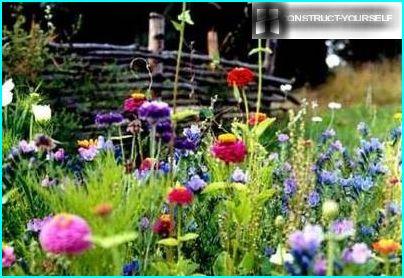 For Mauritanian meadows do not need a lot of space: along the fence, or the trees it will look good
After the area was under the lawndefined, it must be free of weeds and carefully dig. Do it better in the fall. Digging should be done at 15-25 centimeters deep.
At the same time better to make fertilizer. The soil surface is filled with dung for five centimeters, then it dug to 30-40cm. Soil can be compacted or even trample, using for this purpose a cylindrical container filled with water.
seed sowing can be performed after twoweeks after the preparation of the soil, but it is better to do this spring. In the period from April to June, depending on the climatic conditions of the area, we get to work.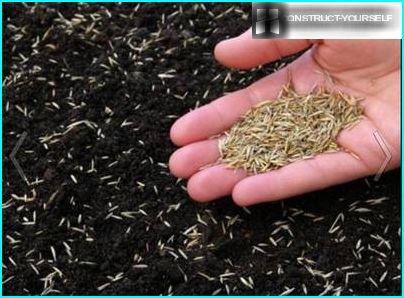 Make the seeds should be in moist soil, a manual seeding rate should be increased by 10%
For planting the lawn can take ready-mix,are often sold in stores. It is possible and necessary to make the mixture by buying separate the seeds of grasses and flowers. Allowed mixing of seeds, then the lawn will look more or less evenly colorized. If the first plant the crops, and then flowering plants, the flowers form a kind of small islands, which also looks attractive.
Before planting the seeds of the soil must be watered. The moderately damp ground seeds deepen on 3-5 mm. Square meters of land for sowing requires not less than 50 grams of seeds or 5 kg per one hundred square meters. If you intend to fit the bulbous plants, the priority should be given priority landing close plants and post small groups of about a dozen or more little pieces. It onion can be filled with empty space after annuals.
To seedlings were amicable and uniform, the way you can hide the non-woven fabric. The first shoots you can wait a week or two.
During the Moorish lawn, despite itsnaturalness, need care. He, too, need time to pour and does not allow it to appear on the weeds. Particular attention should be paid to the timely mowing meadows.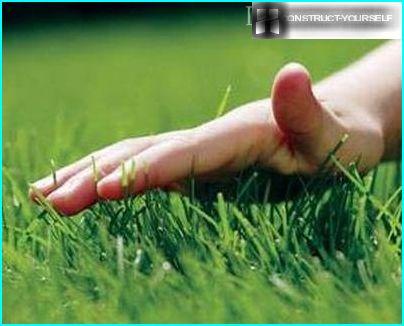 The first lawn mowing is carried out with the appearance of seedlings of cereals until the flowers have not yet given sprouts
While the lawn has not succumbed to it mustsubject to clear cutting rules. When the grains have already ascended, and the flowers have not yet appeared, the first mowing the lawn should be held. This is done to ensure that the grass is not stifled the growth of flowers. They should enter into force. All summer lawn will grow and bloom as well as its natural counterparts. But with the onset of autumn, when there was colonization, the lawn should be cut back. This occurs around September-October. From the soil surface mowing height should not be less than 8 cm and 12 above.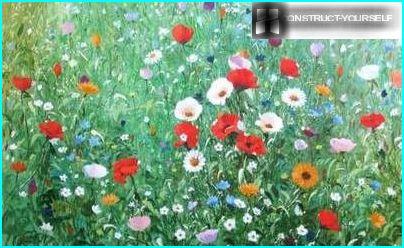 Small untidy meadow gives a special charm
In subsequent years, periods of mowingdetermined by the owner of the meadow. The principle is the same: you have to give the plants an opportunity to throw the seeds before they EQS. He must keep the similarity to natural lawn and a little untidy, if it looks natural, never want to destroy.