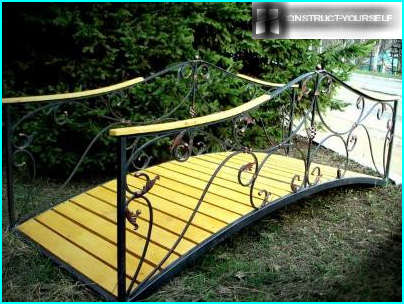 Flowers can decorate any interior, addingits bright dashes of fresh juicy colors. Fresh flowers in the imaginatively decorated pots can become a bright accent the interior, emphasizing the design of the room or area. Decorating flower pots with their hands - an occupation that allows you to transform conventional tank plants in original features.
Content
Clay pots - the ideal basis forthe use of virtually any art in the style of hand-made, the choice of which may be limited only by imagination and desire to master. Decor flowerpot with their own hands will not only give a second life to old products, but will allow once again plunge into the fascinating creative process.
It is known that plants feel excellent it is in rough clay pots: Clay porosity allows the root system to obtain the necessary amount of air
Eggshell - popular, affordable and convenientthe material for the decoration of various items. To create a marvelous patterns applied shell of boiled eggs, acrylic paint, construction adhesive or PVA paint and brushes. To make flower pots can be used as a traditional white shell and create unusual patterns of different shades of the color palette.
The work is taken shells, whichpreviously removed from the inside of the film, and then degreased in a soda solution, washed and dried thoroughly. The motives of the natural shell beige white colors will look spectacular on the basis of the dark, and vice versa. Light background can be created by applying a layer of contrasting dark colors of acrylic paint.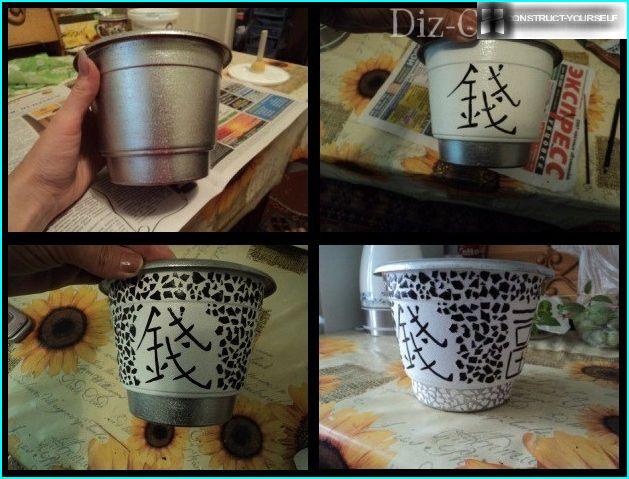 Decorating pots egg shell to create a crackle effect, which is an elegant pattern of subtle cracks that looks like aged effect
The very Decor application technique is quite simple flower pots. In a small portion of the surface coating is appliedthe adhesive is applied and solid piece of the convex side of the shell out, pressed down gently with your fingers for a snug fit. To make the unusual mosaic of necessary form, you can use a pointed awl or epee. Large gaps that occur between the major elements of the mosaic, easily filled with individual small pieces. Patterned surface primed glue PVA and allowed to dry completely.
Decor flower pots in the style of craquelureIt ends with application of a layer of paint, which can act as a major background articles, and become the basis for further color decoration object. When painting the shell should be aware that even after drying the mosaic sufficiently mobile. The finished product revealed a layer of lacquer.
The design of the pot, you can also usesea ​​stones and pieces of glass, buttons and even small coins. The combination of materials allows the author to expand the field for the imagination. Decorating flower pots shells and other small objects on the technique of execution is very similar to the decoration of products eggshells.
Shells - versatile material to create vases in a nautical style. Their ribbed surface effectively plays a shimmering beneath the pearl paint colors
shells should also be washed before work anddegrease. To the surface of the pot, they are attached with high-quality construction adhesive which has sufficient viscosity and at the same time is quite dries quickly. The adhesive is applied as a brush affixed to the surface of the part shells and in the surface portion of the pot. Each shell is fixed for a few seconds to the outside of the pot by a press of a finger. The finished product, you can simply open the paint, or pre-decorate it with acrylic paints.
Also, instead of shells can be used ordinary stones. How to make a pot, see in this video:
Decorating flower pots twine -a fairly simple way of transformation of the old products, allowing you to create interior elements in the ethnic style. The material for the decorations can act as a thick rope and thin rope, or even an ordinary woolen thread. Unusually looks clearance pots of small size coarse thick rope, woven from hemp or hemp.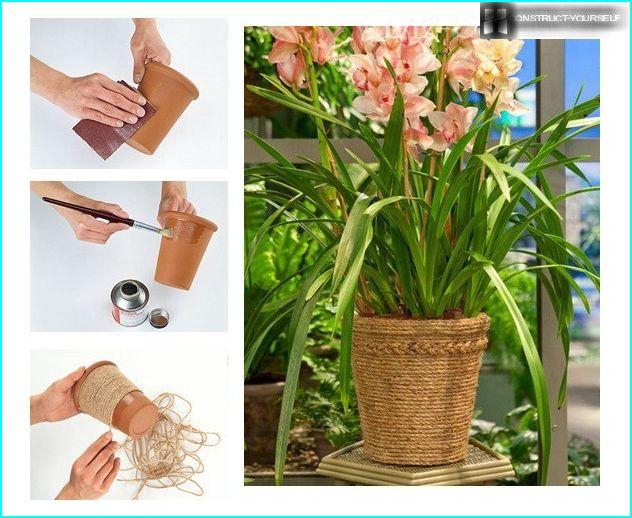 Pot can braid, tie, or simply applied to the surface of the finished pattern of threads. Spicy highlight of the decor may be a combination of coarse thread with tufts of dry grass
Application technique and fixing thread decorIt is also quite simple. To make the old new species of flower pots can perform several consecutive densely contiguous turns of the twine. To ornament with time not "departed" and has not lost its appeal, the turns should be done with some tension and secured with blind knots and glue. Standard coil pot can be supplemented by the imposition of patterns, combined with coil products pigtail.
In the capable hands of any thing superfluousstored in the bins may get another lease on life. So the old cords from sweaters and jackets, pens of paper bags can tune up with new colors, becoming a friend of the original decoration of the interior of the subject. Small objects easily attached to the surface of the pot using hot melt adhesive.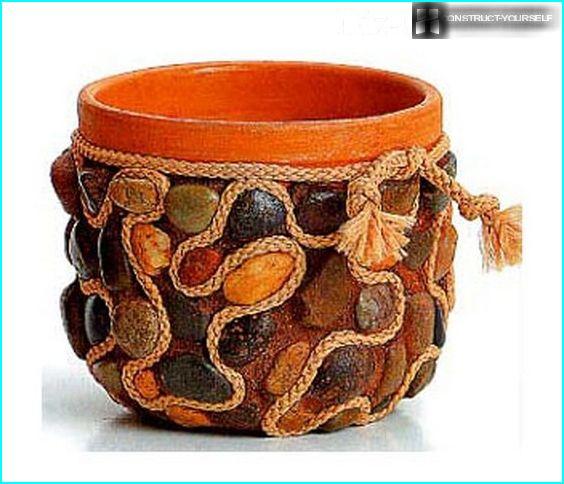 Very unusual looks a composition of colored stones, between which gently laid a delicate lace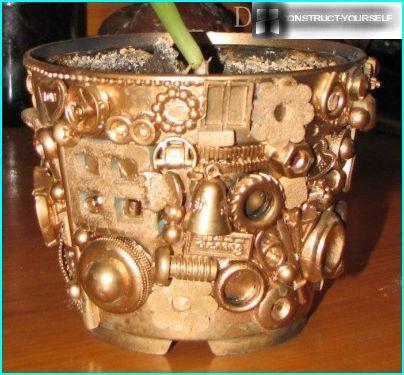 Cute pot decorated with old bolts, nuts and other small parts, and opened a layer of bronze paint and varnish
Decoration pots successfully combined with twinedecoration fabric products, allowing you to create a unique in-kind home furnishings. For this purpose, suitable as a bright piece of fabric, and regular burlap. On motley checkered cloth looks spectacular string of natural gray shade on sackcloth - a band of bright color.
Ready ribbons of satin, organza sold inhardware stores. Colourful ribbons can braid in braids and flagella and then just stick it to the outside of the pot. Brightly colored ribbons intertwined, decorated with all kinds of crystals and beads, give the product a playful mood. This bright and cheerful pot for flowers will adorn any interior.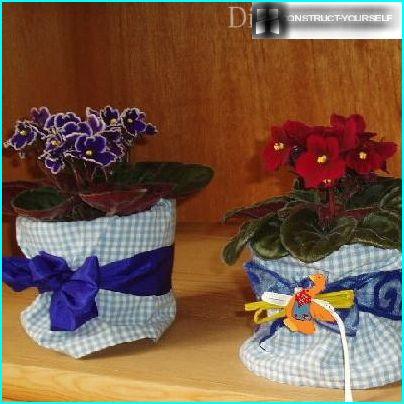 Wanting to create a bright pot of flowers, the appearance of which causes only positive emotions in the design, you can use tape and decorated with all kinds of beads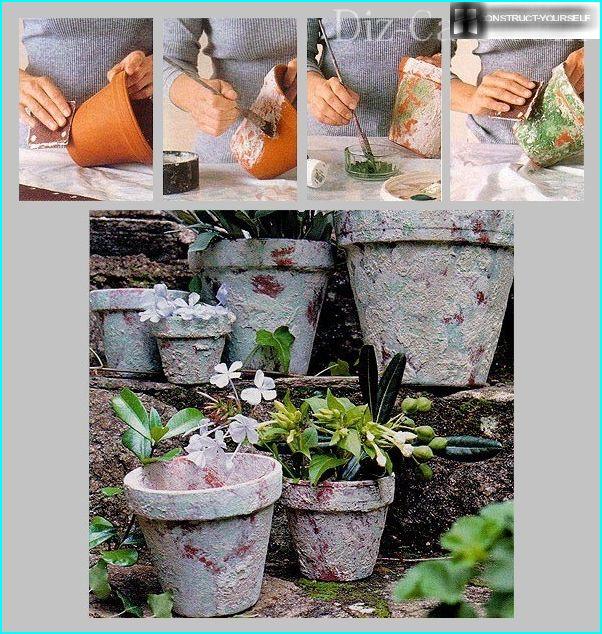 So a simple way you can make pots antique that looked "like in ancient Rome"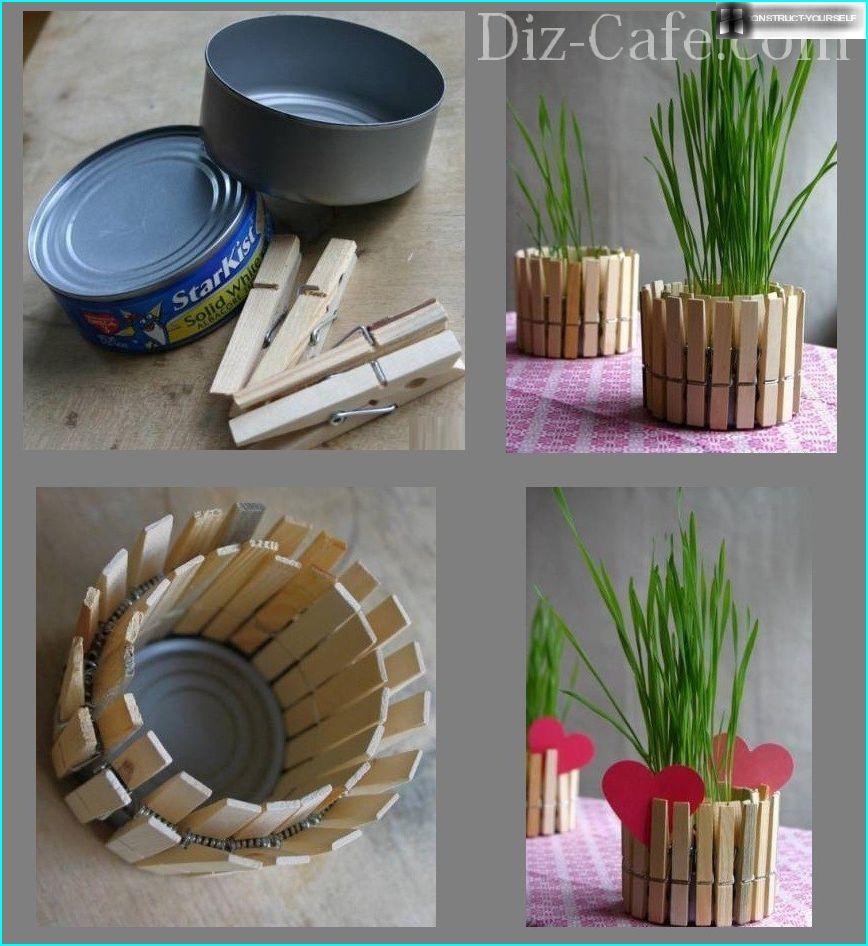 The material colors decorating pots can also act as bottle caps, paper clips, cotton balls, beams of line and even old wooden clothespins
Decorating flower pots with their hands - a great way to create exclusive items for the house and the suburban area, that their views will delight the whole family.