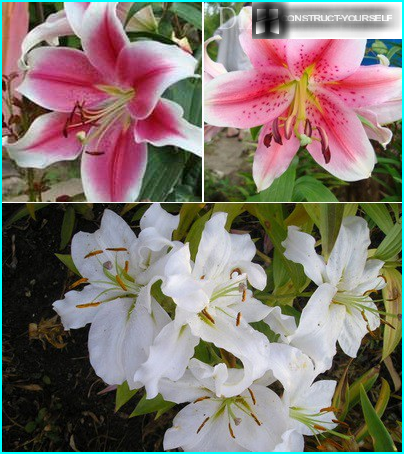 From the appearance of the infield dependsmuch. It is no secret that being in nature reduces stress, calms, soothes and energizes the body with pure energy. The area where the landscape design carefully thought out, designed in the same style, and the plants look manicured and lush, always will cheer up, allowing to gain composure lost. Many think much about what style to choose for your garden design. If you - a fan of clear symmetrical compositions, regular geometric forms and order in life and in nature, perhaps a regular style of landscape design - your option.
It should be noted that for a regular garden will require a large plot on which to create a composition that can show all the beauty of this style.
Content
Very popular axial composition. They are usually formed around a central axis - alleys, lanes. Often located in the center of the axis of the water body - a pond or fountain. On either side of the central axis formed symmetrical composition - lawns and flowerbeds of regular shape, alleys and alley with shrubs and trees with trimmed crowns.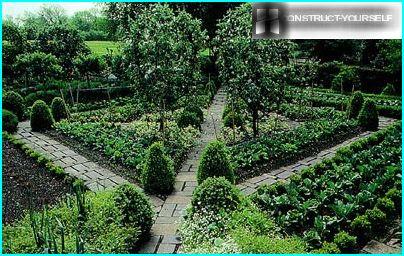 Example of axial composition in a small area. On either side of the central walkway arranged geometrically regular symmetrical lawns, on which rows are planted plants, trees in the area are located in a special symmetry forming an interesting combination
Bosquet - an integral part of the regularparka. Bosquet is a group of shrubs or trees planted in a certain way. Specially clipped plants can form something like a green arbor or a room, curtains, hiding from prying eyes of visitors, simulate different geometric shapes or even some architectural forms - arches, pillars, pinnacles.
There are two varieties bosquets:
the so-called office where plants are planted on the perimeter;
Artificial Grove is a group of ornamental shrubs or trees, which were planted on the lawn: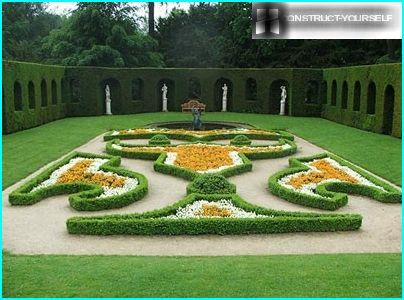 Example cabinet in the regular park - croppedbushes form a green wall, in which there are niches arches, statues. In the center of the cabinet - the symmetrical composition in the form of a flower bed. In my garden, too, can make such a curtain of shrubs and lawn, forming a cozy corner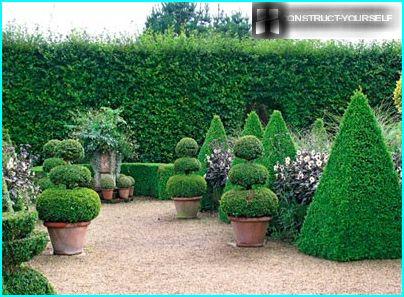 A small grove of artificial, to create that you can use and ornamental plants in pots
Regular garden is unthinkable without the neat lawns correct form, they largely give this garden a grand and noble appearance.
The history of landscape art has notone hundred years in the 16th century gardeners create beautiful formal gardens and parks surrounding the Imperial Palace. In many ways, this style has remained unbeatable, and today surprising clarity, elegance, luxury and noble lines.
Of course, to create a real regular at the parka relatively small area is not possible, but you can use some of the characteristic elements - symmetrical planting on the lawn geometrically correct along the central alley, or multiple tracks, straight lines radiating from the reservoir or flowerbeds.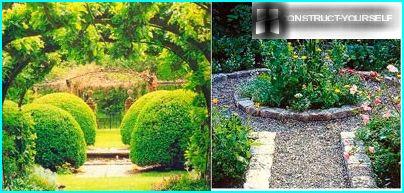 Two examples of the formation of the composition around a central walkway: 1) with arches and symmetrically placed shrubs; 2) via the central flowerbeds and framing its gravel paths
It is possible to plant flower beds sothat they form ridges. Flower-bed is an elongated rectangular flower garden, where different colors are planted in a particular order to form beautiful patterns. Such a flower bed will look great on the sides or between garden paths.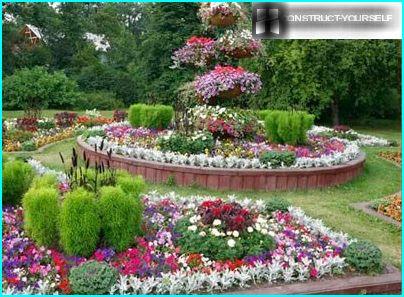 Specially planted flowers form beautiful patterns on the flowerbed and lawns, making them look like a colorful carpet
Regular garden style involves alsothe use of sculptures or sculptural decoration in the antique style. For example, if the central walkway in your garden rather broad and extended, it will decorate the two statues, located at the beginning of the alley across from each other. You can use vases on pedestals, or one large bowl in the middle of the central flower bed.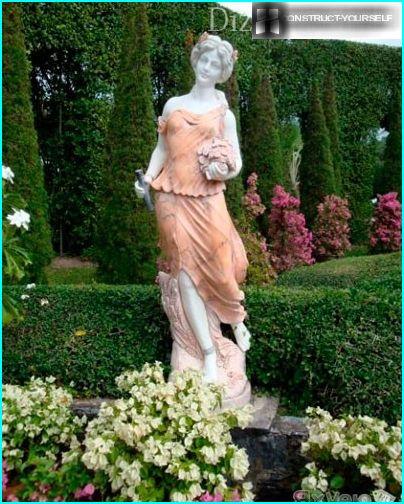 Classic sculpture - Decoration regular park, they complement the composition picturesque look at the background of lush vegetation
And, in a classic regular parknecessarily has an upper point where you can see stalls - lawns, flower beds, planted trees in a certain order. This garden is especially beautiful from above. In a private house this point can be a balcony.
We invite you to view an interesting video on the topic:
As flowering plants make good useannuals that bloom all summer - petunia, marigolds, irises, daisies. Spring in the regular park especially good bulbs - tulips, crocuses, daffodils. Plants should not close the border edges, crisp lines in a regular garden should be viewed in all.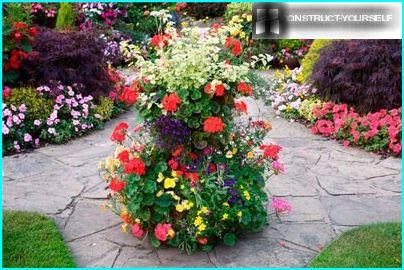 The composition for a small area - the center of "bouquet" of hardy summer flowers, the center radiate four tracks framed by green lawns and rabatok
spruce and arborvitae suitable for symmetrical planting. After shearing well keep their shape, such shrubs and trees as cotoneaster, hawthorn, barberry, privet, lime, maple and spirea.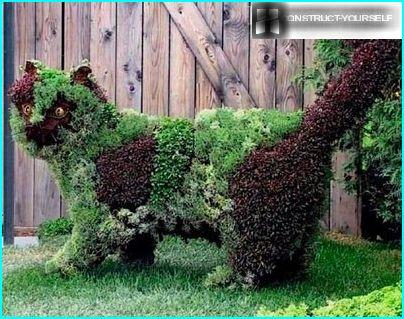 Fashion on the regular green sculpture gardens atWe firmly entrenched. This sculpture looks harmoniously on the lawn, attracting attention. On sale there are artificial green sculpture that looks not unlike the natural
To create a regular garden will require a lot offunds and care needs constant - shearing trees, shrubs, lawn care, planting flowers. Wealthy owners to maintain a garden in good condition, hire a gardener, but if the site is small, and you use only the elements of this style, you can manage and in the home.