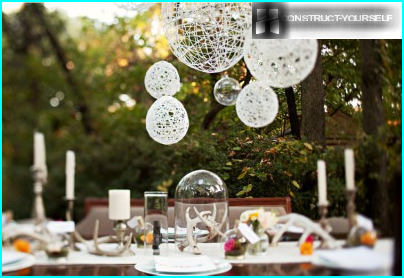 It would seem that an article about a rustic style, whichalready on our site, fully disclose all the rules and tricks of design used in the course of its implementation. What will happen this story? The fact that the country style and rustic style, with all their similarity, are slightly different from each other. Than? The same as the Russian village is different from American farms. However, country-garden - the embodiment of style, which is the ancestor of the XIX and XX centuries became Europe. In America, it was also introduced. The spirit of a country and today reigns in farm houses, filled with home furnishings and familial things that are passed down from generation to generation.
Content
Fundamentals of country style were laid GertrudeJekyll (1843-1932) - the famous English landscape designer. The basis of it was taken modest cottage gardens, intended for the cultivation of vegetables, spicy herbs, aromatic herbs and flowers that adorn the interiors. The purpose of the saturation of the landscape designer was utilitarian gardens high level of aesthetics that have made them a unique style.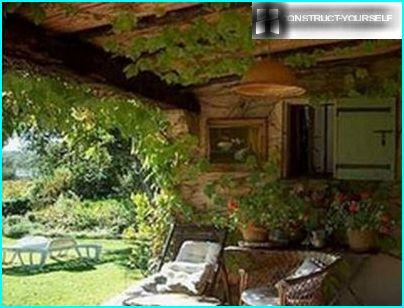 Utility Purchase gardens unique style was full of aestheticism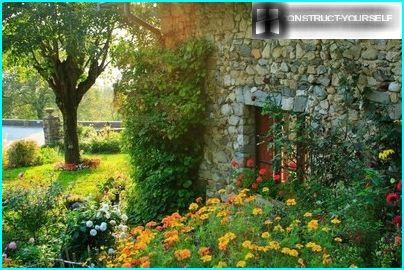 Country-style flies a special flavor depending on the country in which it is embodied
The idea was picked up quickly, resulting in Europepurchased rustic gardens, an indispensable part of which were exquisite flower beds and ornamental gardens. The most interesting is that the garden in country style in each of the European countries immediately supplemented by features peculiar to its culture:
English aristocracy reported country-style special refined rigor;
France rural gardens embody a kind of courtesy, and the lightness of being, is not forgotten and lavender fields of Provence covers the expanse;
Germany distinguished burgher pragmatism and a slight touch of sentimentality.
When they reached America, country style in landscape design in this country has become synonymous with the sounds of the banjo, the Mustang and all that is inherent in the present American ranch.
In a modern country style, which is loved in Russia often they use a number of "Americanisms": decorative hitching post, wagon wheel and part of a fence made of poles.
Each style is characterized by the basic principles they have in the country:
garden does not require careful maintenance: some degree of neglect comes it a special charm;
highlight landscape country style is the large number of flower beds, including cultivated and wild plants (goutweed pestrolistuyu, krasnolisty plantain, etc.);
garden decoration can approach any subject related summer resident, which can no longer be used for its intended purpose.
The basic principle of creating a country style is the presence of the owner of a sizeable portion of imagination and a healthy sense of humor.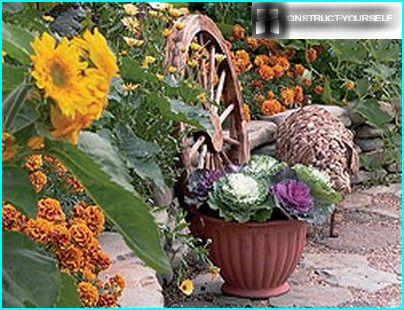 Mild neglect of the garden gives the country a special charm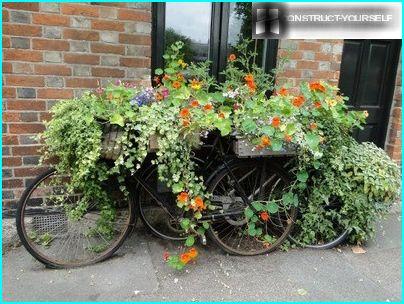 As a basis for the flower garden can be any thing, if you come to the question with humor
Japanese style is easily recognizable in the garden of stones,Chinese - for decorative gazebo with flashlights and the roof, which has a special form. What are the attributes of the form of garden interior in the style of the country? Let's detail.
Decorative garden. The combination of aesthetics and functionality, whichprovided by the other popular styles - this is what you need for the country. Well-groomed, but the small size beds with greens can be decorated with plants such as feverfew or marigolds.
Garden should be well-maintained, small and extended flowering plants
Outbuildings. Simple things (the old wheels, funny figurines), decorative or ornamental composition may revive construction wall. Flowering vines are also decorated.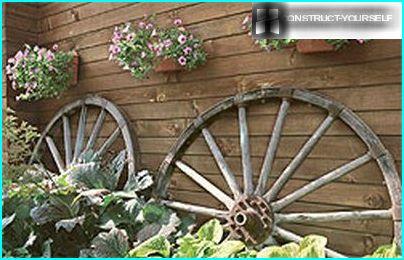 Outbuildings can be decorated with decorative elements and flowers
Flower beds. Using the colors of different types and termsbloom, placed in carts, watering cans, pots or other household containers - typical of the country welcome. Do not forget that the Russian rustic style front gardens fit perfectly with hollyhocks, sunflowers and golden balls. Benches and jasmine bush next to a flower bed, wonderfully complement the overall surroundings.
Picturesque and a variety of flower beds - a proprietary sign country style
Garden paths. garden areas should not have strict boundaries, andtrack between them decided to make natural. To create them suitable, for example, granite screenings. Even strict concrete paths can vary, making their own, adorning their border stonecrop or thyme. Track can decorate or paint.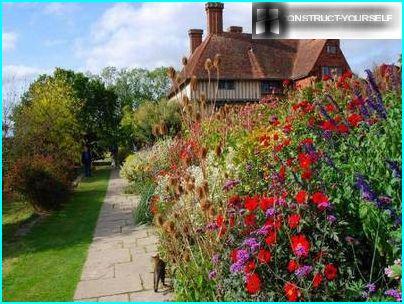 Even concrete path may look very picturesque
Small garden forms. Embellishing villa in country style, to use natural materials: wood, clay (terra cotta, for example). It looks great wickerwork, pergolas made of poles, a wooden well.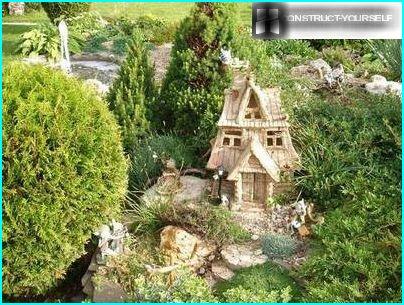 When using small forms need to comply with the measure, and sometimes you can do without them
Water bodies. In the garden of country will look good small village pond, overgrown at the edges of iris.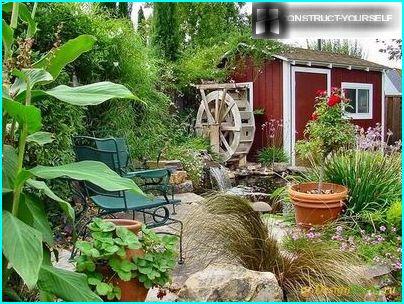 A small water mill in the country style looks pretty good and organically - you can take note
It is important to comply with the measure and do not mix styles. Clumsy gnomes and frogs poisonous colors can spoil everything.
To give the interior a country-style cottages in the rightColoring helps natural materials used in its finishing and decoration: wood, linen, cotton and wool, ceramics. The atmosphere of comfort in which there is no place pomposity and pretentiousness, draws warmth and comfort.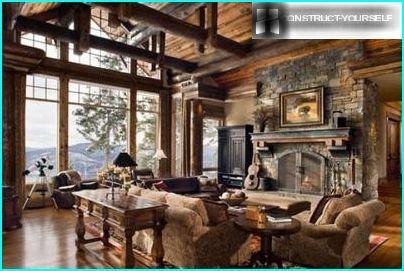 The absence of pomposity and pretentiousness does not exclude the fact that the interior can not be cheap
Houses designed in compliance with the traditions, supplied fireplaces or hearths, because live fire, eye-catching, it is necessary to create the right atmosphere at home in which you are always welcome.
Country is easily recognizable by the abundance of products fromwood and slightly rough, but sturdy and functional furniture from the array. Simple furniture - the foundation of the interior country. However, wood is making even the ceiling. Sometimes decorated with wooden beams and whitewashed, it looks solid and strong, how it should be the ceiling in a good country house.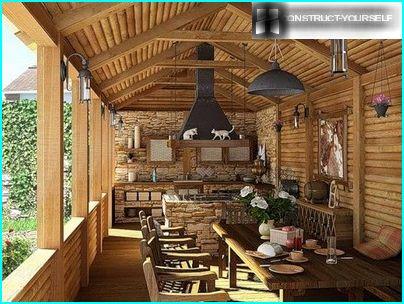 The abundance of natural materials makes the situation more comfortable
Numerous accessories complete the greatpicture. Anything goes - curtains with ruffles or embroidered tablecloths and bedspreads, crocheted napkins, quilts, braided baskets, tin cans of coffee or tea, clay vases and decorative plates, antique utensils, flowers in pots.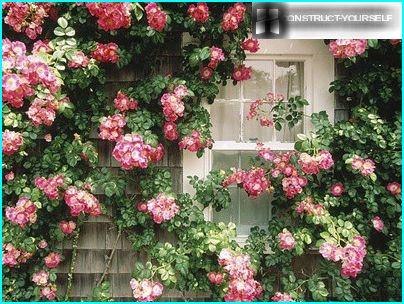 Style country, like any other, forming numerous accessories - after all in the details, all the power!
Another feature of country style in Russia can be considered fragrant pies with browned crust, homemade jam or honey in small bowls and bursting with heat samovar with medals.