Still you can often see in country economy it plots on 6 acres. At first glance, is not very much. But with proper planning you can create the perfect landscape design that will be an example for your neighbors.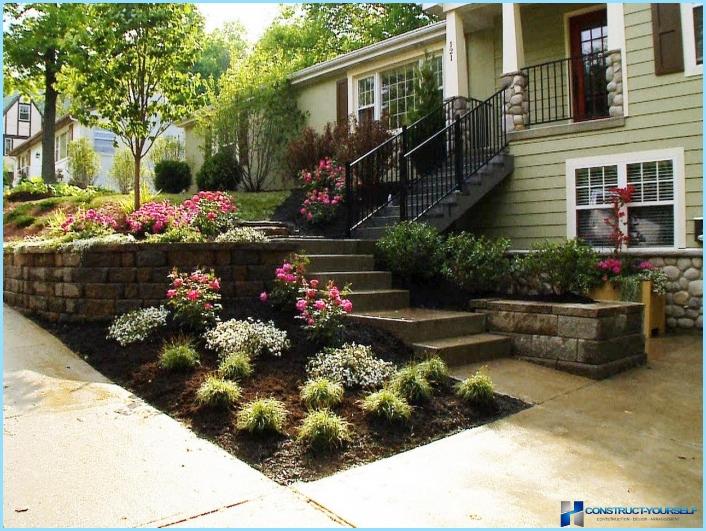 For a start, you should understand that there are many examples of landscape design on 6 acres. Very much depends on the major and minor objects that you want to build. For example, if the construction of a house is taken for granted, there are a number of other structures that can radically transform the landscape.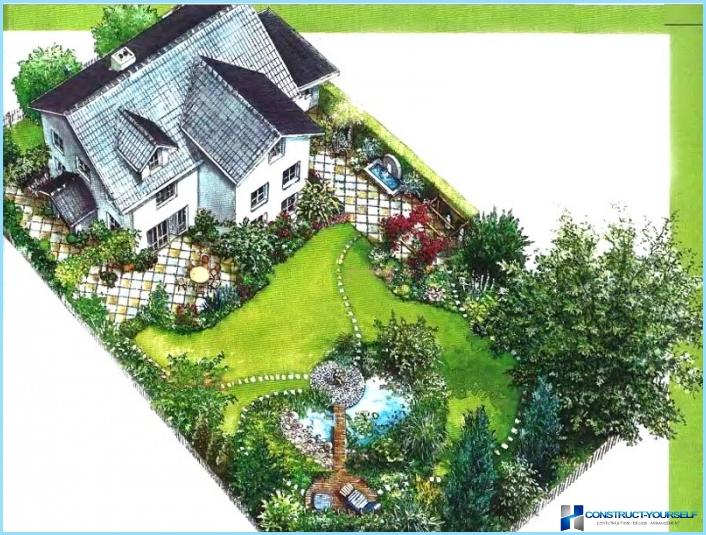 Very often, when creating a landscape design on 6 acres in plan the building is entered under the bath. You can also build a small gazebo and even a swimming pool. In fact, this area is more than enough to create a cozy and beautiful area.
But the layout of landscape design on 6 acres includes not only the construction of buildings. You should also identify where there will be trees, ornamental shrubs, lawn and so on. All of these items can be seen on the examples of photo.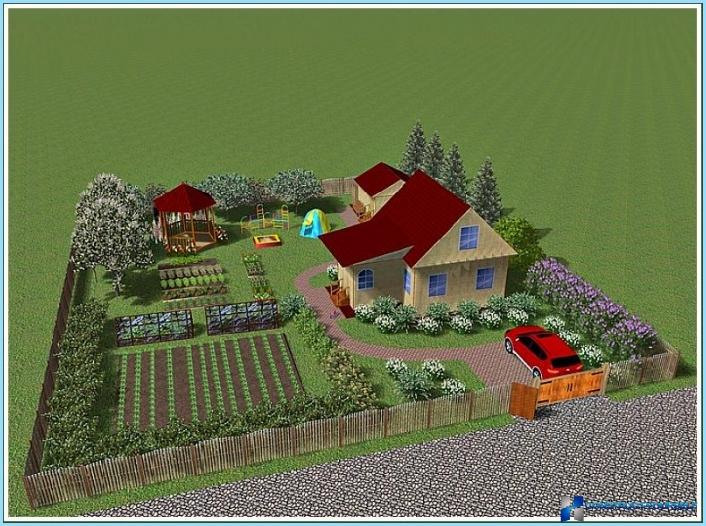 To understand what are some examples of country estates will fit you, consider what constitutes a square of 6 acres. In most cases, the plot size of 15 to 40 or 20 to 30 meters. To create ergonomic landscape design in such a small field you need not only to plan everything exactly, but use the modern methods of zoning.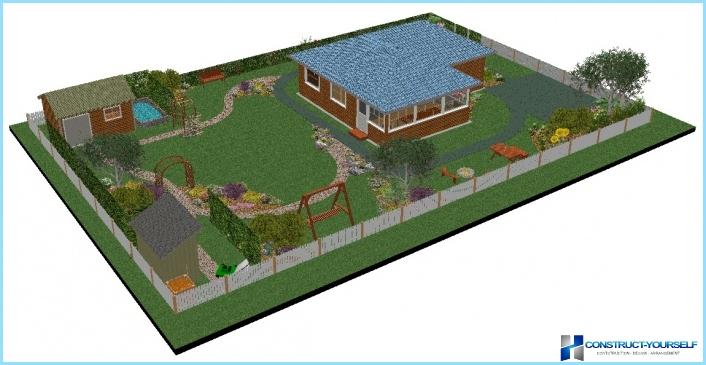 Very important before you begin create the project of landscape design suburban area 6 acres to deal with priorities. You should know in advance what is more important a big beautiful house, pool, garden with fruit trees and lawn with green grass. Only after that you can start creating your own example of a future plan.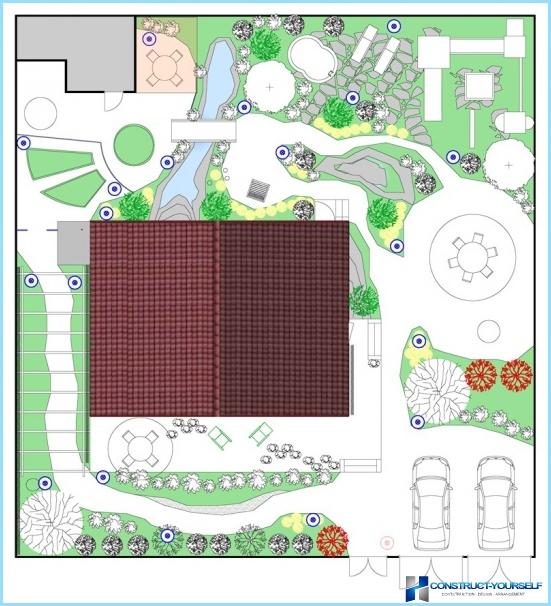 There are a number of parameters that must be considered when developing the landscape design on 6 acres, then you designed an example of the future design masterpiece is the most functional. To create a good project, you need to rely on the following parameters:
Relief. Your site can be on a slope, in the gully, and the hill and even at the foot of the cliff. Of course this should be considered when planning. Otherwise all of your design refinements would have no meaning. The terrain depends on the type of design the home, its location, required utilities, and more.
The shape of the site also plays a significant role in the creation of the example landscape design on 6 acres. The fact that most people think that it's a traditional square or a rectangle. But the truth is that form can be very diverse, ranging from the triangle and ending with the box. Options are more than enough.
Of course, if you create the example of landscape design on 6 acres of special importance soil type. On poor soils can grow only the most hardy plants. Of course, when you have a fraction of the effort you can make on the plot of black earth, or even the artificial soil, but this example of creating a landscape requires a monetary investment.
Water resources. In some areas, can be placed in the reservoirs. They can be used as part of landscape design or, for example, to fall asleep. It all depends on your aesthetic preferences.
Groundwater. If your site is located where there are problems with groundwater. Without a good arrangement of drainage system do not work.
As you can see, planning the option for landscape design on 6 acres and focusing on the ready-made examples, you need to consider many parameters, which depend on the possibility of realization of the chosen example in life.
To your landscape design is pleasing to the eye even at 6 acres, you need to approach with all our mind. The layout must be done in scale 1:500. Simply put, five meters in one centimeter.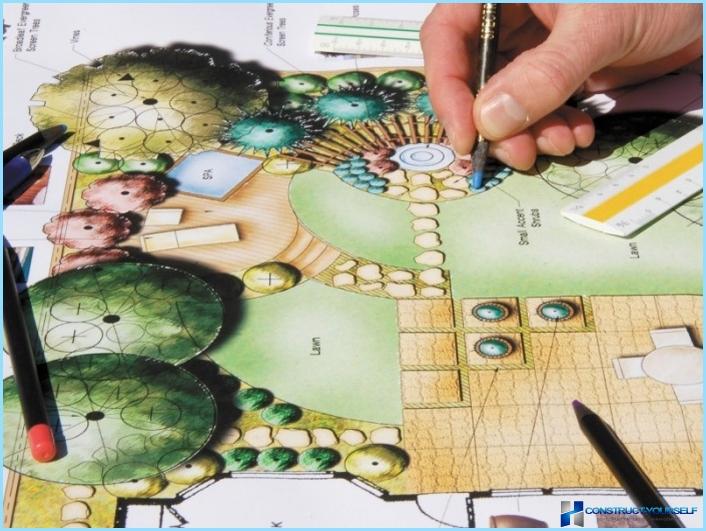 Attention
! The layout includes the location of buildings and areas, based on existing norms.
In the early planning landscape design for the 6 acres will examine the act, not earth. This document identifies the parameters of your plot. Transfer them to paper, and only then, focusing on any in this article examples, start planning.
Decide on the size of the house and other buildings. Its place in the plan diagram must have each object, there should appear clear parameters. But you must take into account norms of SNiP, which guarantee you a comfortable arrangement.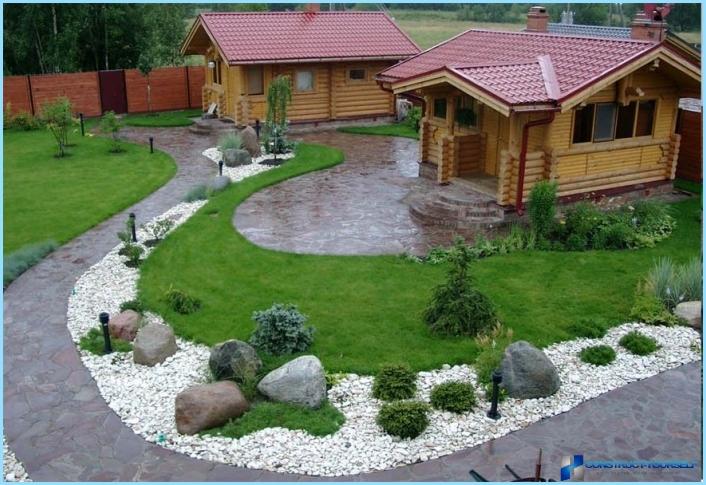 To create the right plan, you should rely on SNiP 2.07.01-89 and SNiP 2.01.02-85. Here are the key extracts from these documents:
Buildings cannot be placed closer than five meters from the street.
To other parts from the house should be more than three meters. This option for commercial buildings is one meter.
The Windows of your house from the neighbor's master's buildings should be located at a distance of six meters.
From the barn with the cattle or poultry to residential area distance — 15 m.
From residential to residential home distance from 6 to 15 m.
By following these simple rules, you can create the perfect landscape design on 6 acres, which will be the example for everyone else.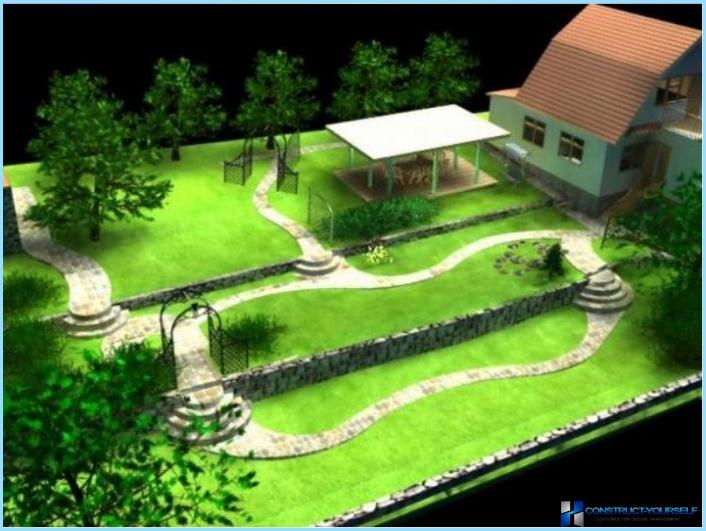 From zoning to make your landscape design on 6 acres as an example for everyone else. Of course, crucial to the proper location of the house and outbuildings. But that's not all.
It is very important when creating a landscape design on 6 acres to correctly position garden, vegetable garden, pool and other areas. From how perfectly you do, depends on the internal comfort of the site.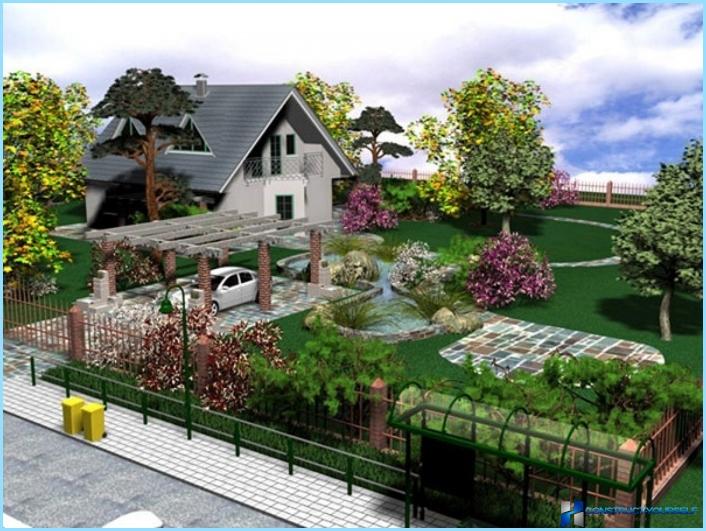 To start with the fact that according to the zoning regulations, can not have a garage deep in the plot of 6 acres. First, it is not very convenient. And secondly, you have to allocate space for a driveway that in such circumstances, a luxury.
You should not place a garden in the South of the site. As it will create shade for a vegetable garden. This, in turn, negatively whacks on the growth of plants. The garden can not be done where on him will fall the shadow of buildings.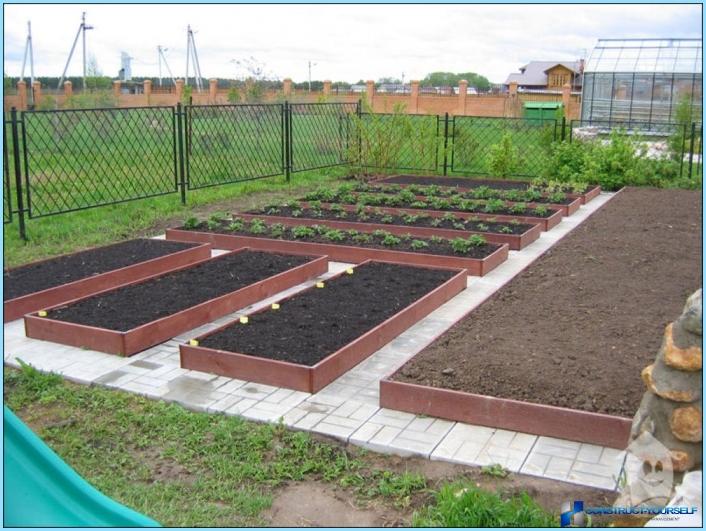 Attention
! In turn, the area is best placed in shaded areas.
If you want to create a great example of barbecue areas in your landscape design on 6 acres, then be sure to take care knowledge of the prevailing winds in the region. This will allow you to choose the best place.
BBQ or grill it is best to equip on the windward side. Thanks to such foresight, the smoke will not spread throughout your site.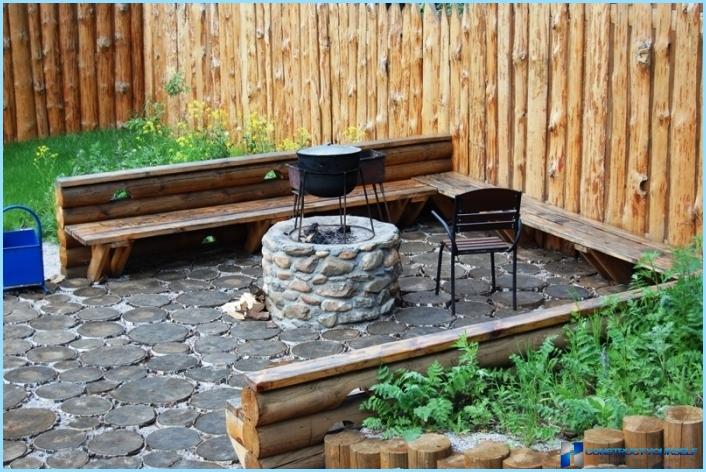 To create a truly high-quality landscaping on 6 acres you have to take into account many nuances. For example, the fact that the low areas will collect water. Therefore, the worst area to plant a vegetable garden does not exist.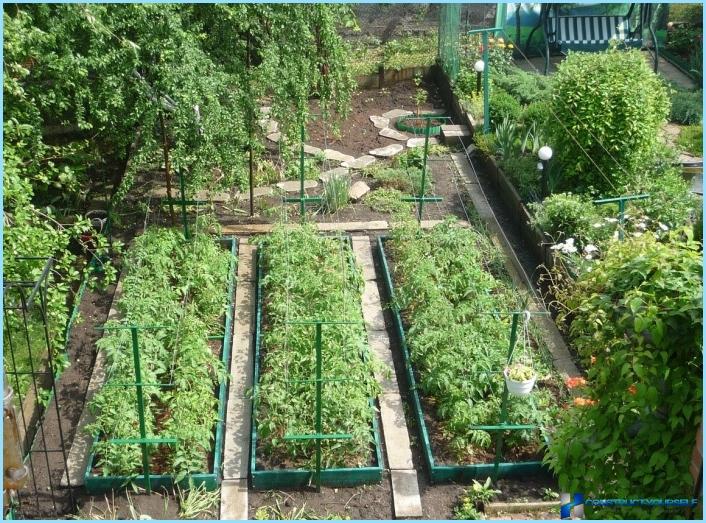 If you have challenging terrain with constant changes in elevation, is an excellent example of good landscape design is a staircase of terraces. Supplement thereto will serve as a drainage system.
An excellent example of good zoning with the use of terraces — is the autonomy of each zone. All of them are combined with each other by walkways and stairs.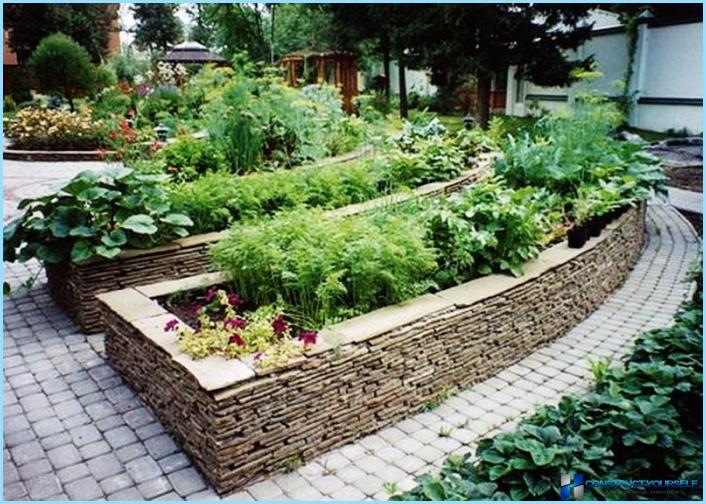 Attention
! To strengthen terraces can be used retaining walls. Concrete structures are an excellent example of solidity and strength.
But if you want retaining wall can be decorative elements in your landscape design on 6 acres. These structures have long been considered an example of excellent design taste and unconventional approach to zoning.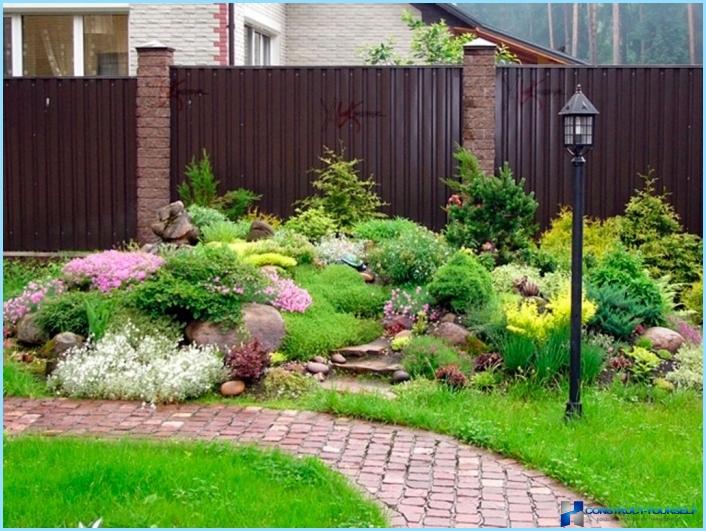 If you wish, on 6 acres you can locate quite a few objects while maintaining comfort of movement. To achieve this, you need to calculate well size and careful planning. You can also rely on ready-made examples.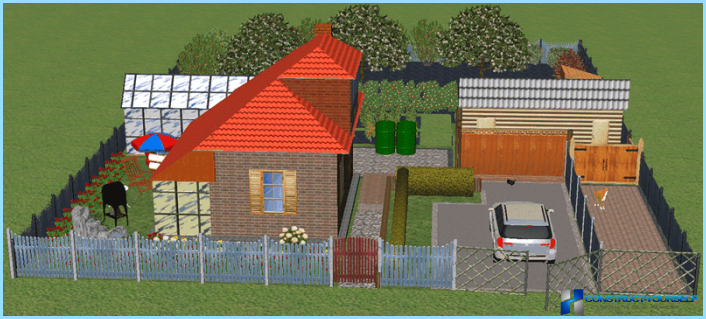 A project of this type is particularly popular in Europe. It allows you to get maximum possibilities with minimum space. Consider a real example. There is a section in the shape of a rectangle. In the top right corner under construction bath. There is also a relaxation area. Gazebo and pond will naturally complete this example of a successful zoning.
A little below the rest areas breaks the garden. As an example, it is best to take a semicircular shape. This will allow the most efficient use of available space to 6 acres.

A good example of the facade in this example of landscape design on 6 acres is the front area. Here traditionally made flower beds and lawn. Upper left side is best for fruit trees.
Attention
! Thus making the layout, you should consider the features and settings of your site.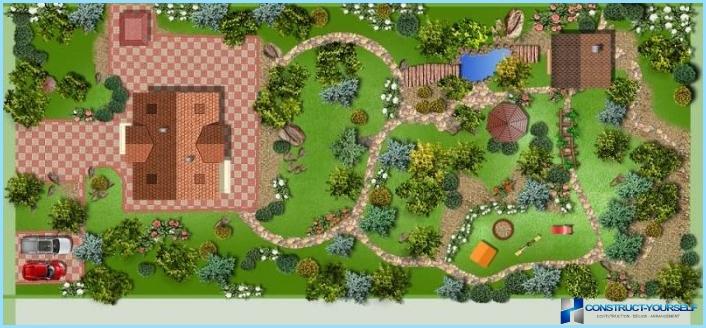 If your area is strongly stretched in one of the sides of the rectangle house you need to have it. In front of the house is the outdoor area. There is grass and decorative elements such as trees and bushes.
A winding path in the landscape design of the suburban area 6 acres will take place along the entire rectangle from the house at one end, to outbuildings in the other. The sides broken garden.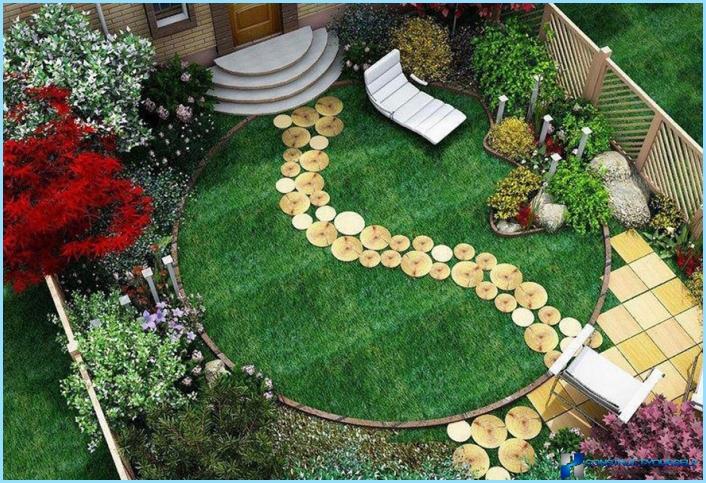 Even a small space can be used effectively. Six acres, it is not enough, if you choose the best option zoning and all the calculate correctly. Most importantly, it does not violate building codes.
Content related