In remote communities, where not carried out in the gas, heating of houses is still a serious issue. Traditional stoves, coal and wood fuel are still used everywhere, although with the advent of new technologies, they were not the only solution. The more that these furnaces cause a lot of trouble cleaning soot and ash removal, temperature in the heated space and wasteful consumption of fuel. A nice, modern option of replacing the old furnaces will be homemade boilers long burning wood. This is a relatively new design of boilers operating on solid fuel. Unit power is sufficient for heating, not only residential but also industrial premises. Another positive point – it easily can be assembled by hand.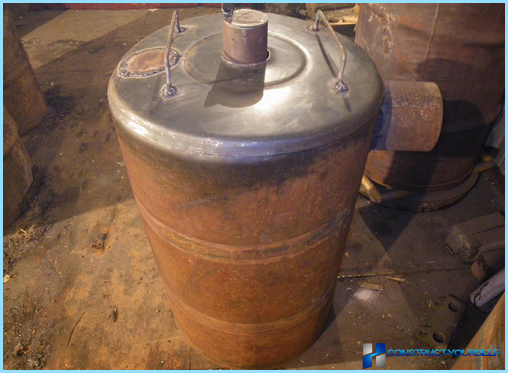 Prolonged combustion in the boiler will depend on what is happening inside it processes that in turn depend on its special design. Technology boiler operation differs from conventional stoves that burn the wood at the top first, gradually capturing the bottom. A conventional furnace is arranged so that the burnt bottom of the wood with a hot stream of fire to the remaining, upper layers, which leads to rapid burning of fuel. And in order that the oven is not cooled down long time, you need to constantly add fuel.
Homemade long burning boilers are arranged quite differently. First burns the top layer, and then each subsequent. Simultaneously with the combustion of the lower layers of wood, burned and waste products (ash, soot). Once laid, the fuel will smolder for about 30 hours.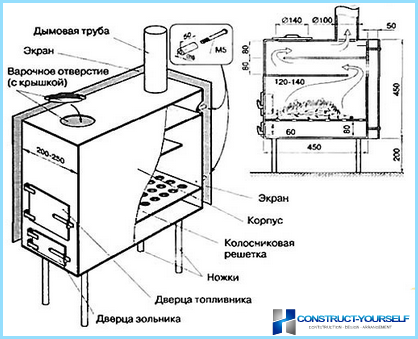 Boilers, long burning made with your own hands, have special advantages to factory default models:
The time required for complete combustion of the fuel depends on the size of the furnace, while the efficiency remains 80-85%. Independent production will make the furnace any size.
To be able to load a few logs into the camera (for example, for heating in cool or wet weather), can be cut in the boiler casing is an additional door between the apertures for the fuel and ash. Factory units such doors are not equipped.
Homemade machine long burning, will cost 2-3 times cheaper factory products.
For making a homemade boiler long burning with a water circuit, you can use a thicker metal to a homemade version of the pot was more durable and could operate at a higher pressure.
Homemade boiler long burning can be equipped according to your requirements and preferences, such as automation and safety valve. This will make it more safe and comfortable.
To repair the boiler long burning, hand made is much easier because you will know the technology of its Assembly.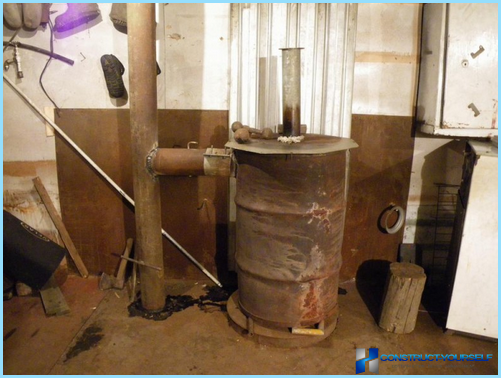 Difficult to find fuel for the boiler usually does not arise, as in many localities there are enterprises of the woodworking and sawmills, where low price (and sometimes free) can be found in waste from processing logs. The more simply the problem is solved in coal mining regions.
Boilers for solid fuel capable «digest» not only wood or coal, and sawdust, pellets, peat.
For manufacturing of the boiler, as for the case, used barrels, tanks, large diameter pipes, tanks and other suitable cylindrical container. Mainly use thick steel or cast iron. Consider the main advantages and disadvantages of each material:
Steel. The positive qualities of boiler steel is its durability, lower cost, easy welding and fast heating. Metal is easy to repair, and products from it more airtight. A disadvantage of this solution is that condensation can destroy the steel casing of the furnace. Factory options for protecting metal from condensation, the inner surface of the boiler protects the ceramic lining. In a makeshift production to build a the insert will not work.
Cast iron. All the known properties of iron – resistance to corrosion, withstand high temperatures, prolonged heat and durability. Lack of iron in its brittleness and great weight. Besides, the cost of articles made of cast iron will be quite high.
Consumers still prefer to use makeshift options long burning boiler, made of steel.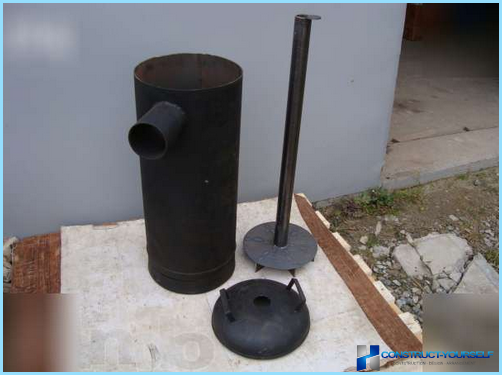 Homemade long burning boilers must provide the correct air flow, as well as the adjustment of the combustion processes. To meet these conditions, you must:
to select quality and affordable materials;
to correctly calculate the power of the future Assembly;
have a homemade drawing of boiler for heating of private houses;
have skills of work with a welding machine and to make quality welds;
comply with mounting technology.
If you want to get a homemade boiler for a private home, which will still provide you with hot water, you can put the heat exchanger inside the water jacket. Exercise is necessary at the Assembly stage, not yet put the top cover. After these manipulations all the necessary pipes, chimney, and shirt are welded to the boiler body.
The main complementary elements of improvised boilers long burning wood, are a pressure gauge, air vent, thermometer, valve guard. At the request and for your convenience, you can add a blower, exhauster and control their automation. Some items will need to install separate control units.
There are many options for a homemade boiler, from very simple to complex designs. Consider the most common.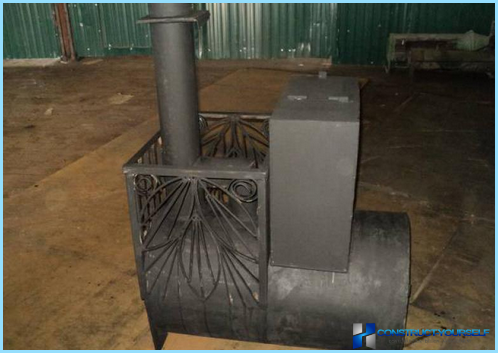 For self-Assembly of long burning necessary a piece of pipe of length 85 cm and about 30 cm in diameter. Take carbon monoxide have the pipe installed in the upper part of the structure. The chimney must be at least 10 cm in diameter. Connect it with the boiler body by welding.
To download wood in the lower part of the boiler body it is necessary to cut a small door. But to ensure air flow and cleaning of the boiler from ash, you need to install the grate.
Then inside the body of a homemade boiler, you need to install small diameter pipe and connect it with the heating system, which will move the coolant. The tubing set at a slight angle necessary for the natural circulation of the coolant. Hot liquid can be used not only as a heating but also for other household needs. Damper to adjust the flow of water from the tank placed in a convenient place outside.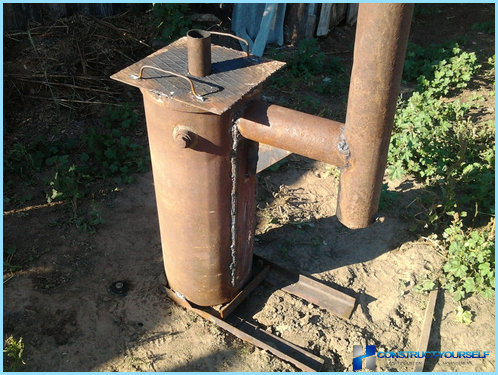 When creating a homemade boiler for water heating can be used an ordinary barrel, the upper rim of which is cleared and well aligned. Cover for self-made pot should fit tightly to his body, to be durable and fire resistant. A vent for carbon monoxide is cut about 15 cm, and oxygen, another opening is about 10 cm the chimney feature vertically but at a slight incline.
One of the most critical moments of manufacturing home-made models of long burning, is to install a damper. If it is located low, the fuel will burn very quickly.
In order to increase the time of combustion come up with even one «folk» way to use the load, clamping the wood. If you use it at the same time moving the air distributor, it is possible to achieve 60 hours of burning.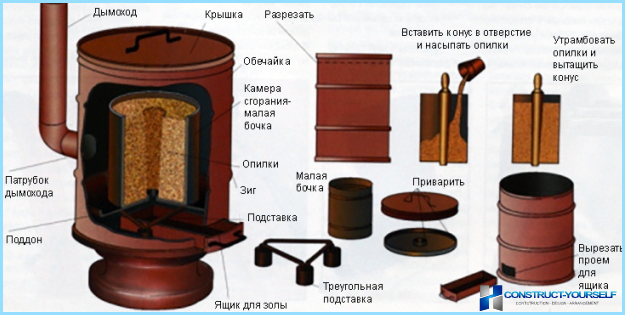 These furnaces are known for many years, especially widely they were used in times of war, when alternative heating is just not there. The stove not only warmed the people, also it is possible to cook.
Currently, such designs still find use in suburban areas or in newly built objects. But modern models of these ovens also allow heating yet to supply hot water 1-2 radiator that helps to distribute the heat throughout the room with an area of about 30 sq. m..
For the quality, proper and long work of self-made boiler, it is technically correct to maintain it. To prevent damage, you must inspect the boiler at the time of the leak and periodically cleaned from ash and soot.
How to make the boiler long burning wood with their hands will know in the next video
Content related