Sectional fence — the best fencing option in terms of cost and reliability. This team of construction of the finished sections, which is quickly installed on site, requiring minimal space and is not inferior to traditional fencing options in reliability. So it is often used as a temporary and permanent solution under the fencing of large areas.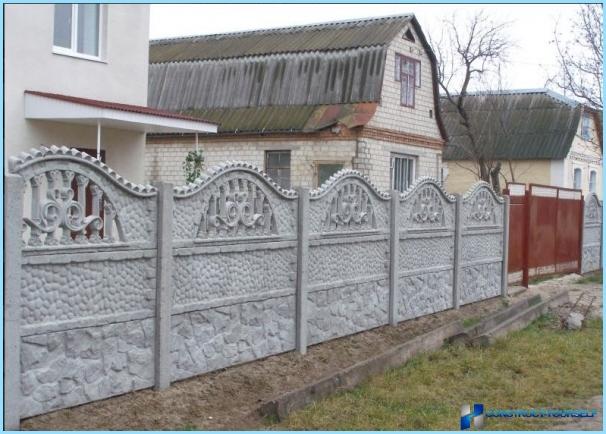 For the manufacture of sectional fences used different materials. The most popular is the usual metal from which to create a welded section. But for these tasks also use:
Concrete
Tree
Grid products
And other options suitable for the creation of ready-made components. To install the product into place use additional materials like concrete, brick, metal structures and similar. This allows you to create a reliable enclosure on the characteristics not conceding the full fence.
For the erection of such fences using prefabricated components section. They are used for cottages, country houses, private areas, construction and other fences as a temporary and permanent solution. Now note some common types of sectional fencing:
Has a nice look and low cost. Wooden fencing is simple in construction and allow you to quickly protect area. But its reliability is low, and for long-term use requires special care for wood.
Low price, reliability and simplicity advantages of the fence mesh netting. It is virtually indistinguishable from the usual options of this grid, so I got all the benefits of such structures. Basic maintenance, low cost materials and high speed of installation makes this type very popular.
A fence of corrugated Board
Corrugated sheet is a good material for sectional fences. It was originally produced in sheets, so you can immediately order the appropriate size. It is easy to install, has low cost and hides all of what is happening behind him. It is often used as a permanent solution, but should choose high-quality corrugated Board.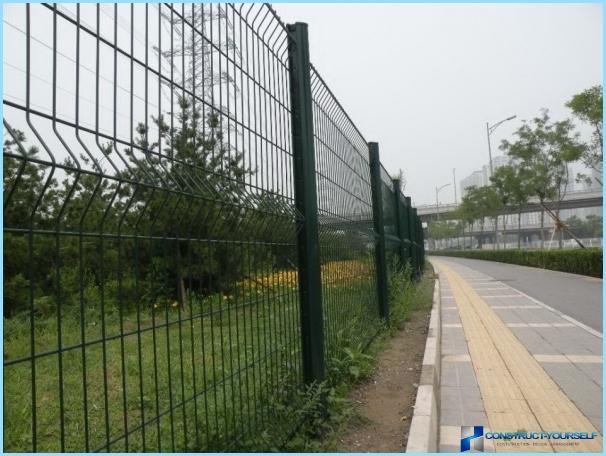 This type of metal fencing is the most popular. It uses ready-made metal products like fittings, forging, shaped tubes, and the like. Such structures are durable, often have a nice look and easy to install (if you have experience in welding). But their cost is higher than that of ordinary sectional.
Today it's popular and the optimal type of fencing. The advantages of concrete is that it is reliable, durable and inexpensive material. Moreover, often it is used for decorative segment, which has a special texture and additional elements. It makes such a fence is very beautiful, allowing you to make it permanent. But decorative concrete products are expensive, but working with them is quite difficult due to the weight of the sections.
It's all the most used section fences that are available today in the market. Each of them has its advantages and disadvantages, so choose them is depending on requirements and tasks.
Note another similar fences — brick. But this is misleading, because the section of brick being manufactured, and erected in place of conventional masonry. Sometimes you can see special columns of brick for the installation segments, but a full-fledged brick segment in the market.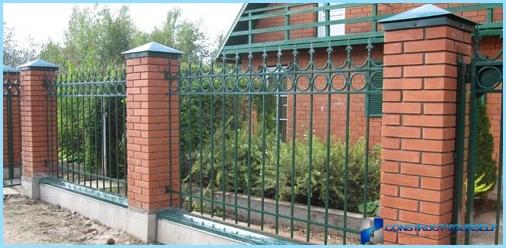 The Council
! Some sectional fences do not require concrete pouring of columns. This mainly applies to wooden options. It is worth considering this when choosing, because this fence is being built quickly, but has low reliability.
These fences are popular for many reasons. They are more practical compared to regular options of brick. So today they are used almost everywhere.
The main advantage of such constructions is the speed of their construction. For many of these options do not require a strong Foundation, so build them in a few days. This is especially true for major construction projects where the fence needs in the short term.
The low cost also makes these designs popular. Finished sections are very small, which is especially important for variants of mesh netting or sheeting. Costs are only the material and the installation minimal.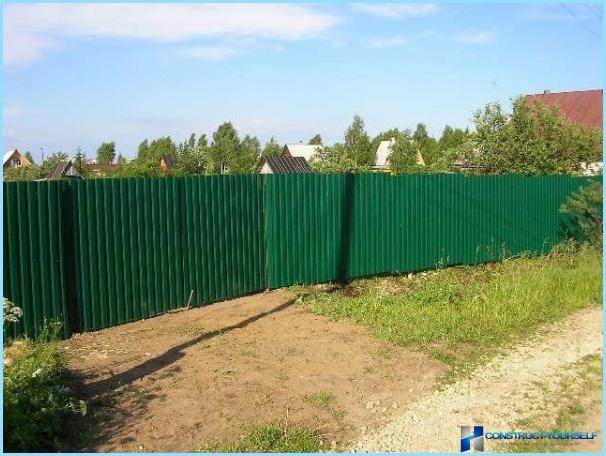 Reliability is a quality that is relevant only to some types of sectional fencing. This is a concrete and welded options. They are reliable and durable, so this fence can stand for many years. Often it is made permanent, because the appearance of fencing is not bad. Non-concrete fence can be covered with twine fence that will hide his flaws.
The installation of such fencing consists of several stages, including preparation, excavation, placement of fencing and final stages. Although the sectional fence is simple, the process can seem daunting for a beginner. So you should do it according to plan.
The work consists of the following stages:
The installation marks under the posts.
You must first measure the entire working area and define the exact location of the poles. Level will facilitate the future work.
Excavation work.
This phase included working with the soil and its preparation. You need to determine the shortcomings of the site (depth of soil freezing, its stability and groundwater level) and to carry out relevant work. They include drainage, creation of drainage channels and similar.
Prepare the Foundation.
Prepare the Foundation for the pillars is an important step in determining the stability of the entire structure. You need to create a hole, followed by filling of gravel and tamp this down. Construction sand will improve the sustainability of the post.
Installation and concreting of pillars.
Set and are cast with two of the first post. It is important to put them exactly, because otherwise the partition will not be.
The placement of the first section.
The first two post installs the first partition.
Further Assembly.
In the first section we still continue to work.
It is important
! The plot almost certainly has a different height. It is worth considering this when installing the parts of the fence.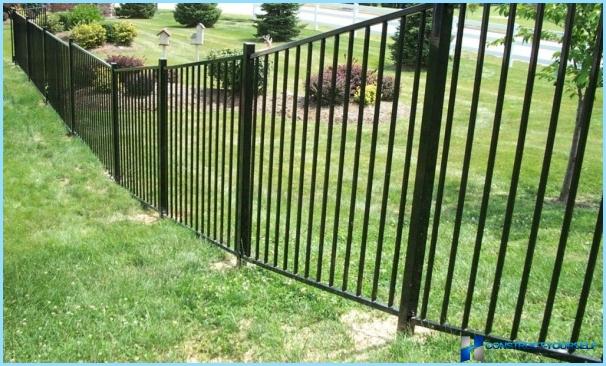 The construction takes a few days, then checks the quality of work. And for more clarification you can see a video of the installation of concrete sectional fence:
Content related