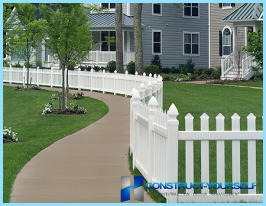 In Russia there are different types of fencing: brick, wood, mesh, netting, corrugated steel sheeting, wrought iron and even real fences that have been preserved in remote villages, or used as decorations.
Also, the building materials market relatively recently, there were fences, made of plastic. Such type of protections while not as common. Many have not seen this kind of design, and may not even know about their existence. But every day, plastic fences are more and more gaining popularity because they look very attractive, and the cost is very affordable. This kind of fencing has come to us from the United States of America, where he is very popular for the past many years.
The history of occurrence of plastic fences begins during the Second world war. During the war all the metal used to create military equipment, for civil purposes it is naturally not enough, so we had to use improvised means.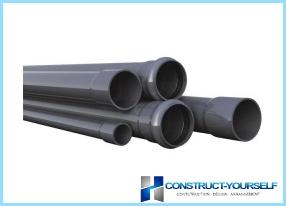 It happened with the pipes used for irrigation. Originally they were made from aluminum, when it was not enough, the pipe decided to produce plastic. Plastic but those times were too vulnerable to ambient conditions and quickly lose their shape when exposed to direct sunlight. Therefore, manufacturers began to experiment with compositions and manufacturing techniques of plastic in order to create a more durable material. So, as a result of long experiments, there are material – PVC (polyvinyl chloride), which was resistant to sunlight and will not warp even when exposed to various chemical compounds (acids, alkalis, solvents, etc.). Irrigation PVC pipes began to gain popularity.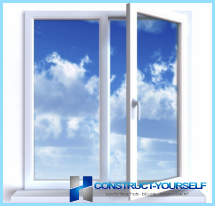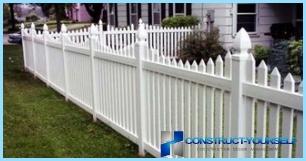 Over time, PVC began to be used for the production of Windows and then garden fences and many other products. PVC products have a low cost, high resilience, long service life and aesthetically attractive that ensured their popularity.
Currently, the fences made of PVC have become commonplace on the streets of America. In Russia, plastic fences have just started to gain popularity but it's growing fast enough.
as fencing the garden and dacha plots;

for the selection of functional zones;

for fences of sports and playgrounds;

as decorative fencing, restaurants, cafes;

for fencing Parking lots;

when creating paddocks for livestock on farms;

when you create a hedge, etc.

Before you purchase a fence from PVC, is acquainted with its main «pros» and «cons».
Advantages:
attractive appearance – plastic fences look great as a main fence, or as decorative elements;
durability – service life can reach several decades.
resistance to external factors – the fence of PVC is not afraid of no decay or long exposure to direct sunlight or exposure to high or low temperatures and other external factors;
strength – modern PVC has such level of strength, which not only matches, but exceeds the strength of a fence of concrete or trapezoidal sheet;
easy installation that you can do yourself, without the help of specialists;
easy care – just wash the fence in case of contamination;
small weight facilitates transportation and installation;
resistance to fire.
Disadvantages:
the possibility of fabrication of low-quality, toxic materials. When buying you should always ask the certificate of quality;
strong contamination – after the rain on a light fences remain dirt drops;
painting is possible only with special paint and only professional.
Plastic fencing differ in color, size and shape.
As for the colors, in our country the most popular are white and beige plastic fences, rarely gray. Some consumers acquire two tone fences made of PVC, for example, white-gray or white-beige, etc.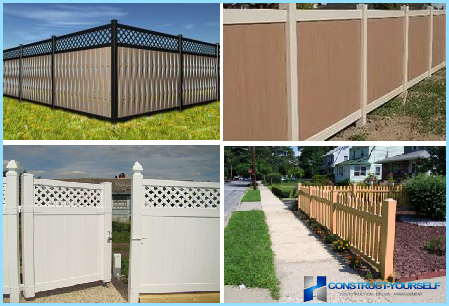 Dimensions. The height of the fence plastic can reach six meters, but to meet such a fence is almost impossible. Most often, perimeter fence, for example, a suburban area, use fences with a height of two meters, and allocation of functional zones in protected areas (flowerbeds, vegetable garden, walking area, etc.) use fences up to a meter.
The shape of the fences made of plastic are:
Plastic picket fence. This is the most popular form of plastic fence. It hides in your life from the prying eyes of others, but at the same time creates the feeling of a fully enclosed space. Besides, he misses the sunlight, so plants growing near the fence, feel comfortable. Plastic fence passes the air mass, which protects it from demolition by the strong gusts of wind. This factor is particularly important for regions where the probability of occurrence of hurricane winds and tornadoes.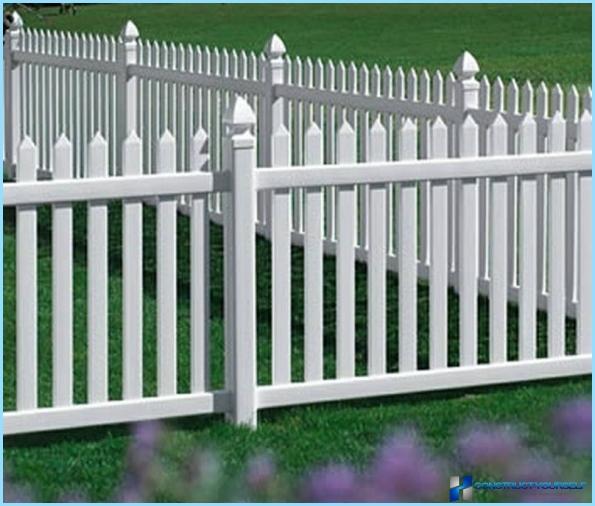 Fence made of plastic. This kind of fences there are no gaps. Therefore, if you want to completely hide your territory from outsiders, that a deaf fence, plastic is a viable option. But this type of fence is impenetrable not only to others ' views, but also for wind. As a result, when strong gusts it can be broken or knocked down. The only option to minimize the possibility of structural failure is the installation of plastic fence on a metal frame.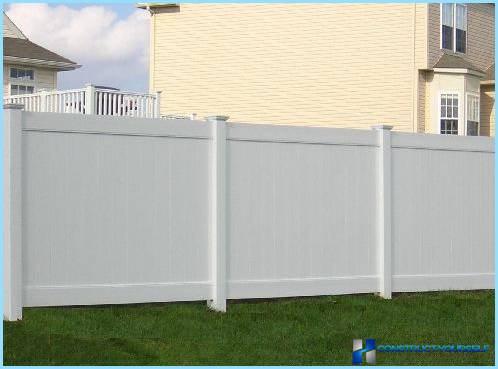 Combo. Combined fence PVC has a dull base and carved top, making it looks more elegant than the previous version. Besides, it hides your territory from passers-by, but gives you the opportunity to observe what is happening around your area.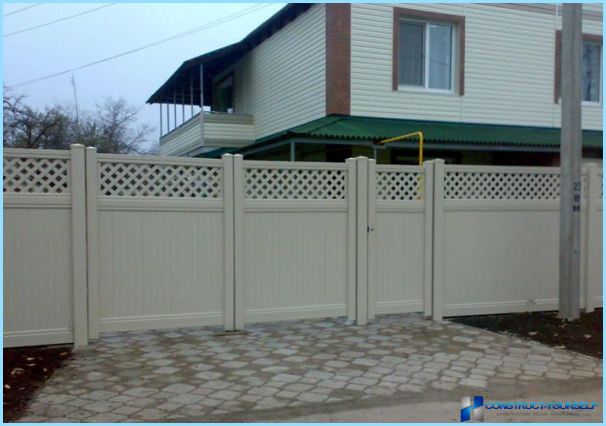 The plastic mesh. Usually this type of mesh they sell in rolls. Plastic mesh can act as a decorative function, for example, in the form of fences, flowerbeds, and practical, as a full fence. In its essence it is analogous to mesh-netting. The level of strength, plastic mesh plays metal, but it is more durable and does not lose its appeal even after a long time. In order to make a fence from plastic nets more durable up and down her stretch of metal wire.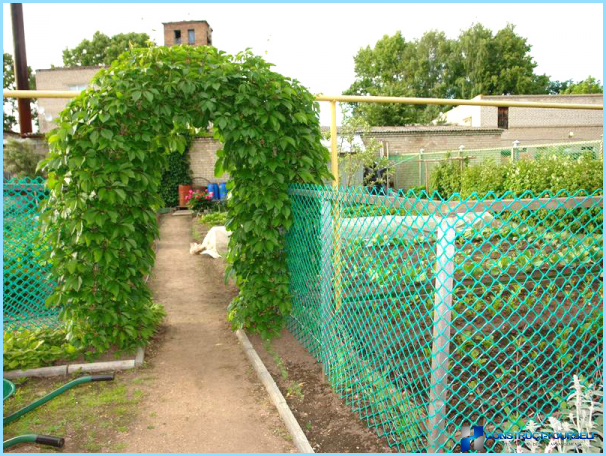 The fence. It is surprising, but at the present time, plastic even produce this kind of fence. It is usually used for decorative purposes to give a unique and special flavor of the place setting.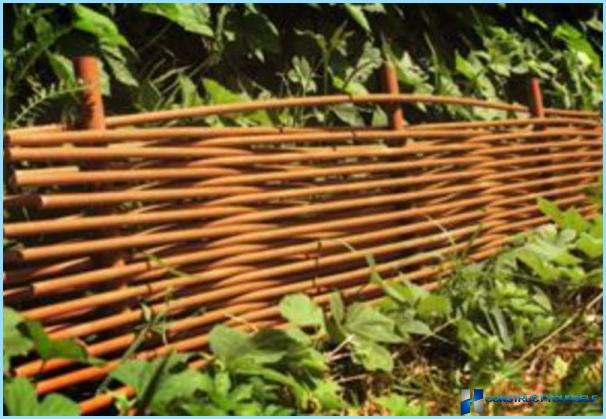 Installation of PVC fence is made in several stages.
Stage 1. Plan the placement of the fence. Clearing the perimeter, which will be held the fence.
Stage 2. The marking of territory by means of wooden pegs and twine. The first is to mark places where there will be corner supporting pillars and gate, and then the locations of the other supports.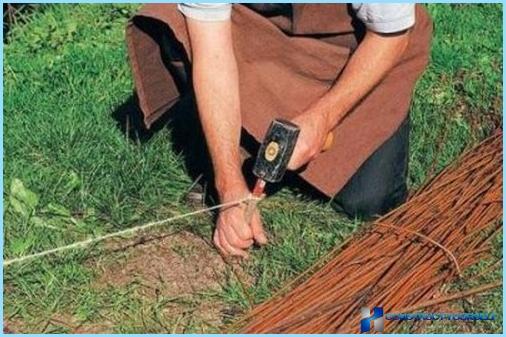 Stage 3. Installation of supports. For this it is necessary to drill wells to a depth of 60 – 100 cm To the bottom of the hole fell asleep gravel, the thickness of the layer which should be 5 – 10 cm in order to install the supports as straight as possible, use the building level. Once the support is aligned, the hole covered with soil.
Tip:
If the soil is too loose, to strengthen the support is a method of bootovania (filling gravel with a dense compaction and shedding fresh water).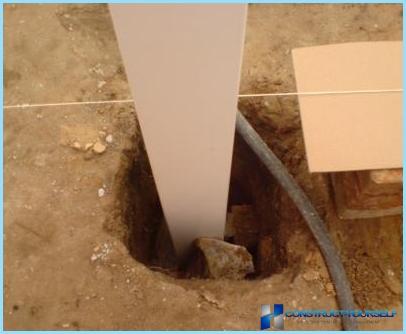 Stage 4. Install sections of plastic fence. This step is similar to the Assembly of the designer. You must first mark the places on the piers where will be brackets. Further, the bottom rails are inserted into the bottom hole in the support. It is pushed as deep as possible until it clicks. Next, make the connection of the vertical boards in the way that it involves the construction of the fence. The upper rails are fixed at the last moment, as well as the bottom. In order to shorten the fence, you can hacksaw to cut the rails to the required length.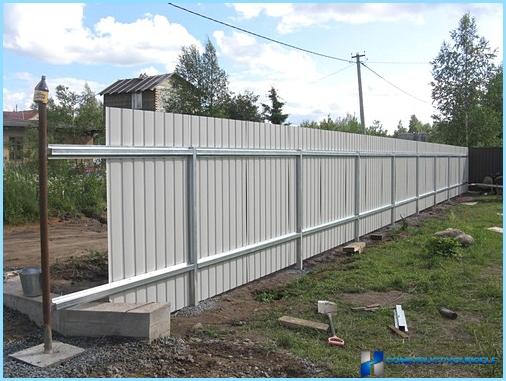 That's all, the installation process is completed. Can enjoy the result!
Video guide how to install plastic fence:
Content related