To ensure rapid plant growth and a good harvest requires not only water and quality soil, but optimum illumination.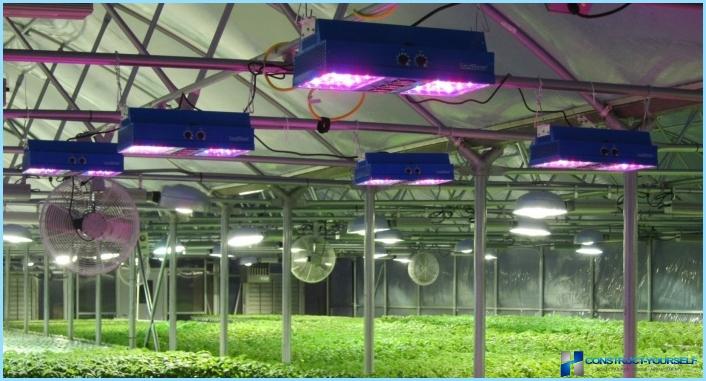 The most pressing problem of lighting in the winter when daylight is significantly reduced. If the plants will receive light at least 10 hours a day, it is inevitable slowdown in their growth, which is unacceptable, especially when growing seedlings. For this reason, to provide sufficient illumination in greenhouses used lamps of various types to be included in the morning and evening, thereby prolonging for plants daylight to 16 hours.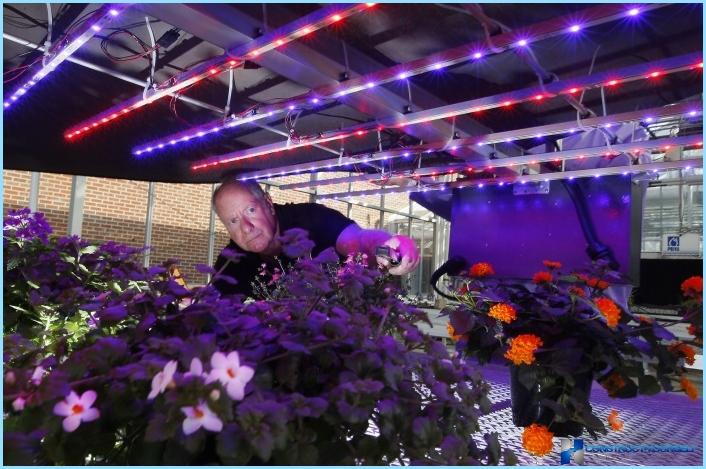 However, just hang in a greenhouse a large number of lamps for illumination of plants is not enough, because it can burn tender shoots and leaves. It is necessary to make accurate calculations, which consider the following:
light transmission of the greenhouse cover;
shading of the greenhouse;
placement design.
To provide additional illumination in greenhouses use various types of lighting elements.
Traditional incandescent lamps because of their low efficiency are virtually not used for lighting of greenhouses, especially on an industrial scale, therefore, should not even consider this option.
Fluorescent lamps for quite some time apply for additional lighting of greenhouses and their installation does not need any special training. Data lighting devices can be mounted both in vertical and horizontal position. Fluorescent lamps have a range of optimal illumination for plants, durable, no heat when working, inexpensive and consume little power.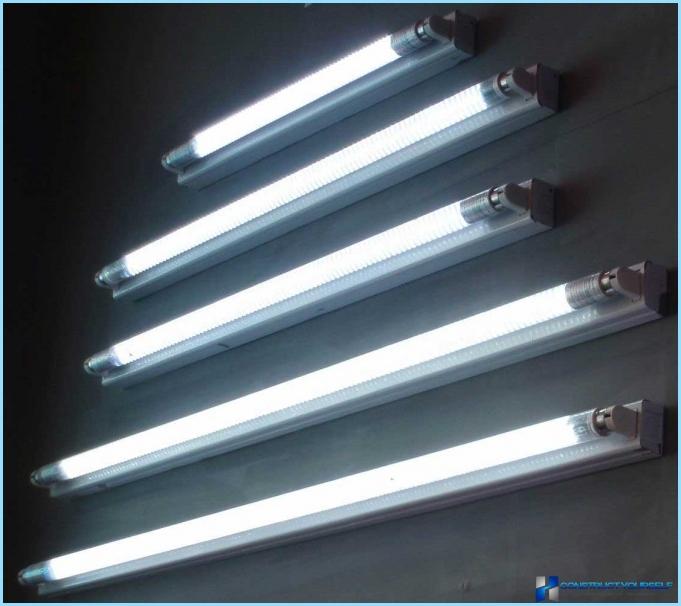 The disadvantages include the low luminous efficiency, which depends on the voltage. In low voltage lighting fixture will not start at all. In addition, these designs are rather cumbersome and at present are increasingly being replaced by more efficient and compact sources of additional lighting.
Energy-saving lighting elements easy to use, because unlike fluorescent lamps, they can be screwed into a standard cartridge. Unlike fluorescent lamps they do not require additional equipment and are relatively inexpensive. Such lighting elements are suitable for small greenhouses.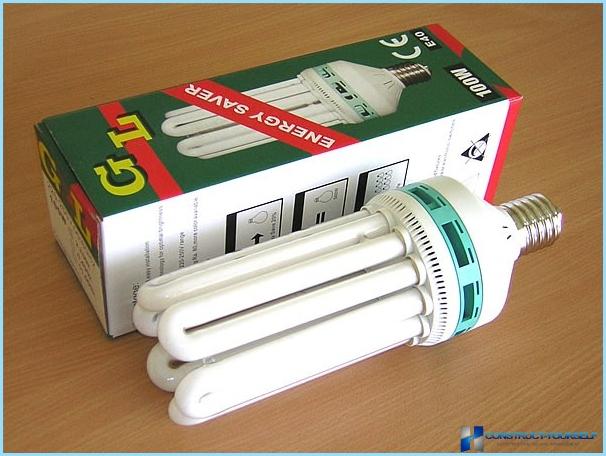 Sodium lamps primarily used by most industrial greenhouses. These lighting elements have a spectrum close to natural sunlight. They are economical and have long life. Besides sodium lamps have high performance in the range of blue and red light.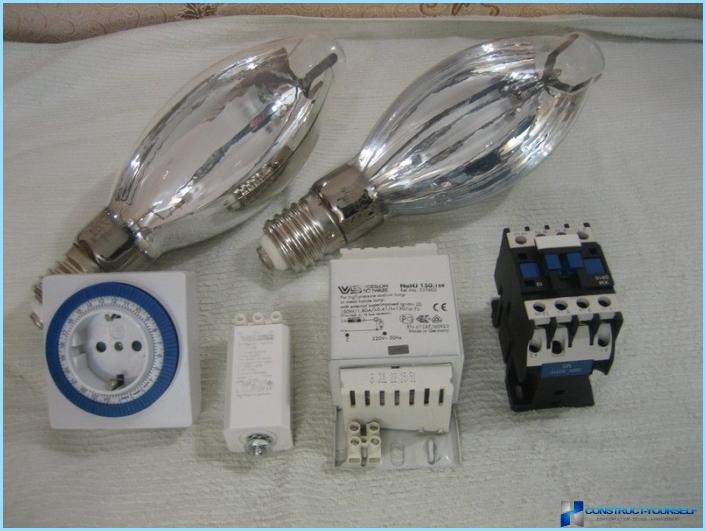 Mirror sodium lamps have been specially developed for use in greenhouses. The reflective mirror surface of the lamp has a high efficiency, and thanks to a rotating base, you can direct the flow of light to the desired location. Besides, with a set of mirror sodium lamps comes with a special ballast.
Metallogenie lamp its light spectrum is considered most suitable for use in greenhouses. However, such lighting elements are quite expensive and have short lifetime, which depends on the frequency of switching on lighting fixtures. With its compact metallogenie bulbs produce a very powerful stream of light.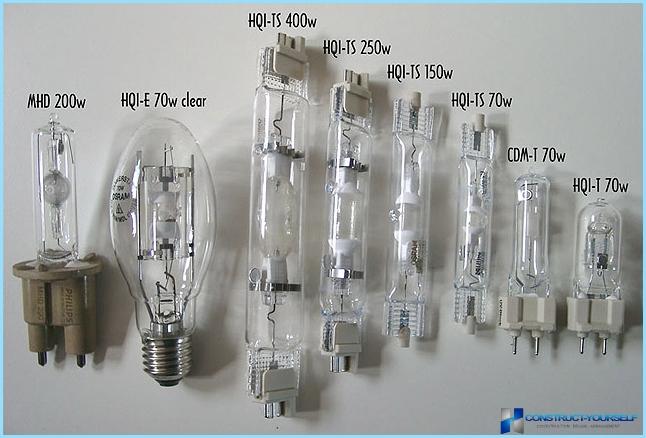 Led bulb Il LED lamp are the most popular among the variety of lighting devices . Currently you can buy as separate items and blocks to allow the lighting of large areas. LED lamps for use in greenhouses is presented by instrument type DS 50 DS Agro or Agro 66 that are able to provide plants with bright light, have dustproof and waterproof casing and a special coating designed to extend the life of metal.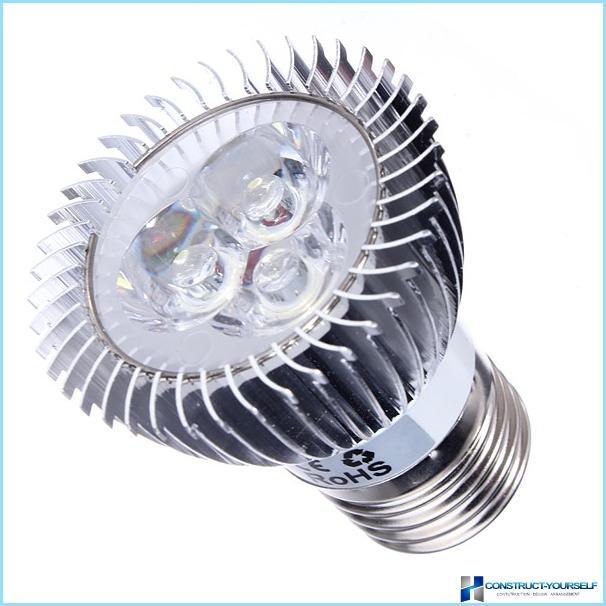 Notably, LED lamps are low power consumption and can give red, blue or combined light. Currently, the development of white LEDs, which are able to give the entire solar spectrum, to allow the cultivation of plants entirely on artificial light.
The main advantages of using greenhouses led lighting, you can highlight a few points:
The efficiency of LED lamps.
Resulting spectrum of luminous flux can replace the sunlight.
The lifespan of the led element is about 50000 hours.
There is no heating, and therefore eliminates the blight.
Instant ignition.
Resistance to low temperatures.
For small voltage.
Vibration and shaking can't damage these lamps.
Of course, it is worth noting the only drawback of led Lam is a fairly high cost, which, however, is a payback and not just by saving electricity, but also due to the fact that in this light the plants grow and develop much faster.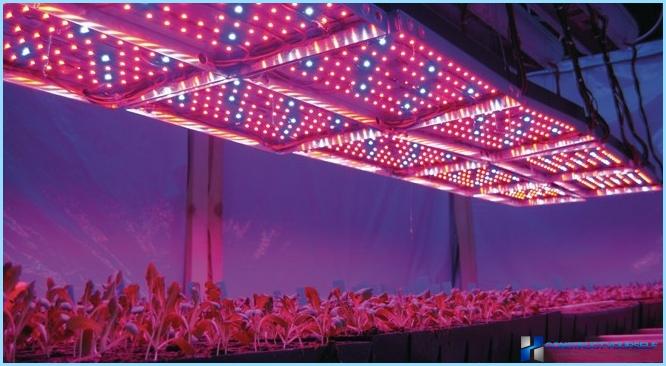 You can buy ready-made lighting systems for greenhouses, and you can do yourself, thereby saving a significant amount. In order to make the lighting in the greenhouse, you should prepare the following materials and tools:
electrical wire;
electrical outlets and switches;
wire and flexible rope;
plastic bellow for the transaction;
nails;
duct tape;
fuses;
set slotted and Phillips screwdriver;
pliers;
shovel.
Before engaging device of led lighting in the greenhouse for growing cucumbers and other vegetable crops should determine the type of lighting. There are two types of LED-lamps – fotoperiodismo and permanent lighting.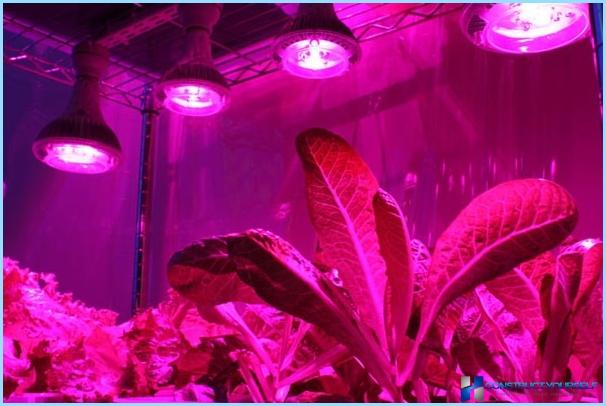 If you simply want to extend daylight for a few hours, you should choose photoperiodic lighting. If necessary, round the clock support the process of photosynthesis use the permanent type, but in greenhouses mostly prefer to support the principle of photoperiodically.
You are then required to perform the measurements on the perimeter of the greenhouse design, calculate the required amount of lighting, which varies depending on the type of equipment and crops.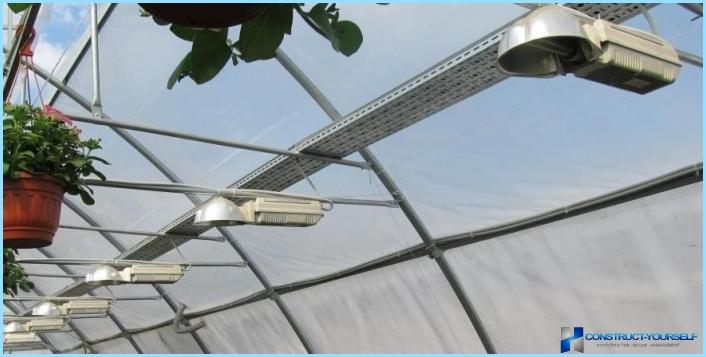 After preparation of all the necessary tools and materials and performed all the calculations, you can proceed directly to the installation of the lighting system. First and foremost you want to bring to power a greenhouse. The wires to the greenhouse to bring the air, pinning them to a steel cable conducted using existing or specially for this purpose installed poles, or by selecting the underground option. In the case of selection air-wiring is better to invite to carry out these works by professional electricians, so as to require not only special tools but also the experience to work with high voltage at altitude.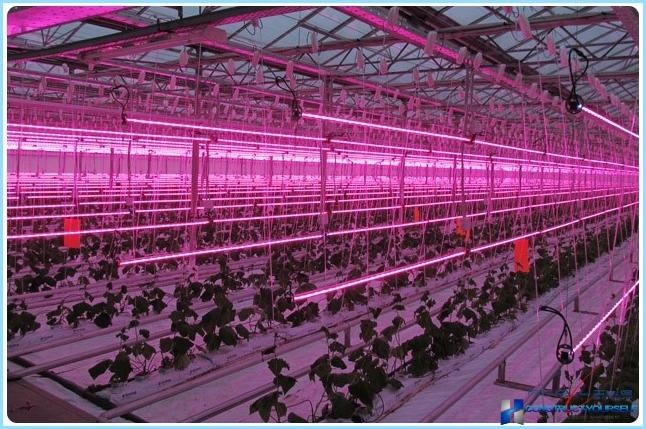 Underground wiring is possible in principle to perform independently. It is necessary to dig a narrow trench to a depth of about 700-800 mm from the feed to the switchboard of the greenhouse and lay the wire in advance is placed in a special protective corrugated hose made of plastic. The wire must be slightly covered with earth, and the top to make a layer of tiled chips or gravel, to serve as a label on the case of excavation works. After top to bottom to fill the trench with soil and firmly tamping.
The lighting device in polycarbonate greenhouse for growing cucumbers, you should install safety devices which will protect the equipment from surges. It is installed in accordance with manufacturer's recommendations depending on the selected type of lighting fixtures. After the installation of the safety system, you can begin the installation of switches and outlets. It is recommended that all system elements, including lighting, was indicated by marking «specifically for use in greenhouses».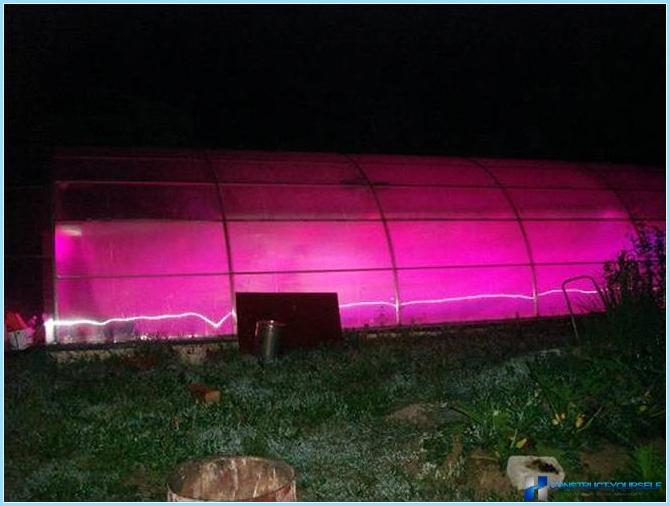 From the switchboard you must perform wiring according to plan, on flexible cables or using other structural solutions to install led lights and connect all cords. After completing all connections, you can supply power, by enabling a safety automatic.
To create the optimum lighting of the greenhouse it is best to create an automated system that will greatly save on energy consumption. Special sensors depending on the intensity of natural lighting automatically turn on or off the illumination in the greenhouse. However, to install such a system yourself is not recommended, it is better to entrust it to experienced professionals.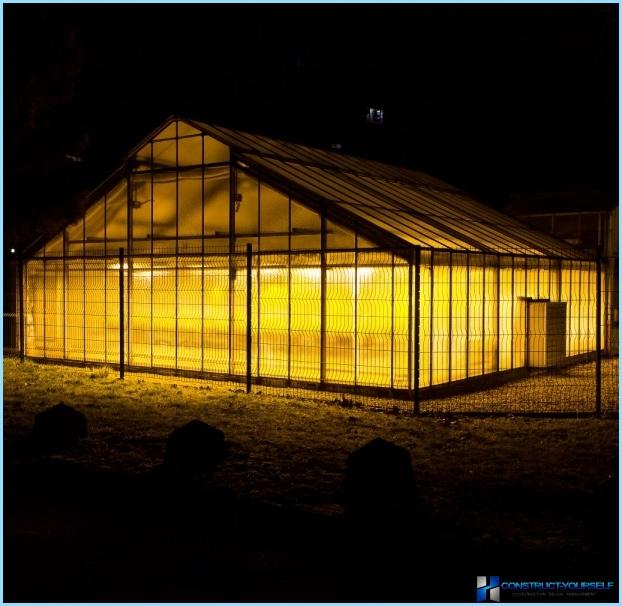 Summing up, it should say that the need for additional greenhouse lighting, you should install lighting, which in most cases depends on the financial capacity of the owner. Lamp artificially increasing the day length, provide a more stable and fast growth of plants. The entire electrical system of the greenhouse should have a reliable insulation, to avoid short circuits and injury.
Content related