Geyhera is a perennial plant with brightly coloured foliage for which it is very appreciated landscape designers. Opened this plant by the German botanist Geiger in North America. Although it was known before under the name «podlesnik mountain», people used it for healing wounds.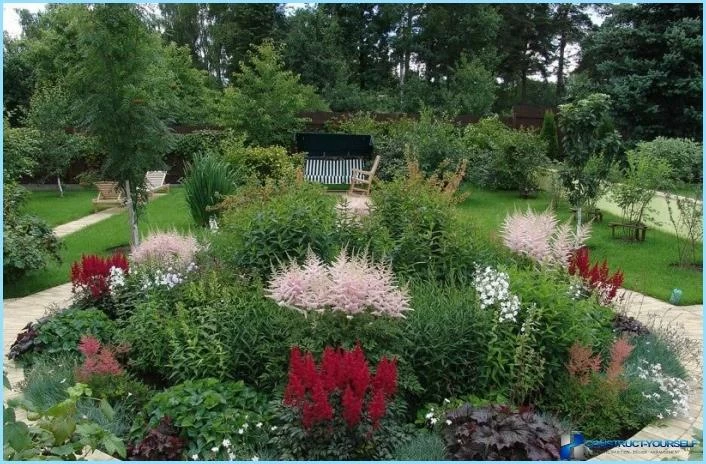 The value of plant in landscape design:
Creates bright accents against a green garden.
Does not lose its decorative appeal all season.
A huge choice of species and varieties.
Survives well in decorative containers.
Shade plant, good flowering and in the sun.
Compact, not fussy, resistant to frost.
Easily propagated, almost hurts.
Caring for it is simple and does not require additional costs.
Make friends with other flowers and plants.
Looks good in borders and in the foreground.
Lives quietly on the stones and near water.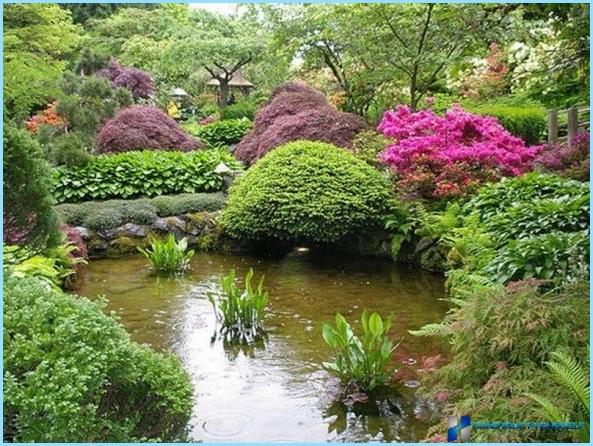 Plant in the landscape design are used to create colorful compositions, especially if you need to fill the free space. Unusual shape and color of the leaves, will create a harmonious transition from flower to flower. Due to the almost continuous attractiveness of appearance, this plant will fill the emptiness of the garden during the off-season other plants.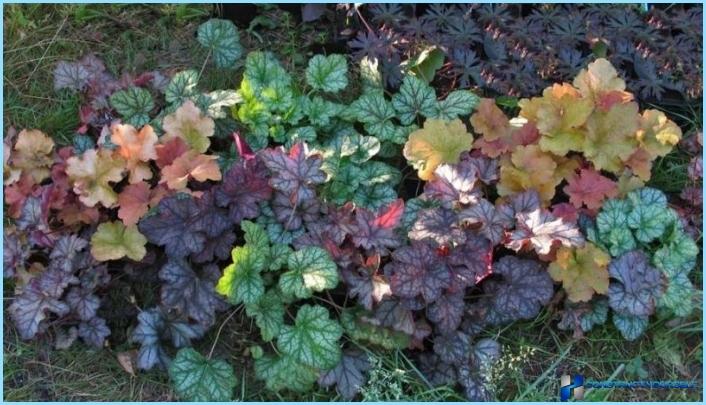 Geyhera look great planted as a separate plant. The diversity of its colors, will create a colored area on the plot. It retains its fabulous appearance almost all year round, not paying attention to the heat and cold. Using plant bushes to hide the problem areas of the garden as they are very lush, dense and quite thick.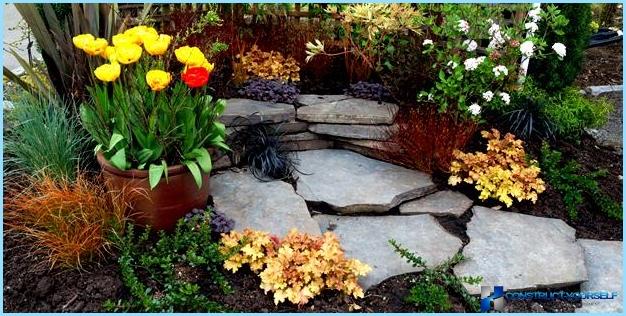 Geyhera is ideally suited for rock gardens and rockeries. Openwork colored leaves swaying in the wind, stalks of buds that will adorn any rocky built.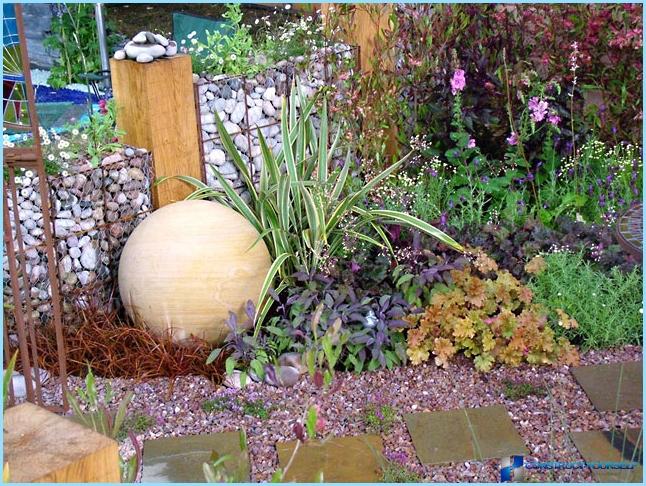 Geyhera in landscape design is used in decorative pots and containers, they can be used to decorate gazebos, patios and terraces.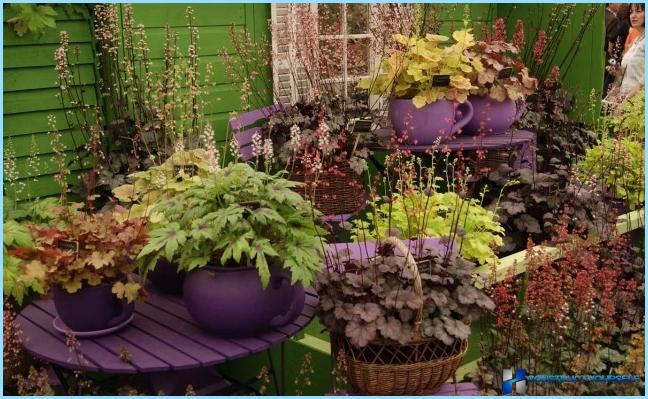 Multi-colored bushes of this plant have a neat, strict form, allowing you to create borders and whole figures.
The Council
! Bouquet with hacharoi will delight the household in the course of a month, and in combination with other flowers or autumn leaves must cheer up.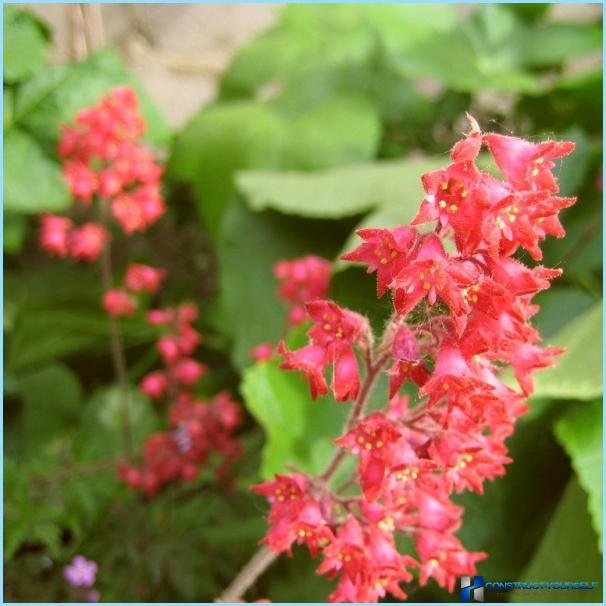 How to use gaharu in landscape design, you can see in the video: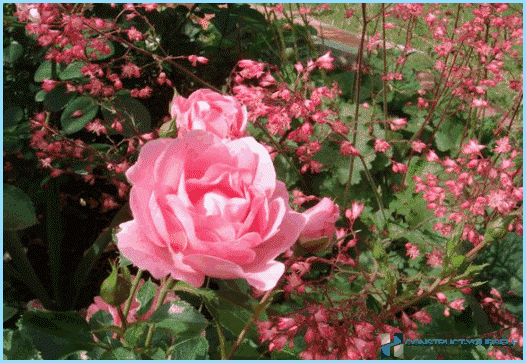 Geyhera is friends with almost all garden plants, it will complement its colors to astilba and Bruner, daylilies and Veronica, chrysanthemums and ornamental grasses. This neighbor loving plants may become hosts and ferns, irises and Sedum, geranium and Primula.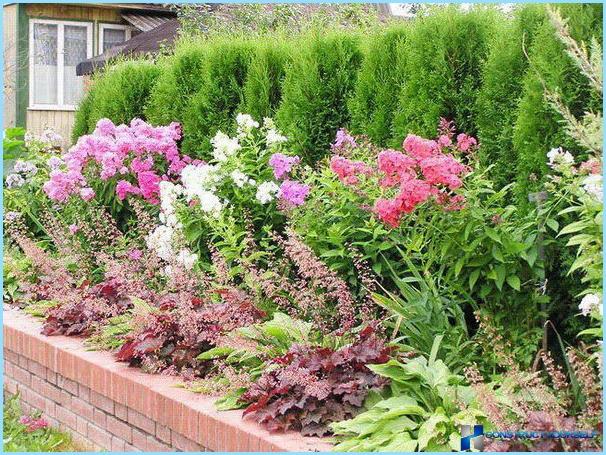 And plant hosts in the landscape design are the connecting link of other flowers and plants. They will become the balance in a rich color palette of the flower bed. Among the variety of Gager you can always find one which will dilute too rich palette of palisade.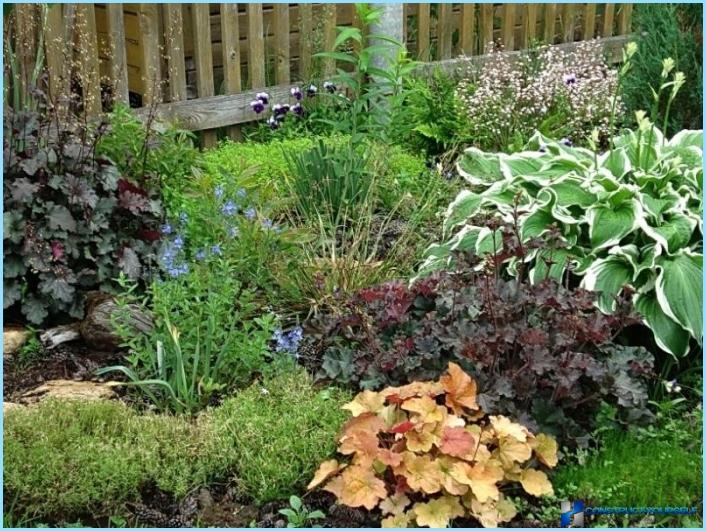 It is so easy to work with it that will give even a beginning designer or horticulturist. Gaharu referred to as lifesaver as it will help in case when you absolutely don't know what to put. She will always be in its place.
Today geyhera has more than 400 varieties, for any experienced connoisseur will find its own special plant. New varieties of plants can boast not only variety and colors of leaves, but also interesting types of flowers. But still appreciate her for the fabulous leaves that are gaining the most color when flowering plants and change, darkening, thereby changing the appearance of the garden.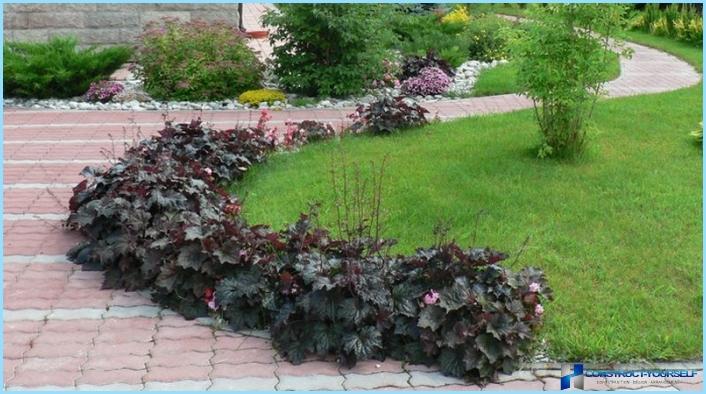 Geyhera is a neat shrub, reaching up to a meter in height, with leathery, shapes and textures of leaves. They can be smooth and corrugated, and curly. The leaves are striking in its color as well as shape – from black to white, all colors, with stripes, spots and speckles. Leaf color depends on the lighting and heating of the bushes. Some varieties prefer a shady location, others like the sun.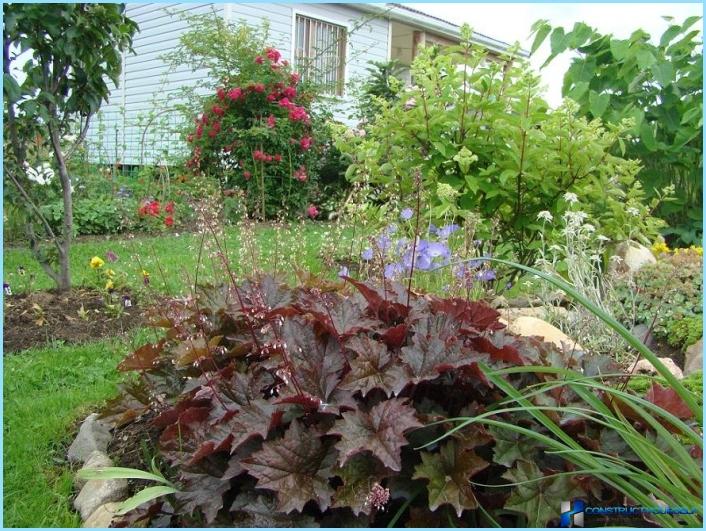 This is an unusual flowering plant begins early summer and continues all season, small flowers, gathered in graceful inflorescence in panicle. Like the bells, white, cream, pink or red flowers are arranged on long stems. After flowering the fruit-capsule with seeds. One box can be up to 20 thousand seeds. Usually the stems are pruned immediately after the flowers are gone.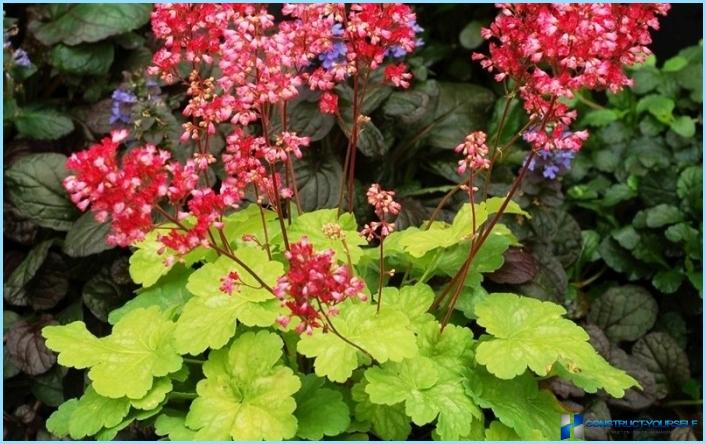 Colorful shrubs tolerate drastic temperature changes and bad weather. Even in winter the leaves of the Bush are not cut. May suffer only a root neck of a young Bush, but if you cover it with leaves, she will not cause trouble. Over time, the root will gain power that will allow him a few years to grow in one place. After a few years it will become noticeable that the leaves have become smaller, this will be a signal for transfer to another location. Replant it very easily in the spring or warm autumn, only need to divide the Bush into several telenok.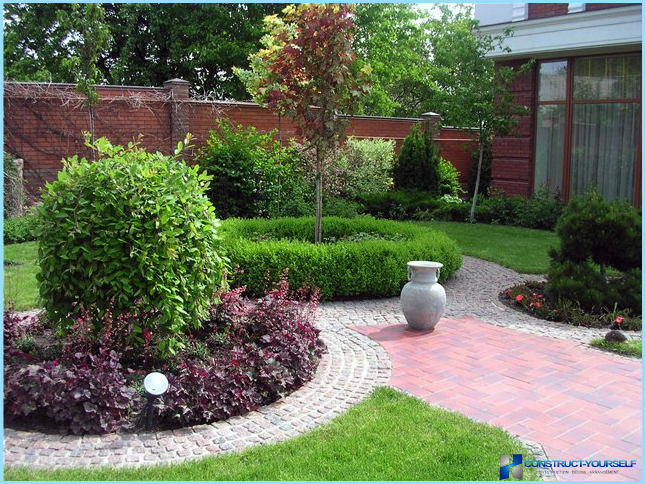 It is important
! The weeds are the chief enemy of the plant and can destroy it. It's worth the time to remove them.
Today, for landscaping of parks and gardens using different types of colorful Bush. All of them, of course, know only a narrow experts or zealous fans. Share types:
Geyhera blood-red is the ancestor of more than half of the varieties of this plant. It belongs to a mountain species and very hardy. Yet it is called a red or a coral bell.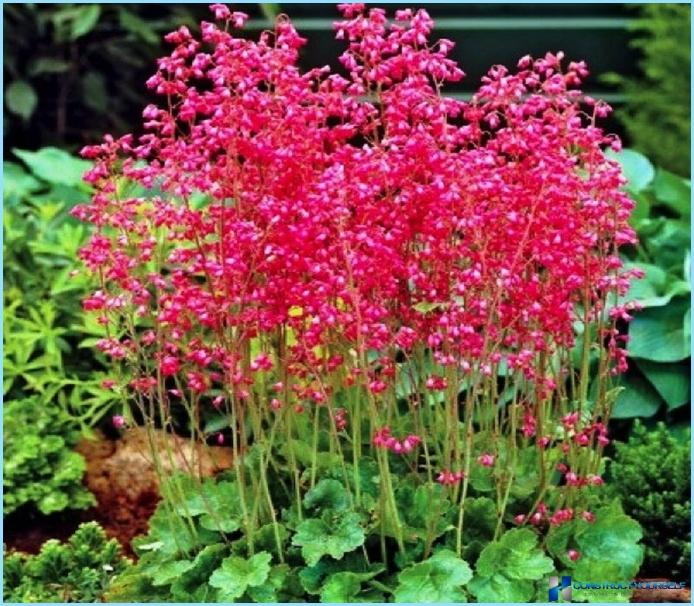 The leaves of the plant are green in colour some with light green marbling, very dense, much denser than other species, round and scalloped. Some varieties have cream or white spots on the leaves. Flowers small, in the form of a bell, painted with colors ranging from pink to dark red.
Interesting
! The flowers of this species are used by the Indians for medicinal purposes.
Geyhera American applies to forest types. Second name «mountain geranium». Likes a rich soil, somewhere in the shadows. The leaves of this plant are round, heart, bottom, they brown-purple color. There are varieties with different shades and borders or spots. The flowers are small, yellow-green.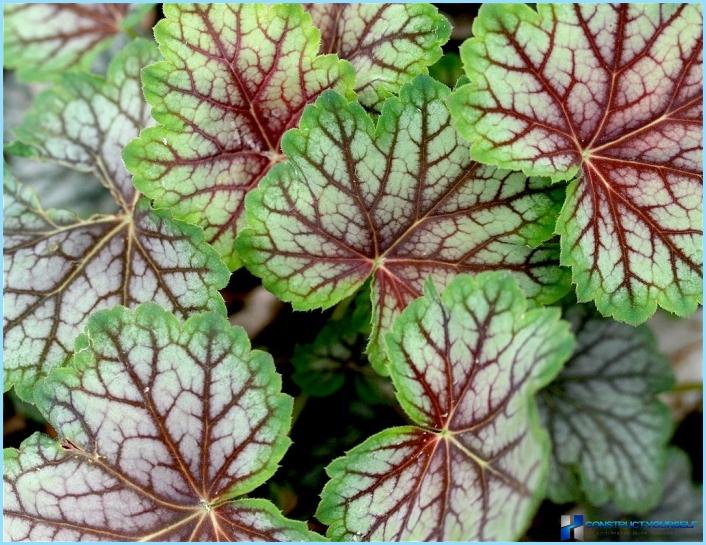 Geyhera hairy is considered a forest species. This plant has large velvety leaves, and not just its flower stalks are too fluffy, whence its name. In some varieties of this kind of bronze leaves, reaching a diameter of 20 cm. Flowers of delicate colors, such as cream-green or pink.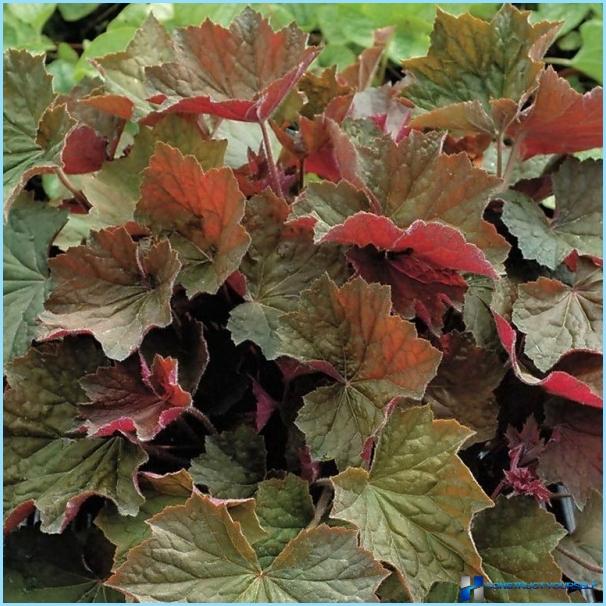 Geyhera cylindrical refers to the mountain type and larger than the other. Leaves cordate, rounded, green with a silver pattern. Its large flowers floating in the air, collected in the form of a cylinder and painted in different colors, depending on variety.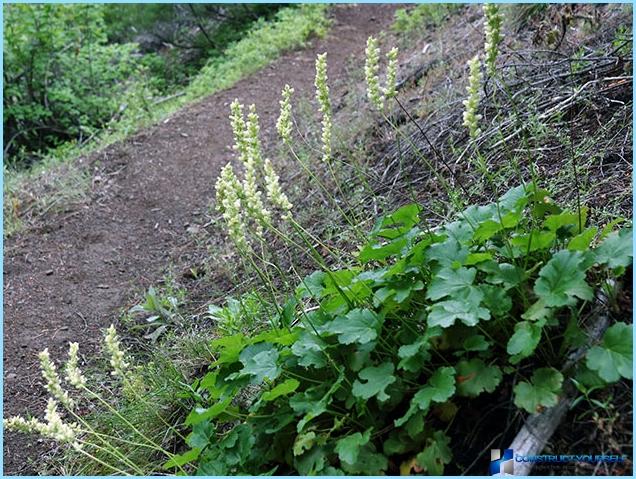 Geyhera melkotsvetkovye considered the most spectacular views. Its maple leaves are the most unusual color, like purple or bronze. Some varieties are decorated with silver spots. The small flowers are usually cream-pink shades with orange anthers.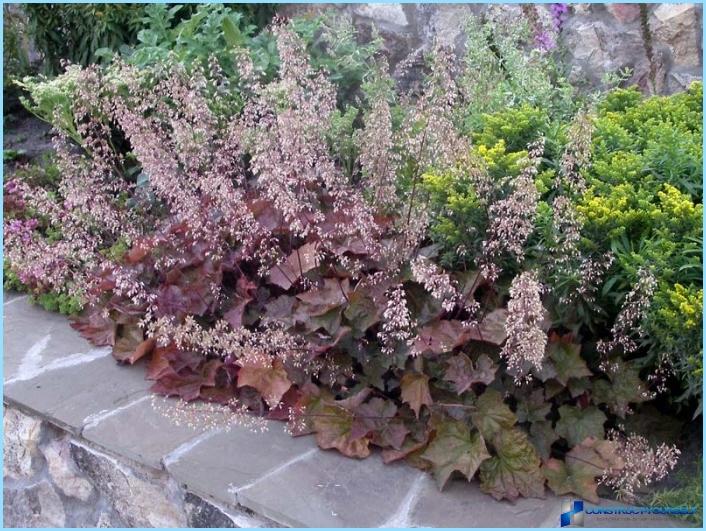 Geyhera hybrid consists of a mix of the previous types. Its leaves are large and all colors with patterns and without, tracery and semicircular. Flowers of different shades.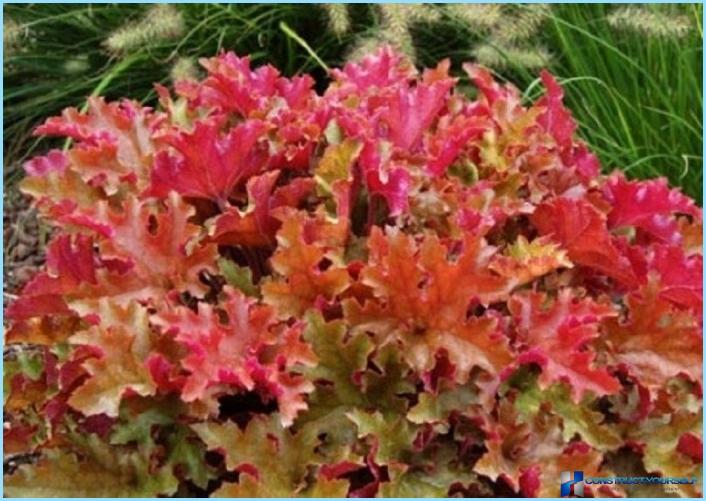 Geyhera cryonically has three-lobed or five-lobed small leaves that form a rosette. Flowers on long stems, up to 60 inches, white large enough.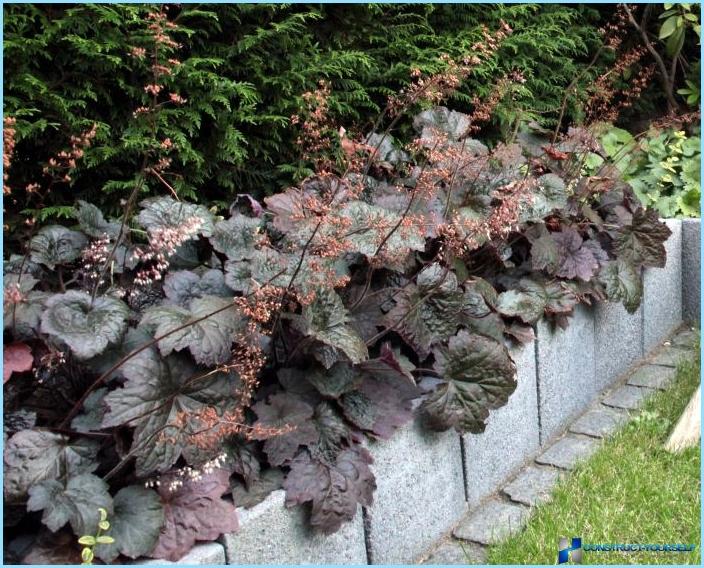 «Marmalade» – yellow-orange leaves interspersed with light purple inside, small green flowers complete the picture.
«Caramel» – honey-yellow leaves, as if begging to be eaten, light pink flowers, like roses on the cake.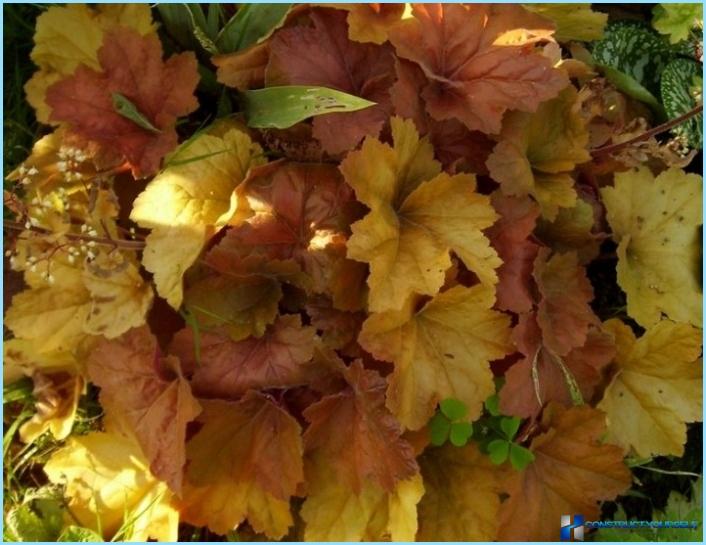 «Purple castle» – hederacea dark purple leaves give a solid rigor, shaded cream flowers in the form of bells.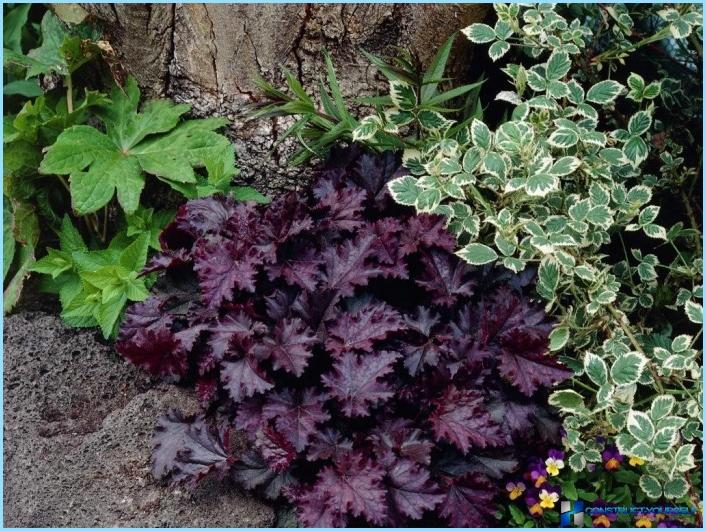 «Black bird» – dark maroon, almost black large leaves, reminiscent of a Raven's wing.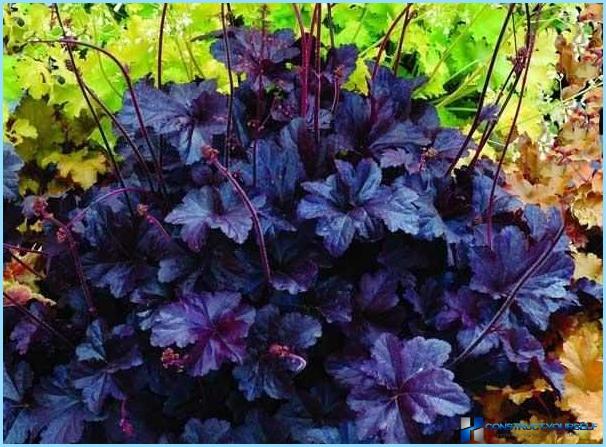 «Cherry Cola» – red-brown leaves and pink flowers will illuminate any flower bed.
«Key lime pie» – yellow-green leaves, begging to be dipped in tea.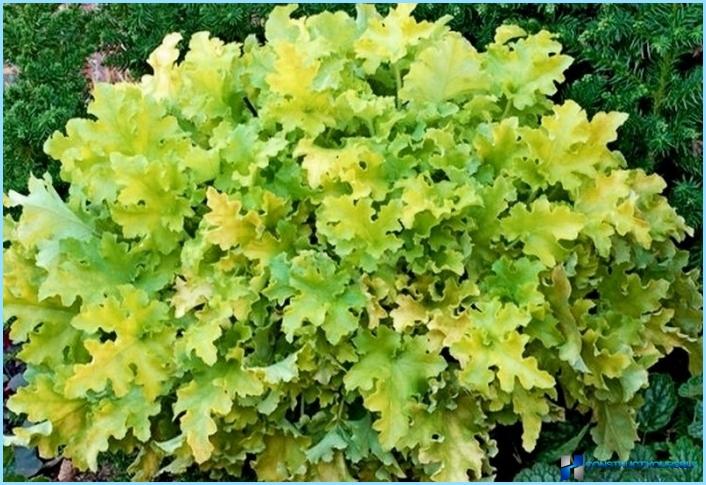 «Lemon» – bright yellow leaves, dilute the surrounding greenery, will bring the mood to the garden.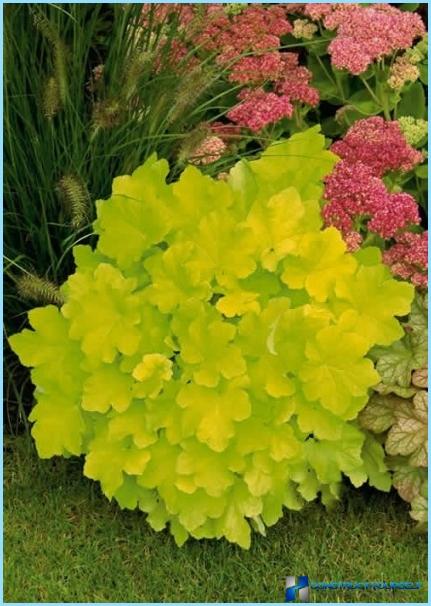 The rose is called the Queen of the garden, geyhera, according to the law can take the place of the Princess. This incredible plant will decorate any HOMESTEAD land. Plant in landscape design, feel free to take pride of place, on account of its many colors and unusual shapes of leaves.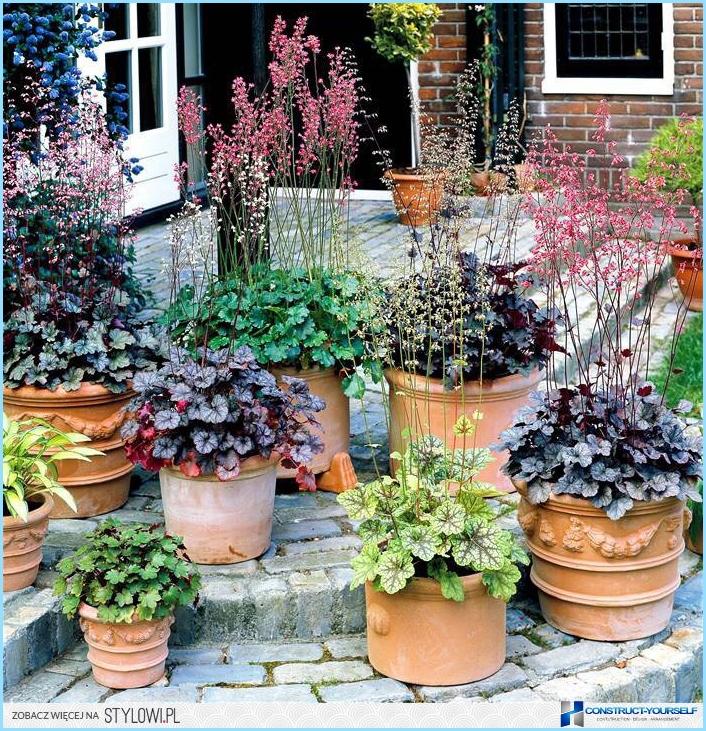 The variety will conquer the most demanding gardeners and landscape designers. Geyhera indispensable in creating fabulous arrangements and decorations for any garden or yard.
Content related