Arguably, the dressing room is the dream of all modern women and men. The problem of competent organization of space known not only to the owners of small apartments, but residents are spacious and private homes. Practical dressing room is able to accommodate all the clothes of the masters here can fit things you don't use often, various bags, umbrellas, shoes. Dressing room, noticeably frees up space, leaving it for filling useful and interesting items. The functions of a modern dressing room:
proper storage of garments, shoes, accessories;
the rejection of large, bulky cabinets in favor of efficient use of space;
storing rarely used things;
storing small household items (iron, hair dryer, Curling styling, cleaner), household equipment (trowels, dryers, ladders, tool box).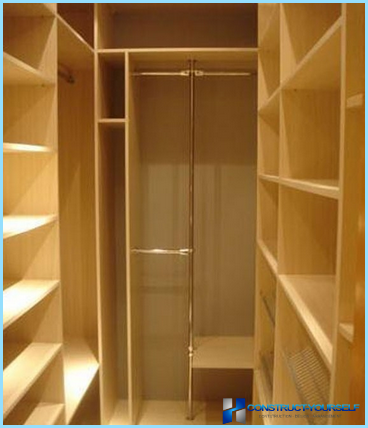 Well, if the dressing room has the opportunity to allocate a whole room or part of a room. Then it will be possible to organize a mini podium with mirrors, and accommodate all the necessary. If there is extra room, then a dressing room, you can allocate a very small area, often enough an area of 1 x 1.5 meters. There wouldn't be a lot of things for different purposes, but for the right place.
It is important
! What would a dressing room to perform its functions as efficiently as possible you need to consider all the nuances. Even before the construction of the dressing room, it is important to think about ventilation and lighting.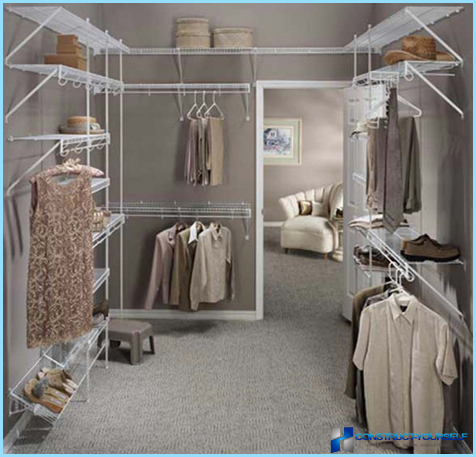 In a large country house, identifying the needs of storage of a room and equipping it properly, you can free bedrooms for all family members from large wardrobes. In a small apartment storage can arrange a former closet or Laundry space. If in the dwelling there are no such corners, it is possible to separate one of the walls in the room or the corner of a wall.
Ideally, if the room or storage space will be located next to the bedroom or even in the bedroom. Also very practical to place the closet in the hallway where every family member will have her permanent access.
Depending on the stylistic solutions, walk-in closet in the storage room can be divided into types, the most popular being classic and modern.
«Classic». Classic dressing room – the drawers, shelves and other items made from wood, it can be the most noble breed of a tree. The walls can be covered with wooden wall panels, which are attached to hooks and other related accessories.
«Modern». This species is characterized by a practical metal rods, which are mounted on shelves, boxes, baskets, hooks and necessary items. This design looks easy, if necessary, easy to dismantle and re-assemble in another place.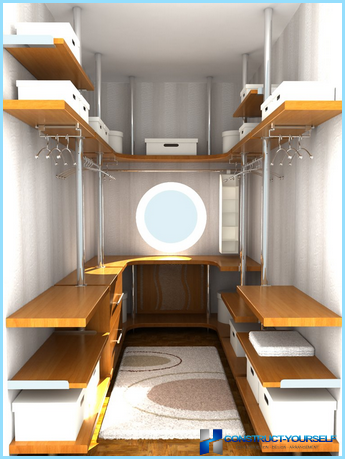 It is important
! Dressing room in the pantry for storage, should not stand out from the General interior design of the entire house or apartment.
There are universal solutions that harmoniously fit into any style.
Catching arrangement of the dressing room in the pantry, you need to think about the practicality and functionality of all its elements, we cannot forget about the comfort.
When choosing furniture, remember that a bright interior is visually make the space more dark take the room dimensions. To decorate a variety of boxes, you can use the original fittings. It will help to remember the location of things.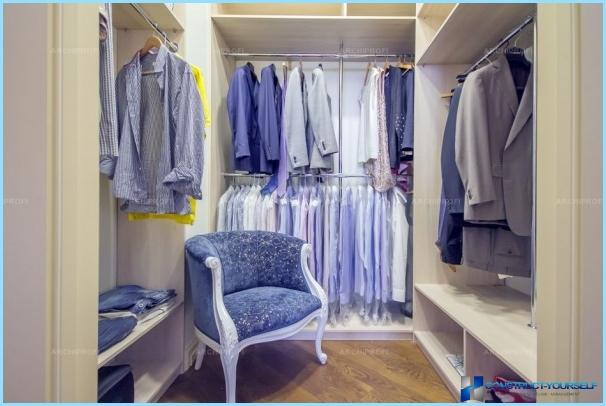 Well if along with shelves, cupboards and mirrors will fit a small sofa or armchair, it will be possible to relax a bit and think through your image.
The mirror is an important part of any wardrobe, equipped in the pantry, using it not only possible to consider all the details of the selected image, it is visually enhances the space of the room. The room should be a few mirrors, to ensure that no on the spot to see themselves from all angles. If the area does not allows you to install lots of mirrors, it is possible to do a single mirror. Then it must put itself in reflection as a whole, from head to toe. Make sure that the mirror was with rotary mechanisms. If storage space is so small that it's impossible to install none at all mirror, care should be taken that it would be located in the vicinity. You can make mirrored door wardrobe, it is comfortable and beautiful.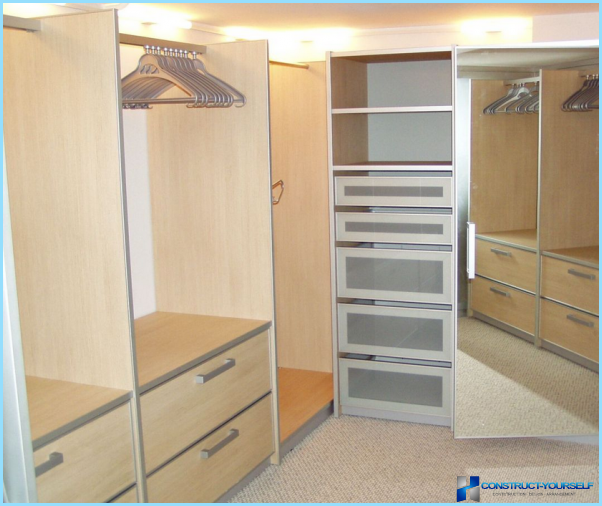 The Council
! The mirror should be well illuminated to give a correct idea of the outfit. Well, if the mirror will be additionally equipped of natural light.
If it so happened that the closet has no Windows, the question about the need for lighting will also require adequate attention. Light is needed for even a small dressing room in the pantry to use it could standalone, without the main lighting sources. Regardless of the size of the room, it is better to give preference to small, inconspicuous lamps, it is convenient if they have the swivel base. The lamp should not interfere when moving things, and putting on outfits.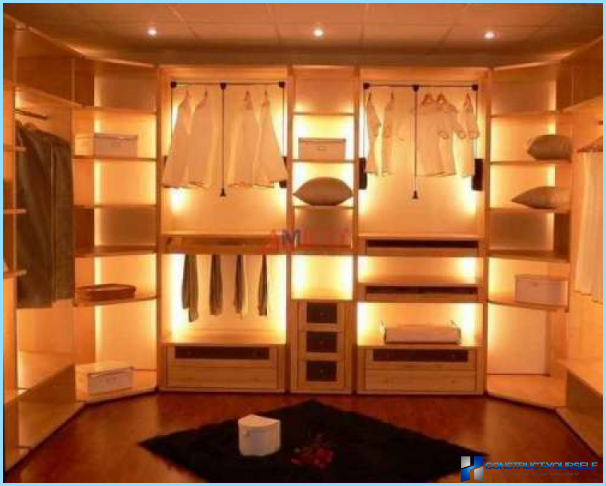 The Council
! For convenience, the lighting can be mounted in ceiling or wall.
Dressing room in the pantry is a place to store not only daily outfits, there will also be seasonal outerwear and shoes. That would be over time, things did not appear unpleasant smell of mustiness, you need to think about ventilation. If things are stored in large walk-in closet, the fresh air will be out the window. If the closet is in the closet, then most likely it's small and has no Windows, so ventilation should be improved. For circulation of air currents small enough holes in the walls.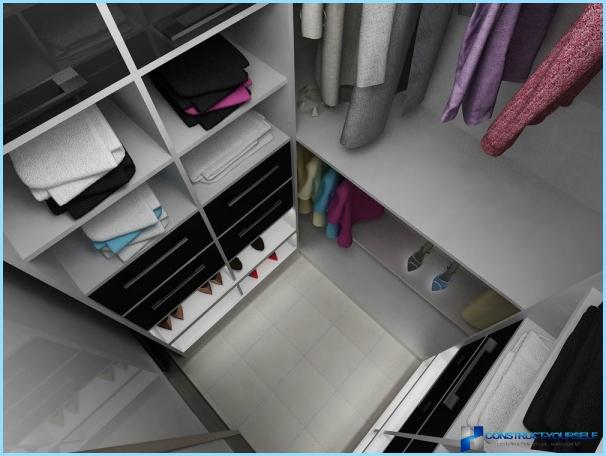 The Council
! To avoid unpleasant odors, it is recommended in each box to put the pouch with a flavorful filling.
Today, filling systems for storage occupied the whole of the company. To understand the diversity of the drawers, shelves and hangers is not easy, but the larger issue here. Consider the most essential elements filling the dressing rooms in the pantry:
Horizontal rod for hangers. They can be different depending on the destination. For dresses, they are located at the height of 175-180 cm, and for shirts at a height of 100 cm.
A variety of boxes. Assign drawers to protect garments from dust, for ease of use inside the drawers can be divided into sections. In modern storage systems, fully-extending drawers, so you can see all their content;
Pull-out Trouser hanger;
Baskets of different size and purpose. In the basket you can remove almost everything you need. Baskets can be made of transparent plastic material through it just to see what is in the basket.
Shelves. A small shelf conveniently placed at eye level, large convenient shelf to place on top to store seasonal items and below, for boxes and shoes;
Hooks. They are easy to hang bags, umbrellas and other small items;
Special modules for footwear. Shoes on them is at a slight angle that allows it to consider;
Other closed sections for the major things. They can be stored buckets, vacuum cleaner, Ironing Board and other items for cleaning.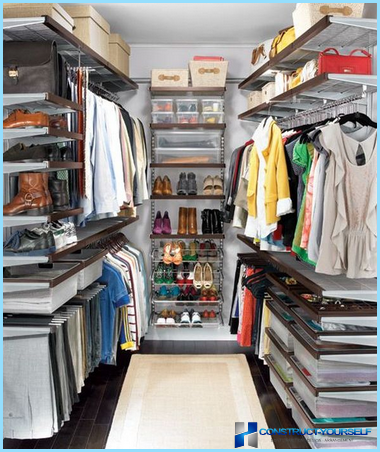 Even a small closet in the storage room can be divided to fit the needs of all family members. Let men's clothing and shoes is located on one side and female on the other. If possible you can provide a small screen behind which to shelter for changing clothes, if the room would be a few people.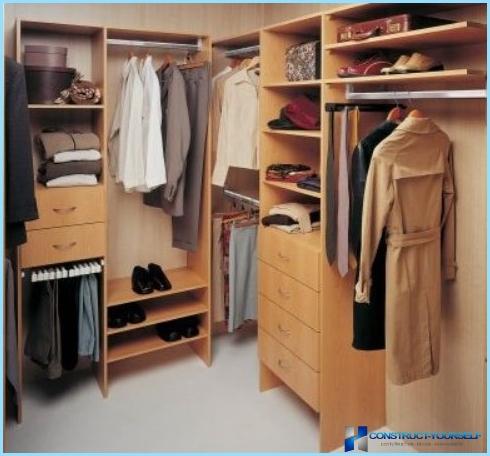 Attention
! Try to arrange a dressing room so that she was in equal access for all family members.
It will be convenient to have it in a separate room or closet, a corridor.
To arrange a convenient place to store things even in the closet of quite a small apartment. Currently, the market offers a variety of products for filling a dressing room. It can be individual items, each of which can collect what he needs as a constructor. You can buy a system and install it in the right place. The choice depends on the client, its financial possibilities and imagination.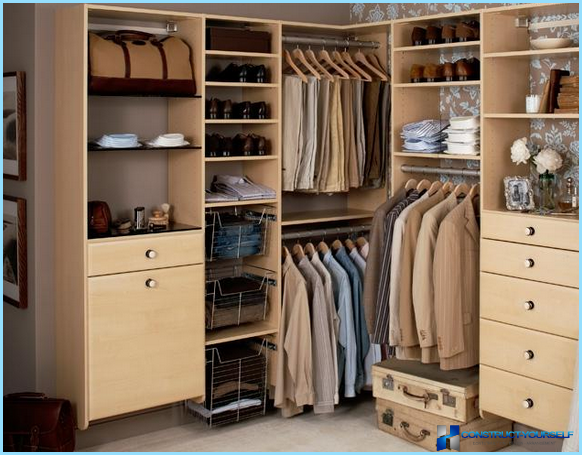 Modern, practical and well-organized dressing room in the pantry will not only help to keep things in order, but will also allow you to get rid of the bulky and more functional furniture.
Looks like a dressing room in the closet you can see in the video
Content related