Lovers of aestheticism and refinement are trying to arrange your bedroom in a modern style without forgetting the usability and luxury. The room, which will be executed in a similar style, you get spacious and comfortable. The photo – variant modern bedroom decor, we offer professional designers.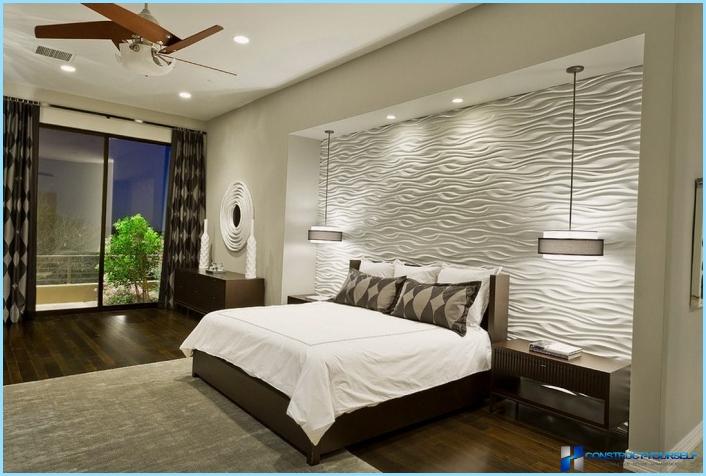 Such a definition as «modern style» is a generalized character. It can contain fragments of Japanese minimalism, functional techno, the usual modernity, fragments of rural areas. In addition, this style involves the use of fragments of vintage, industrial constructivism. A variant design of modern bedroom in combination of several styles shown in the photo.
Choosing the color scheme for your modern bedroom, consider the kind of furniture: bed, cupboards, bedside tables, you will use.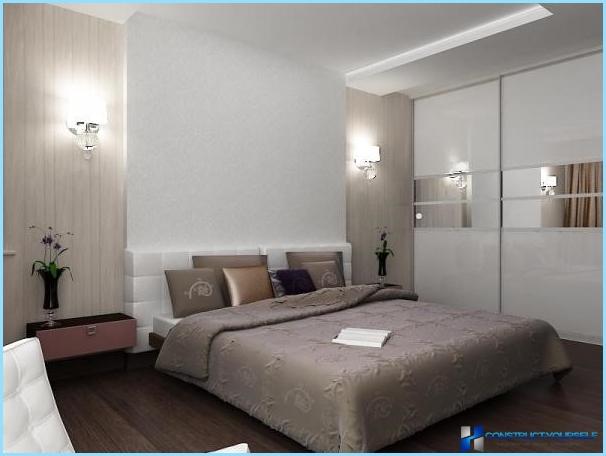 The Council
! Before you begin to implement these ideas, it is important to think through the full design project.
Needs to be worked out the slightest nuances, takes into account the location of walls or cabinets, colors and lighting sources.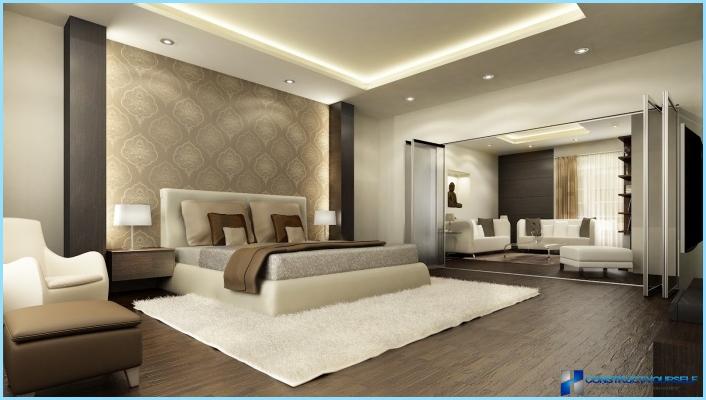 The selection of the color of modern bedroom should focus on their own feelings and preferences. If you only use modern fashion trends in the bedroom will not be of comfort, it will not become a place of solitude and relaxation.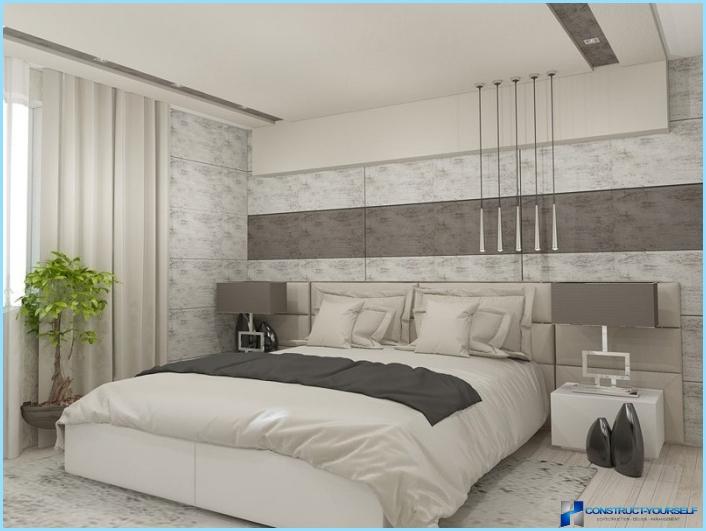 Attention
! Use standard principles, according to which the optimal background for bedrooms are neutral colors.
With inadequate lighting, it is important to choose light flooring.
Leading position in the color spectrum used when decorating a modern bedroom, is:
chocolate,
milk,
beige,
white,
brown,
green,
blue,
blue
An interesting option is to combine several colors in one modern bedroom. For this there is a certain algorithm. Large surface try to make bright colors, but the adjacent sides do neutral colours.
Interesting solution designers will be striking the cabinets, complemented by walls of muted neutral colors. Beginners will be easier to use ready-made options for designers without spending time and material resources to experiment. For example, you can use for decorating wall Wallpaper with geometric pattern or wasteful ornamentation, having multiple colors. A similar version of modern bedroom design presented in the photo.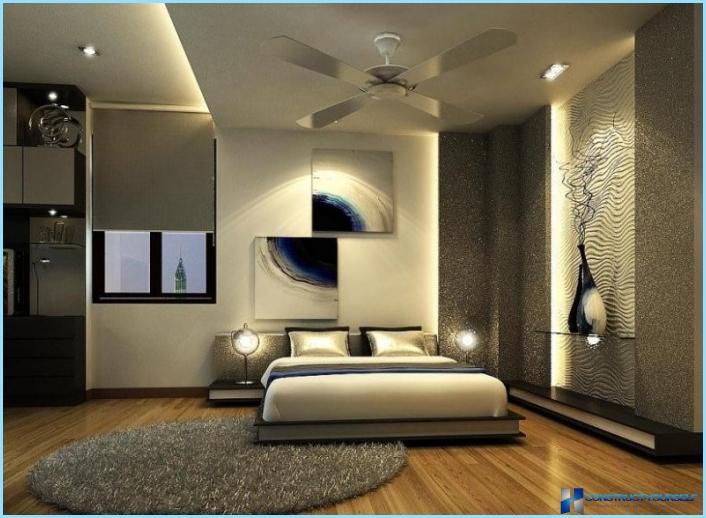 Attention
! Professionals allow the use of the modern bedroom with three different colors, for brightness you can use different shades of one color.
Cabinets, lighting, option of coatings depends on how you see your bedroom after the repair. For modern style bedroom will fit cabinets with glass shelves, decorated with chrome or wrought-iron decorative elements. A good solution is the use of leather. It is suitable for upholstery, decoration table lamps, design wall paintings.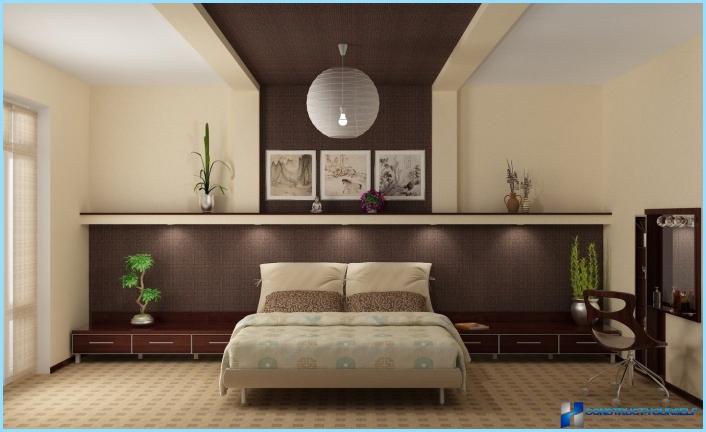 One of the walls of the room can be left in its original form, making brick or concrete masonry interesting accent in your interior. If such a wall available, you can use decorative plaster.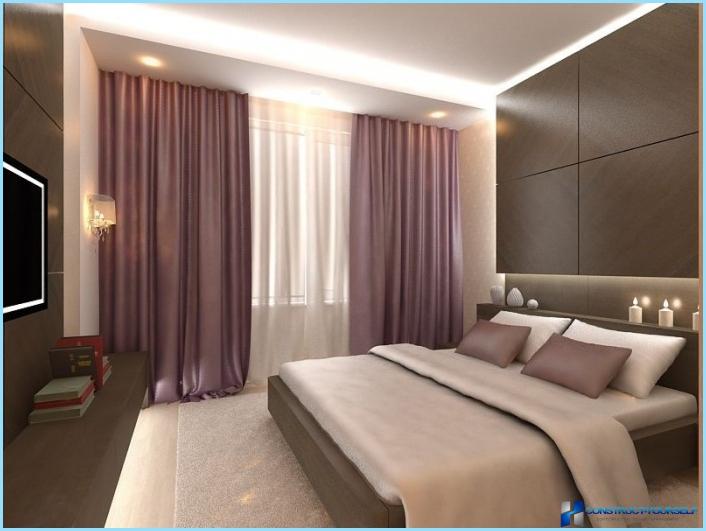 Bed linen, blankets on the sofa, the blinds must also fit into the modern style of the room. When you purchase luxury bright bedding, for example, satin blue set, the curtains matched the neutral shades. The best solution would be to use a discreet translucent canvases blinds, equipped with a special regulating mechanism. Modern design does not involve complex and sophisticated fabrics, brushes, fancy valances, you can use two strips of fabric to decorate the window opening.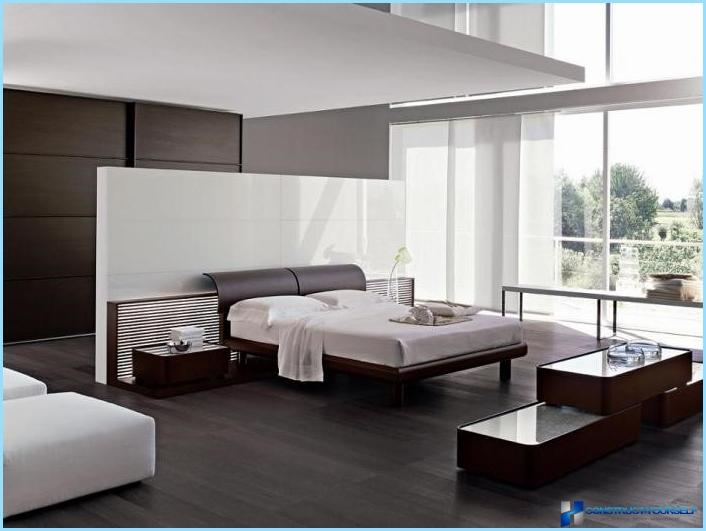 Interesting solution for modern bedrooms will have modular cabinets, to collect which can be in any order. It is best to place items of furniture on the perimeter of the room, leaving the maximum free space. Prima design bedroom video
Heavy standard cabinets are irrelevant in the modern bedroom, it is advisable to replace them with built-in designs to fill the room with light and lightness.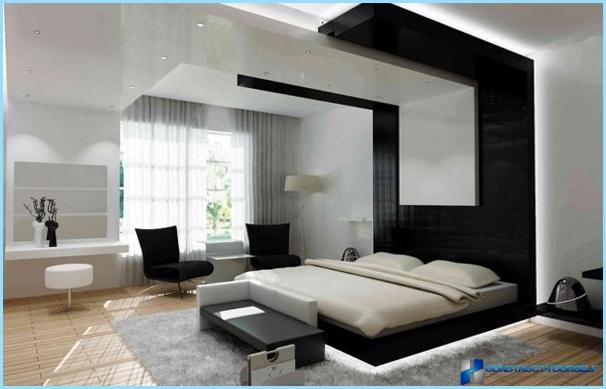 As a classic element of a room for sleep and rest is the bed. You can build in wardrobe, tossing just for sleeping. Among the interesting solutions of decorating bedrooms highlight the use of modular design consisting of separate soft stools. In addition, you can choose the morph flexible model, in case of need, easily folding in a chair or sofa. Similar designs are suitable for a comfortable stay, as without problems adapted to the human posture.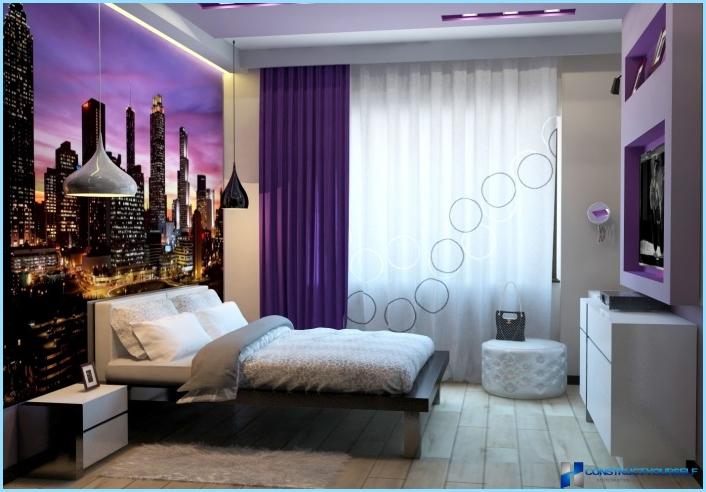 The Council
! You can find minimalist interior design, which borrowed from Japanese interiors.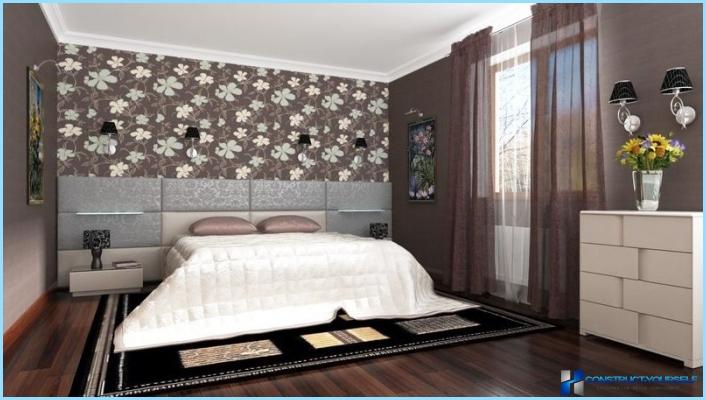 Wall bedroom can be decorated with pastel colours to highlight the headboard. You should not use bright painting, metal carving, forged items, they will contribute to the weight room, to deprive the bedroom of comfort and harmony. Suitable for hanging glass shelves, complemented by accents of chrome or wood, beautiful mirror with bedside tables. Behind the mirror it is possible to place a closet, if the bedroom is large.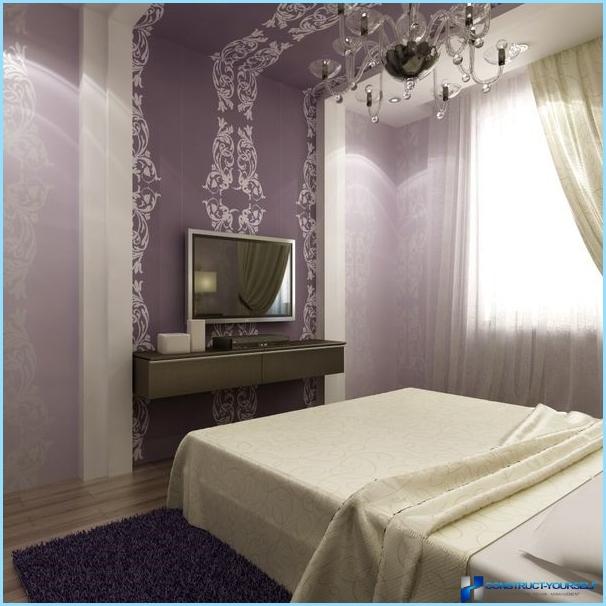 You cannot leave without attention such an important element as planning lighting. If you miss this point, then all the efforts of designers to design bedrooms, will be in vain. If a harmonious arrangement of point and wall lights, space inside the room will change, it will be filled with more light, it will be new paint.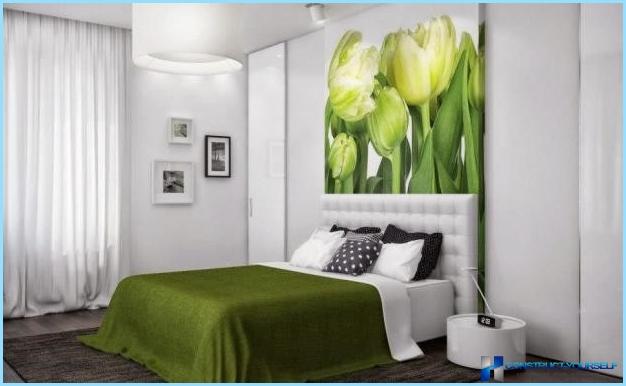 In modern bedrooms, you can install led panels with an unusual three-dimensional image on the wall to make the backlight of the led strip. Increasingly in the interior, there are tapes of different color LEDs, stretched around the perimeter of the room. Not only do they add to the bedroom of romance and mystery, making it a place for relaxation, but also help significantly reduce the consumption of electric energy. But also classic pendant lighting, wall, floor types, must be present in the modern bedroom. Depending on the material possibilities, we can restrict the acquisition budget types of lights or to order a lamp from fashion designer.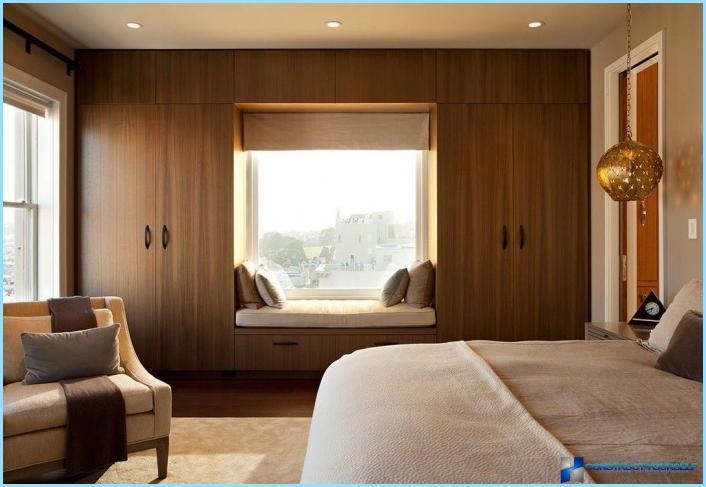 There are some subtleties, ownership of which guarantees the right decorating modern bedrooms.
1 rule. The minimum amount of decor. It is important to focus on glass framed, black – and- white photographs, the paintings of the abstract art, unusual shaped clock on the wall. Don't try to combine similar items, they are relevant individually.

2 the rule. A decorative accent can be a mirror of non-standard form, for example, convex, composed of small mirrors that are connected with a wire frame.
3 the rule. The wall behind the bed is made graphics, photos, but no more than 2-3 pieces.

Bedroom is the place where you always want to retire from the daily bustle, to regain strength for the new labor feats. In order the room was warm and cozy, it's essential to select furniture, select lighting.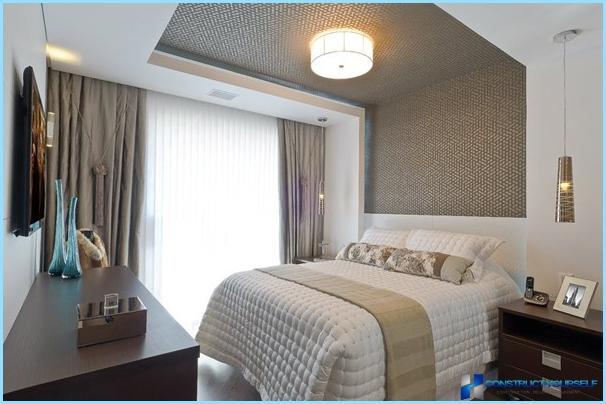 Modern style is gaining its fans, because it allows you to experiment, mixing different styles and design trends into a single unit.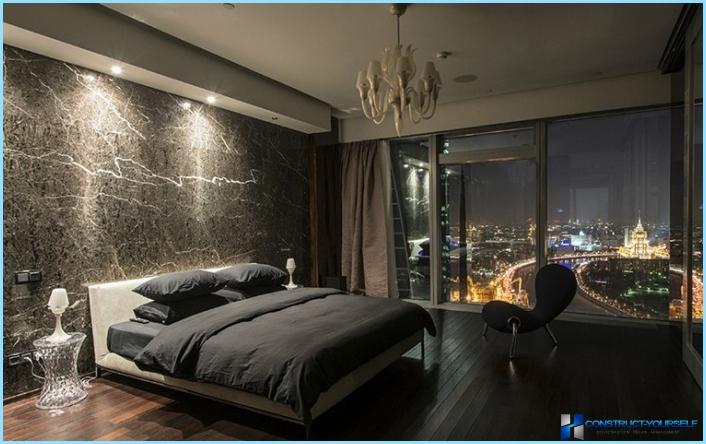 To the bedroom was really modern, do not clutter it with numerous knick-knacks. It is important that it penetrate the maximum amount of sunlight, and all the decor elements were multi-functional, do not interfere with the sleep and rest. Modern style is a great solution because you can combine the coverage of natural and synthetic origin, ie, observing the proportions. A good designer will be able to harmoniously draw in the current trends in the room with area of 12 square meters, to make it functional and unique.
If you want to make your bedroom modern and unusual, do not forget that first and foremost, this room is intended for sleep, relaxation and comfort. Sharp paint, extra furniture, many decorative items are inappropriate in your project, because all of it interferes with the relaxation. Excessive decor designers suggest to leave for other styles and for the modern bedroom you need freedom and harmony.
Content related