Corner dressing room is ideal for a host of things. Thus, you'll not only be able to get rid of a huge and faceless heavy cabinets, but will make their premises more free and comfortable.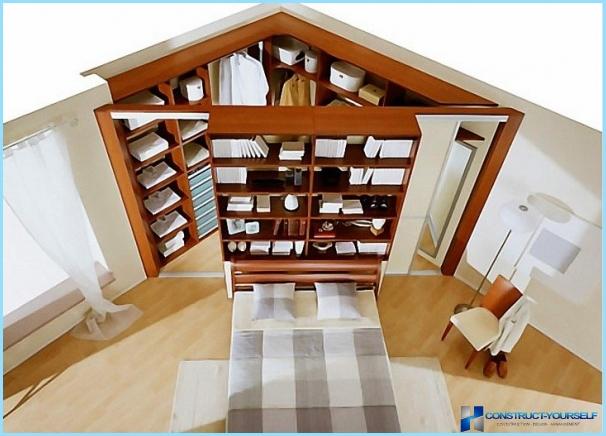 Unlike ordinary Cabinet in the corner dressing room, uses the entire space, from floor to ceiling, all walls and even the angle.
A corner wardrobe can be placed both in the bedroom and in the hallway, or even in the nursery, most importantly, to allocate sufficient size of the angle.
It is important
! The minimum area required for a corner dressing room – 3 m
Two
.
Even in such a small area, dressing room will be much bigger than an ordinary wardrobe. Especially if you use modern storage methods (special devices, such as pantographs).
Calculating the size, remember, the minimum depth, open Cabinet 55 cm, and with closed shelves 60 cm.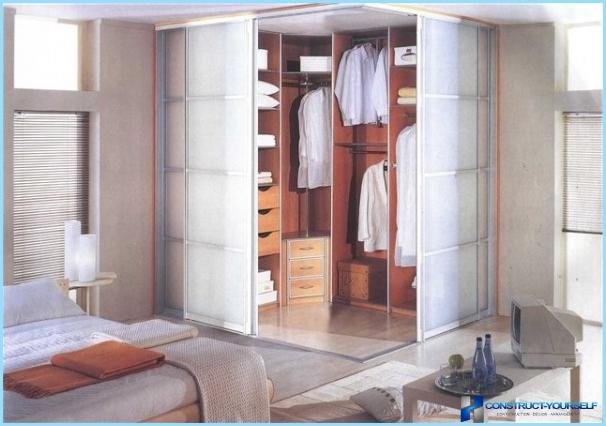 Making the design of the room, divide it into two parts. Let it be one with only shelves and drawers, the other with rods for hangers.
Doors for this type of dressing usually use sliding or accordion. Very comfortable and will look beautiful door coupe with full width walk-in closet. They can arrange a beautiful mural or mirrors. But they did not install, especially if the closet is in the bedroom, enough to make the screen or leave it open.
If you have a small corner dressing room, do all the lockers and shelves without doors to save space.
Small corner wardrobe is unique in that can accommodate up to where it is impossible to put the wardrobe.
Below the photo shows options and built-in corner dressing room.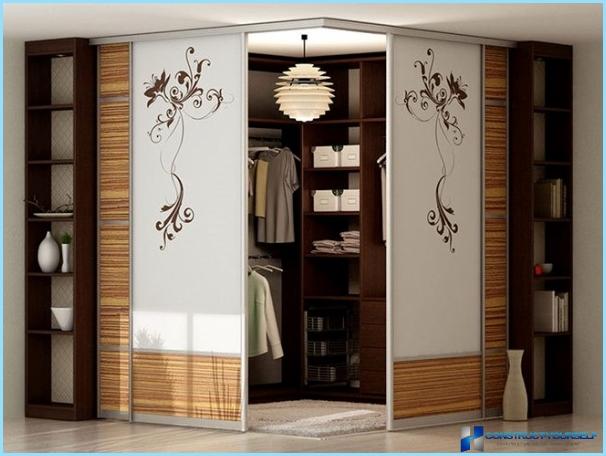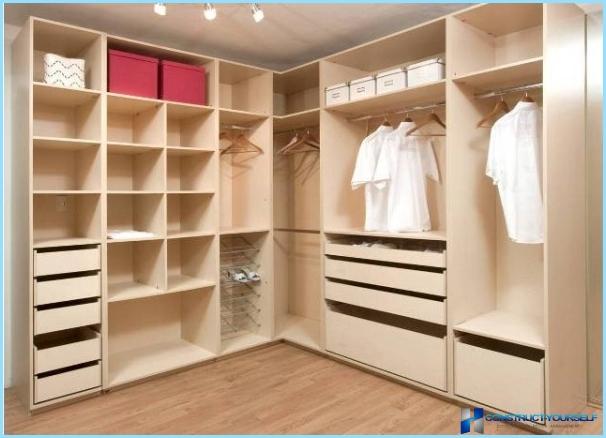 Before you start building a corner walk-in closet with your own hands, you need to know how to plan a corner wardrobe to all the space inside it competently to use.
In the dressing room must be properly placed shelves, racks, drawers and rods, as it is the order and availability of things in the room distinguishes it from the cluttered pantry.
The Council
! Pre-plan location of all things is still in the design phase.
Experts recommend to divide the room into zones:
for top and clothing (e.g., coats, coats, dresses and more), altitude separation of at least 1.5 m;
for your clothing (jackets, shirts, and so on), the height of the branches 0.9 m;
shelves for clothes stored folded (height 35-40 cm, depth 45 cm, width 50-60 cm);
drawers, and compartments for small things (ties, socks, gloves and the like);
shelves for shoes (usually have at an office for coats);
changing area.
Rod for clothing should be placed above the head or at her level, but not below. For short clothes, place two rods above each other at a distance of 80-100 cm, then a lot more things to fit.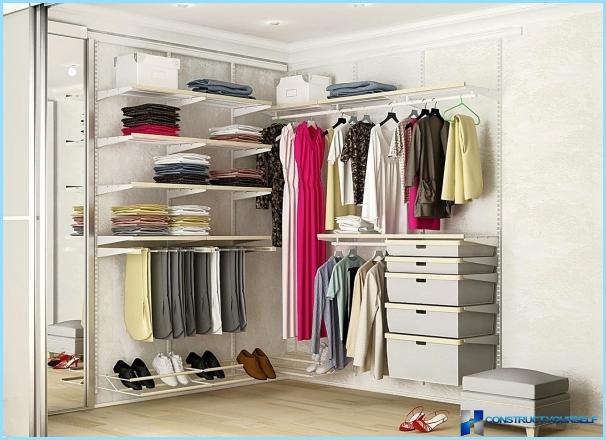 The separation of the Trouser should be done not less than 120 cm.
Also to save some space will help rod in the form of a coil mounted in the corner and lifts pantographs. This lift is able to withstand weight up to 30 kg.
Nurseries recommend the use of adjustable rods. To adjust them as your child grows.
The divisions for the top and underwear clothing should distinguish from each other. The upper clothing must be placed as close as possible to the entrance, including shoes, hats and gloves. And lingerie and other underwear is placed away from the doors.
Drawers for underwear place at the height of 1 m from the floor, and boxes and baskets do not place above 1.2 m, or to use them will be very uncomfortable.
Male and female things have to be in different locations and not mixed.
For shoes better make an ordinary shelf and not angled. Inclined to fit the Shoe in half. Optimal flange width from 80 to 100 cm.
If the dimensions of the room make the changing area, you provide the place for the mirror height at full length. Also, if possible, put the dressing table or at least a small chair or Ottoman.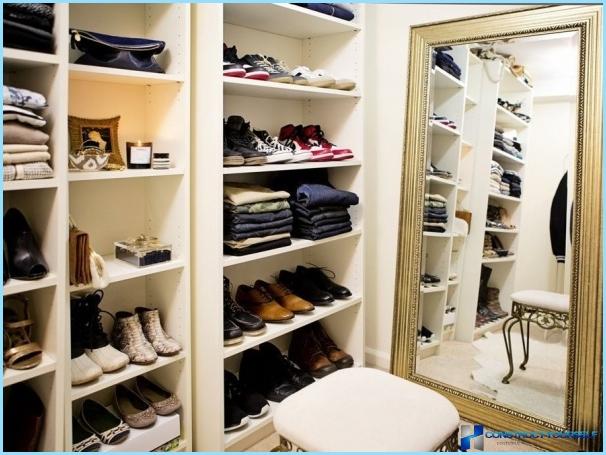 Use transparent boxes, then things will not only clearly visible, but the dust can accumulate.
The Council
! Things that are rarely used, such as bags, suitcases or seasonal, keep on the top shelves.
In the lower parts, if there is available space, you can arrange an Ironing Board, iron, or other small equipment.
A corner wardrobe can be made of metal struts-struts. This style is called the loft.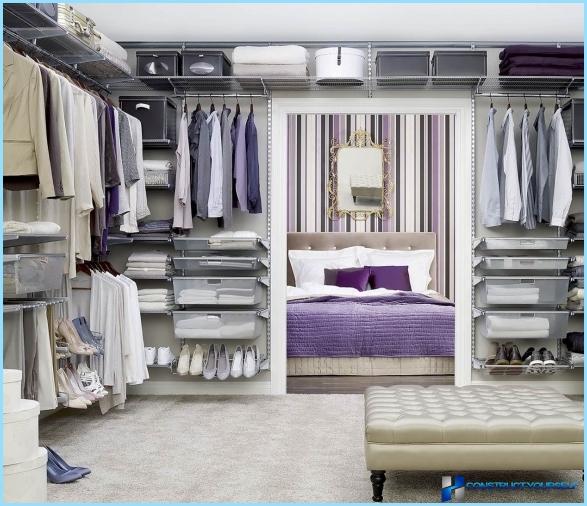 Between the uprights to hang shelves and rods. Due to the simple fastening and multiple holders, you can do absolutely any height.
The price of this design is very democratic. Easy installation allows mounting to any wall, even plasterboard, and also easily dismantled.
But many do not like the cold metal and factory design. Besides loft small set of elements: standard shelves and racks.
Photo corner walk-in closet system made from the metal rack.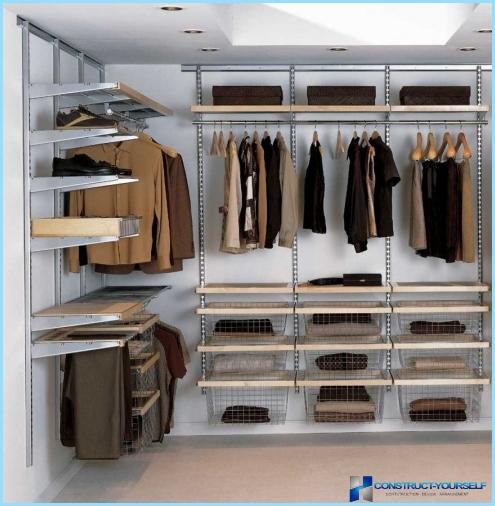 You can make a dressing room from panels boiserie. To them are attached all the shelves, rods and drawers, but for this style you will need a very strong wall, as it will act a heavy load.
The peculiarity of this design is that between adjacent shelves no walls. All is held by fastening from the back wall and the struts or without them.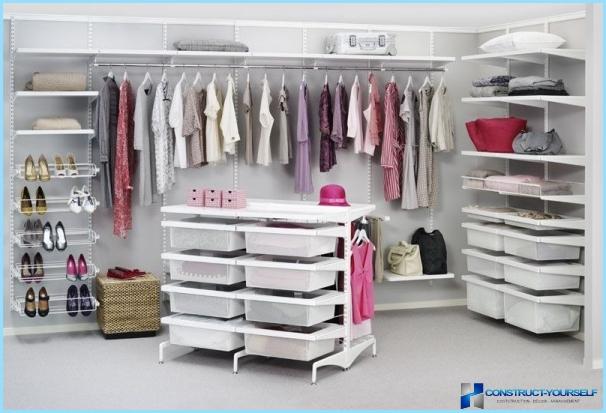 But this option is not suitable for small rooms, as the construction itself takes a lot of place and between the panels and the wall must be a gap of at least 3 cm.
You can fill a dressing room furniture. The overall style will resemble a huge closet, but without doors. All consists only of shelves and walls between them. To the General reliability of all the elements are fastened together.
Minus a walk-in closet – lots of space wasted on frame.
Another option is to make a dressing room out of galvanized profiles and drywall. Profile make frame of the required shape, and then covered with drywall or other sturdy panel material.
It doesn't have to in the dressing room was the back wall.
It is important
! Choosing the material, always pay attention to its quality and storage conditions. There should be no damage or dents. Also read recommendations for its use, as some materials can be afraid to direct sunlight or slight fluctuations in the moisture.
For those who have not enough space for dressing or is she just not required, you can install a corner wardrobe sliding wardrobe.
Below the photo shows several options for corner wardrobes with sliding doors.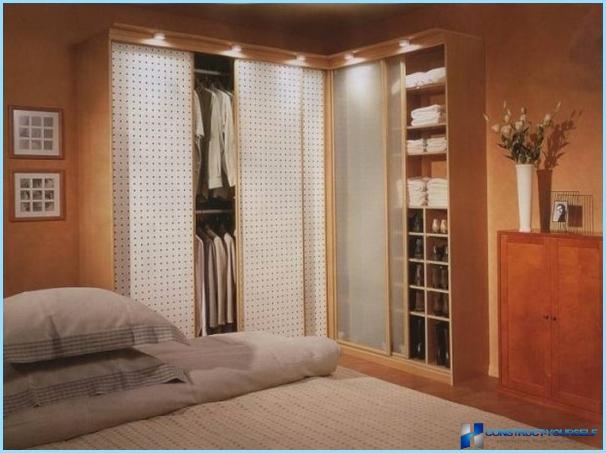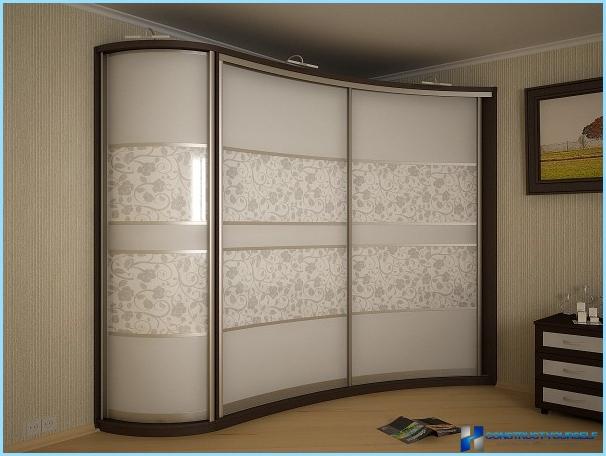 No matter what style or was built-in corner dressing room, it is necessary to provide ventilation and great lighting.
It is important
! No ventilation in the room will start to accumulate moisture as a result of things can acquire an unpleasant smell and worse, may start to grow fungus or mold.
Spot ceiling lighting is the best option for a dressing room. Even better, if there is special lighting on primako. They can attach to any shelf, and they do not heat as it is made of LEDs. Importantly, the light was directed at the shelves and racks.
Very well if the dressing has a window, as natural light is always much better than artificial.
Trim a corner wardrobe is usually exactly the same as made the main room. Not recommended for inner finishing of the fabric.
Often use MDF, plastic panels, tiles, paint, Wallpaper (washable) or glass fiber.
Choosing a color usually prefer light shades (white, milk) because their background is much easier to choose clothes.
The floor is covered with tiles, parquet, linoleum or carpet. Often trail some soft rugs, so it was nice to walk barefoot.
Outside corner wardrobe can be finished with mirrors, then it will visually increase the room in which it is located.
It is possible to design a dressing room a completely different, exclusive, but more importantly, it is combined with the style of the main room.
Strict rules in the construction and finishing of the corner wardrobe there. It all depends on your desires and capabilities. If you are not sure that you can make a corner wardrobe with your own hands, leave it to better skilled and make it to order.
Content related