For repair and finishing of rooms there is a huge number of all kinds of material and more colors. Designers are not afraid to experiment and constantly create new interiors that combine seemingly not harmonious colors. In turn, the classic combination of black and white is used less and less.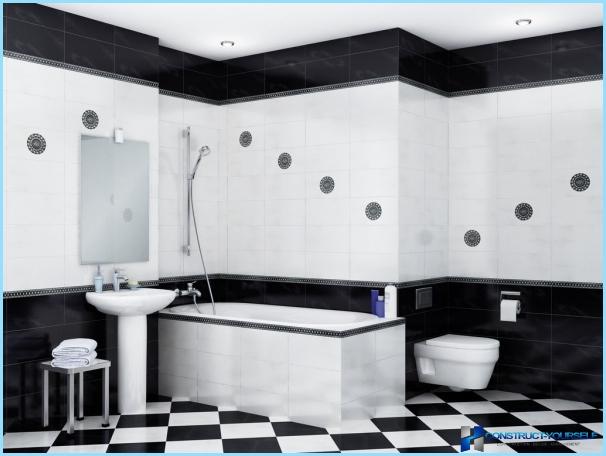 Black and white bathroom is considered to be overly pretentious and cold. So this color scheme is used, often only fans of the classics. The rest prefer either bright colors or pastel.
There is another opinion, why the bathroom in black and white not very popular. It is believed that the combination of these colors is suitable only for strong personalities. Such people do not prefer to be on about the fashion and follow my own tastes.
At first it may seem that black-and-white palette bath is boring and has no zest. In fact, many no longer think so after you see examples of rooms or live in the photo. Because this combination of colors is a charismatic, challenging modern stereotypes.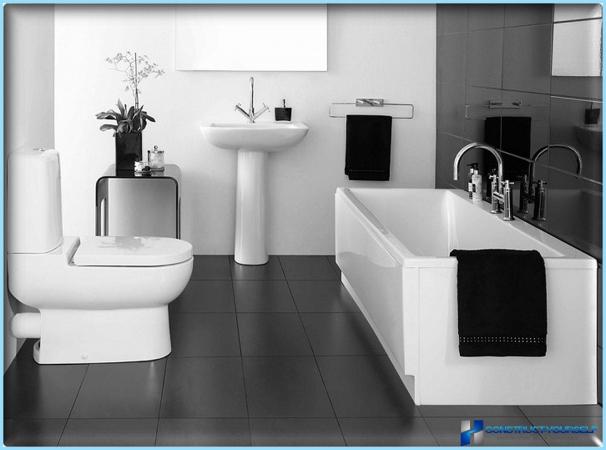 Many refuse to build a bathroom in black and white for different reasons. Some doubt his choice, and, in the end, decide not to depart from the generally accepted standards. Someone thinks this color combination is boring or tedious. However, the reality is exactly, but on the contrary.
It is important
! This combination of colors in the bathroom can not really be approached to the person on a psychological level.
To check this simply enough. Enough to put him two sheets of paper (one white and the second black) and stare at them, constantly blinking, or rotating head. If after this there is a giddiness, it is better to abandon the selected palette.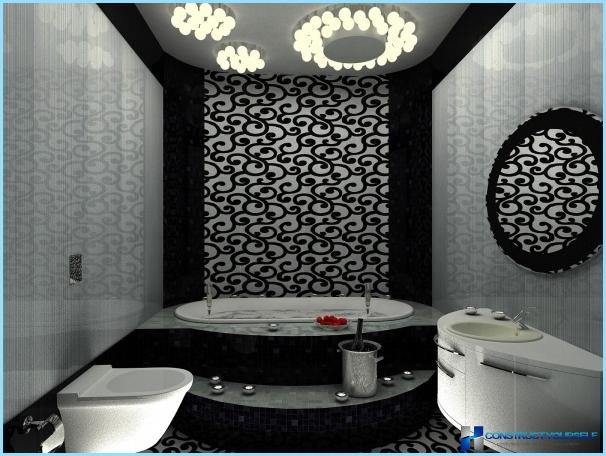 If the problem that was described above not happened, it is possible to purchase material, because the design black and white bathroom has the following advantages:
This palette will never lose its relevance, in contrast to many other bright and colorful options.
Black and white combination is suitable for both classical and contemporary styles (high-tech, modern, etc.).
Despite the fact that used only two basic colors, you can endlessly experiment with the graphics and geometry of the room.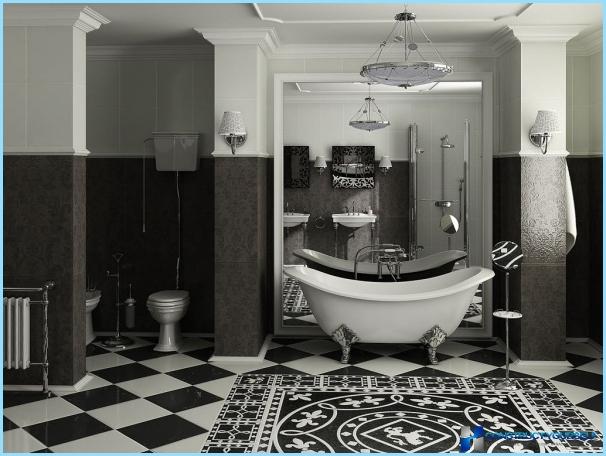 Despite significant advantages, black-and-white bathroom has a number of drawbacks, which are also important to know.
Not many manufacturers have decided to release their product in black and white. So you have to pick their own material. It will take a lot of time and effort.
Any, even the most minor mistake in the installation can disrupt the harmony of the whole room.
Black and white colors, which are all visible contamination. Even a dried drop of water will immediately be evident against this background. Therefore, to avoid this, need to constantly be cleaned and carefully wiped;
As mentioned above, some people who are prone to depression, the contrast of these colors will suppress their mental state.
Black and white bathroom interior suitable for small rooms only if all harmoniously equip. Otherwise, the already tiny room will seem even smaller and more flattened.
Despite all the difficulties that will have to face when the lining of a bathroom in black and white colors, the result will fully justify all efforts. To see the options for black and white bathroom can be in the next photo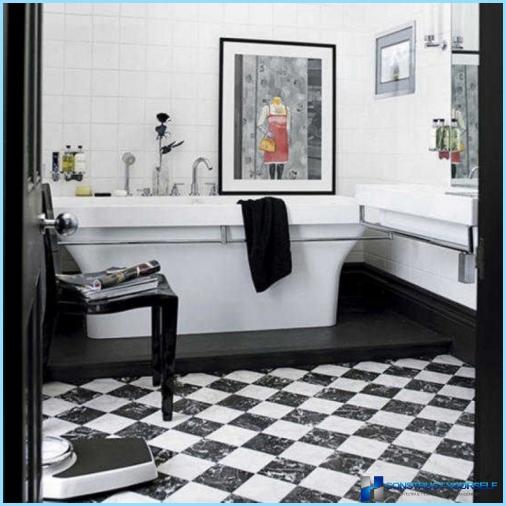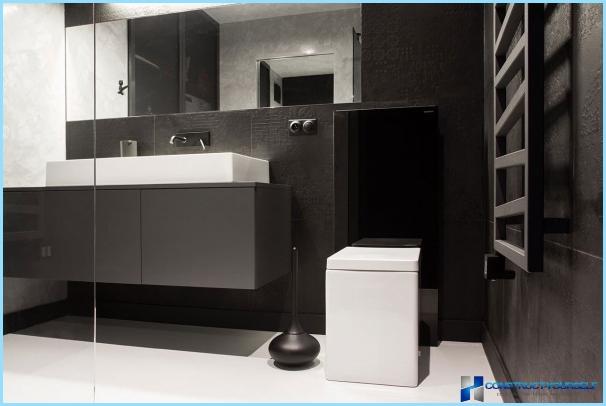 Before proceeding to the arrangement of the bathroom should all be carefully considered. It is important to not only decide on colors, but also to know how they will be located. For example, the classic option is to finish the bathroom black and white tiles in a checkerboard pattern. This combination looks harmonious, but is not strict. By the way, if you want to achieve rigor, the room can be arrange tiles with a pattern of stripes.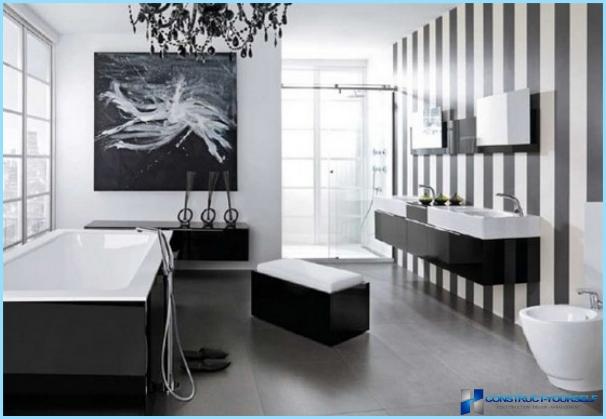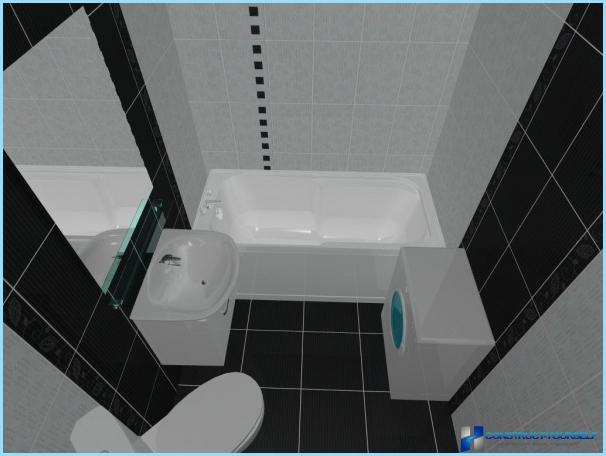 If you want to make a little room in white and black tones, should be especially cautious and adhere to certain rules. Most importantly, it is imperative that dominated by white color, as it visually expands the space. It is known that black, on the contrary, compresses the room. Therefore it should be used as additional panels or patterns in the form of ornaments or various thin strips. Narrow, contrasting horizontal lines dark colors will complement the effect of the expansion premises. Same lines, only horizontal, it is better to apply with low ceilings, as they are able to visually increase.
The Council
! The room with a small area can differentiate bright inserts, for example, from the red tile.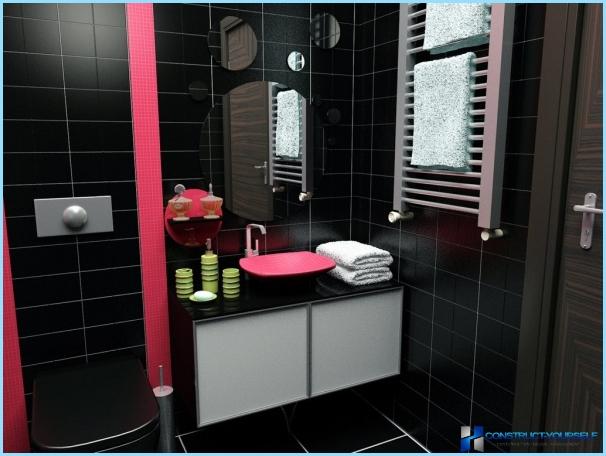 The floor also should not be ignored. You can lay a rug with black and white stripes, or replace it with a bright red coating. This color can be applied on the walls. Bathroom with black-and-white-and-red tiles will look very different, but no worse. In addition, this option can be used by those who are not satisfied with the classic two-tone combination.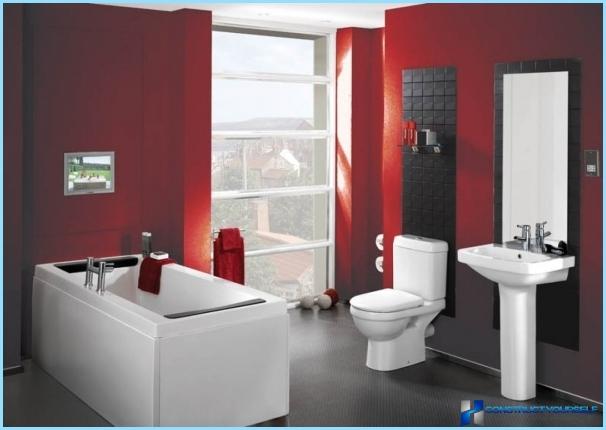 The above described embodiments, which used regular tiles. But you can show imagination, to add creativity and make a completely unique bathroom with unique ornaments and pictures. For this purpose, special tiles, panels or even Wallpaper. It is worth considering that not necessarily the entire room to complete the picture. This may be a pattern that emphasizes and highlights certain area.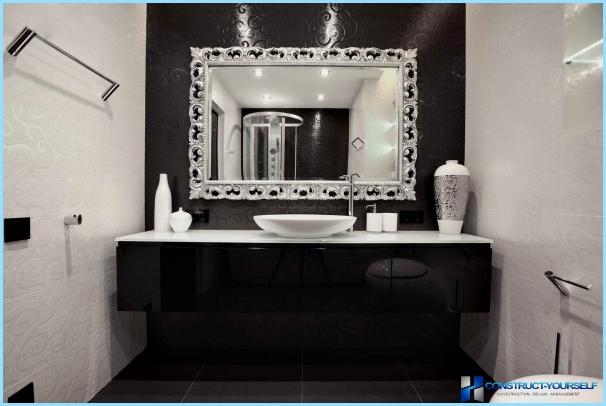 Also bathroom design with black and white tile is great for highlight areas. For example, if the main color is white, you can play on the contrast and highlight the black tub or sink. Will look great black bath on light background or Vice versa, white washbasin attached to a black wall. Also plays an important role and additional furniture (bedside tables, dryers, etc.). Picking them in accordance to the color scheme, it is possible to consider the situation of a bathroom complete.
Regular tile can complement, or even replace no less beautiful mosaics. Her patterns will always fascinate and attract attention.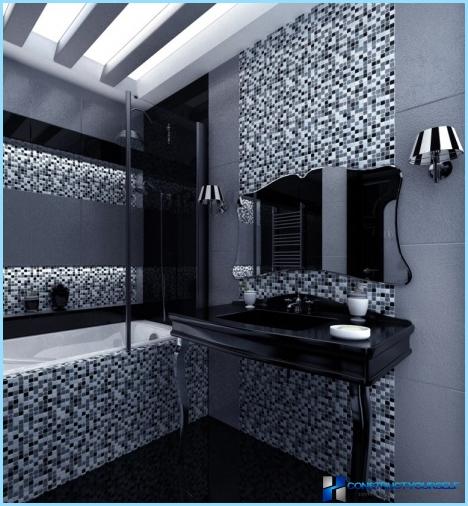 Also, if desired, in the interior of the bathroom komanaty you can add a touch of luxury. This can be combined with a wall coating not only by color. For example, you can use glossy black tiles and white Matt.
Decorating a room, albeit the most important, but not the last stage. There is still a lot of work with lighting, selection and installation of sanitary ware, furniture and other items.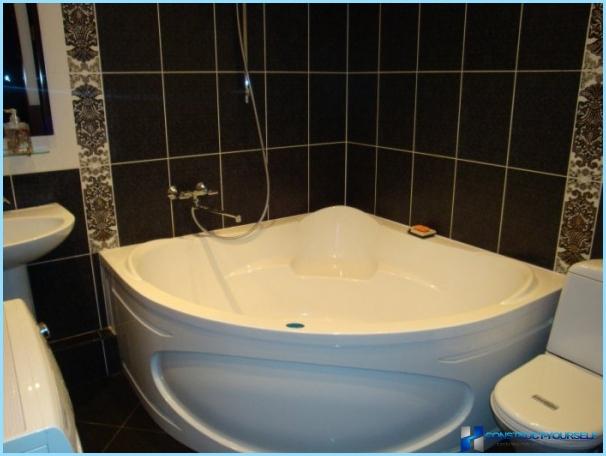 The light is no less important than properly installed wall and floor coating. It should not be little, otherwise the whole interior loses saturation and looks a bit gloomy. To avoid this, it is advisable to use several light sources in different parts of the room. The best option will be a graceful glass wall lamps, which illuminate every corner of the room from all sides.
The contrast of the room can be diluted with plenty of mirrors. Someone may be enough of a small mirror to wash my face and brush my teeth. But the room looked at the highest level, it is recommended to install this accessory is large in size and add to it a smaller. This is not only decorate room, but also expand it.
It is important
! Correctly placed mirrors can lead to the opposite, a room can look awkward and is closely.
To avoid this, it is not necessary to place the various tables and shelves in front of the subject.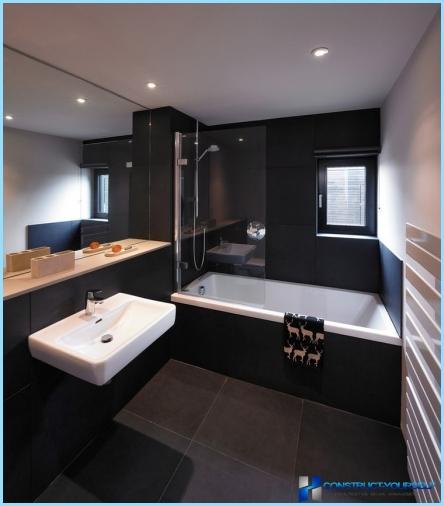 Since it has gone on furniture, and should take its own paragraph. In order not to lose all the effect, it is not necessary to depart from the General style and set it in a different color. Everything should complement each other. But just to pick up one of the two colors is also not enough. Black-and-white design is a game of contrasts. You should not forget this when selecting furniture. If the table will stand in front of a white wall, it must be black and Vice versa. This rule applies to all plumbing.
The various elements of the decor should also match the overall picture. However, in this case, you can roam. To dilute the bathroom, you can use vivid details. For example, a picture, flowers, candles. Even towels may become a decent part of the decor. But such bright spots in the bathroom must be single. And even the jars of shampoo and other toiletries should fit harmoniously. After all, the overall composition can disrupt the most minor details that, at first glance, can not affect the interior of the bathroom.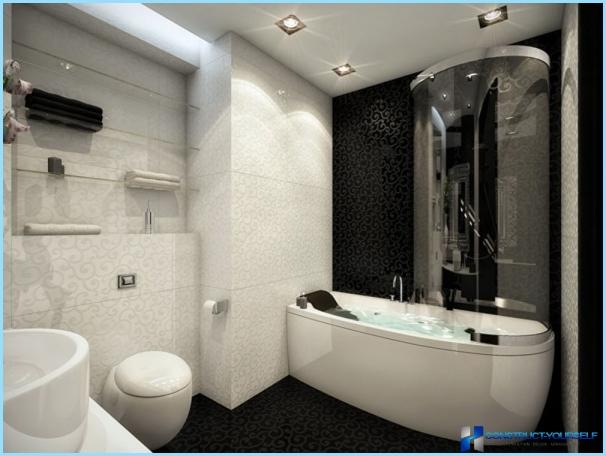 Bathroom in these colours is usually applied in a minimalist style. One of its main rules – the use of strong lines and almost complete lack of decor. To furnish a room in that style, but it should be noted that the white-black tile hides almost all the salient details. So in the bathroom would be more appropriate furniture with simple clean lines.
Properly thinking through the whole interior, from the choice of tiles and to the situation of different accessories, finished bathroom will turn out elegant and stylish. All efforts will be justified striking appearance.
In conclusion, given a few more photos of bathrooms with black and white tile, which can serve as an example for your own arrangement.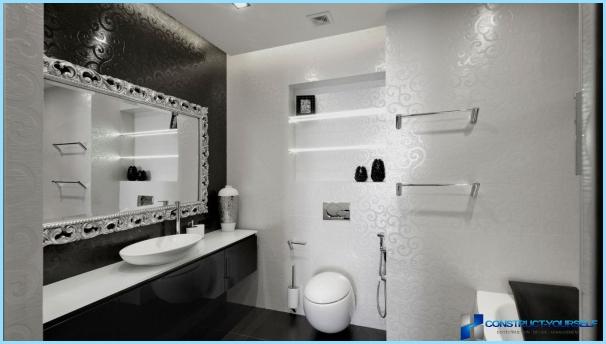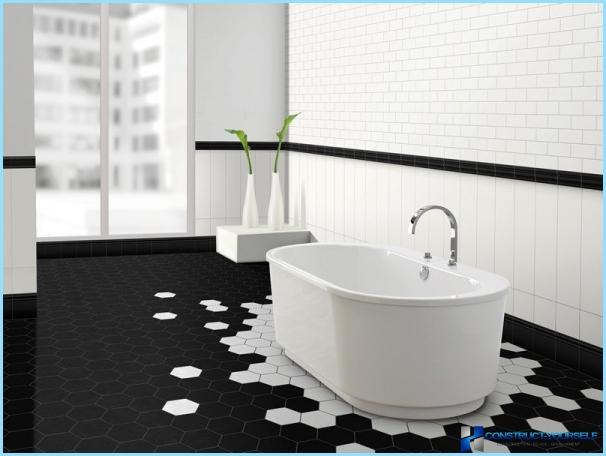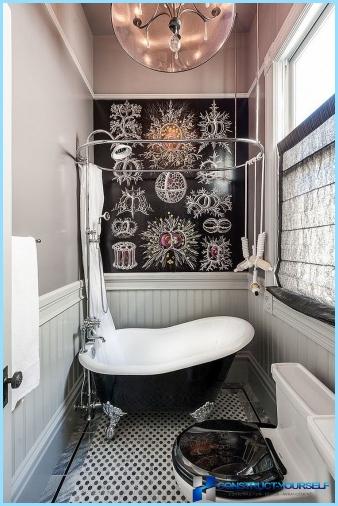 Also useful would be to watch this video
Content related