If you ask any professionalplasterer at the expense of some mortar better, he will be happy to tell you that it is a mark of "miners". Especially if you need to perform plastering interior walls with moderate humidity in the room. This dry mixture is suitable for all kinds of surfaces, ranging from brick and finishing concrete blocks. Thus, it has a high resistivity to cracks and high thermal and acoustic insulation characteristics.
Gypsum plaster miners - a greatdry building material based on gypsum. The composition is added lightweight filler component which makes it possible to reduce material costs. The composition of plaster include mineral components, and high-quality additives for a better setting. Due to this, the diluted mixture can easily be put on the wall in the shortest line.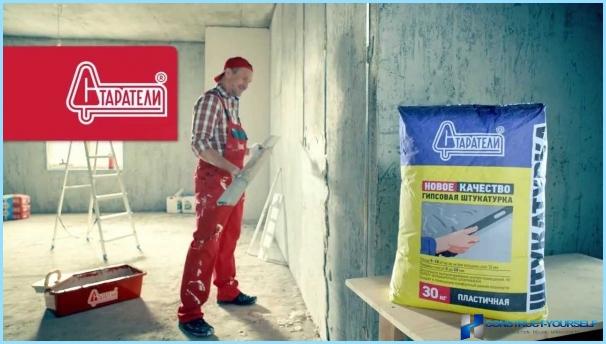 To date, the market buildingmaterials offers customers a gypsum plaster miners in white and gray version. Also, in some places you can still find gypsum plasters and with a pink tinge, but this is extremely rare. This color palette is created not by the whims of buyers, it pushes directly on the material, which is used at the base mixture - gypsum.
As a rule, all kinds of gypsum plastersare packed in bags of 30 kg. Before you start to use it, Prospectors diluted with water, and after, start to apply on a dry, uniform surface.
Important
! Surface must be cleaned of dirt, dust, etc.
Gypsum plaster miners gray, as well asand in white color, is widely used by professionals in their field in a variety of repair and construction works. Inside the premises - for the treatment of walls and ceilings of rooms, as the material for filling the "gaps" in the tile seams, for finishing floors and repair of local objects. It is worth noting that it is used for high-quality plaster walls and ceilings in rooms with moderate humidity (as the manual processing method) for future gluing wallpaper on it or staining. This mixture is well connected to such surfaces like brick, concrete, foam concrete, gypsum and minerals.
Prospectors - a universal plaster that is unsurpassed not only copes with its direct task, but also can perfectly show itself in the role of putty.
Of all the options for building materials thatbrand, it is noteworthy plaster miners. This is due to the fact that this building is a mixture of high-quality and reliable, which is optimal in terms of price / quality on the whole market.
Attention
! This dry mixture is fully consistent with its professional and technical parameters.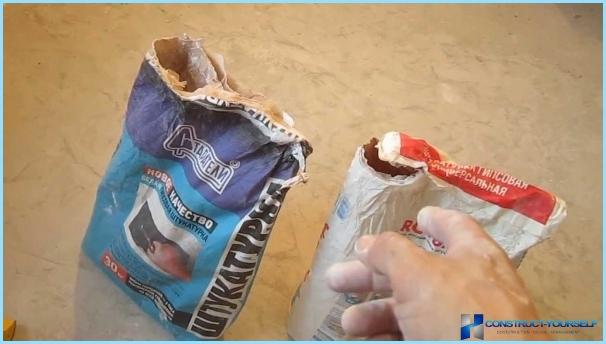 Professional masters choose thismixture, if after plastering them have pokleit top tile or wallpaper, as This plaster has long proved themselves for this purpose.
Reviews on the Internet say that plasterProspectors plaster is able to provide an ideal balance between work time and its adhesive along with a high treschenostoykostyu, thanks to the addition of special components manufacturer.
Plastering gypsum miners has the following characteristics:
Colours: gray and white.
Water consumption - from 0.5 to 0.7 liters per 1 kilogram of dry weight.
Need dry weight per 1 square meter - 0.9 kilogram (given that the thickness of the layer will be 1 mm).
Optimum coating layer of 5 to 50 mm.
The lifetime of the finished mixture for about 45 minutes.
The temperature conditions for the application must be between +5 ° C and +30 ° C.
Bag Weight: 30 kg.
Shelf life: 6 months. from the date of manufacture. Given that it will be stored in a dark and dry place.
The resulting mixture is rational to apply onlyfor high-quality, strong, not prone to moisture and the treated grounds. The first thing you must do before you start to work, you need to clear the area of ​​application of all kinds of plaque, remove items that may lead to a decrease in the adhesion of the mixture and the area of ​​application.
Council
! Highly absorbent area of ​​application should be strengthened primer (if the surface of the problem, that this procedure should be performed several times).
Pour water into the container with the dry mix and stir it until this weight will not homogenous, after give it brew for a few minutes and stir again.
Produce stirring is recommended foran electric assistance. The prepared plaster brand miners need to put layers of not more than 50 mm at a time, then moisten it with water and wipe fibroterkoy. Then smooth it with a spatula, until the surface is smooth as possible.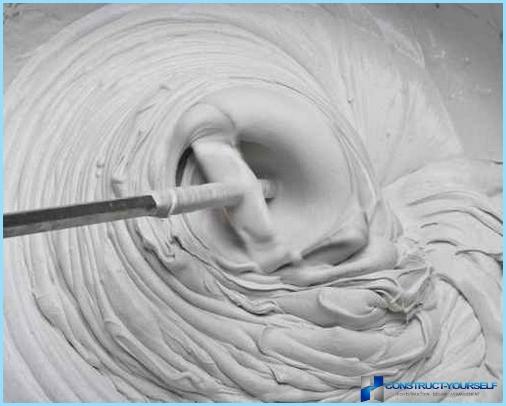 The main component of this mixture acts as gypsum modified using components that provide mass prepared following characteristics:
The range of applying a layer at a time from 5 to 50 mm. In the case where it is necessary to treat any local portion, the layer thickness at a time and may be 80 mm.
The width of the layer, which efficiently applied is from 5 to 50 mm at a time. If you need to treat any specific area, the one-off layer and can be 80 mm.
This mixture has a high resistivity with respect to treschenoobrazovaniyu in the drying process and throughout the life cycle.
Plaster is able to self-regulatemoisture level in the room. Prospectors have high vapor permeability. For example, in the case of rooms with higher air dry it allows moisture vapor to pass. Conversely, it can trap moisture, if the room is not sufficiently hydrated through its microscopic pores. That is why, this plaster is capable of 24 hours a day to maintain an acceptable climate for human health, which he will be comfortable.
The mixture was fully complies with all environmentalindicators that operate in the Russian Federation. Gypsum plaster is not harmful to humans and animals, so that it can be used for repairs of residential, school, government and many other facilities.
Easy to use. After the dry component is mixed with water (in the ratio of 0.5-0.7 liter per kg), the solution was ready to become creamy. Making it easily distributed over the entire area of ​​uniform coating, an even layer.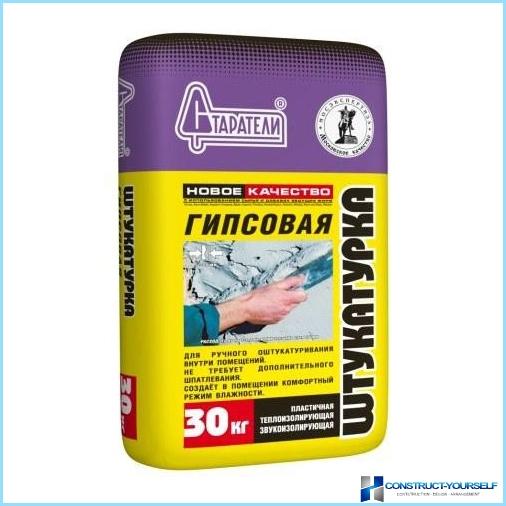 Despite all advantages, dry mixesProspectors, in addition boast excellent sound absorption and teplosbereganiem, thus ensuring constant comfort in the room, oblivious to the noise of the neighbors' walls or the bad weather outside the window. So, choosing mixes miners - you will not regret!