Silicone plaster in its quality and appearance is not inferior to traditional solutions. Moreover, it has all the necessary strength and gives the façade a visual appeal. Substance is universal and used for different finishes.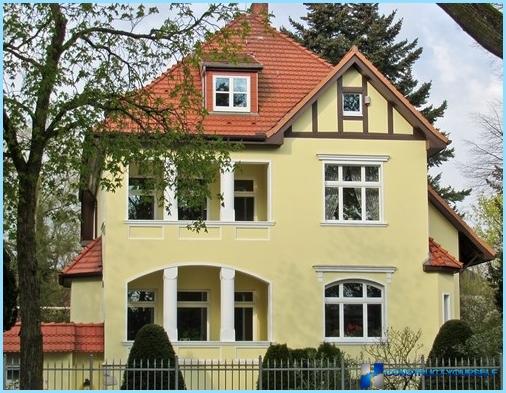 What is the advantage of this building material:
The compositions, at the base, which contains silicone, have good durability and attractive appearance;
Suitable exterior finish;
You'll be high performance;
Has the necessary strength and elasticity;
Protects the façade from the effects of aggressive environment.
Depending on which components are part of the finishing agent, it is divided into types:
The cheapest is mineral or polymer. With this finishing solution is obtained durable coating that provides the cement that is included. Silicone facade plaster has very good reviews and is very popular. The facade is obtained «breathable», and provides high-quality insulation using mineral wool or polystyrene foam.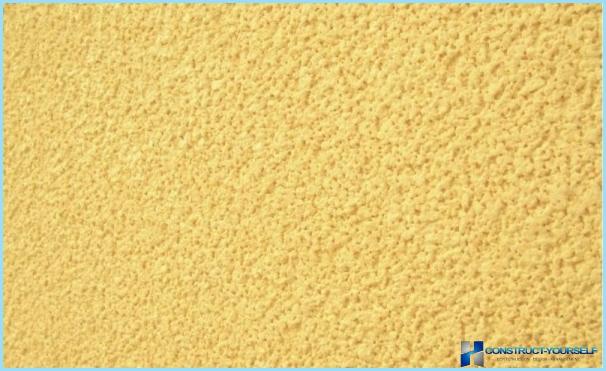 If the finishes include acrylic resin, it is acrylic. She is resilient and resistant to temperature changes. The color of the facade is not going to change under the influence of sunlight.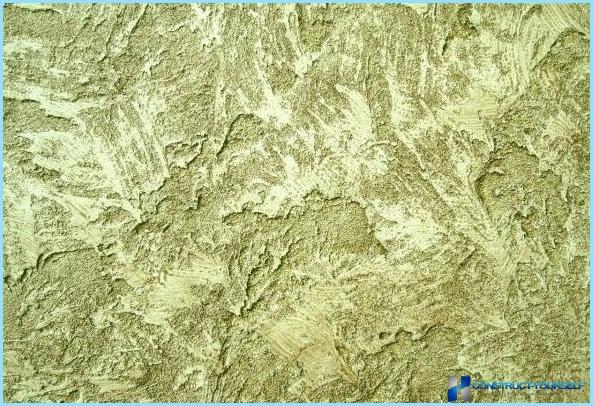 The most durable considered a silicate plaster. It is endurance to mechanical damage. The surface of the facade, decorated with this solution it is possible to wash, and retains its appearance.
Finish, which are silicate substances, resistant to the environment, does not deform and is not contaminated. The life of such a mortar the longest of all the types. Most often, such a raw material has a high cost compared to other types of finishing materials.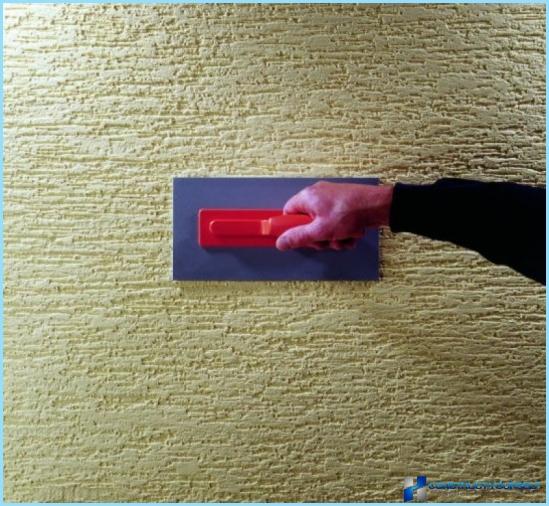 First silicone plaster facade has several types. The most popular are the following:
Silicone plaster woodworm is distinguished by its design. The surface of the facade will have grooves, which are arranged vertically or horizontally. They remind small channels, which made small bugs in the bark. To smooth the surface use a plastic lorry or a special grater.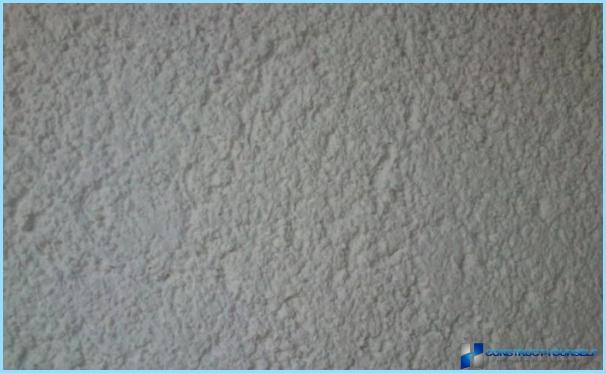 Silicate-silicone decorative plaster «coat» is a layer having a rough surface;
Plaster coat decor silicone has a very interesting texture. When applied to the wall gets a little rough and voluminous. Finishing work is performed with a mixture of differing particle size between 1.5 and 2.5 mm. Compounds with fewer fractions are used for interior decoration.
The final form of the work performed will not like to work during the application of raw material and execution of grouting.
Silicone decorative plaster is designed for ease of use. Most often it is sold fully ready. It is not necessary to pre-prepare for the upcoming operation.
In the finishing composition contains the silicone resin, which are the main component. Compared with the acrylic compounds it has a greater degree of flexibility. It perfectly stretches.
On the surface of the facade is the risk of cracking is minimal. It is suitable for finishing wooden building. In that case, if you want to get specific color scheme. To obtain the desired color by using color schemes. The surface of the house does not need additional care. Any finishing solution for outdoor use has an important dust properties.
The use of finishing materials based on resins has several advantages. Important advantage, which has a silicone facade plaster is the surprising durability. She not only covered with a layer of dirt and resistant to rain and snow and does not fade in the sun. On the walls are not formed by fungus and mold. In addition, it has no smell.
Some varieties of solutions based on resins in additional staining not need as communicated through the caramel to the desired color scheme.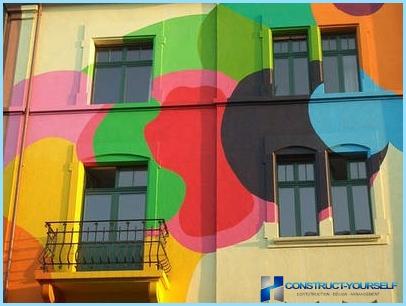 Due to its unique properties, the solution is suitable for use for any reason, has the ability to stretch and has excellent durability. During the processing of a facade it is often applied to other types of silicone putty. They are used to eliminate cracks and defects.
This finishing stuff is completely fireproof and completely non-toxic. As part of the construction materials can be different coloring components that contribute to the change in its colour.
Silicone plaster for interior work has the following characteristics and qualities:
High-quality application minimum service life will be 20 years, regardless of weather conditions. It does not lose attractive appearance. In fact, such solutions on the basis of resins, will remain at home for as long as it does not bother the home owners.
The water vapor permeability of materials at the maximum level, that allows to provide a healthy atmosphere in the premises. On the walls, no condensation, leading to the formation of fungus and mold.
Good elasticity gives it the ability to adapt to any operating conditions. It will not lose its integrity, which is often associated with the process of shrinkage of the house.
The solution has antistatic properties that do not allow to settle the dirt on the surface of the walls. If the house is next to a busy highway, it is a wonderful finish.
So, in dependence on the design appearance of the house, you can choose almost any texture and color of finishing materials. It provides high-quality insulation, not only decorates the house but also maintains a comfortable atmosphere inside.
Why choose this type of finish based on silicone? The mixture of resins and their derivatives has all the qualities of other building materials, which are used for finishing of external walls of the building. They allow you to combine the thermal insulation of the facade and interior of the house with decorative trim. Like mineral mixture, construction material based on silicone, resistant to high temperatures and are not flammable.
Acrylic solution is resistant to changes in temperature, is combined with different construction materials. The mixture of resins is a unique raw material. Which explains the not too low price.
Silicate-silicone plaster also combines quality solutions in silicate and silicone-based. Has established itself with a great party, as it has a vapor permeability and poor water absorption. In addition, it is not dirty, and not affected by fungi, mold. These types of solutions carry out internal and external works. Perfectly placed on concrete walls, and other types of finishes. With Kohler, you can get the desired color finishing material.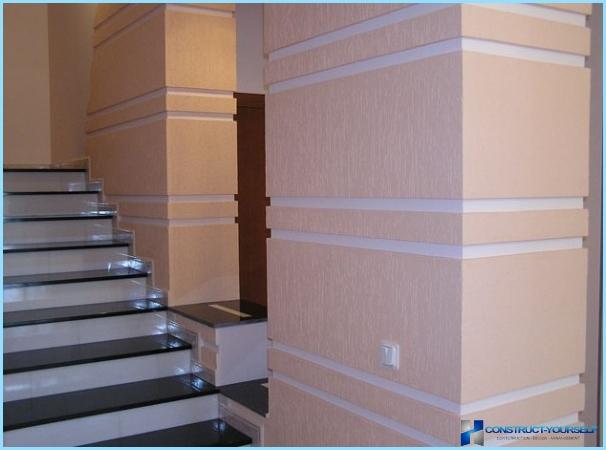 Silicone facade plaster for external works has several types:
So silicone plaster woodworm, suitable for facade heat-insulated using a foam. It is often applied in the form of a heater;
Silicate-silicone plaster Weber has a universal purpose, it is hydrophobic and has a decorative surface. Applied to the facade thin layer. Can be used for finishing different types of openings.
Silicone plaster baumit silikontop – applied in a thin layer and are sold in a pasty condition. Is decorative and has a different texture. Put it in different ways. Goes well with Styrofoam, rock wool, and cork.
There are several methods of application of facade finishes, it can be a manual way or by using special machines.
Before you apply makeup, silicone decorative plaster for the facade is mixed to a uniform consistency. A layer of finishing material should be no thicker than a grain of the filler included in the composition. Often used silicone for plaster stencils that allow you to achieve interesting design solutions.
Content related